The best way to take good care of natural resources, is the recycling of old things that cause waste reductions resulting into a happy Eco-system! From last decade, pallets have been around as a bigger wood waste and we really want you to recycle pallets in a clever way so the old and natural wood would be longer in use! For high value outputs from pallets, here is the collection of 30+ DIY pallet ideas for your DIY home decor, will give you so many ingenious suggestion to improve your dwelling and its green outdoors with pallets!
Gaining custom furniture is one the major benefit of recycling of pallets, people are just crafting pallets for suitable and low-cost wooden furniture to fulfill the developing furniture demands of home! Custom sofa sets, occasional sitting plans and pallet bench sets are what you can get for free by simple making custom stacks of pallets and then making the cushioned, few of highly luxurious examples of pallet-made sitting sets have been shown below! Moreover you can build diverse different kinds of tables, indoor and outdoor chairs even the swings, wooden pallet daybeds and beds in king, queen and toddler dimension and much more!
One can also raise the fun and decors of his living spaces by going genius with pallets, build custom party sets out of pallets and also fancy garden decors like the wall hanging planter shelves, vase stands and amazing vertical pallet gardens and planters, can also be installed to indoor spaces for spell binding garden like natural atmosphere there! These pallet ideas will guide you to the right way if you are willing to improve you living with pallets!
Block Style Pallet Patio Sitting Furniture Set: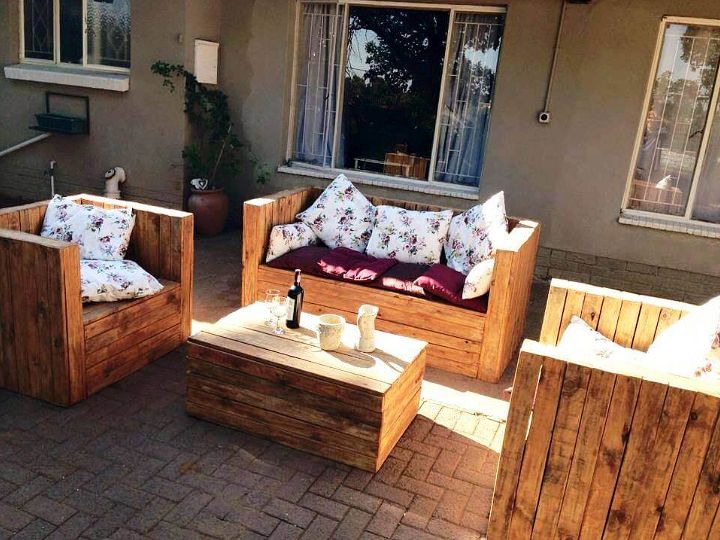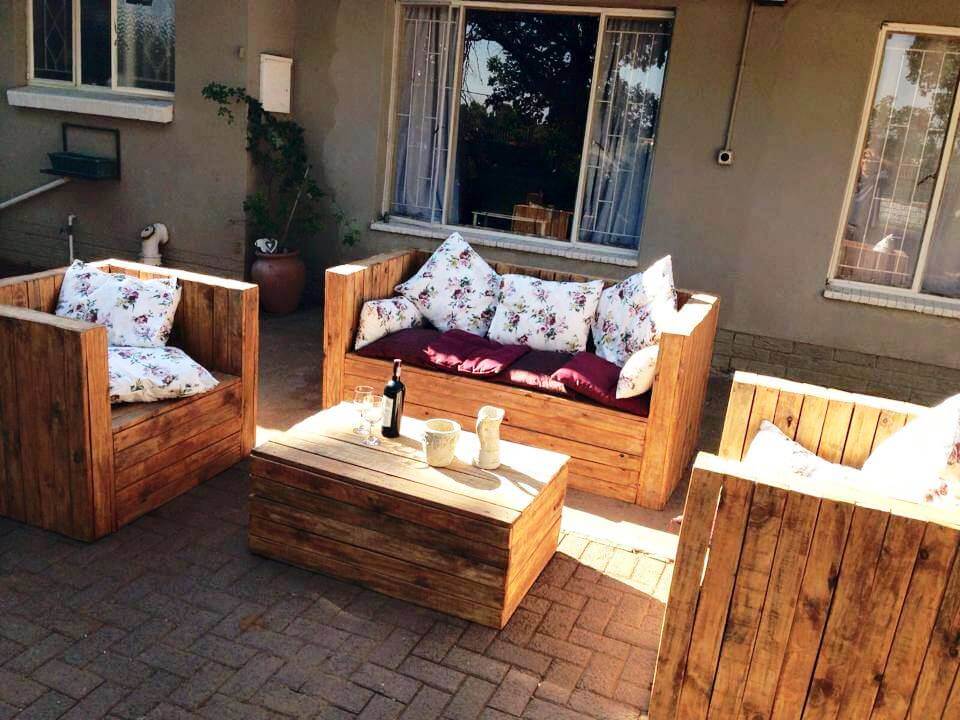 Since the past years pallets have been become much more than a shipping and packaging material, here a perfect block style sitting sets made with them which come in handy to sit at outdoor in a style while breathing in the fresh air!
Chic White Pallet Dining Set: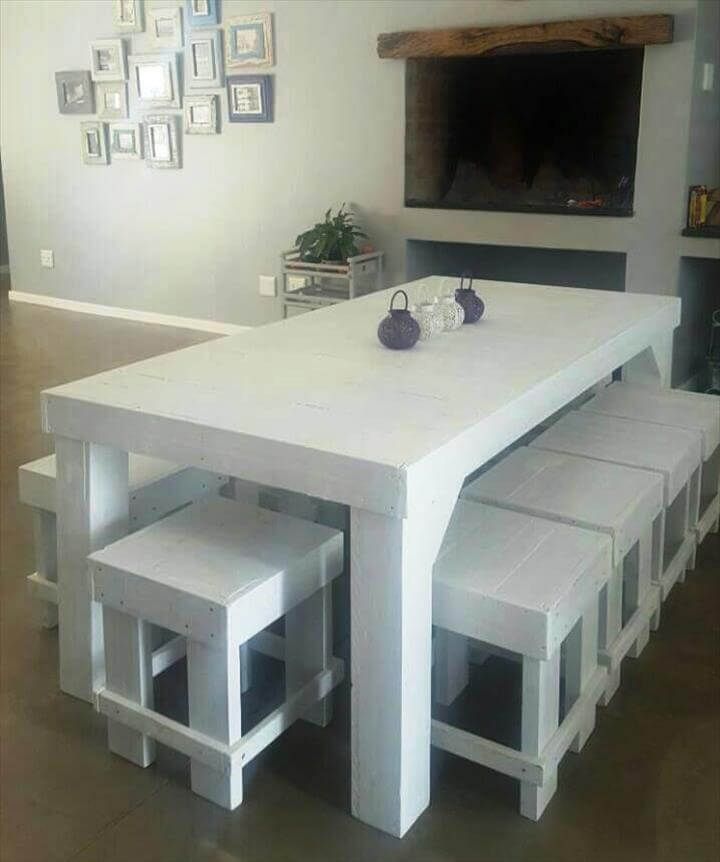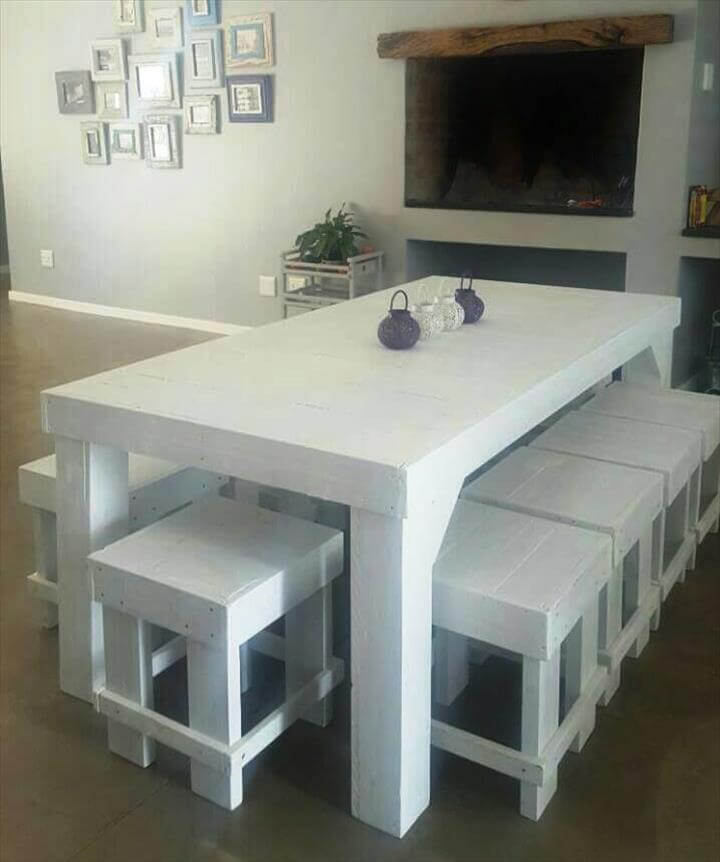 Rather than packing of shipping goods, pallets can also be great resource for low-cost wooden furniture, get inspired of this chic white dining sets has a large dining table and a number of pallet-made stools in possession!
Pallet Coffee Mug Rack: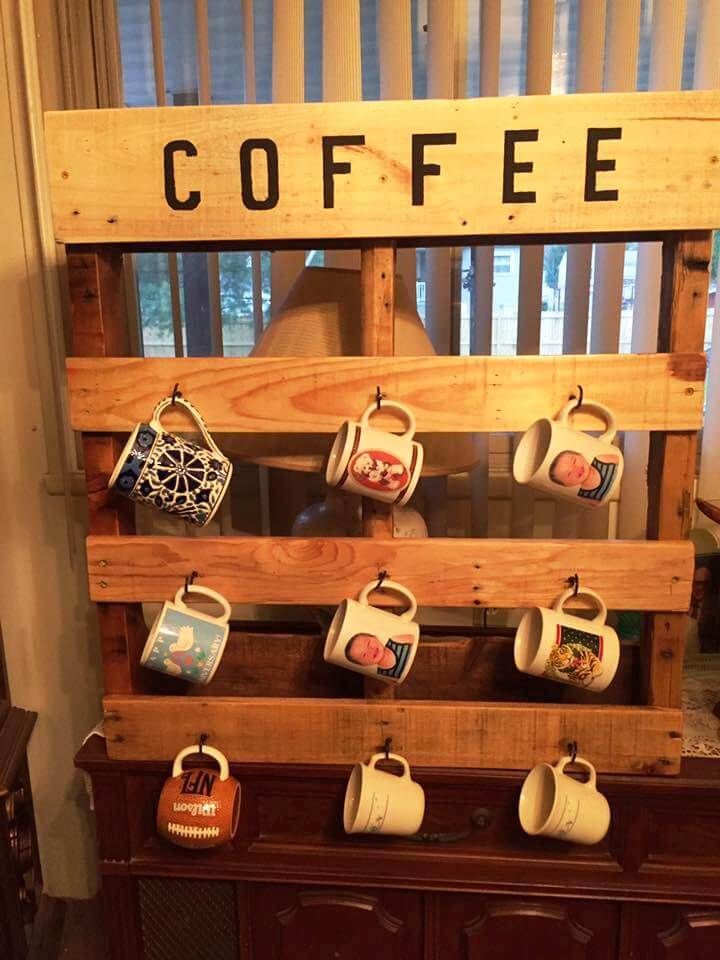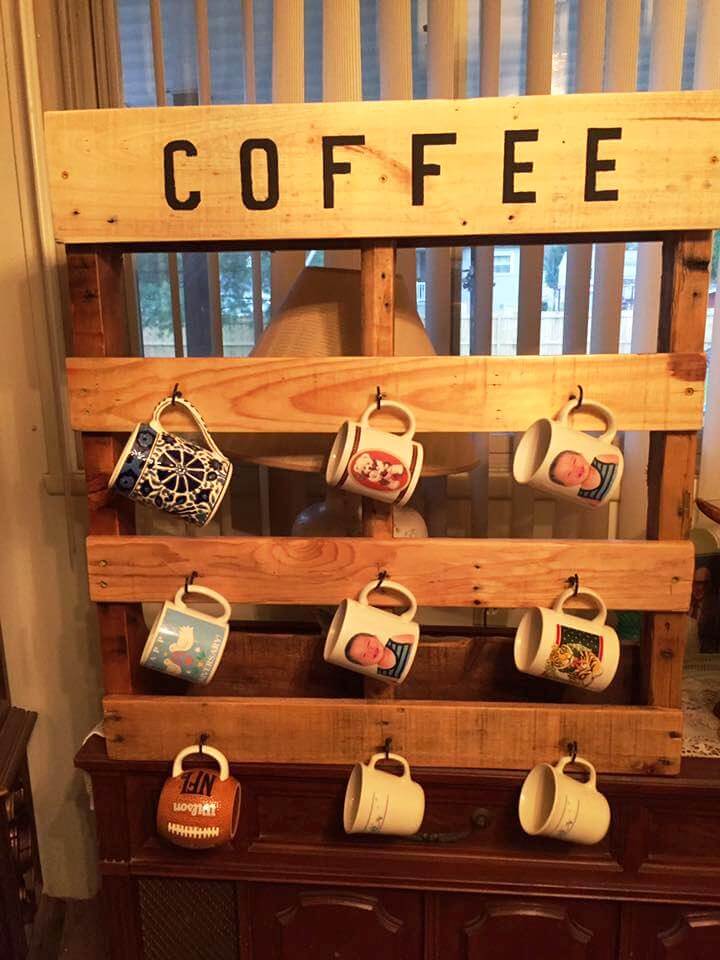 One can add the functional criteria of pallets by changing shapes of pallets and also by adding custom hardware to them, here addition of some hooks to a trimmed down pallet sizes, changes it into a beautiful coffee mug rack!
Pallet Dining Table: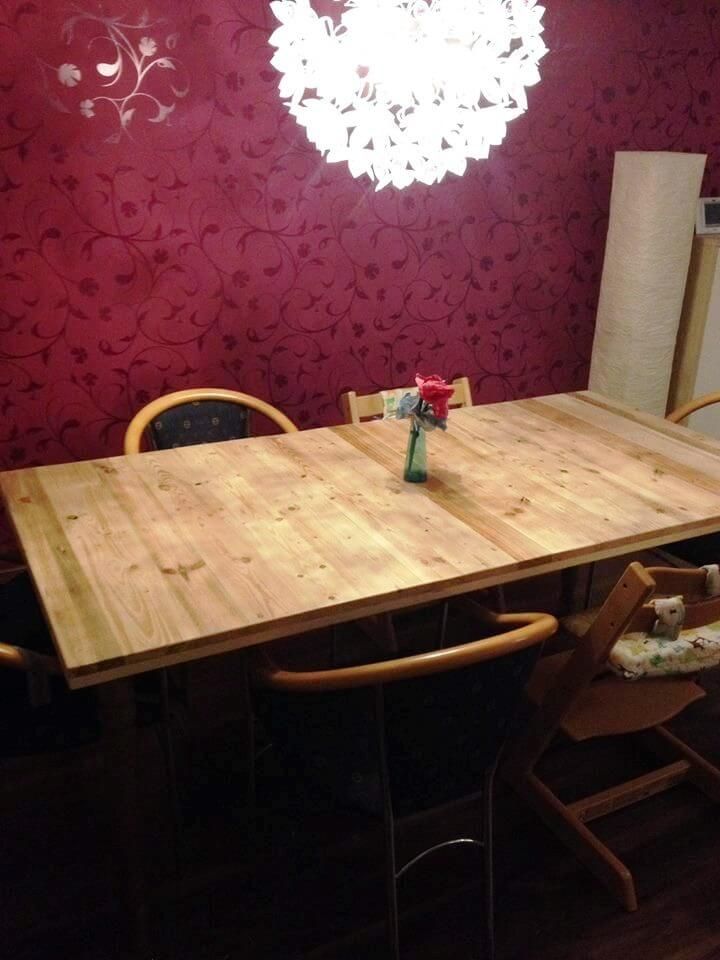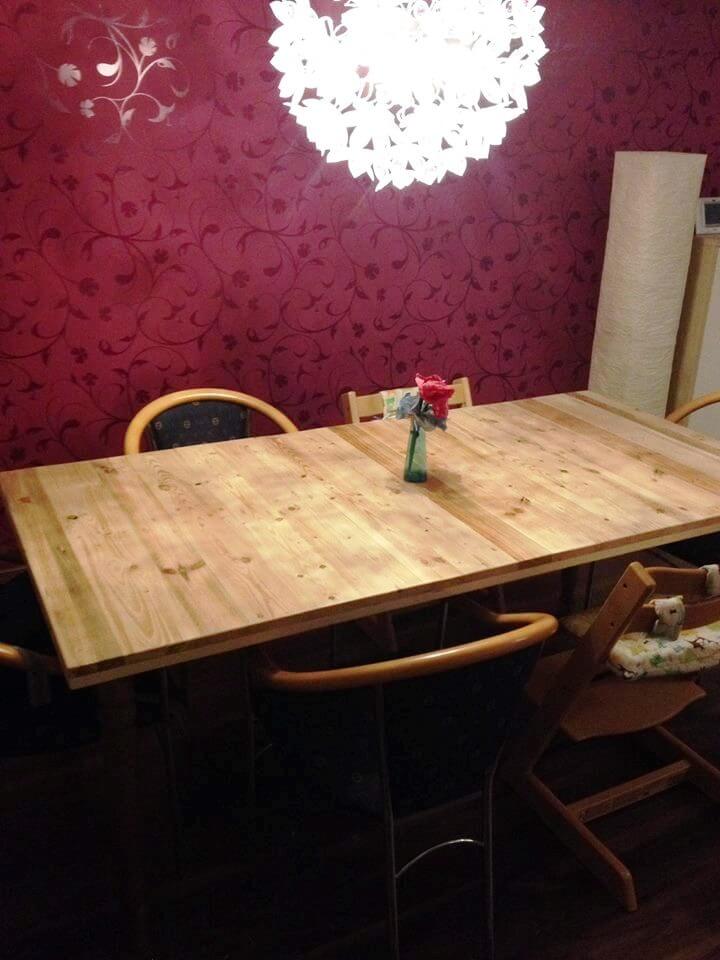 All the people who are new to pallet wood recycling, would find it handy to integrate pallet slats for some functional furniture pieces, here a large dining table has been done by putting together separated slats of pallets!
Pallet Coffee Table with Glass Top: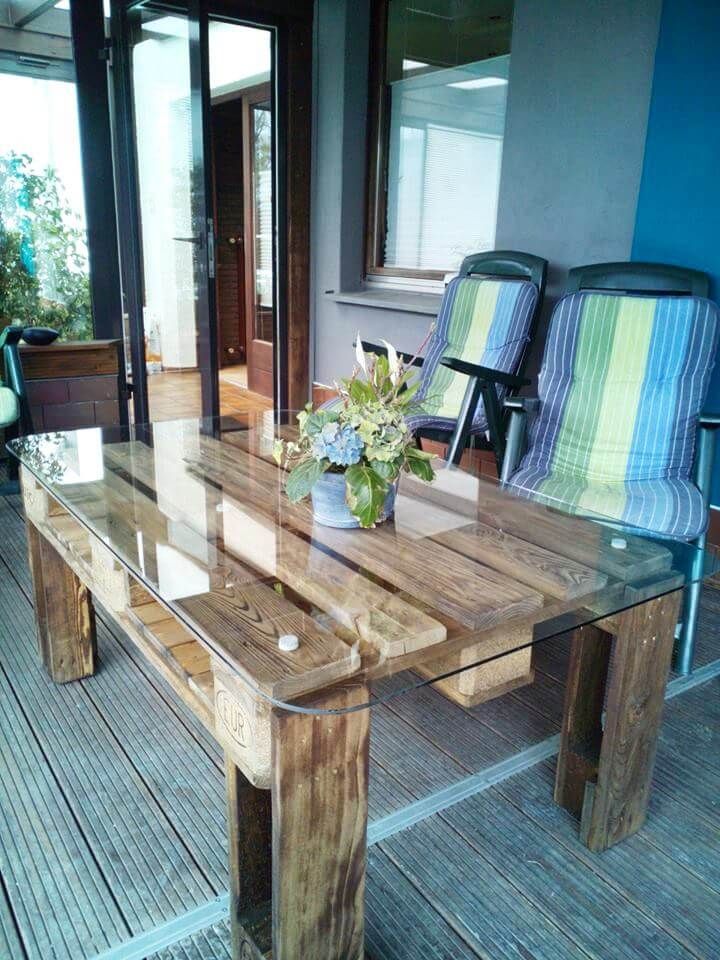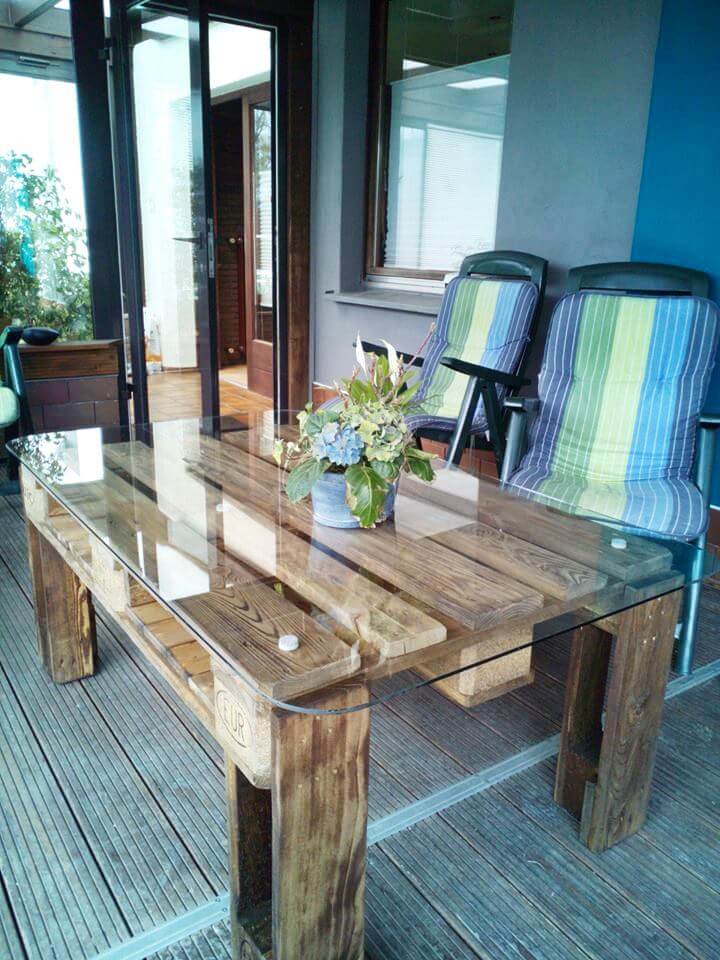 Shapes of most of pallet skids are perfectly equal to tabletops so it would be all awesome to use them for building accent and utility tables, to do this just raise the grabbed pallet skids on custom wooden or metal legs, get inspired of this galss top coffee table!
Painted Pallet Coffee Mug Rack: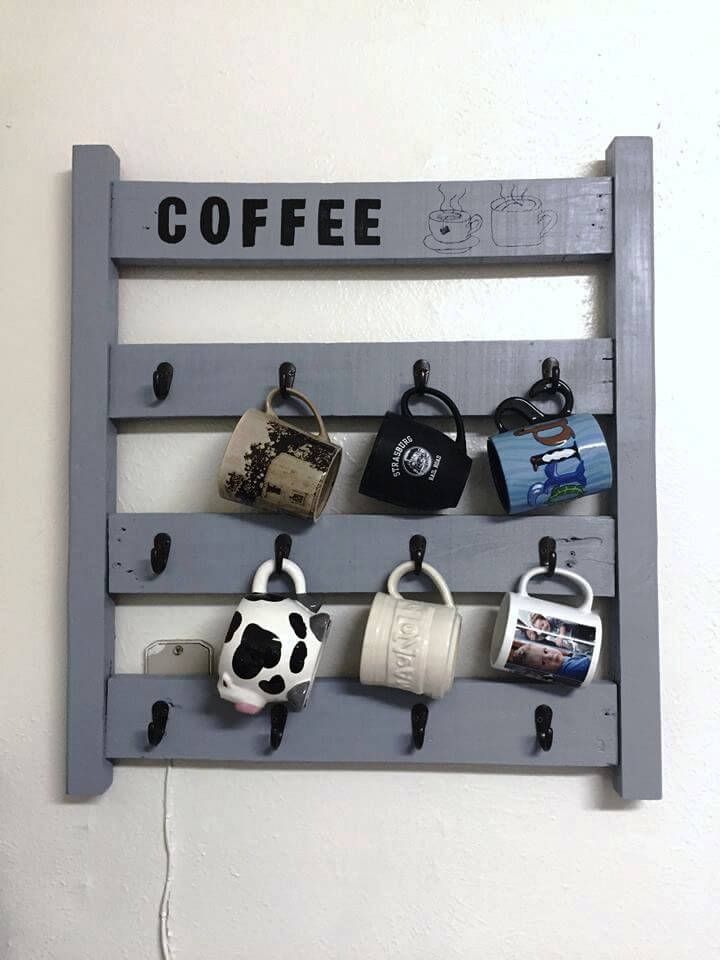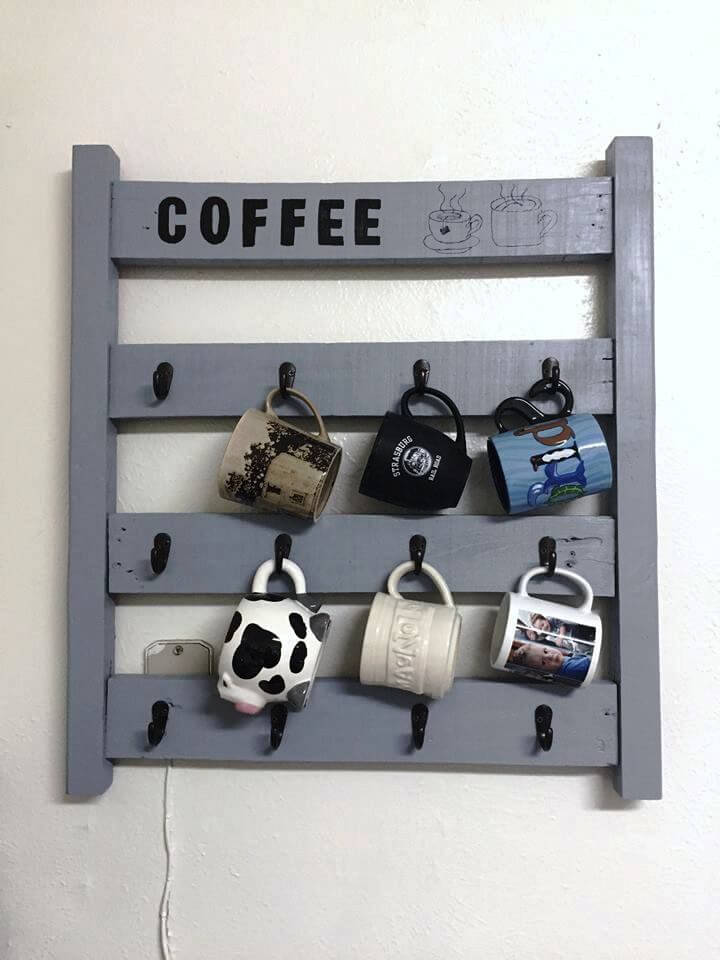 Here a mini frame has been installed by following the simple cross and slatted arrangements of single resized pallet lengths, finally the hardware hooks have been added to get a coffee mug rack out of it!
Outdoor Pallet Bar Table with 2 Matching Stools: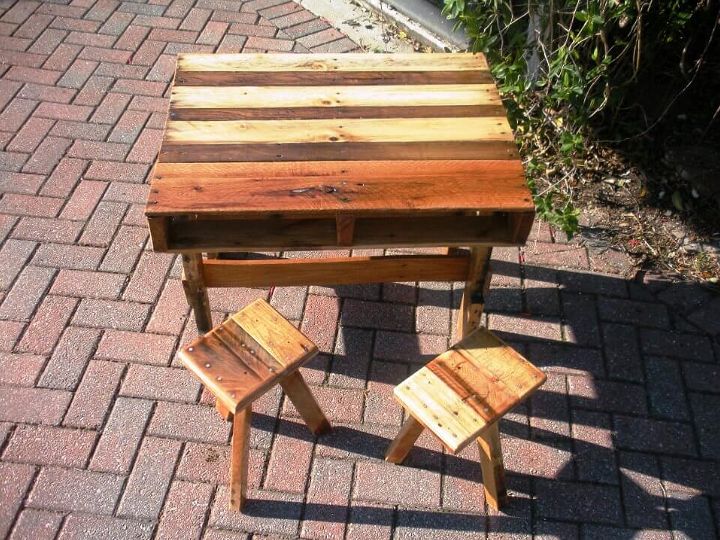 Raise a custom pallet skid on a custom elevated base frame for a beautiful pallet bar, use leftover supply for building matching stools, a party set is ready to enjoy the drinks and beverage at your paved outdoors!
Pallet Wooden Star Decor with LED Lights: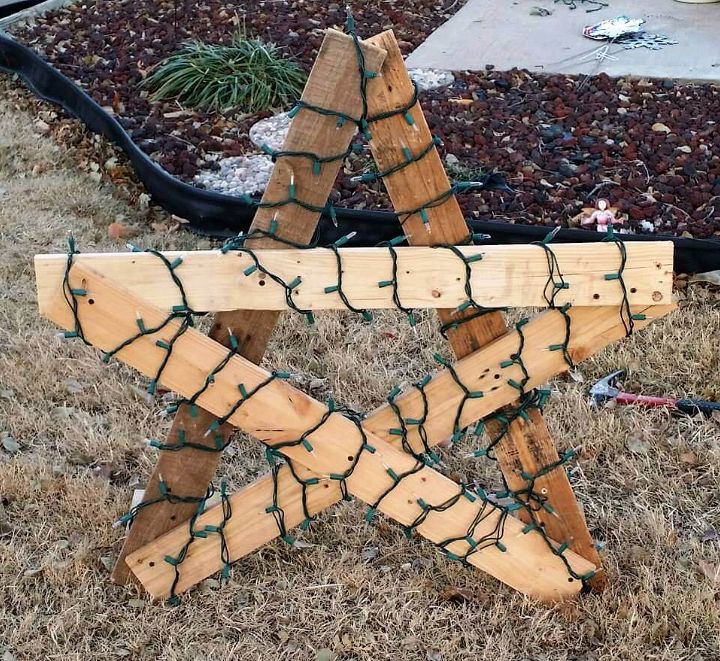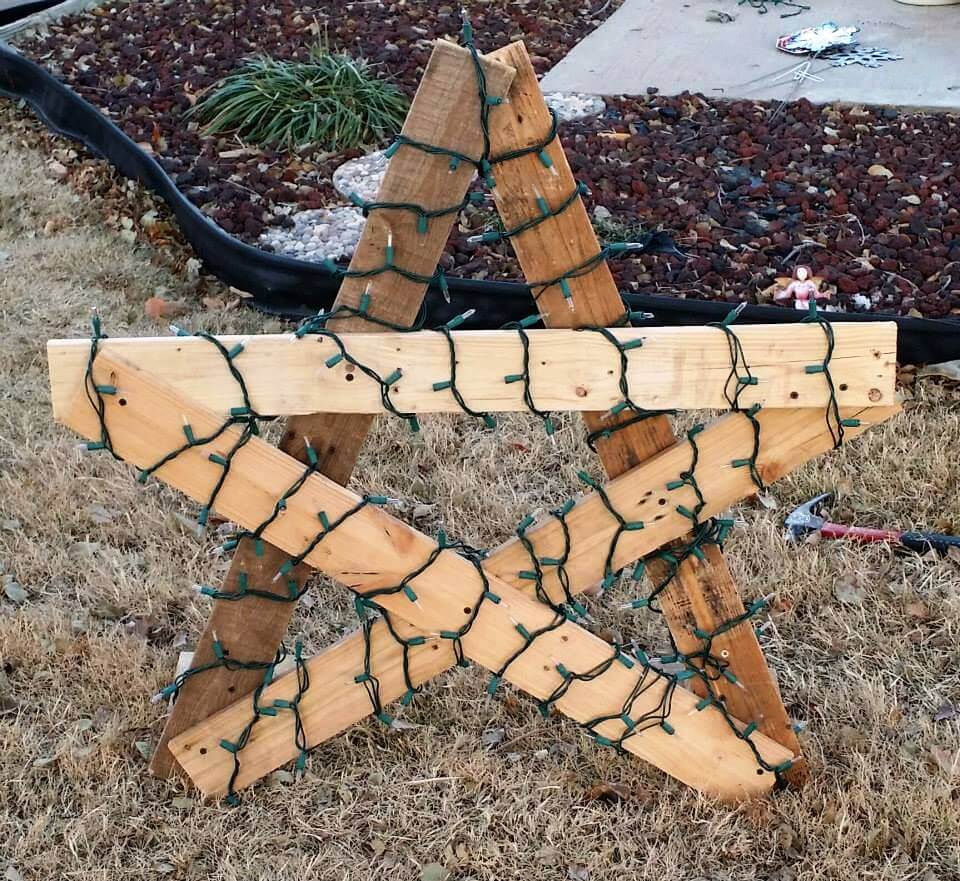 Go with creative cross alignments of pallets and build this wooden star accent having wrapping LED lights will make it look amazing at night!
White Painted Pallet Coat Rack with Shelf: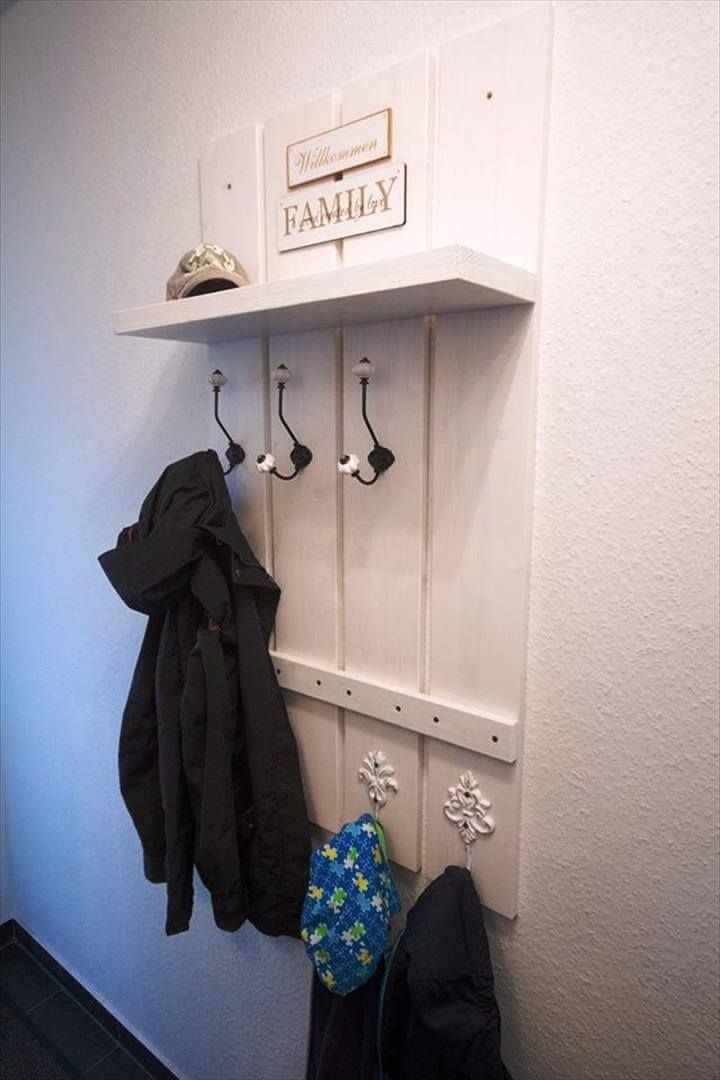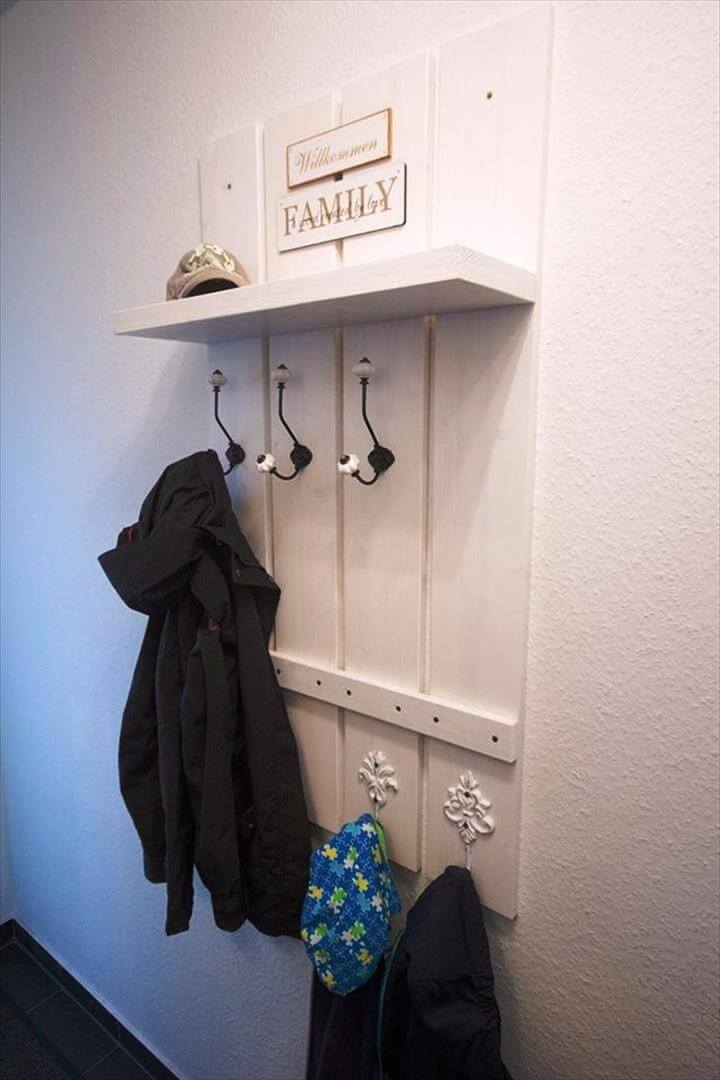 Install straight wooden lengths of pallets on a wall and add some hooks to them for beautiful coat racks and wall hooks to hang your stuff up! Here 4 thicker white painted pallet boards have been installed that has been tied together through cross supports, comes with metal hardware double hanging hooks and custom name plates with overwritten letters!
Pallet Computer Desk: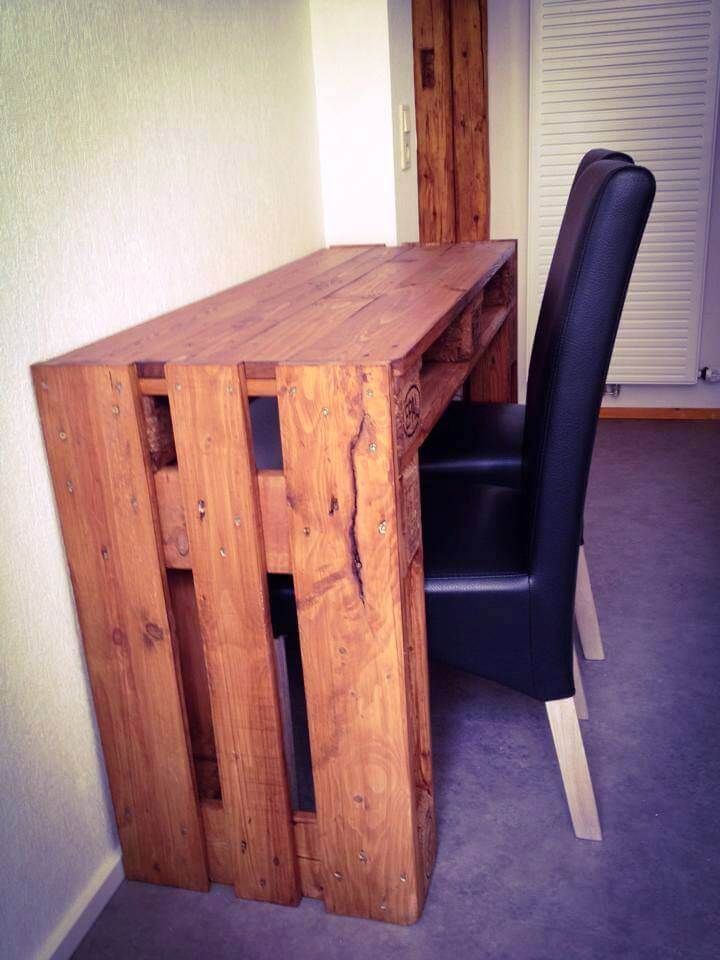 3 Robust looking Euro pallets have been mingled here creatively in U-shape, it results into a beautiful wooden desk that will live for years to come!
Pallet L-Shape Couch + Coffee Table: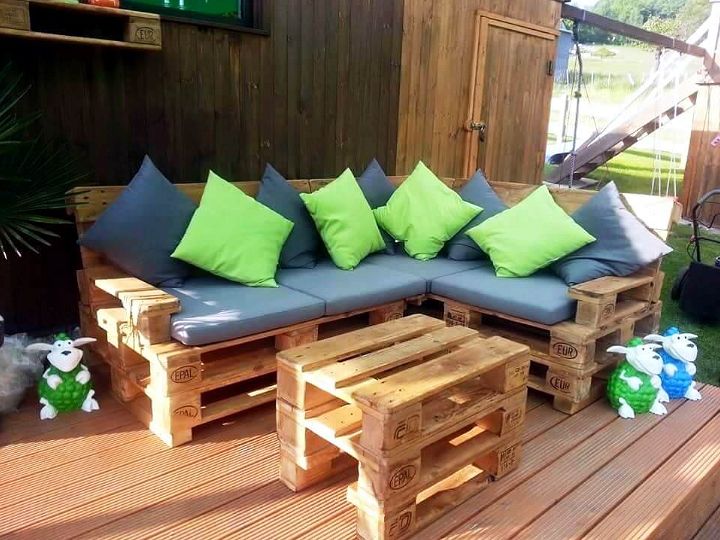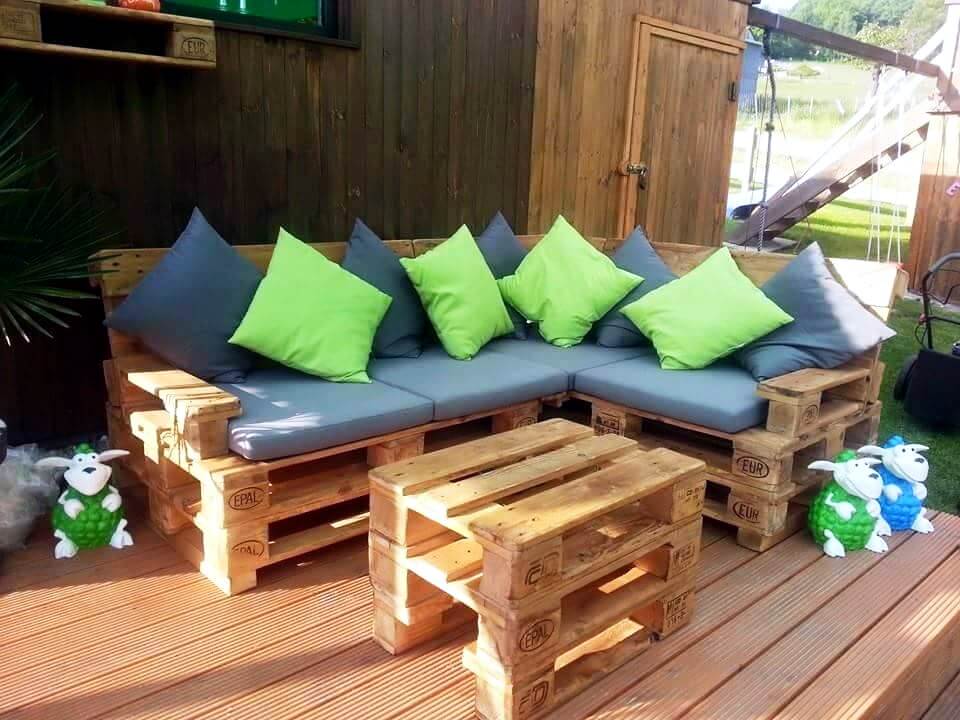 You can even avail the stockpiles of pallets for brilliant outdoor sitting set, take a look at this fantastic wooden sofa set, Pallet sectional sofa has been made by putting together bigger pallets while mini pallets have been stacked for a coffee table placed in the center!
Scorched Pallet Outdoor Coolers: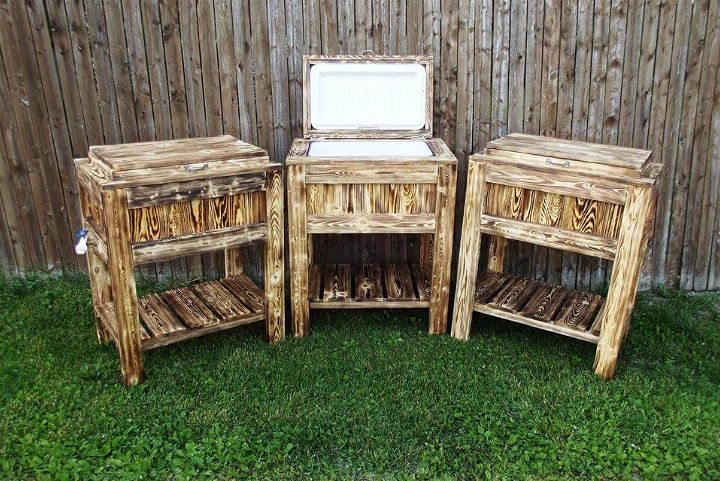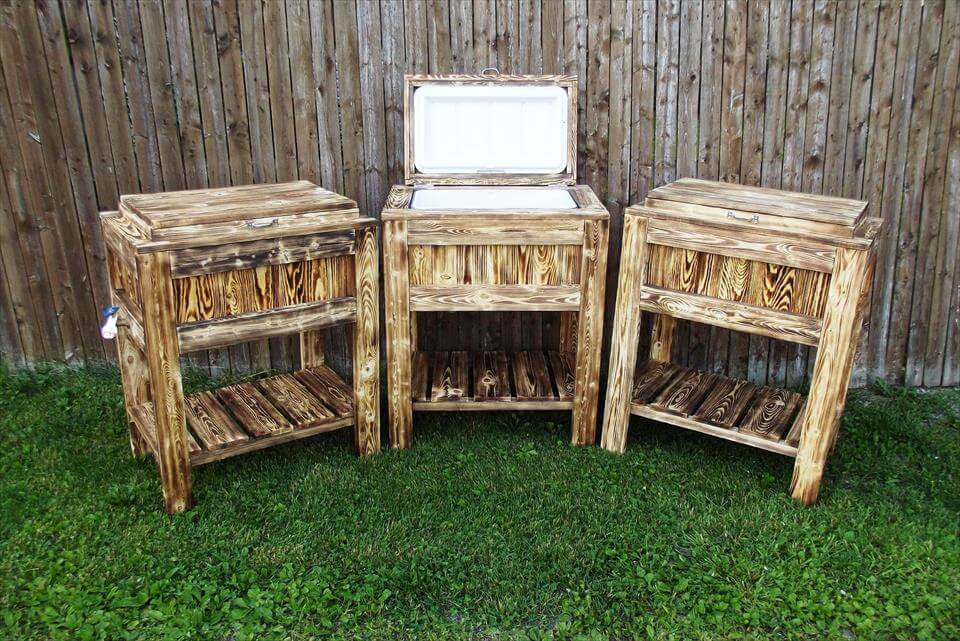 Here are beautiful wooden coolers made from pallets and has well fitted plastic igloo coolers inside and also comes with lower shelves to store basic concerns!
Pallet Patio Sitting Furniture Plan: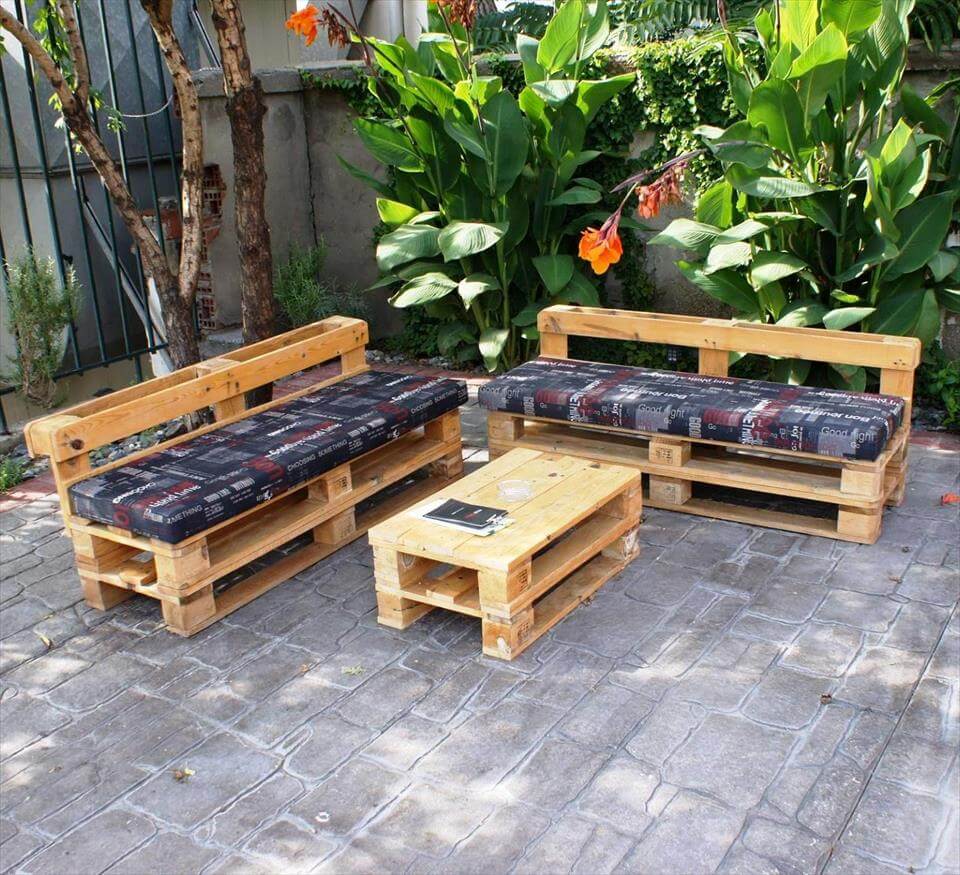 Put together 2 pallets and also put 1 more vertically behind the 2 pallet-stack, make it cushioned for a beautiful seat, here a full sitting set has been gained by easy stacking of pallets!
Sturdy Hand-Built Pallet Swing Seat: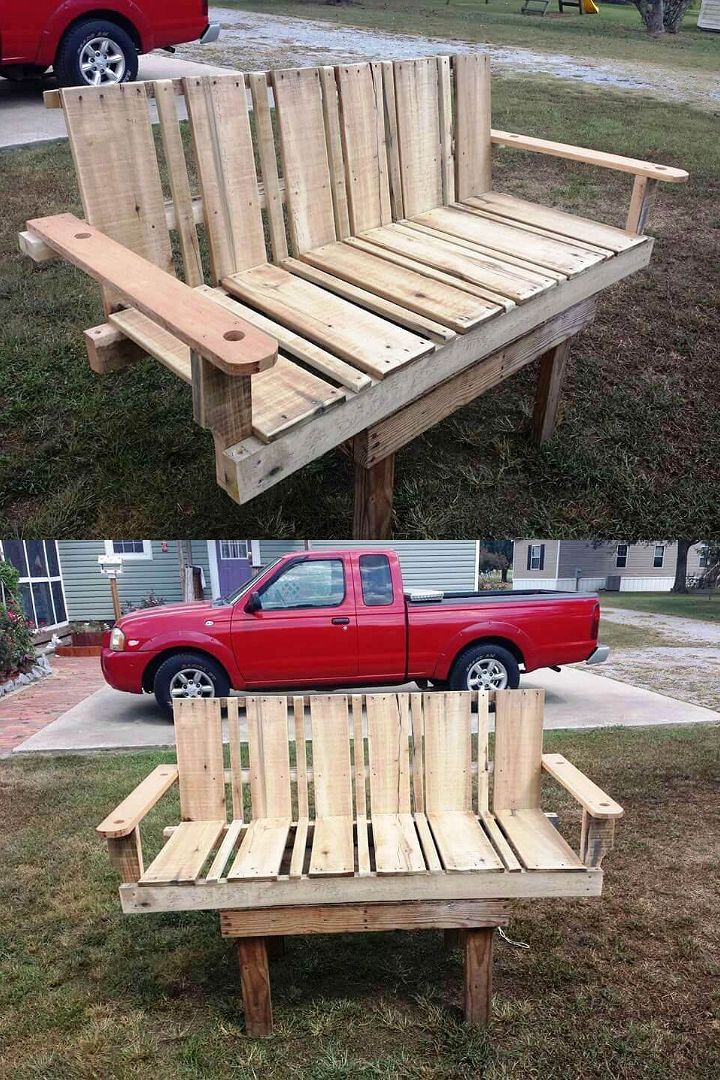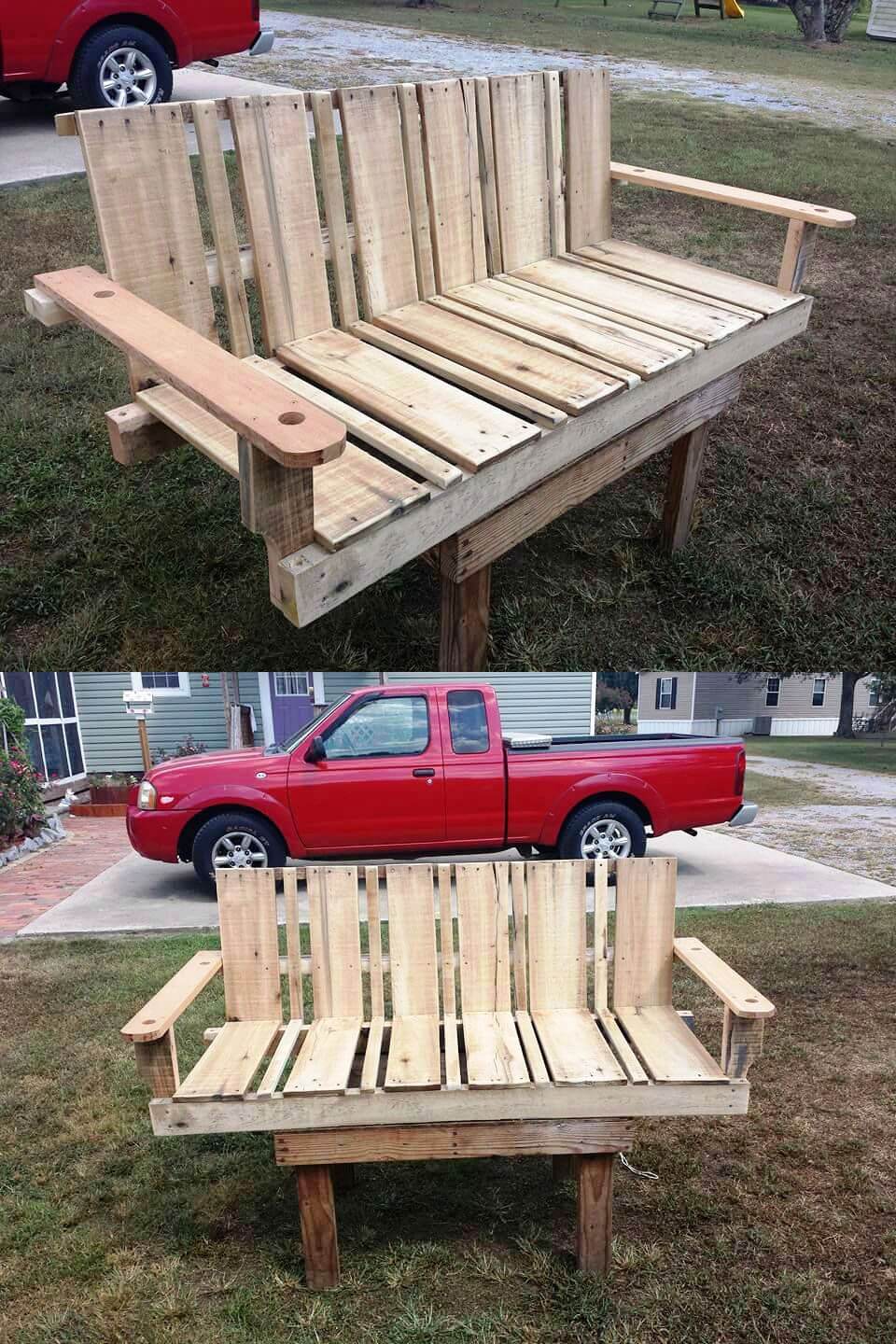 Beautiful wooden pallet swing seat, another great way to reuse pallets which are mostly thought good for nothing! Clone this seat if you need a garden or porch swing for free!
Pallet Planter Shelf: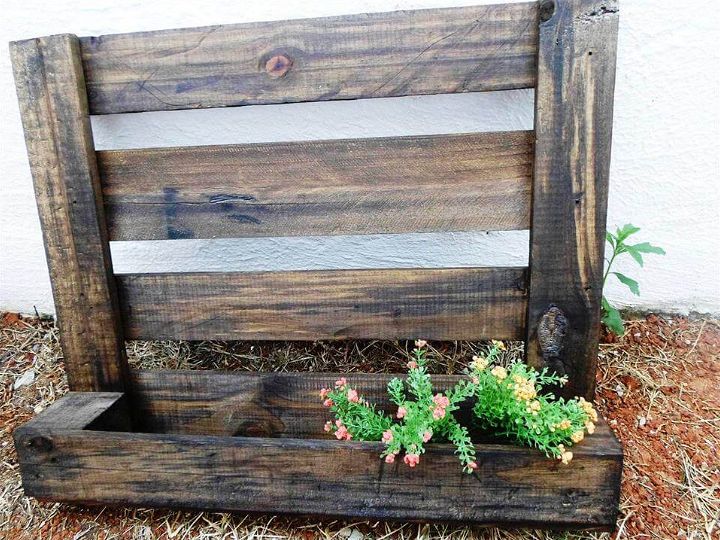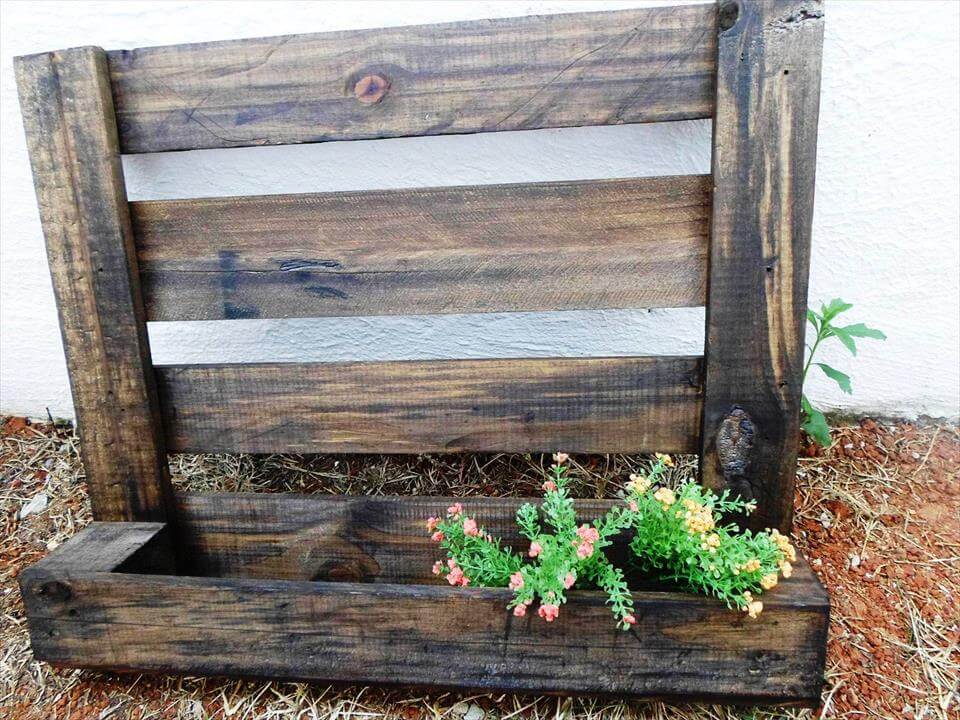 A worthy piece of decor made from pallet leftovers, a beautiful garden wall planter built for free!, assembled well and is damn easy to hang on a custom wall area!
Pallet Shabby Chic Coffee Table with Reclaimed Legs: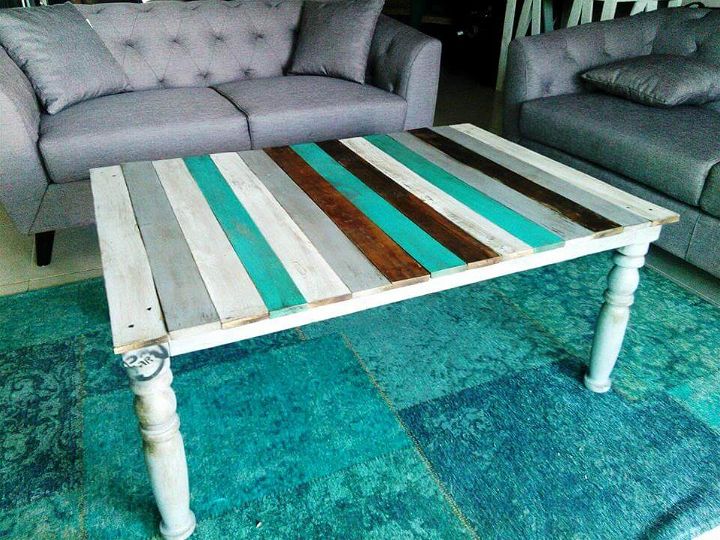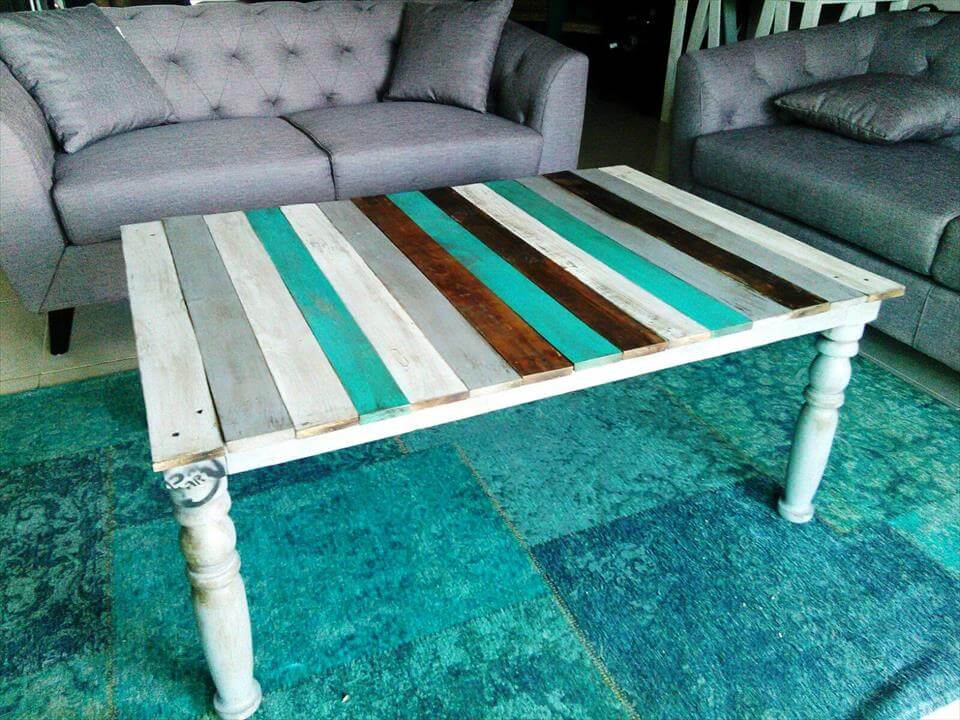 An old table base has been revamped here with pallets for a new fancy shabby chic wooden table, total new wooden top has been installed by putting together colorful pallet slats!
Pallet Table with Diagonal Stripe Patterned Top: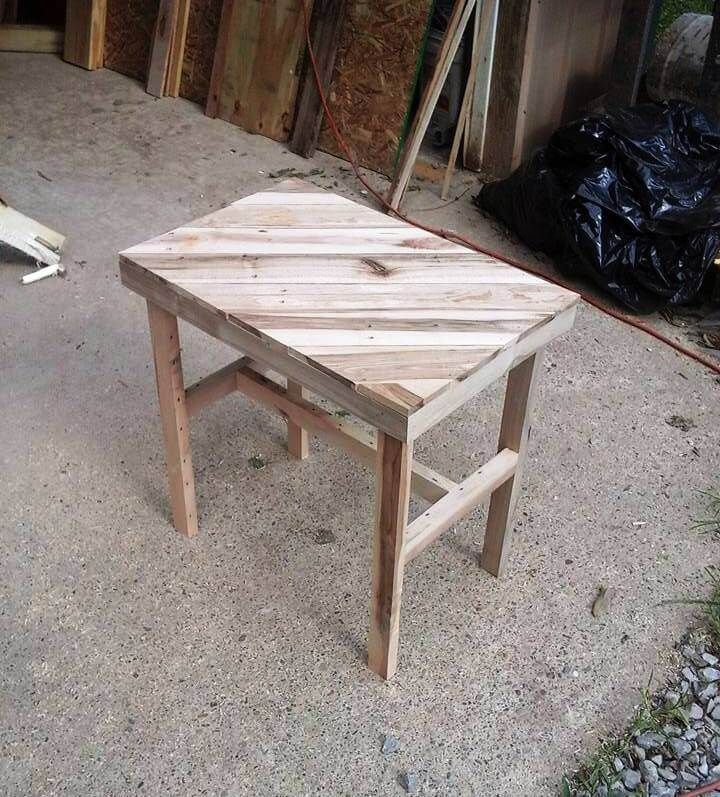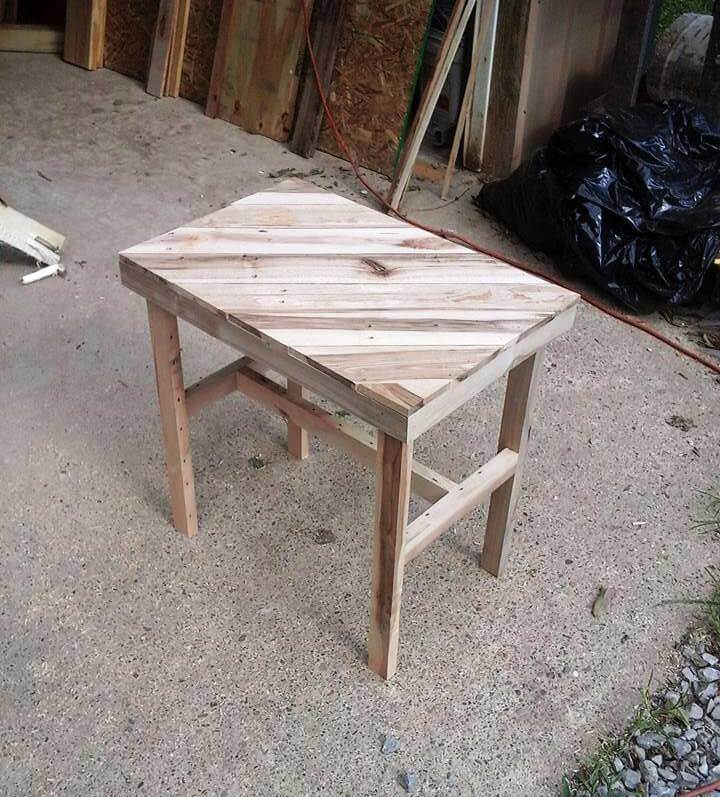 Grab this fancy wooden table for home utility purposes, built from separated pallet lengths, packed in a diagonal way for stunning patterned top of the table while legs and cross supports to legs are also made of single straight slats of pallets!
Pallet Wall Mounted Chalkboard: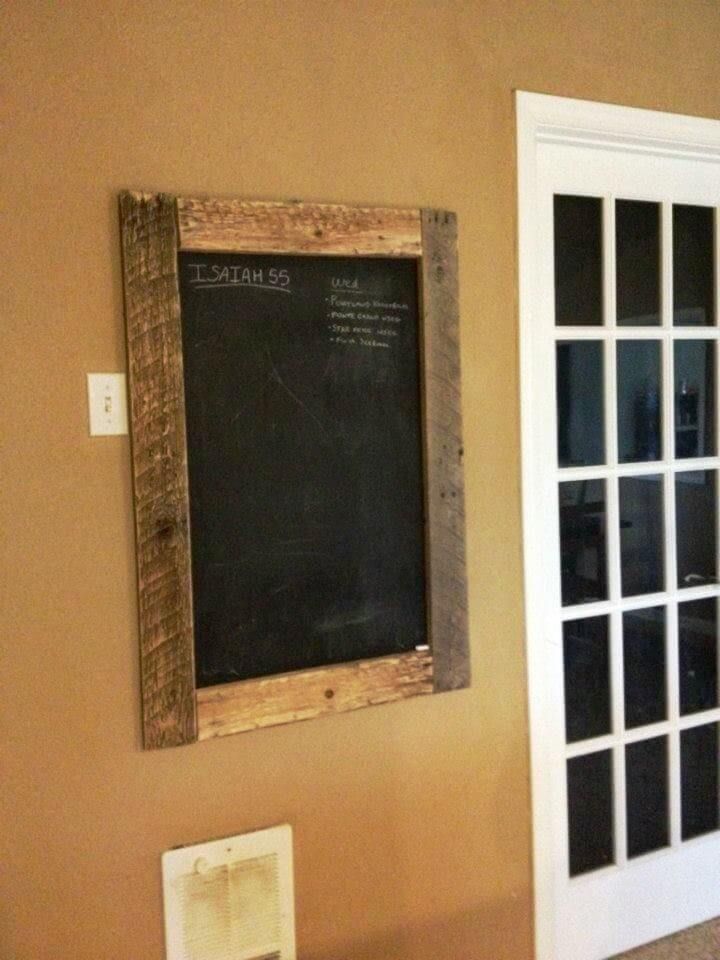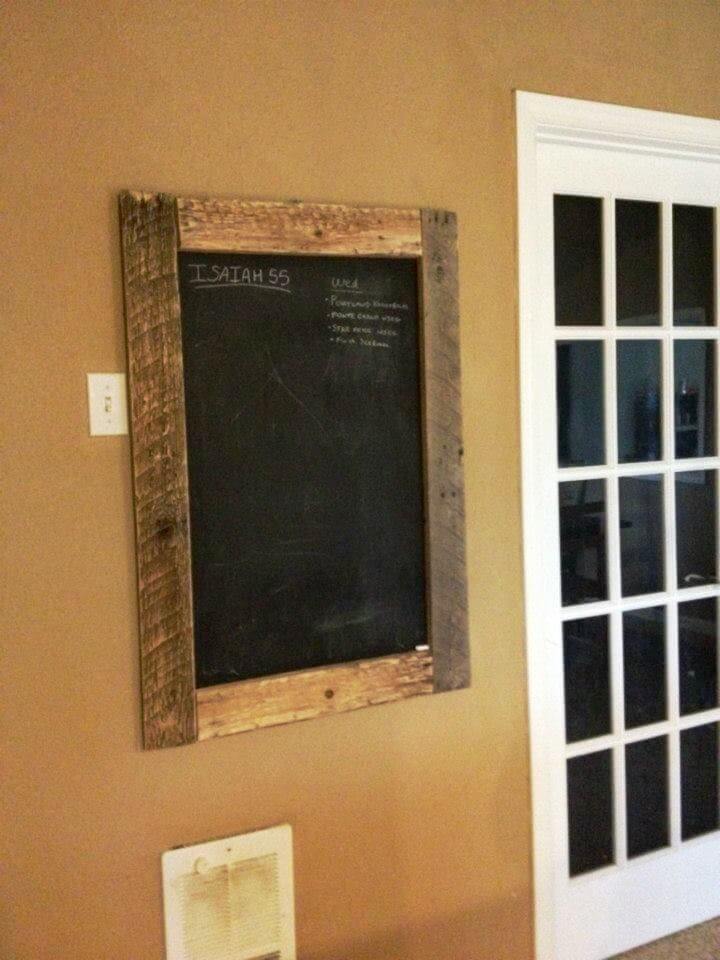 Fancy up your walls with pallets, here we a chalkboard has been made out of pallets and hangs on a custom indoor wall as a noticeboard, can easily be overwritten using a chalk, so you can write custom quotes, family rules and also love sayings over it!
Sturdy Pallet Coffee Table: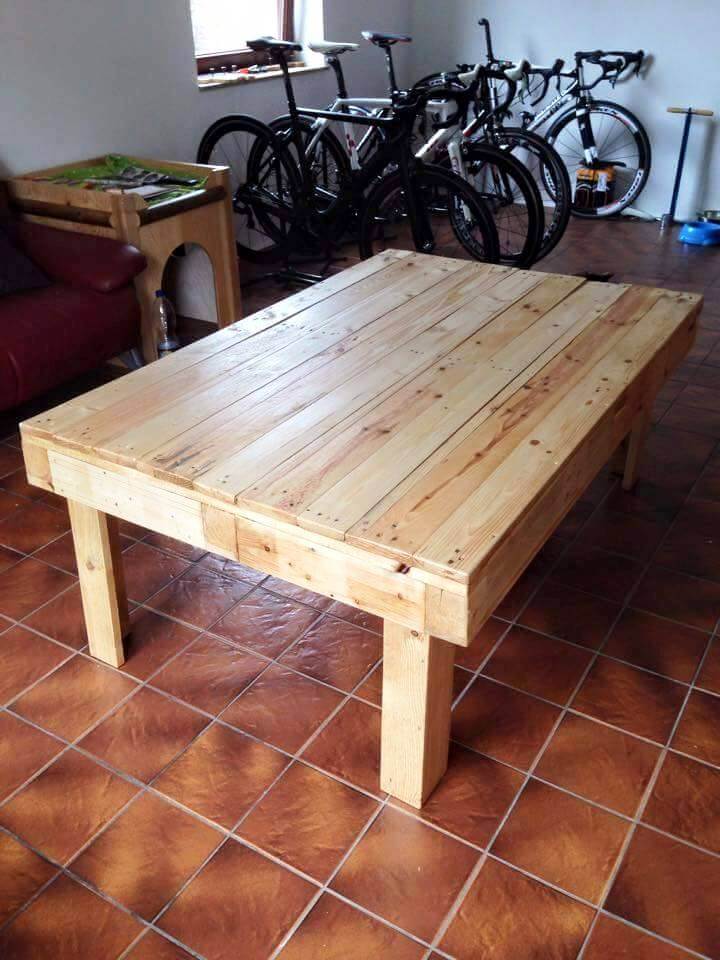 Recycle pallets for making extraordinary coffee tables too, there are tons of pallet-made coffee table designs are available on our site and you can checkout this robust low coffee table too if you need an awesome inspiration!
3 Drawer Nightstand Made of Pallets: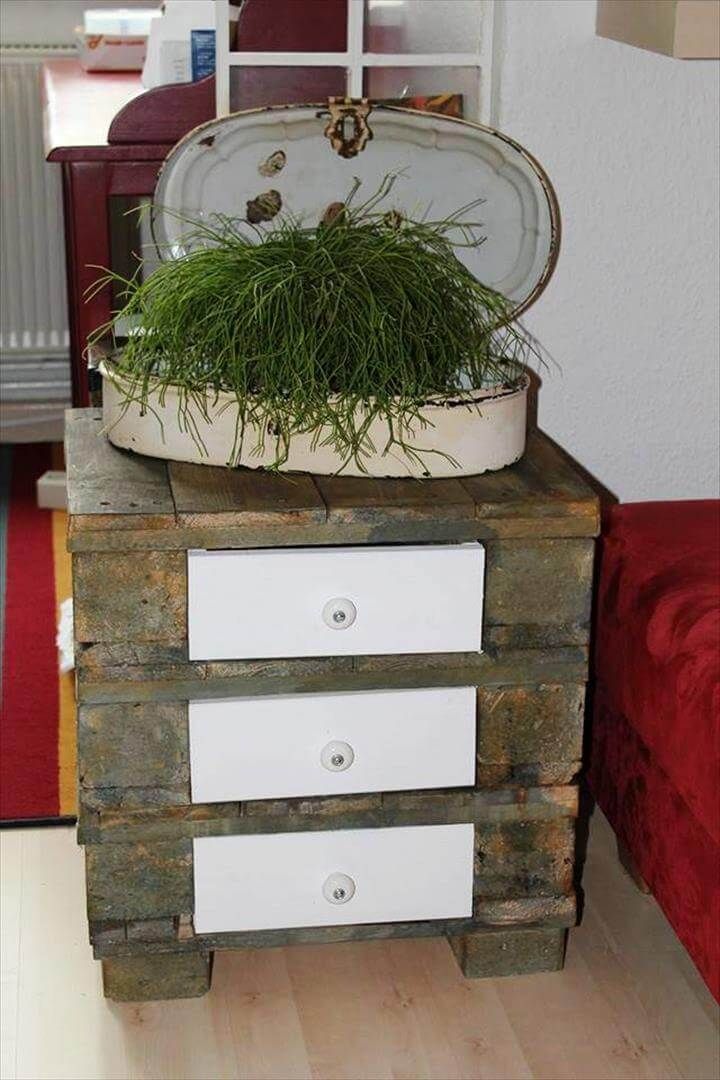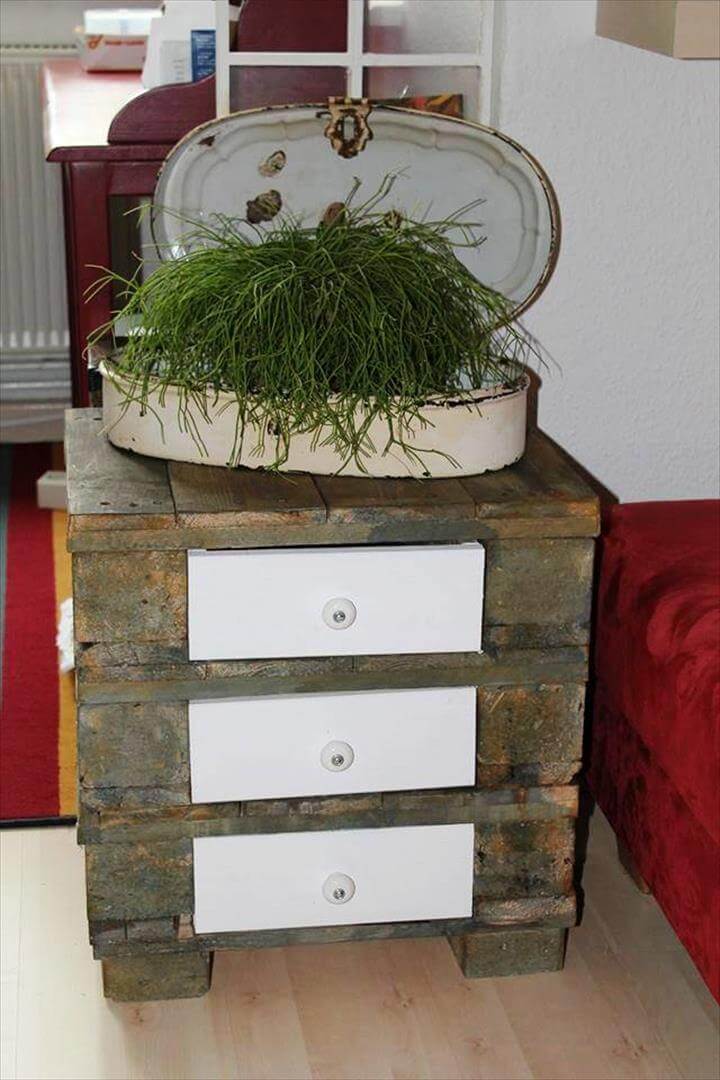 Stack trimmed down or mini pallets and simply fill the openings with drawers, will be quick and cost-effective way to install storage friendly nightstands, end tables and also custom chest of drawers, a rustic sample has been given here!
Wooden Pallet Planter: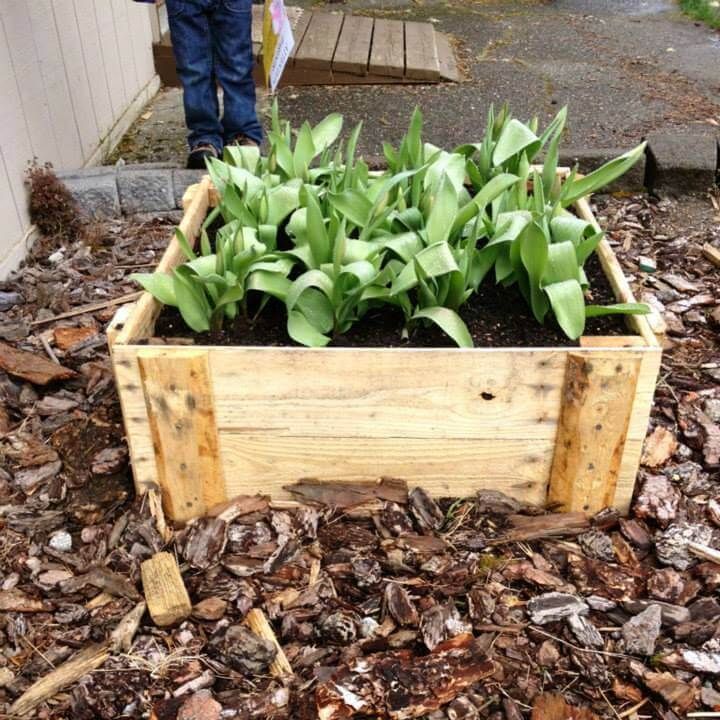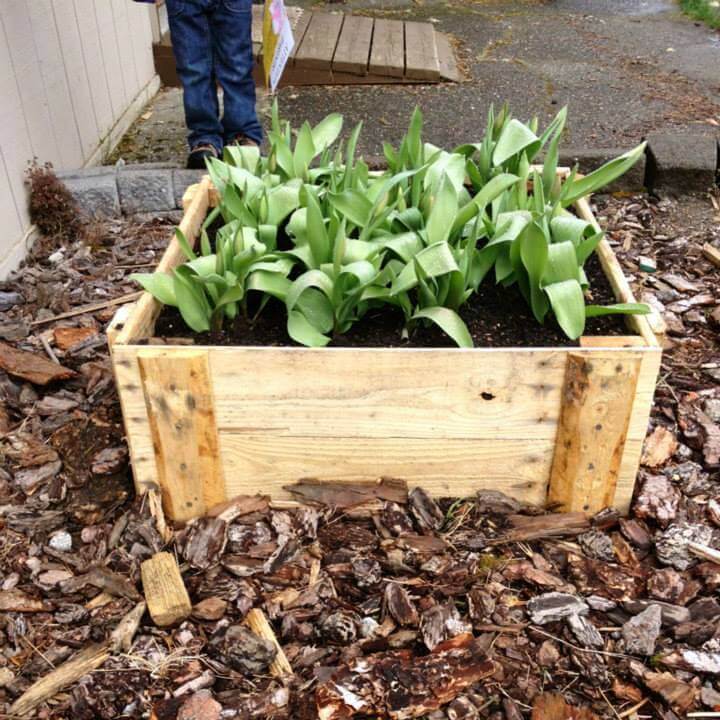 Put together separated slats of pallets again to install beautiful wooden boxes which can be multi-functional, can be used for indoor storage purposes, as wall storage and display units and also as pallet planter as given here!
Pallet Stand for Pots: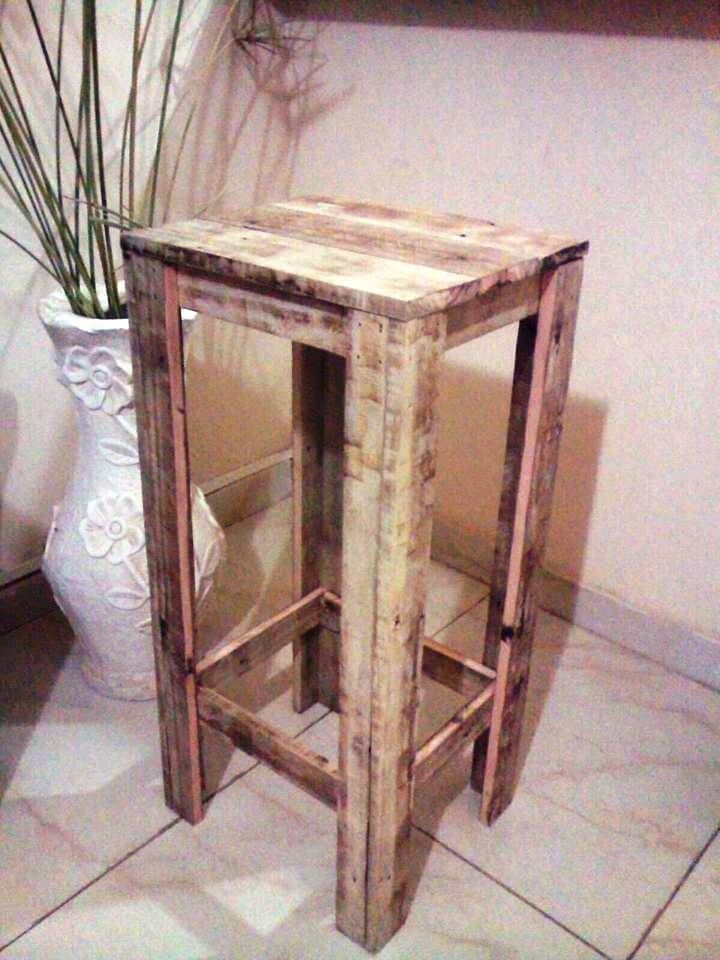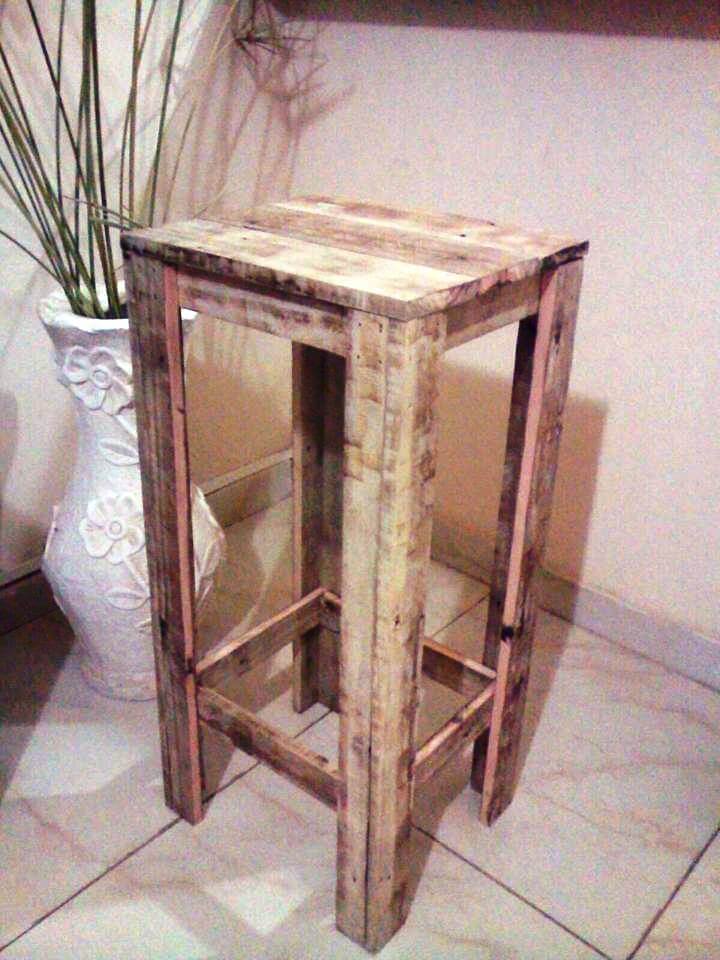 Recover beautiful stands also out of pallets for eye-catching display of your decors and art pieces! Checkout here this tool like wooden stand, hired to hold a garden pot beautifully on a beautiful height level!
Pallet Cabinets/Kitchen Hutch: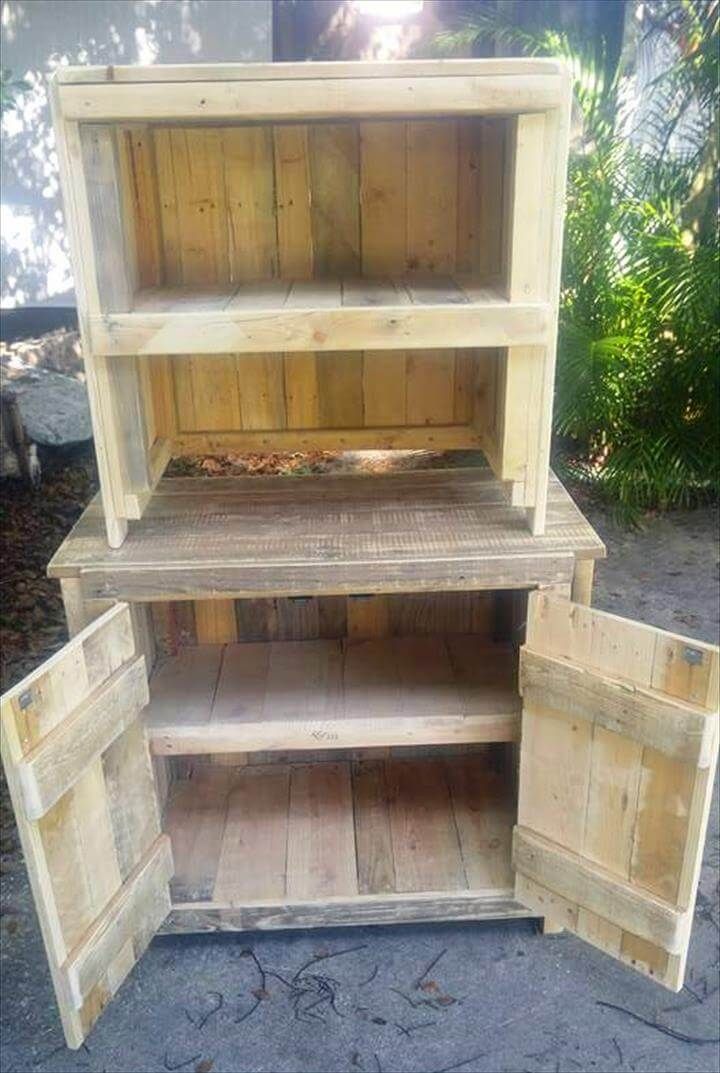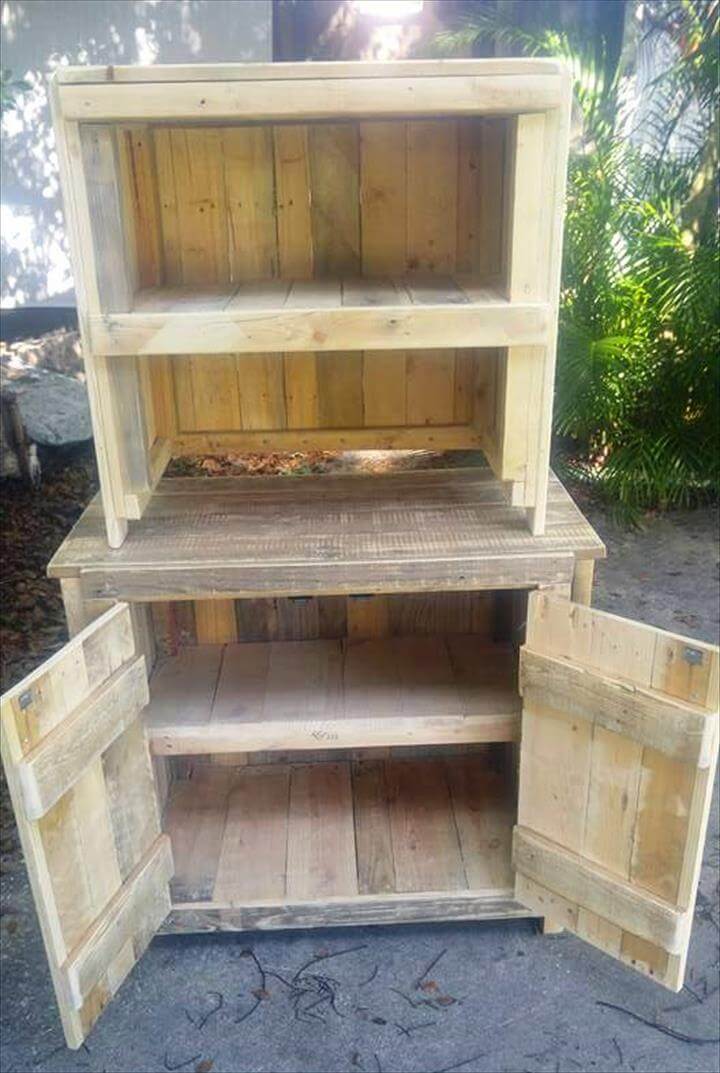 Here mini wooden cabinets have been made out of pallets, can be put together for an instant layout of a kitchen hutch which would be functional too! Bigger lower cabinet comes with front covered with double hinged door!
Pallet Bar Table with Matching Stools: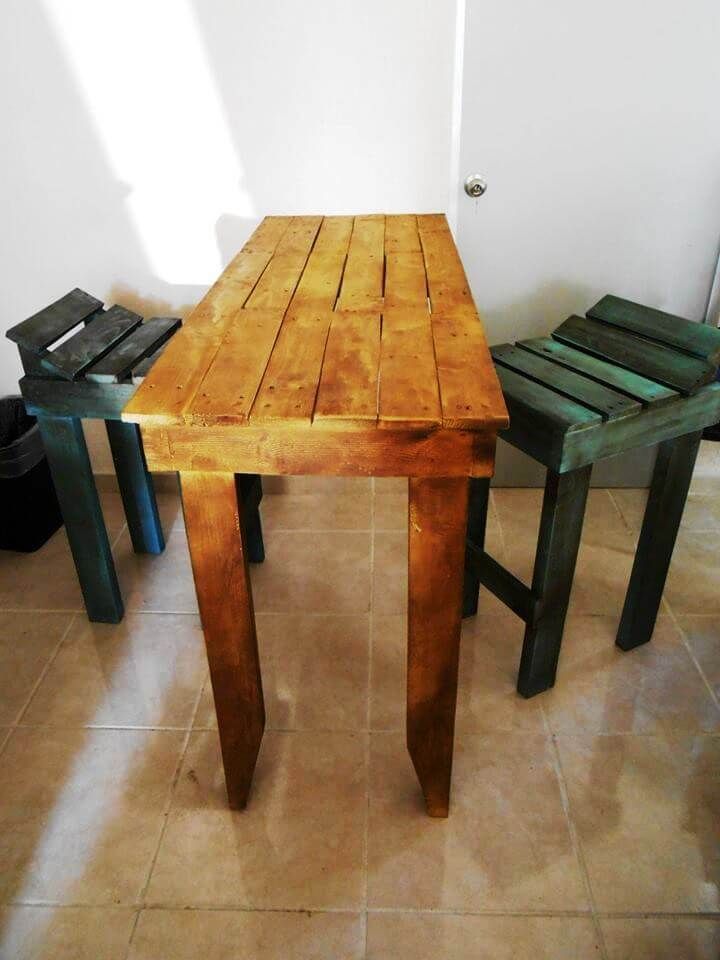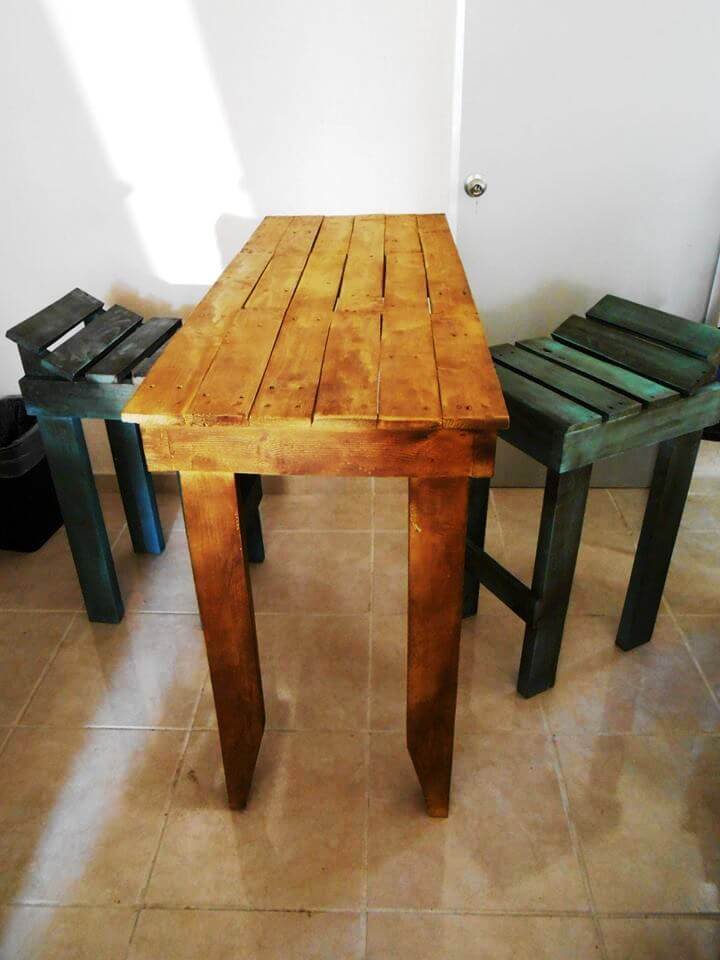 Make this beautiful rustic wooden party set duplicated at home using a short supply of pallets, here a raised bar table and 2 beautiful wooden bar stools have been made out of pallets!
Pallet Key Organizer + Chest of Drawers: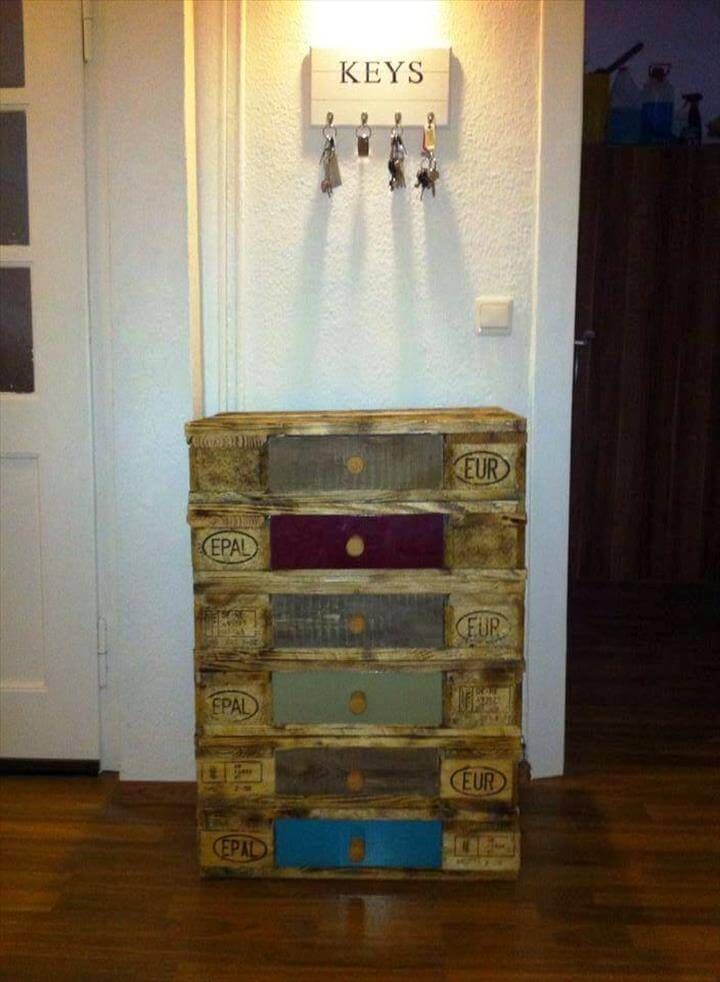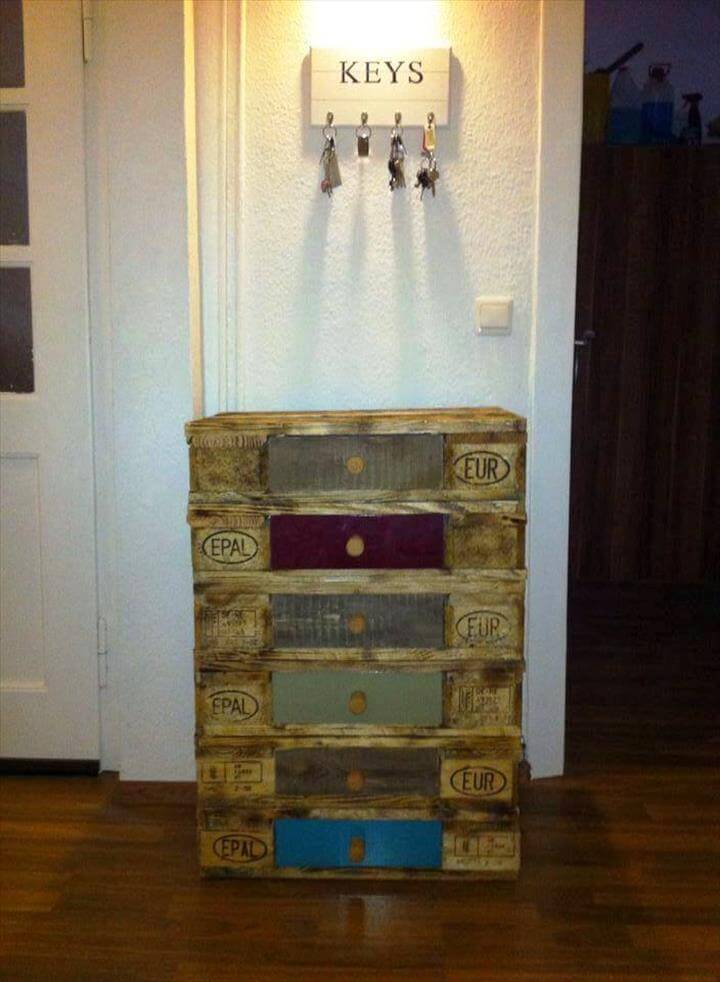 Here mini Euro pallet sizes builds a tower and openings in tower come with nicely fitted drawers, this gives a super sturdy chest of drawers for separate and categorical storage of your tools, accessories and other stuff of home!
Beefy Pallet Garden Couch with Coffee Table: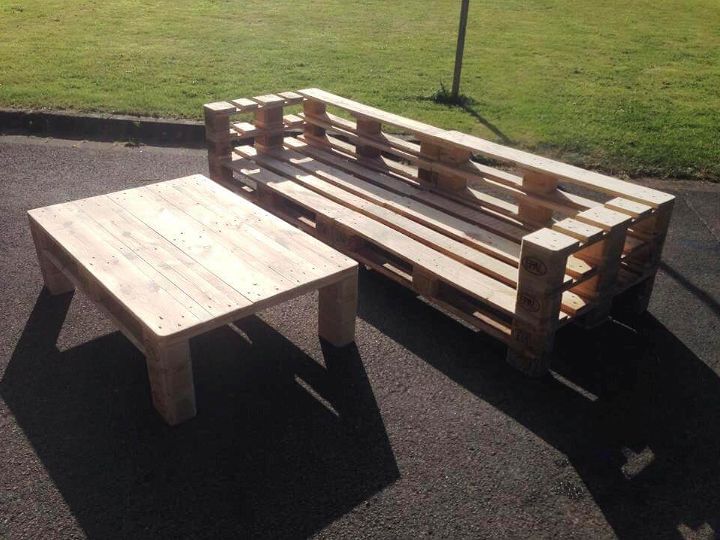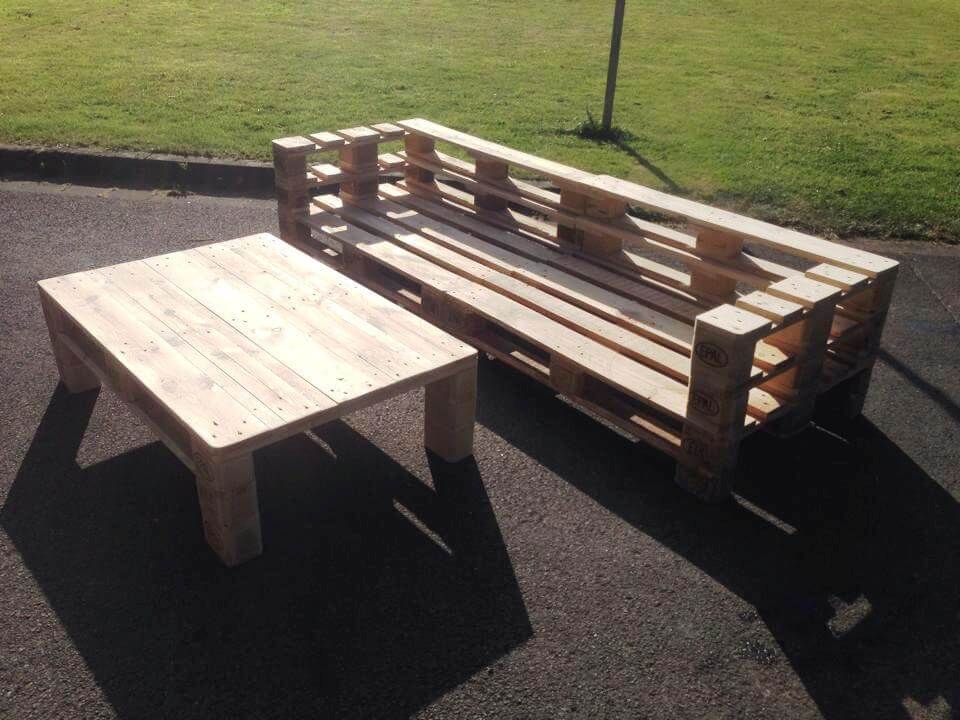 Get creative with pallets for building lasting wooden couches and sofas too by using both uncut and dismantled pallet boards, here is a inspiring wooden layout of a couch and a coffee table, a complete outdoor sitting set done with pallets on a wallet-friendly budget plan!
Chic White Pallet Couch and Coffee Table Set: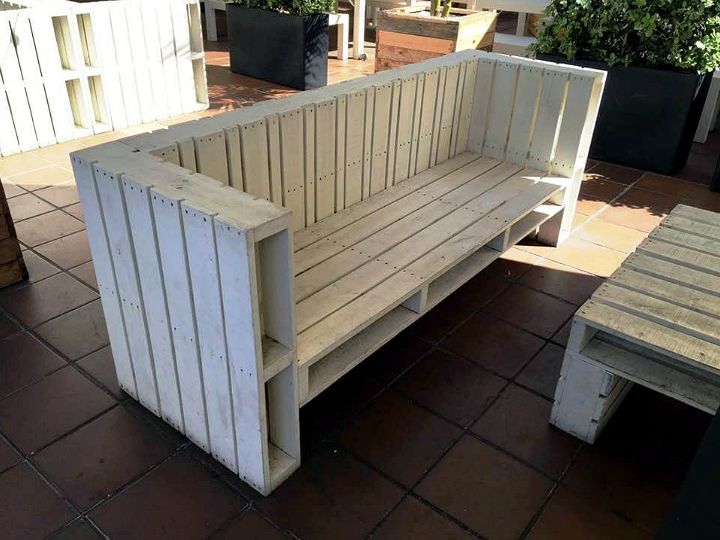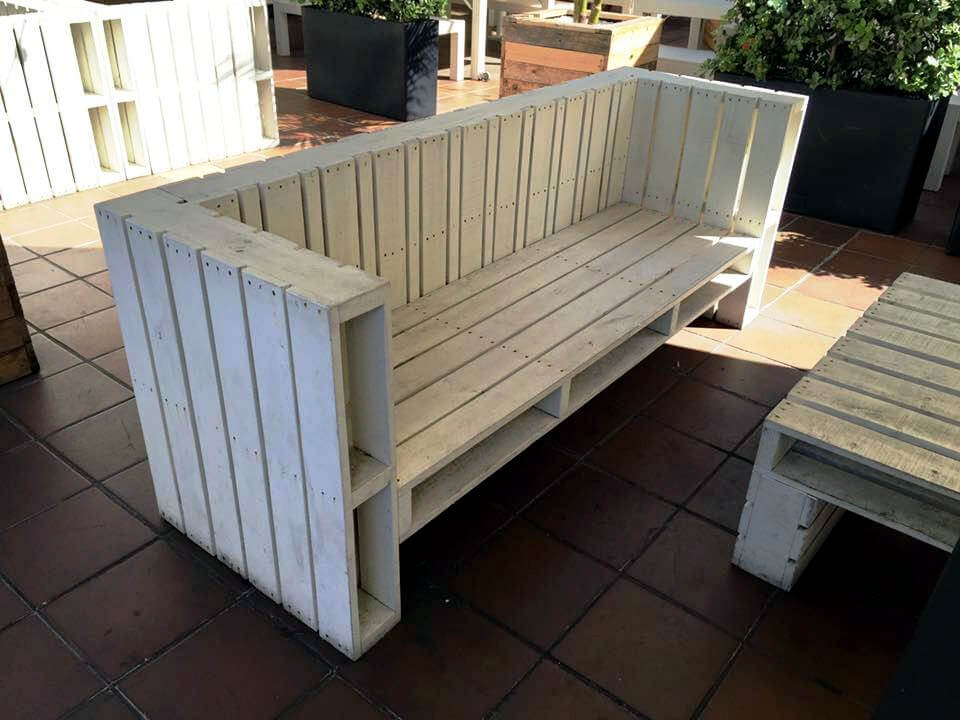 Here uncut wooden pallets have been used to craft this stunning white wooden couch frame, it provides beautiful magazine racks built in the armrest positions! Using a complete pallet and some trimmed down sizes, a coffee table has also been made that comes in front of the couch! Put a mattress and enjoy a comfy sitting experience!
Chic White Pallet Patio Bench: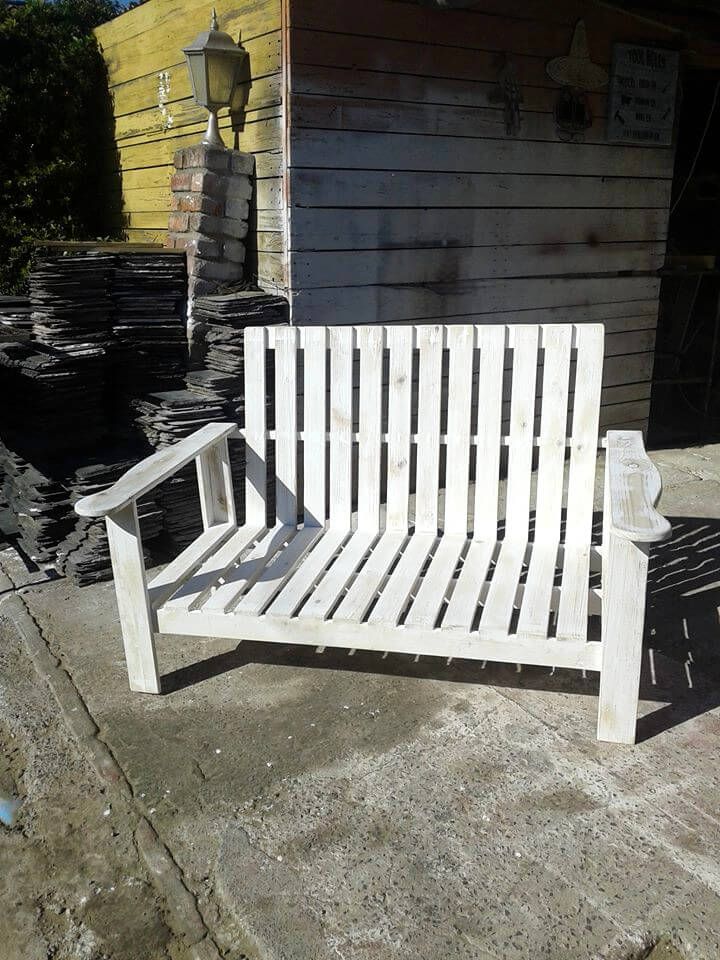 Here checkout this out the white washed wide outdoor bench, comes with low berth and elevated armrests, wholly been made by going with slatted alignments of pallets!
Cushioned Pallet L-Sofa with Coffee Table: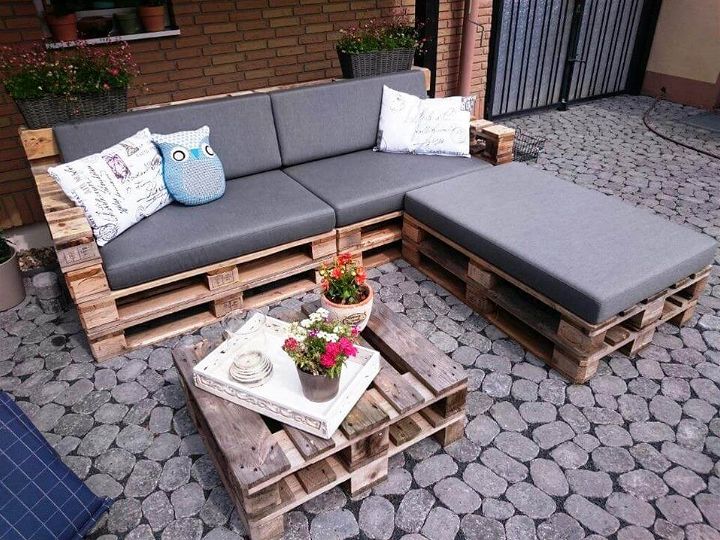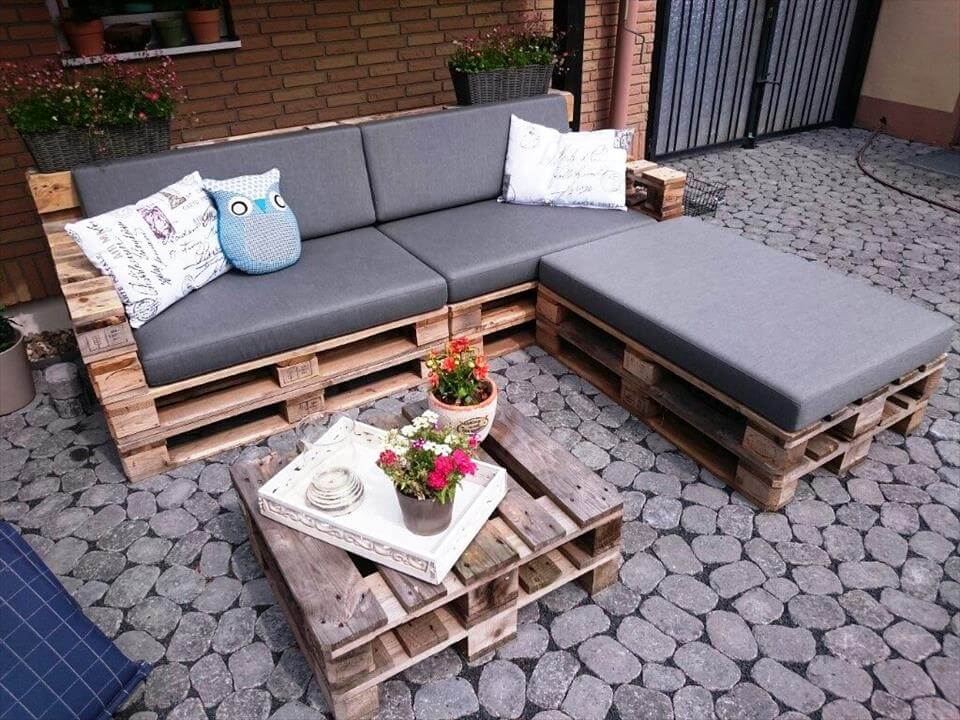 Checkout here this 2 pieces L-shape sofa, total 6 pallets have been stacked to gain this sturdy wooden sofa for a paved patio, pile up 2 more pallets for a beautiful pallet coffee table like done in this case! Here black foam cushions have been used to comfy up the pallet outdoor furniture!
Large Pallet Headboard with Nightstands: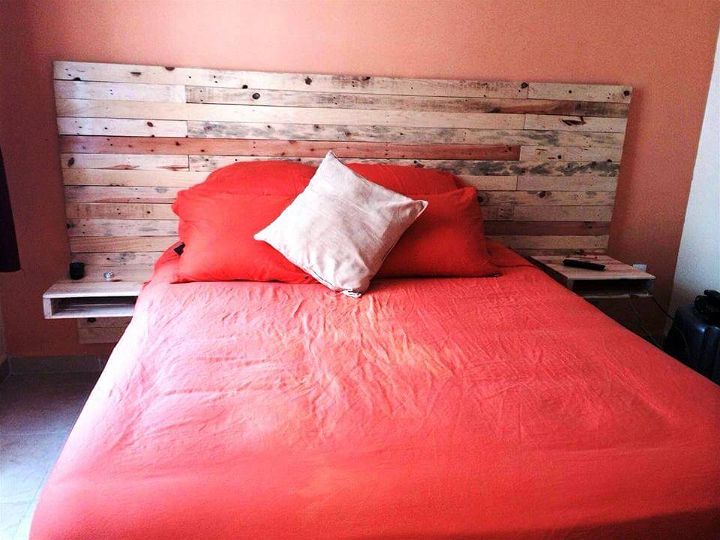 Install a large slim wooden rectangle by putting together the single slats of pallets just like a puzzle game, now you can put this large wooden rectangle behind your bed as a fancy wooden headboard, in this case this hand-built pallet headboard also comes with two popped up surfaces which serves as nightstands!