Redecorating of all your home and outdoor living spaces is dire need to let your home grab a trendy look and modern style as well! It may be a big financial challenge also to renovate those spaces of home which have been become boring and are often neglected, however there is still a ways that can still help your to turn you boring spaces of home into well developed living spaces just like those you see on magazine covers and this going this way would also be friendly to your wallet! You can just target the creative pallets wood media to solve all your problems and we are would like to highlight some highly clever and ingenious ways to recycle the pallets here that would all help you to create an instant stylish look of any of your space, see the these 25+ creative wood pallet projects here in this collection of pallet ideas which are all a big essence of various creative ideas of genius people across the globe but you will get all these ideas as a gift!
If you take a roundup of these genius pallet furniture ideas then we are sure that you will get yourself inspired at the last pallet highlight!
No matter whether you are to build custom loungers for a better outdoor view or you are just willing to gain some perfect decors to magnify the look of your green spaces, you will get all from these ideas! Help yourself also with pallets to organize the outdoor parties as building awesome outdoor party ice chests, lounges and custom couches is all very easy if you go handmade with pallets, the given pallet ideas will guide you for any type of construction! Create a divine look of your garden by installing pallet planters and also get the lasting bunk beds for toddler bedrooms which are much expensive in manufactured versions!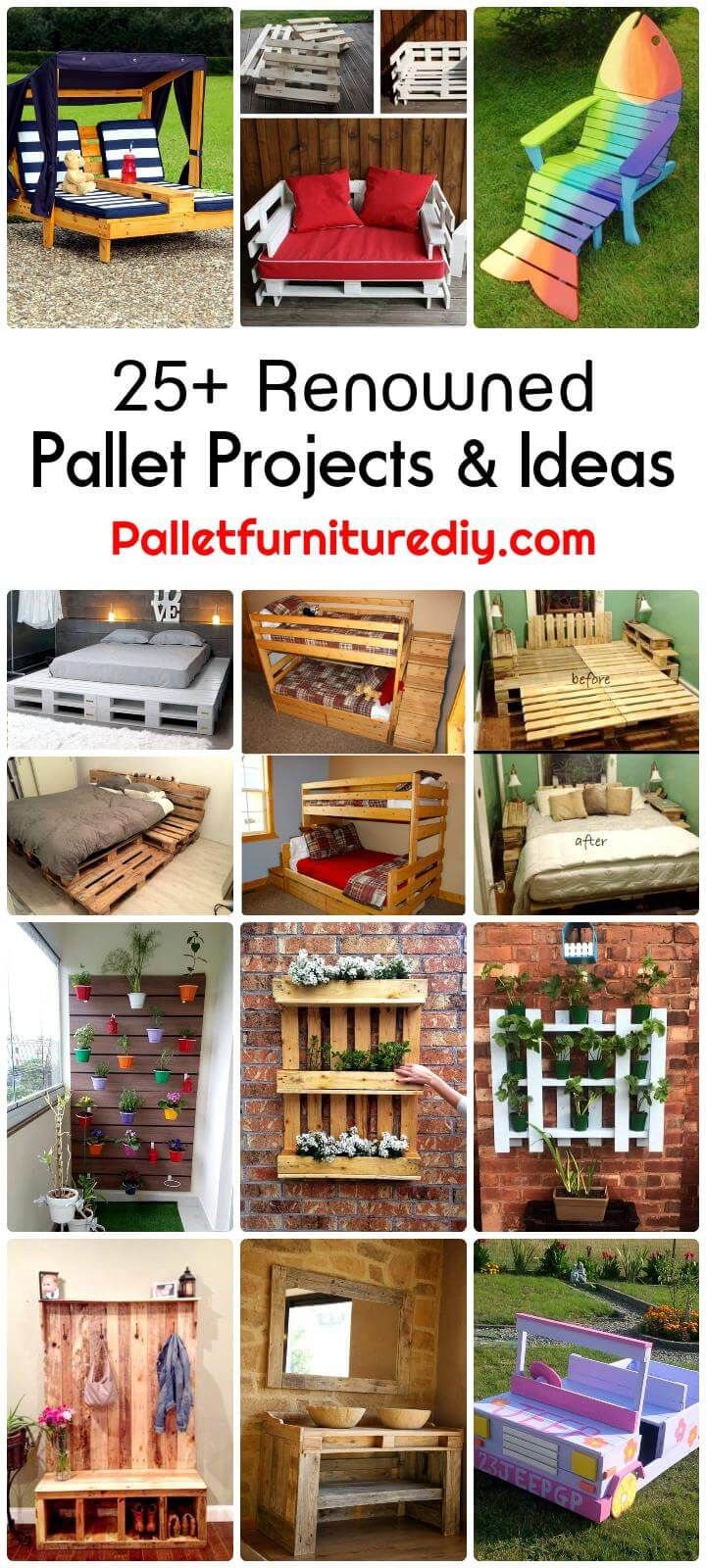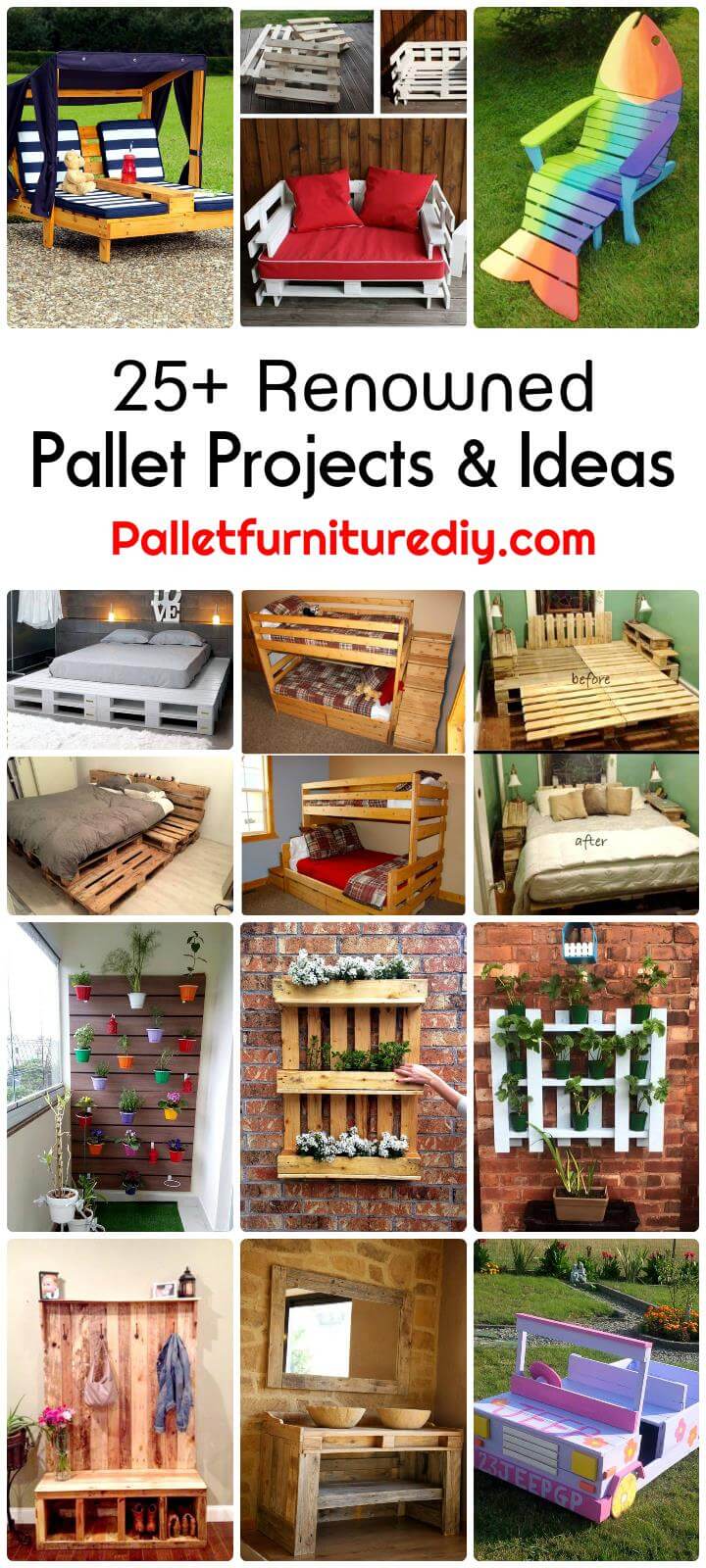 Build garden cabins to pass you vacation by getting so close to nature and also make your bathroom and kitchen functional by building custom sinks stands and wall racks with pallets! Also build custom sideboards to handle well your dining affairs and do get the fab wall hanging garden and planters out of pallets which are an all decent way to shift the natural greenery and colorful flowers to any custom wall area!
Kids Pallet Lounge Chair with Canopy: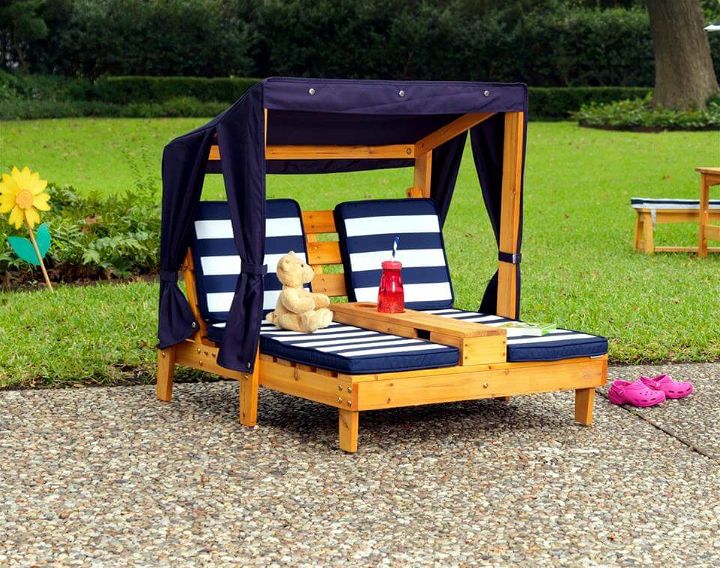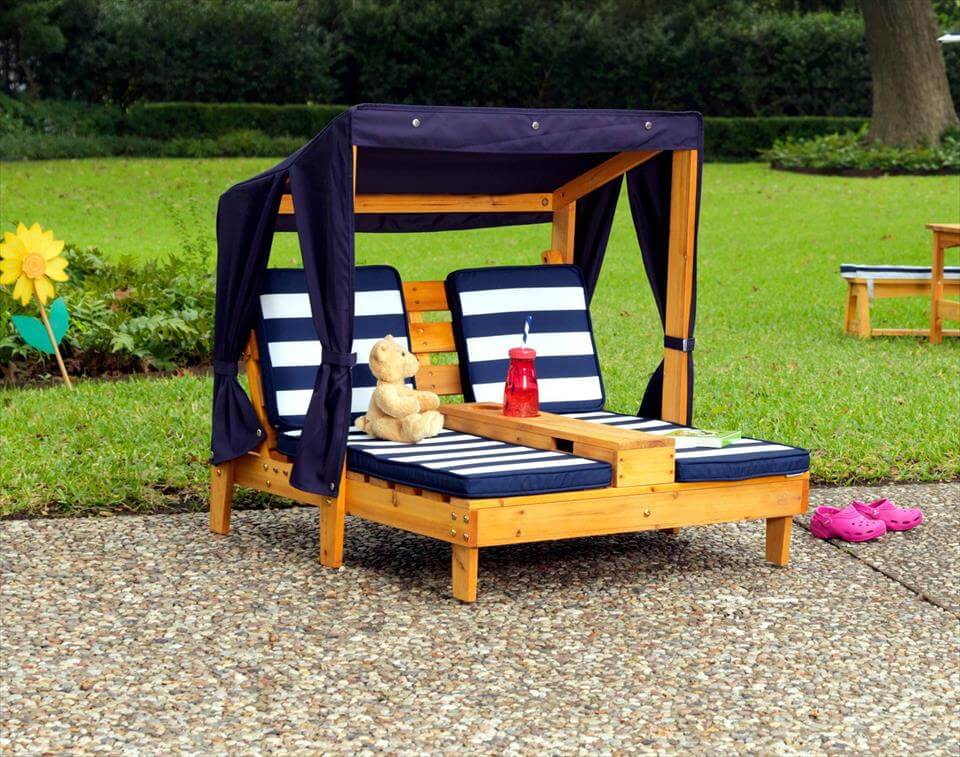 See the creativity here beyond your imaginations, two pallet lounge chair with shelter for kids, just remove the inside border or divider and use it as a canopy garden bed also! The in-between border is also having circular cavities built in so you can place there beverage mugs or cups while staring at your outdoors lying half down over it!
Colorful Pallet Jeep Garden Sculpture Decor: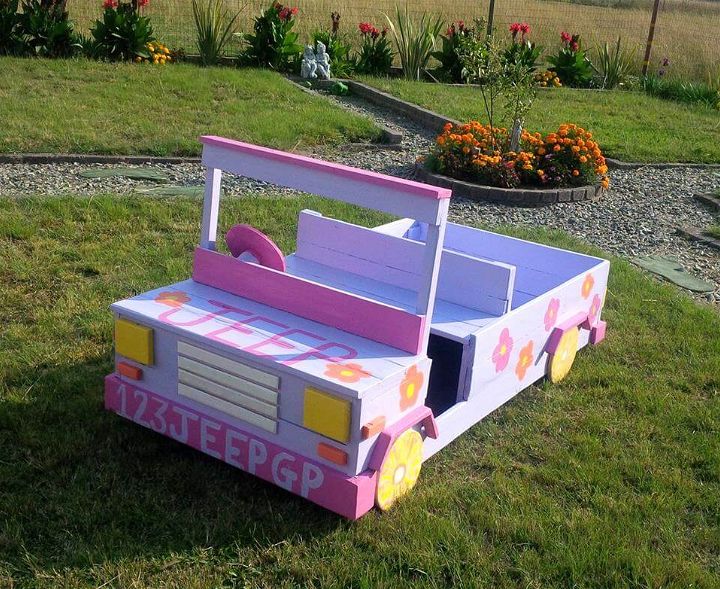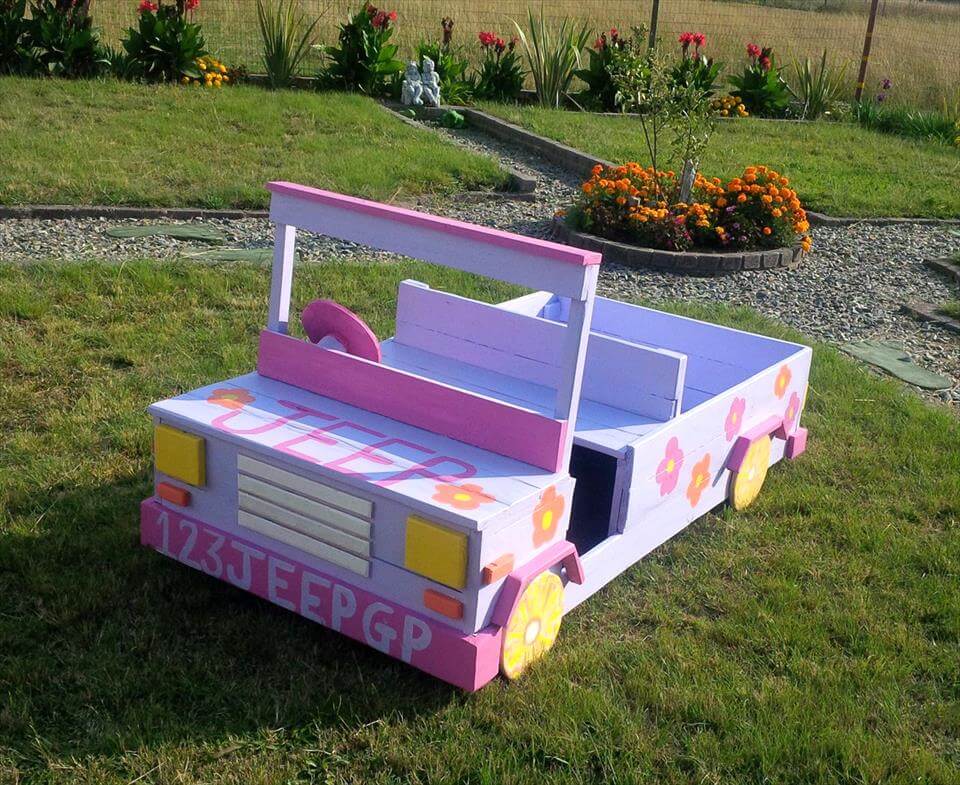 Need to get better decorative sculptures to fancy up your garden, just grab this wooden pallet jeep, would make an eccentric garden decors and would also raise the kids-fun there in your garden! You can also build the train engine and various other animal sculptures using free pallets!
Pallet Vertical Gardens: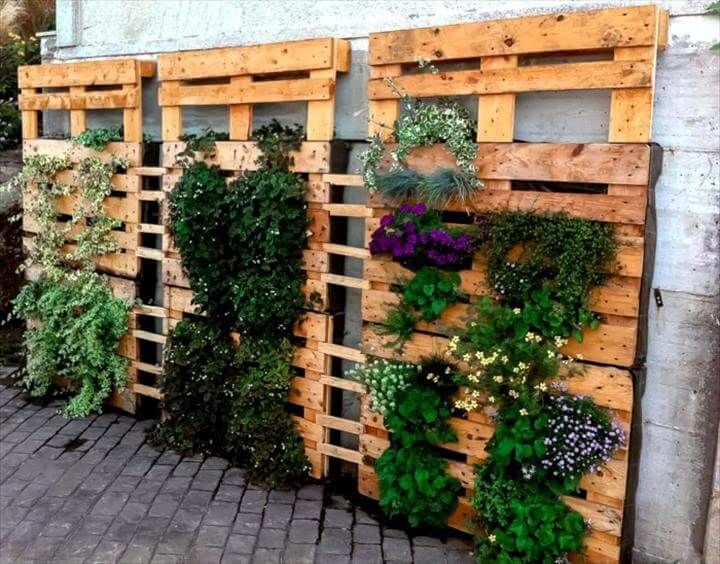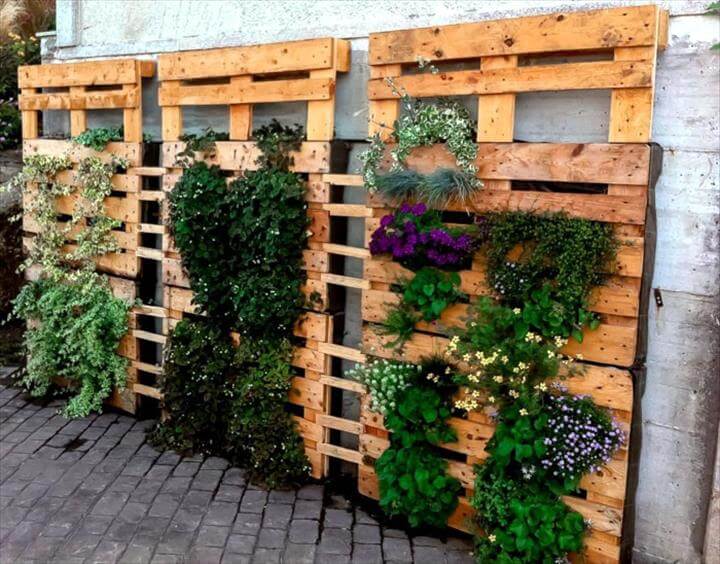 You may think these ways totally off-center to grow the herbs and flowers, this has only bee possible with pallets! These DIY pallet planter ideas would be really something that will add lot of visual attractiveness to your green spaces!
Pallet Red Cushioned Couch + Side Table: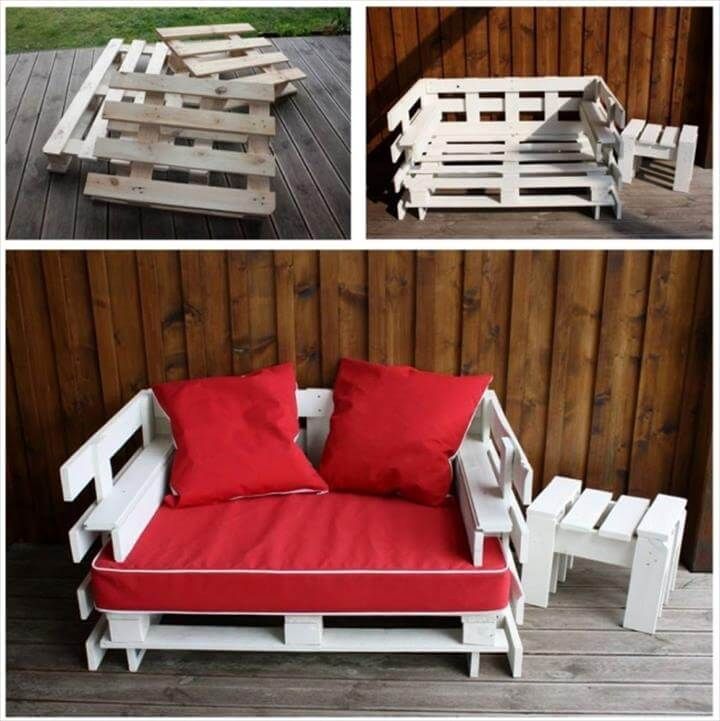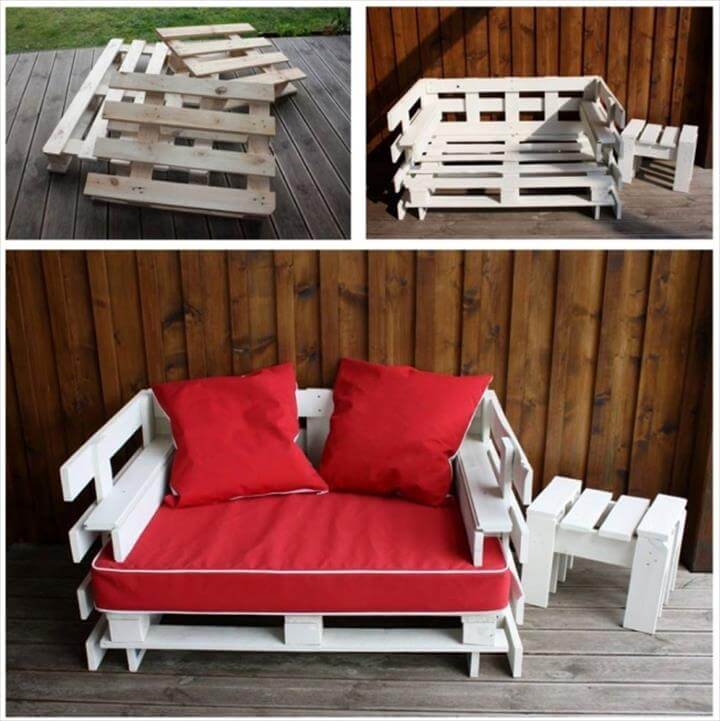 Boost your creative sense and clone brilliant seats with pallets for free for anywhere sitting, this perfect pallet sofa or two seater has also been installed using 3 mini pallets, red cushion with white border lines has been used to comfy it up, pallet scrap has been turned into mini side table!
Pallet Outdoor Ice and Sink with Rear on Wheels: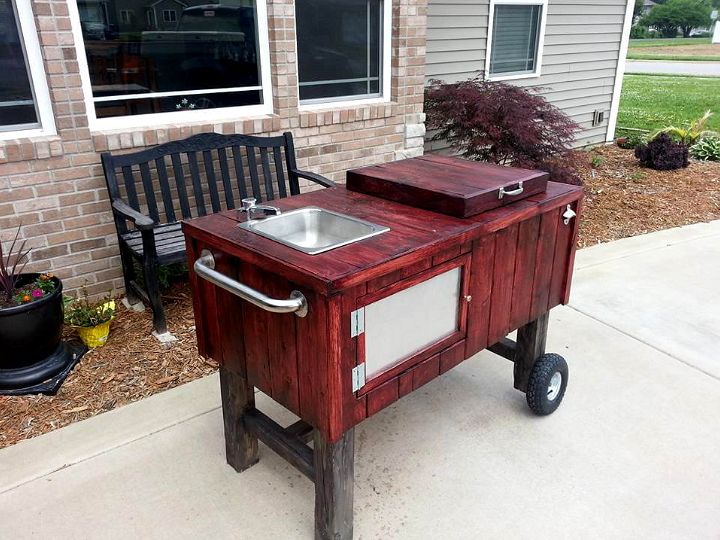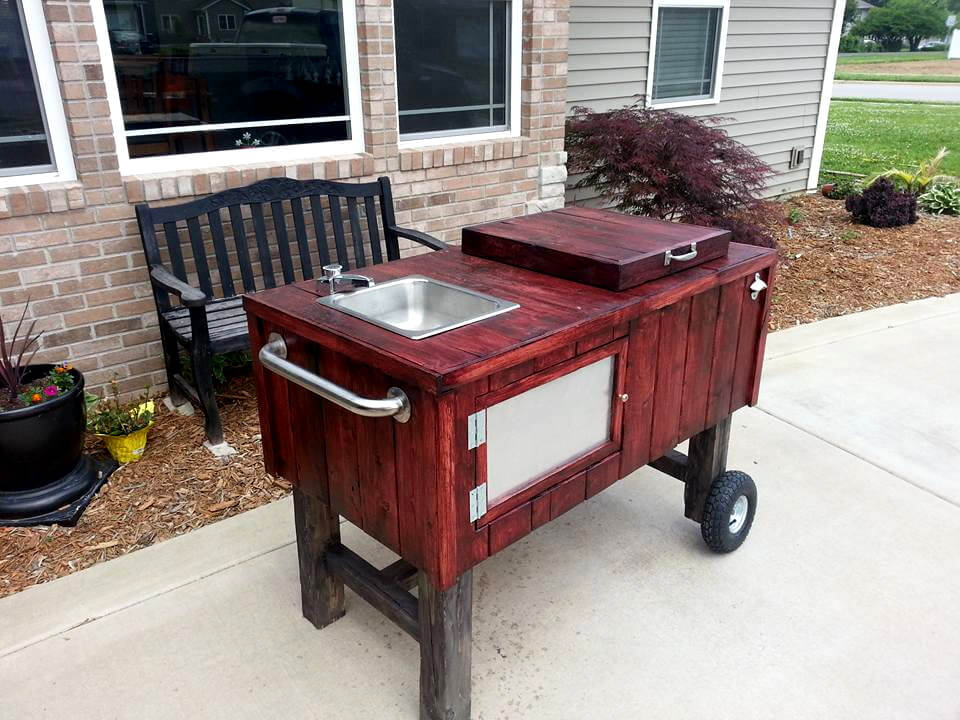 Say hello to this rolling pallet ice chest, having also an installed basic at the top which can work great if you add a water pipe from behind! This ice chest trolley is all storage friendly also and is having its rear on wheels while front comes on robust wooden legs! It is something you should definitely add to outdoor party spaces!
Bungalow Style Pallet Cabin/Kids Playhouse: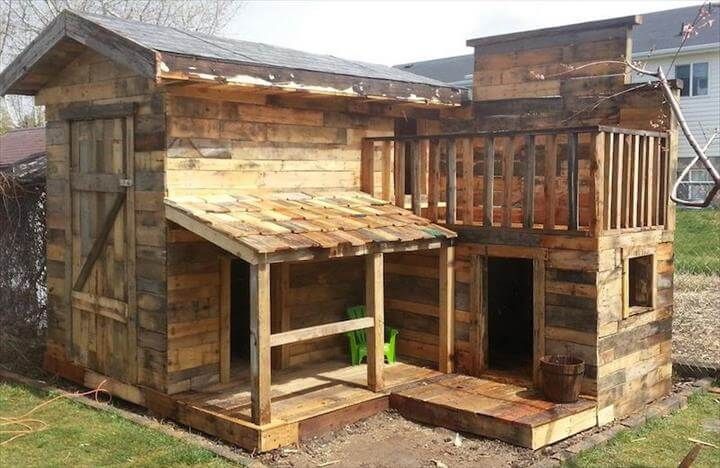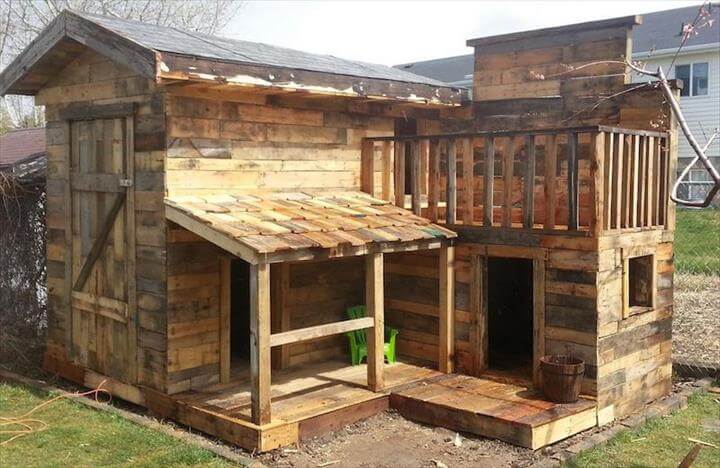 Whether it is a kids play time or you are just wishing to be in arms of nature, this bungalow style cabin or pallet playhouse would be item of your first priority! Entire wooden building is self-installed one and these are only the pallet boards used to build all from robust walls. to shingled tilted and chevron roofs, the terrace fence walls and also the doors and windows!
Pallet Toddler Bunk Bed: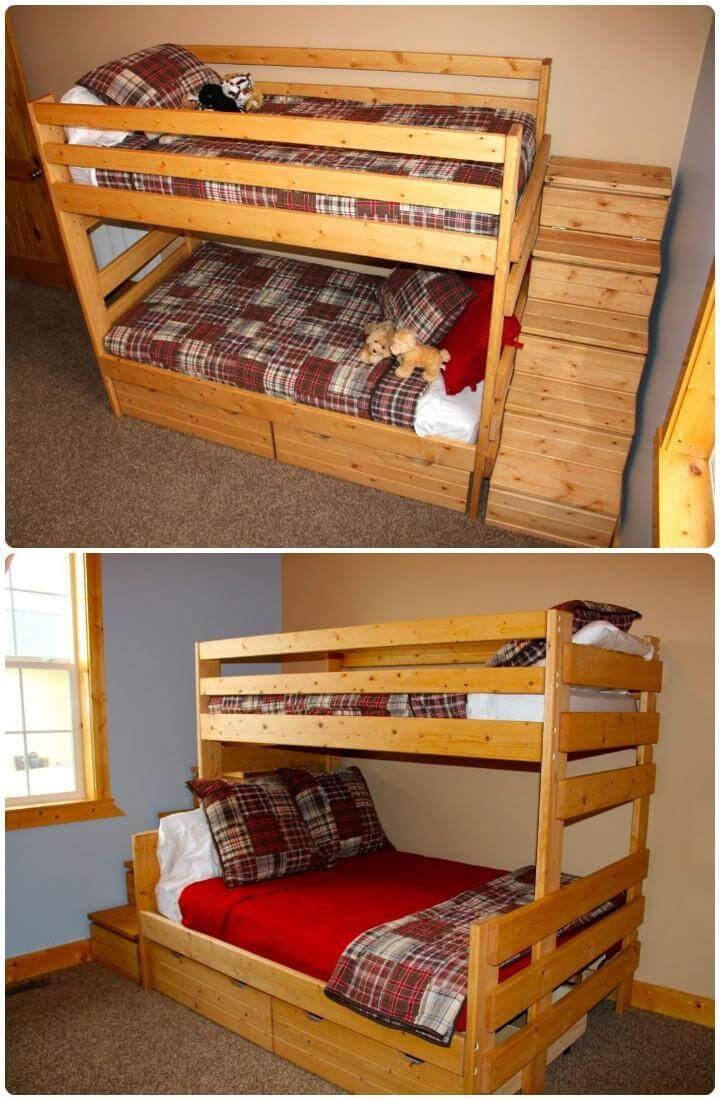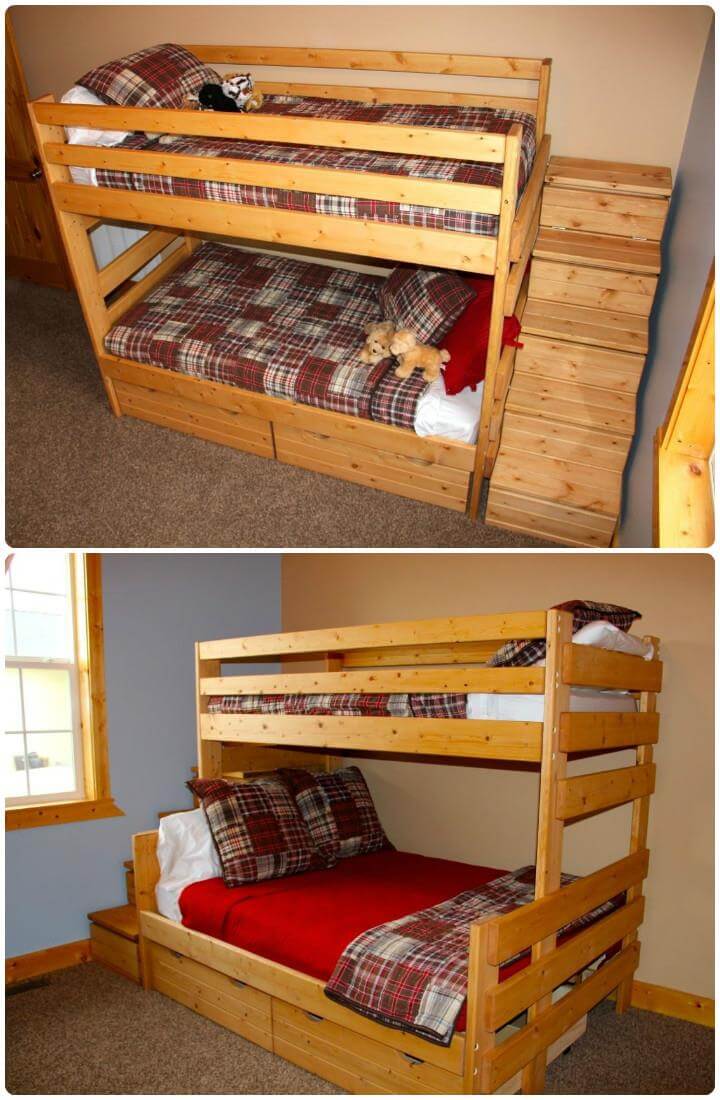 If there are always some funny fights to see between two toddlers for a sleeping bed, then you parents should prefer this super stable wooden bunk bed, can be built at home for free using pallets and will be too good for happy sleeping of toddlers without any fight! There are wooden stairs steps also installed with pallets to reach the higher bed portions!
No-Cost Pallet King Bed: Before and After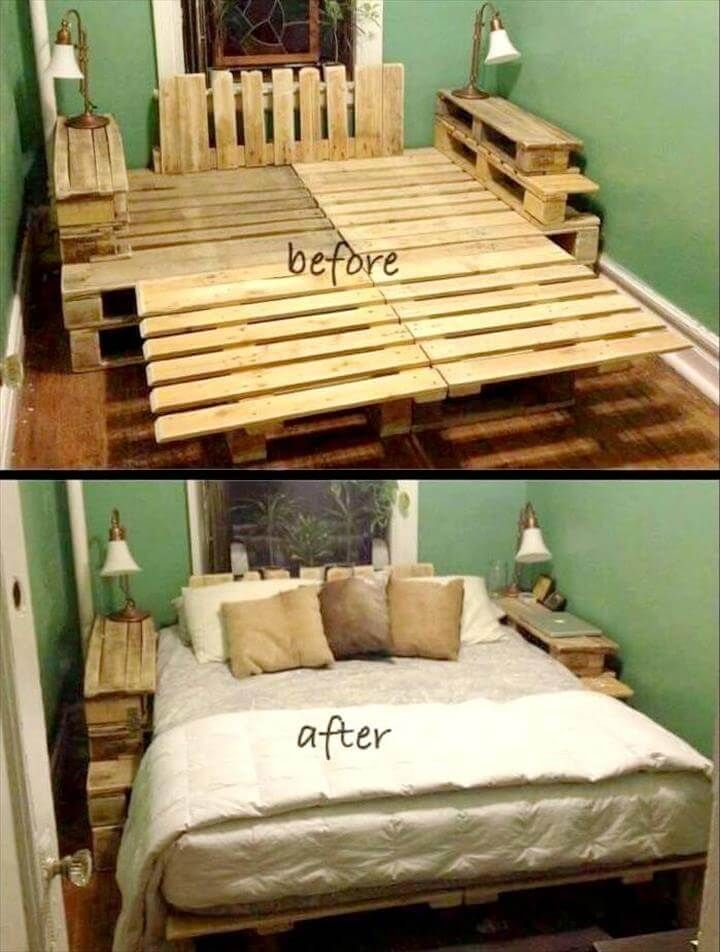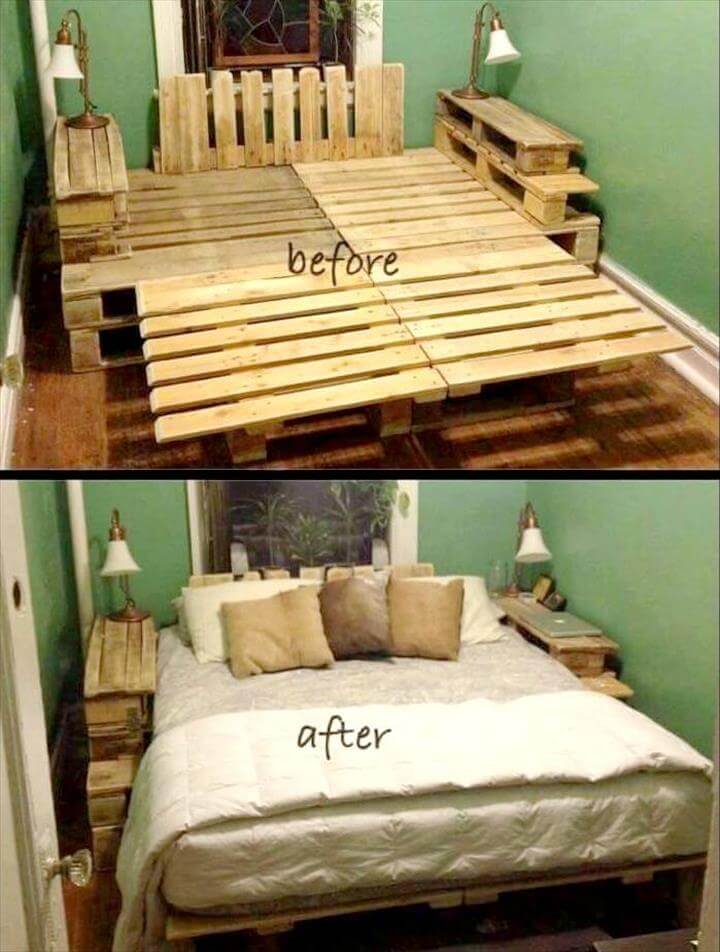 Again a creative bed model has been installed through ingenious piling and stacking of pallets, a pallet board with no dice section serves as a deck board and some slim pallet sizes come in the sides to give stunning nightstands or night lamp holders! All you need to buy here is the foam mattress cushion otherwise it is all free-of-cost model of wooden bed, lush with multiple features, so you will also love these 42 DIY Recycled Pallet Bed Frame Designs to do one for your bedroom!
Pallet Wall Hanging Herb or Flower Planter: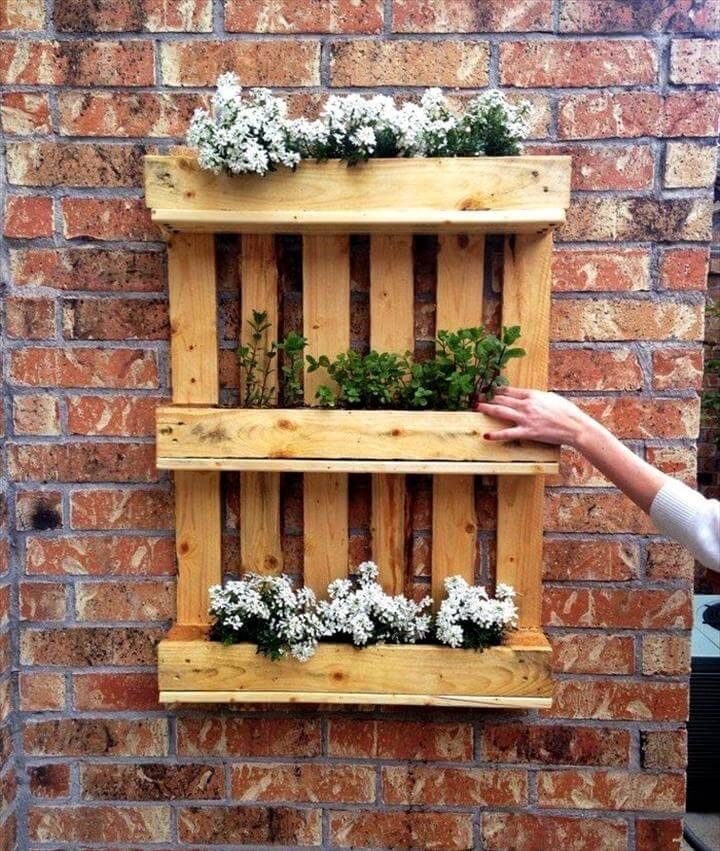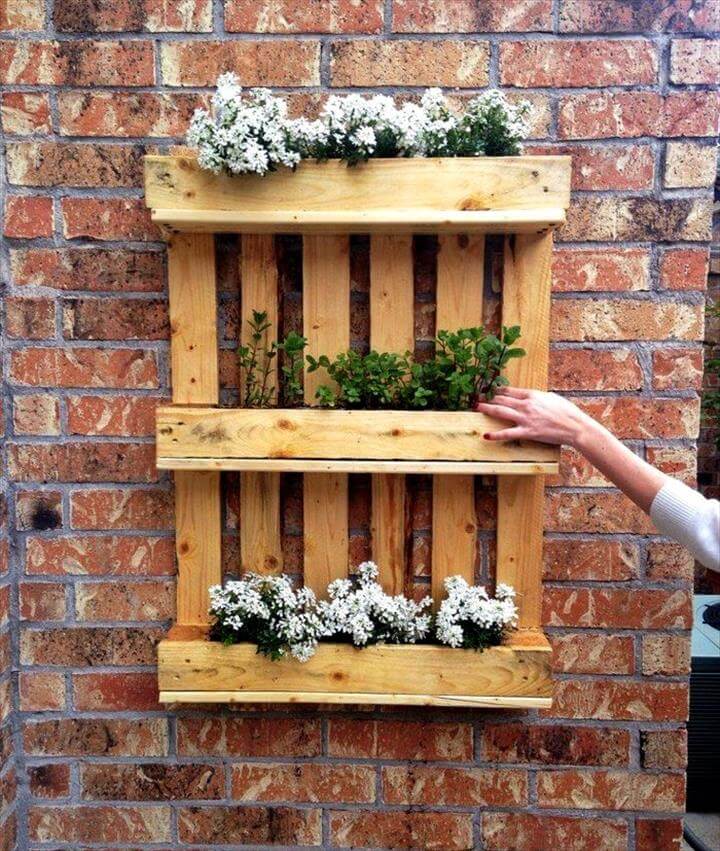 Bring a natural style to any indoor or outdoor wall using this fab wooden pallet planter, would all be sensational way to grow you herbs and also to your favorite colorful flower species on your favorite wall area! Prefer Euro pallets to clone this wall hanging planter model!
Pallet Mirror and White Sink Stand: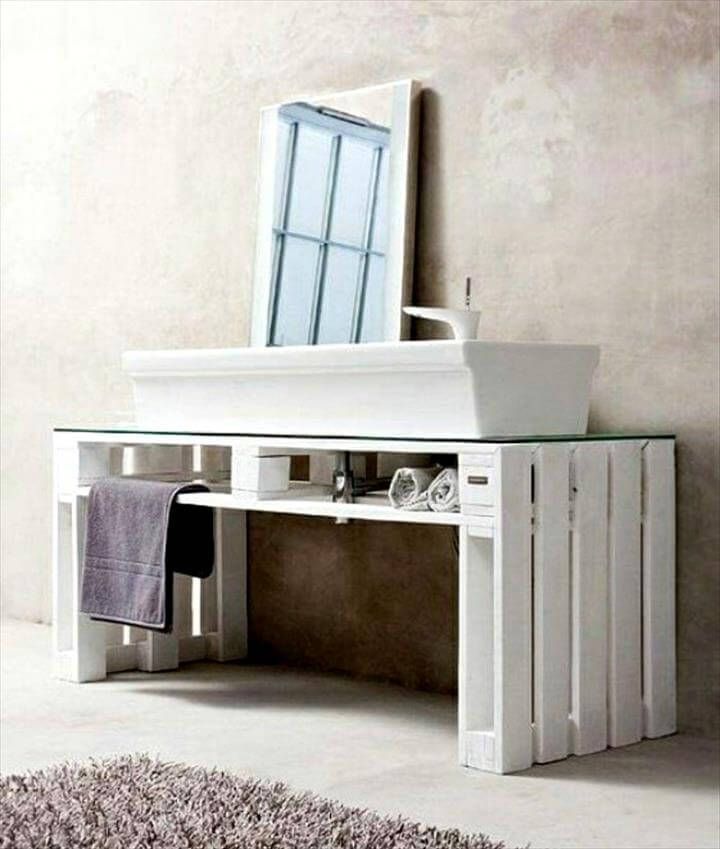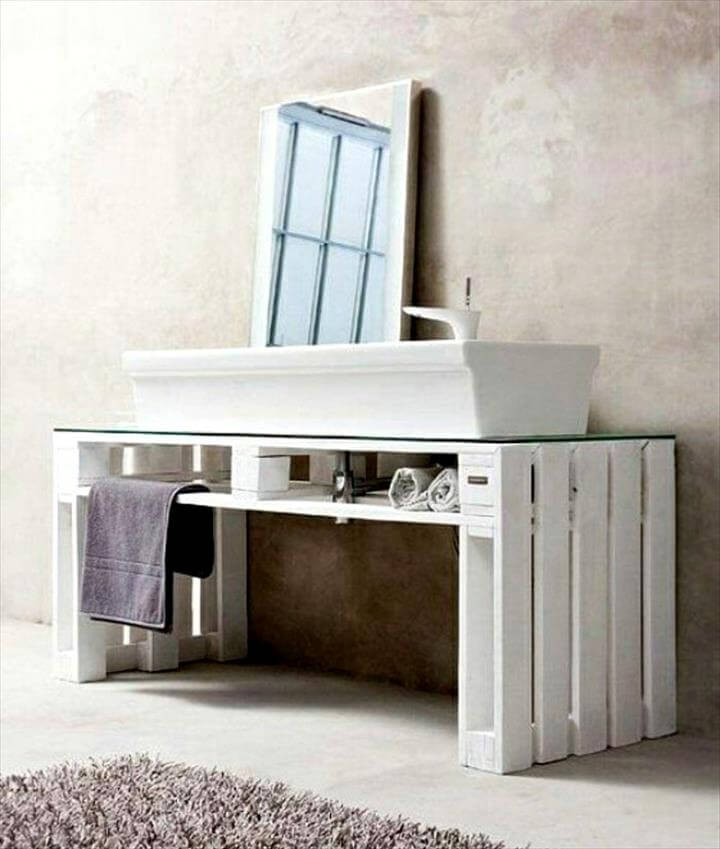 Build respective furniture for each of your individual room with pallets, here a pallet bathroom vanity which is also having a built in shelf which is actually those already made openings in pallets! Two longer Euro pallets would be all amazing to clone this stand model which all looks like a table here and has been finished with a glass top!
2 in 1 Pallet Tea Rack and Glass Rack: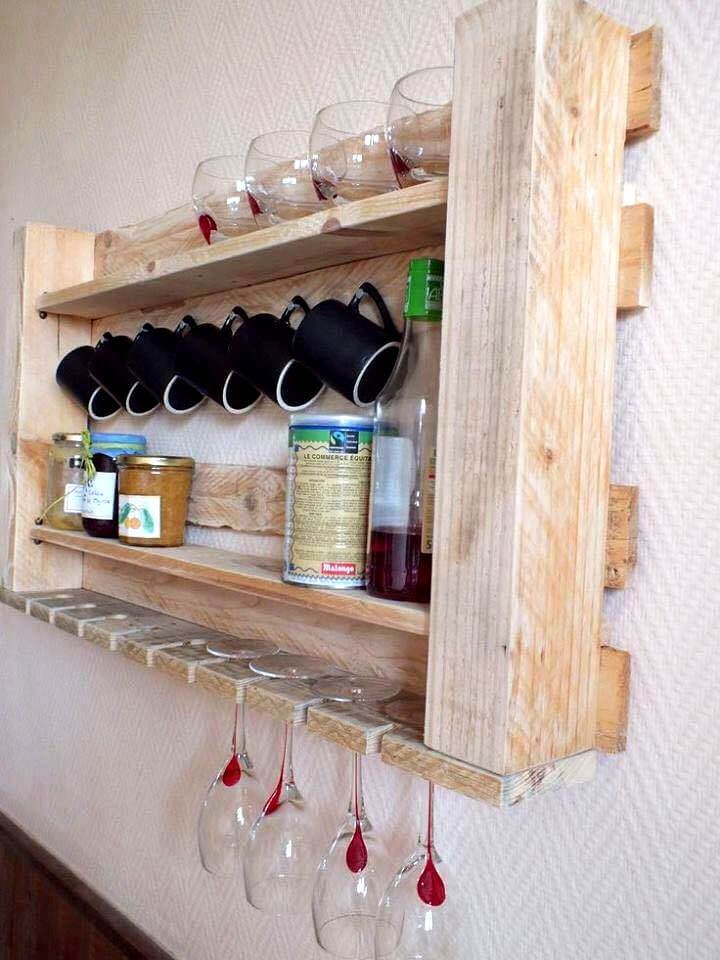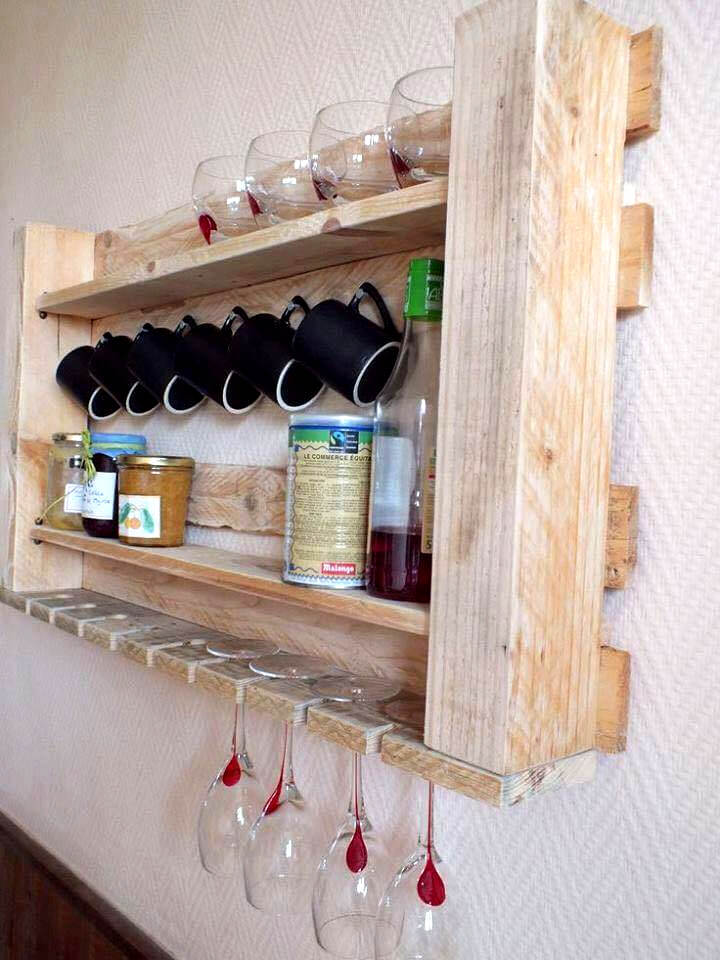 The item the kitchen lovers will love so much, is really going to be this dual functional wall rack, it is having both a tea rack and a beverage glass rack installed to one unit and there is also a top mantle to organize more of your kitchen stuff! It is something super easy to built but is super functional!
Pallet Sideboard with Drawers and Storage Crates: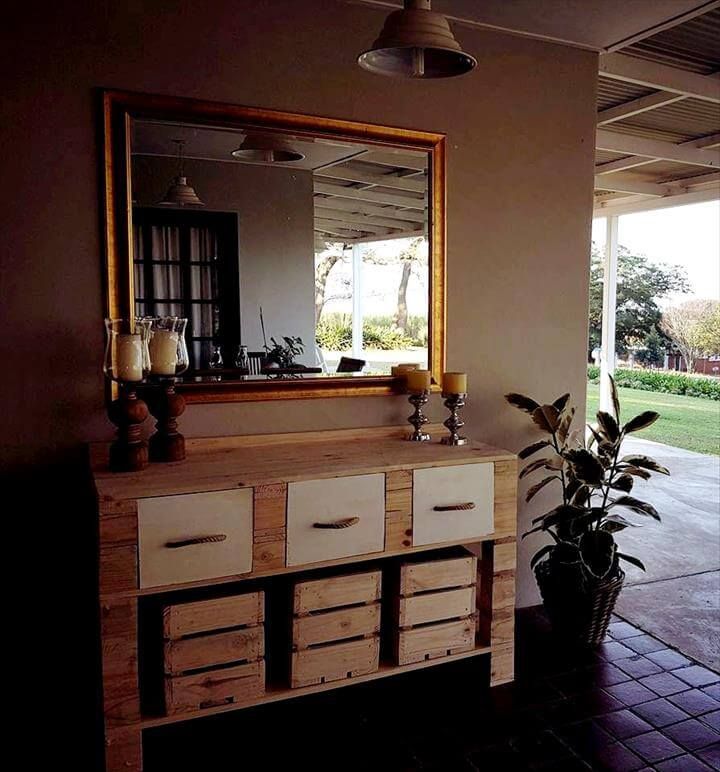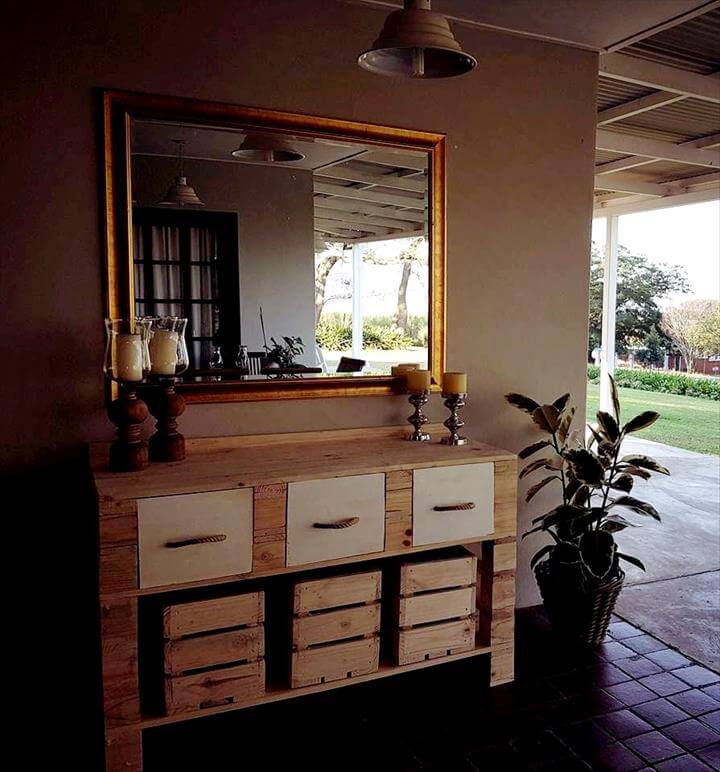 Need a sideboard to organize those dining meals and also to store the dining utensils, have this no-cost wooden sideboard design having installed larger crates for bigger types of storage, also having a row of drawers installed to top portion for more secure types of storage! Just put the candlesticks over for garnishing and enjoy it in your dining room! Another insanely Wonderful Pallet Furniture Ideas!