You will just love the way the pallets change into furniture items having incredible functional statements! While exploring interior home portions that come with bigger entertaining aspects and factors, we just get stuck to living room and media room and it is also much often that modern home interiors are having combined media and living rooms!
Whatever may be the conditions, a media or TV console is a must need of every media or living room for an entertainment boost, and this DIY pallet and metal pipe media console or TV stand may the best design ever if you compare the stability, cost price and style at the same time! Old metal pipes have been reclaimed to install the lasting pillars supporting here the both 2 levels of media console!
Each level of this media console has been installed with a modified pallet wood boards that contains also storage drawers in their already built slots or pockets! Finally the industrial rolls have been added to make the entire console a big pleasure to drag and push to either direction!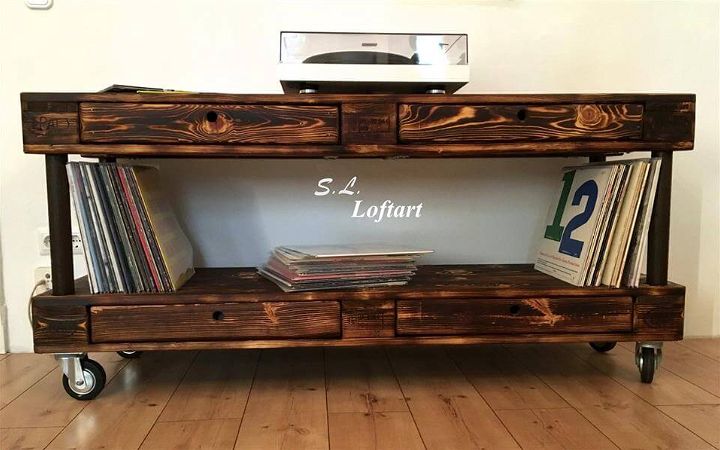 Tryout this ultra-modern edition of pallet-made media console, built all to meet the modern requirements so have some exclusive features to be more special!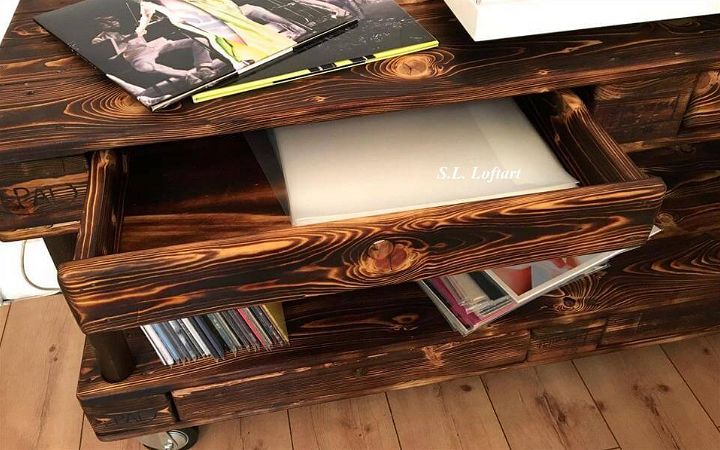 Two pallet boards have been held in bunk arrangements through metal pipe pillars fixed in-between! Then they have been secured using the well suiting hardware!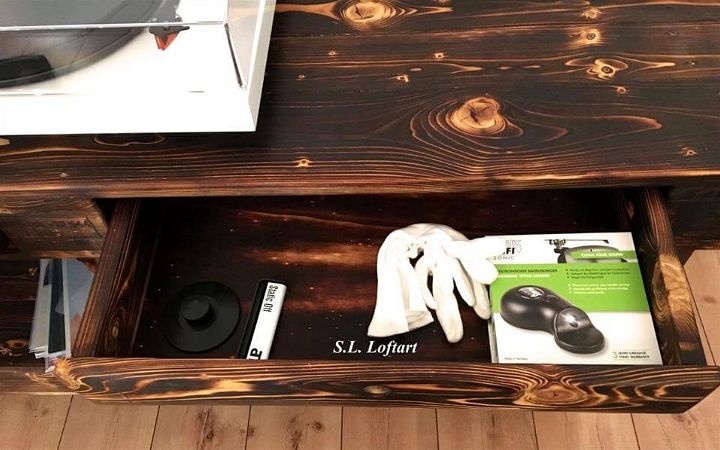 Each level of media console which is made of one pallet board, provides 2 slim drawers to store a big deal of your stuff, the openings which are already there in pallets, can be used as perfect slots for drawers, and same has been done here!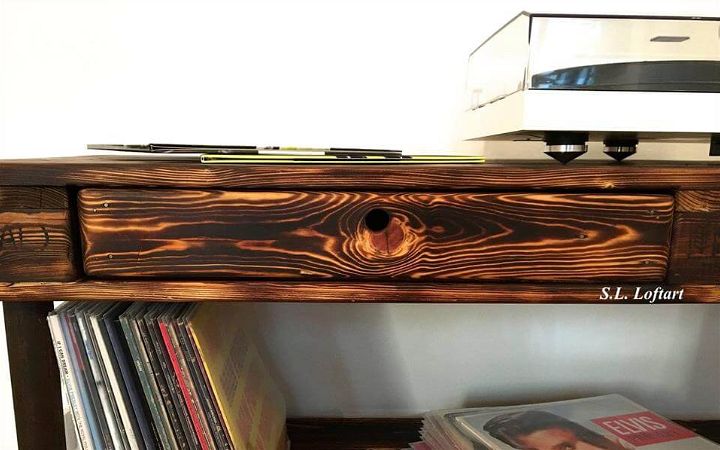 Little holes have been made in the drawers to put a finger in, so one can easily pull the drawers out at very time of need! The space in-between the pallet-levels, can be used for book-storage and also for display of your own selected items of decors!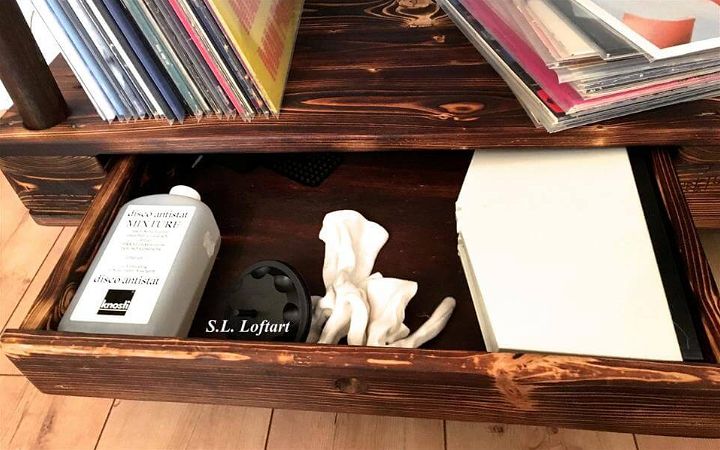 There are total 4 drawers this media console is having in possession so it would be all friendly to multiple types of storage at the same time!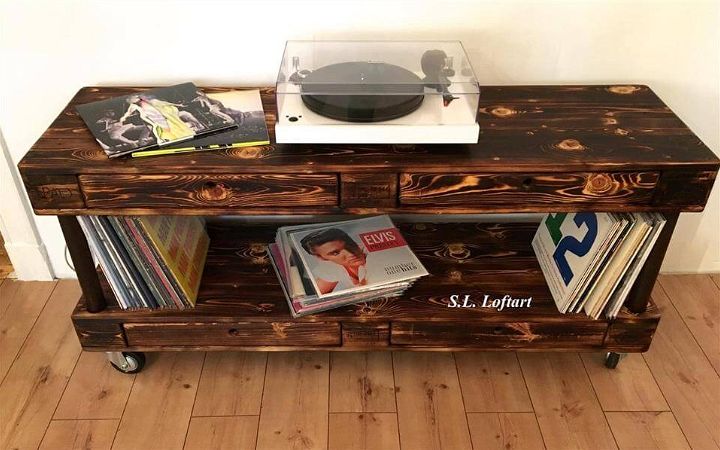 Just for a rustic or mid century furniture vibe, the pallets have been treated with hot fire flames that results into scorched look of pallets having custom black spots!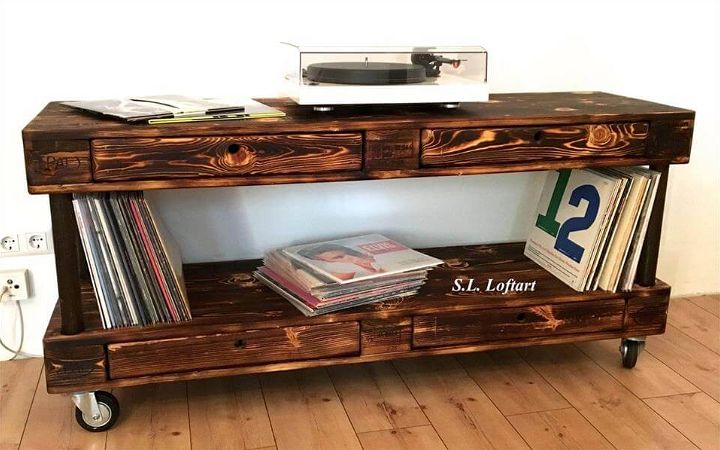 Wood burning also highlights the natural wooden patterns, lines and textures so wood look more visually attractive in this ultra-rustic scorched avatar!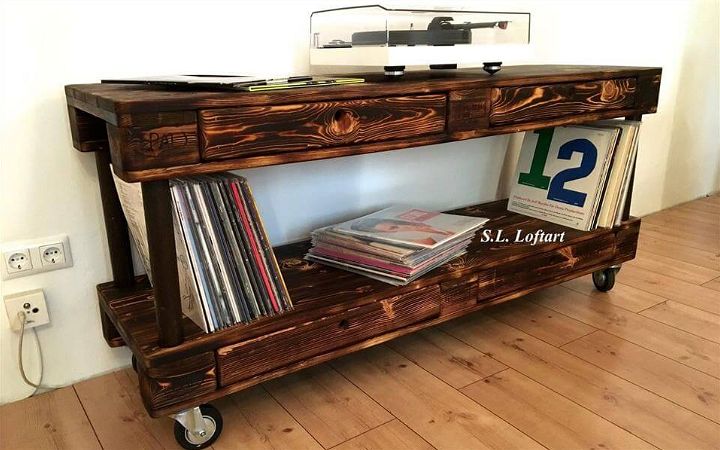 Two pallet boards and a few pieces of old metal pipes are all you require here to clone this lasting and stylish model of console for free, the need of every home!
Made by S.L.-Loftart