The most amazing in home furniture is always a bed, it would also be the true if we count for the most expensive item in home furniture! Fabricating custom wooden pallet bed is getting too much fame and you can be the next candidate to take part in it as no experience required here for manufacturing stylish diy pallet bed designs! Just take a look at this DIY pallet bed frame, owns an accent wooden headboard having custom red "LOVE" letters and red heart accents for bigger decorative statements and for a pure love theme, headboard is also having a mini shelf built-in so is storage-friendly!
You can also add the custom charging station to headboard and custom secret stashes to hide the night material and supports! The mid side frame has been done just by installing the bed rails first then inside has been filled by going with flat slatted arrangements of pallet slats!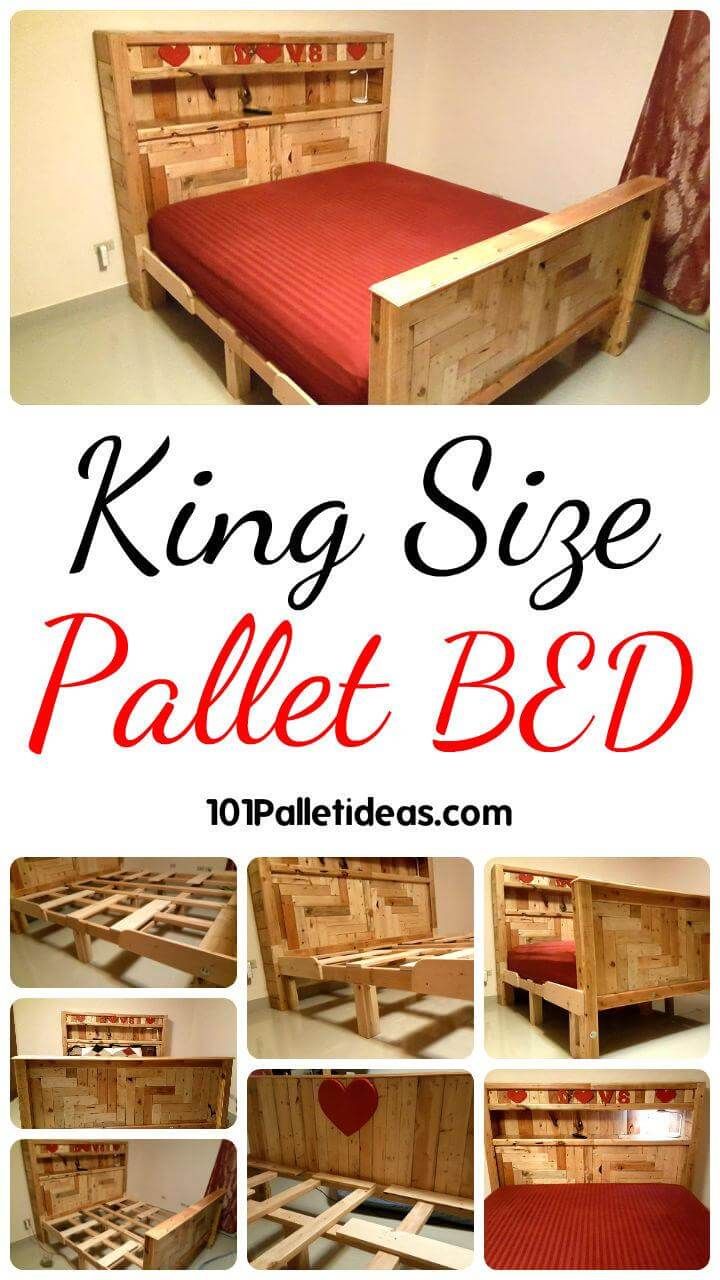 The corner has been given extra wooden supports having raised and round edges that will all help to hold the bed mattress nicely in position! Do clone this pallet bed frame built at no-cost!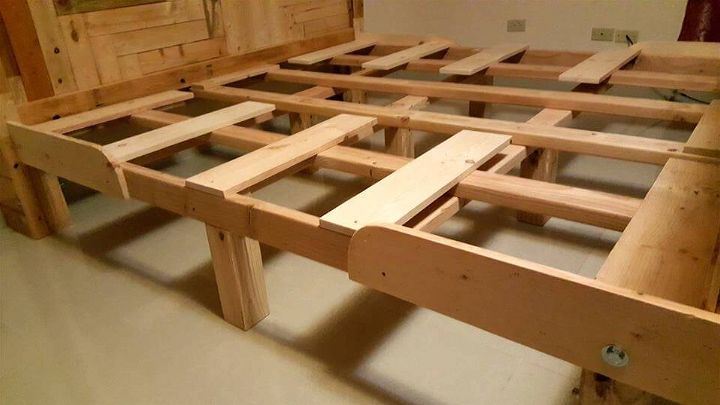 This most amazing achievement has been done also with dismantled pallets, here all the pallet pieces have been used to install this lasting frame of king bed! Bigger and shorter wooden lengths have been brought to slatted arrangements to build the bed rails and overall bed frame!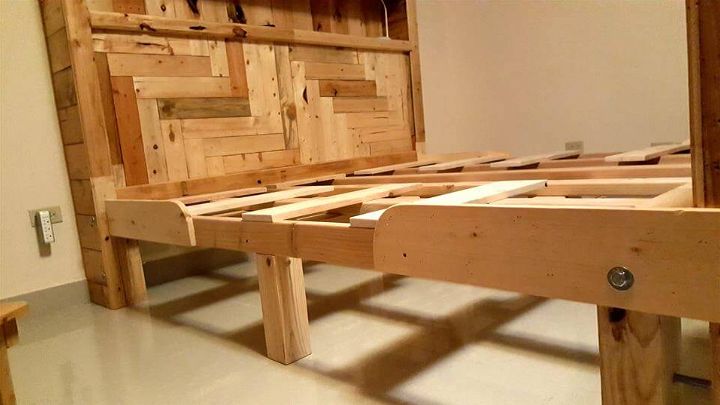 The major ends of the bed have been secured using nuts and bolts and has been tightened to desired extent using washers! Here this king bed frame also stands on 6 short but super stable wooden legs!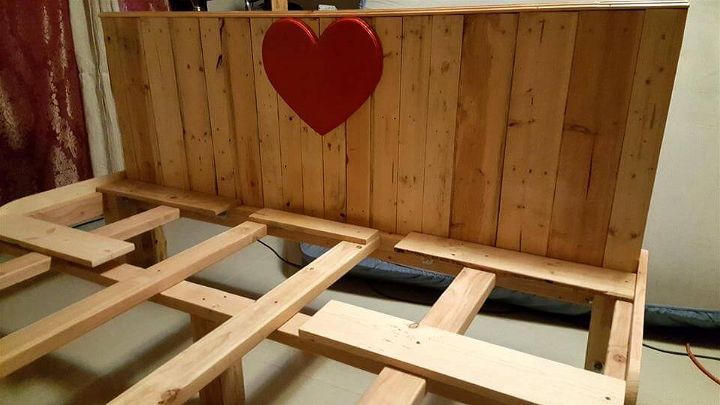 For a perfect love theme, custom wooden hearts, "LOVE" letters and other accents have been made and have been painted in red, the color of love!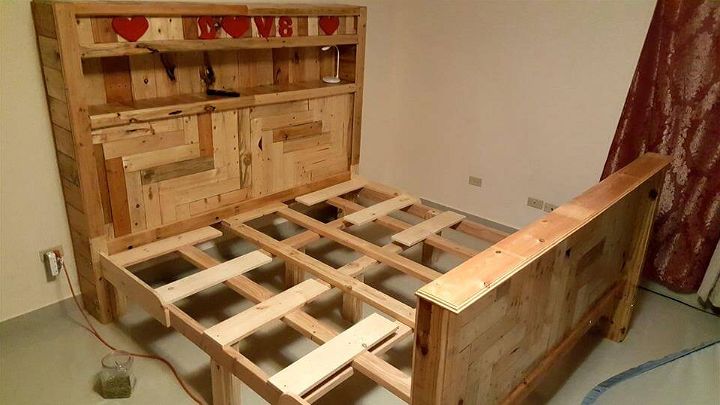 Go precisely while building the mid section, the fittings and cutting should be neat and here you need to also a little bit engineering!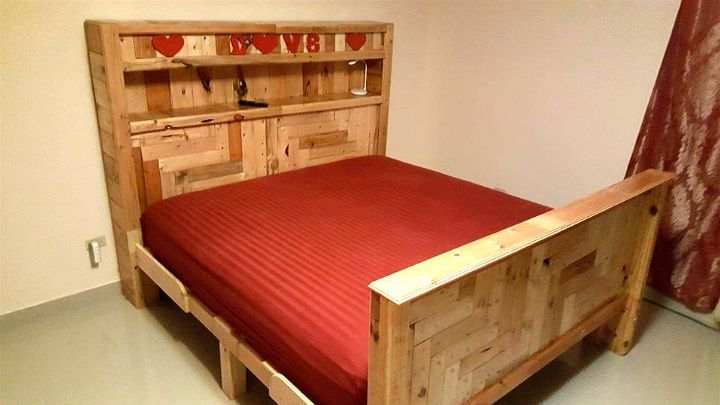 Lot of pallet remains and slats have been used to install the thicker headboard, the charming head of the bed, front has been dignified with patterned filling of pallet slats and also with a built-in shelf where bedroom decors can be showcased for personal decorative statements!

Filling of one side of foot-board has also been done by going with patterned alignments of pallet slats results into a fantastic wooden texture! Latest hardware has been used to install the foot-board and headboard to bed frame!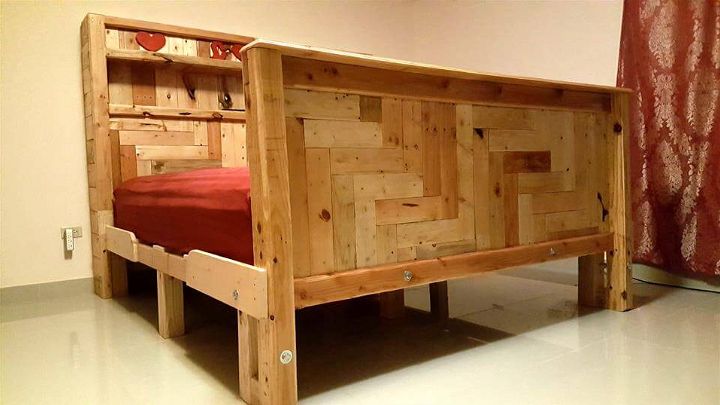 Here first priority has been given to robust bed dimensions so bed can handle a lot of weight over it! A perfect featured king wooden bed, built at home using free and old wood!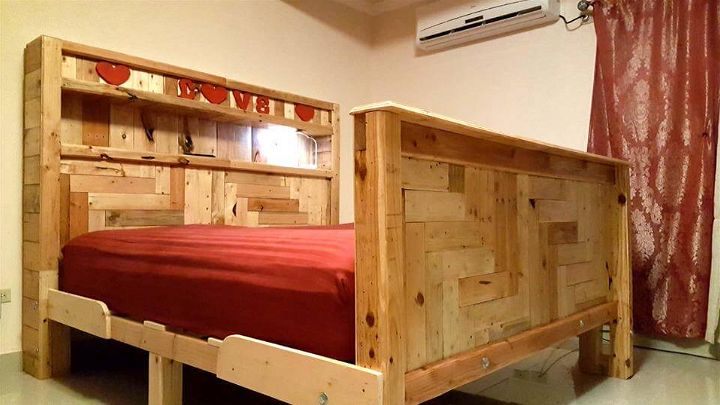 The corners have been made stronger and thicker and custom wooden lengths with one end round, have also been installed to corners as raised wooden supports that will not let the mattress dislocate!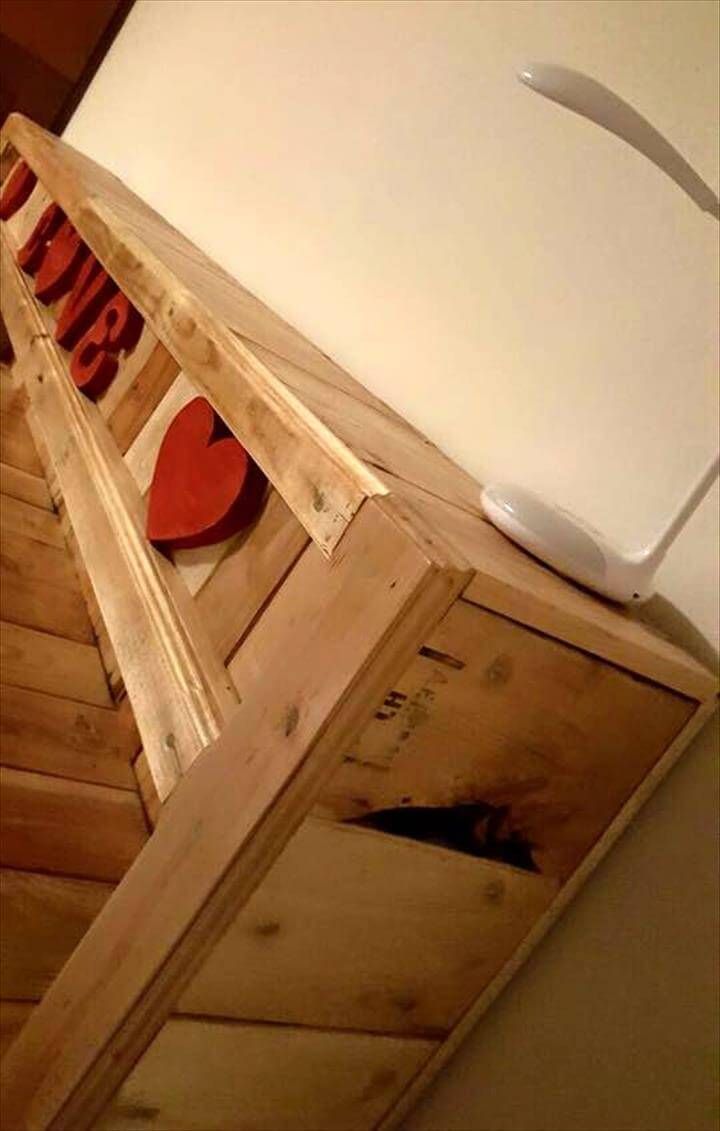 Here is how the top of the headboard has been customized to speak for love, it would be damn easy to carve the wooden "LOVE" alphabets and heart shape wooden accents by using carving router!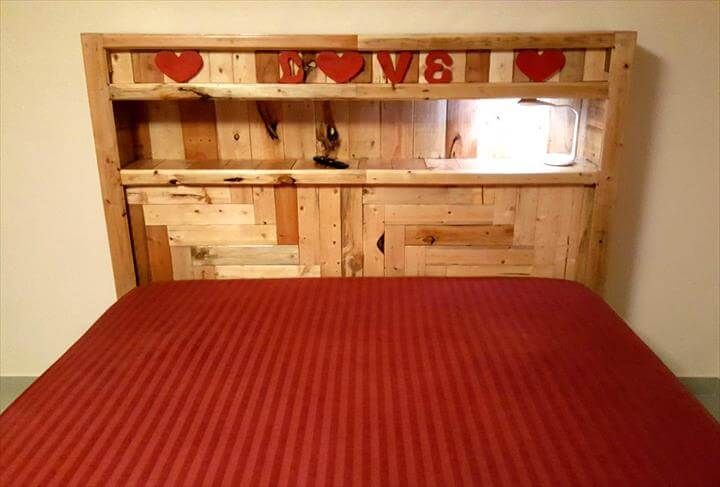 As the entire bed has been decided to build on a love theme, so red foam mattress has been used here that speaks volumes for love!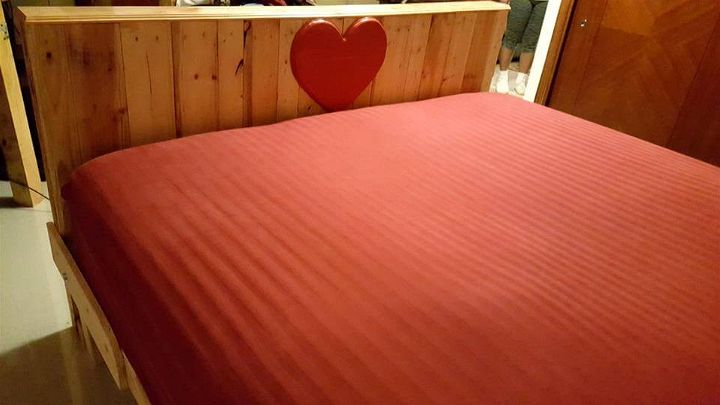 A bigger red heart wooden accent has also been tagged on foot-board front, making the love expressions of bed more noticeable! Getting custom, fully featured and lasting wooden beds was never so easier before! Here we have more 25+ Renowned Pallet Projects & Ideas for those who really love to pallet recycling.
Made by: Guam's Pallet Gal & Guy