Looking for some diy patio furniture plans? Whether you're looking for a simple patio chair plan or a complete outdoor seating furniture set, we've covered you. We've compiled a list of 25 diy patio furniture plans, including step-by-step instructions, visual guides and PDF blueprints to download. These DIY outdoor furniture plans are easy to build and sure to add a touch of style to your outdoor space. Get started today and have your new DIY patio furniture ready in no time!
One of the most important things to consider when choosing diy patio furniture plans is the material you'll use. Several different materials can be used for outdoor furniture building, but wood is popular for diy patio furniture because it's durable and looks great. DIY wooden made furniture is inexpensive to build and always the most comfortable material to sit on. Ultimately, using wood is the best material for your outdoor furniture and is budget-friendly.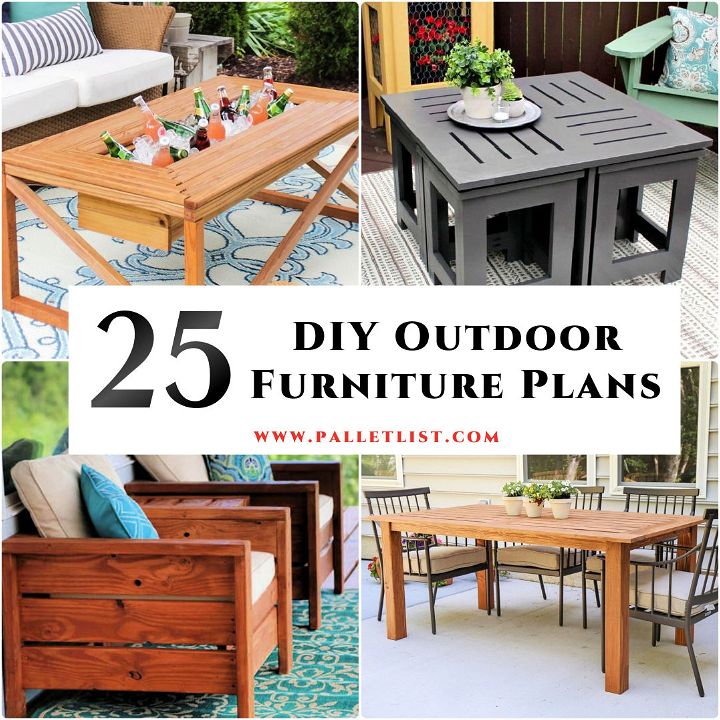 Another important consideration when choosing diy patio furniture plans is the size of your patio. You'll need to ensure that the furniture you build will fit comfortably on your patio without too much space. In general, it's best to err on the side of caution when choosing diy patio furniture plans so that you don't end up with pieces that are too big or too small for your space.
Once you've considered these factors, you're ready to start exploring these diy patio furniture plans that include detailed instructions and illustrations so that you can easily follow along. With a little bit of effort, you should be able to find the perfect diy patio furniture plan for your needs.
1. How To Make Outdoor Coffee Table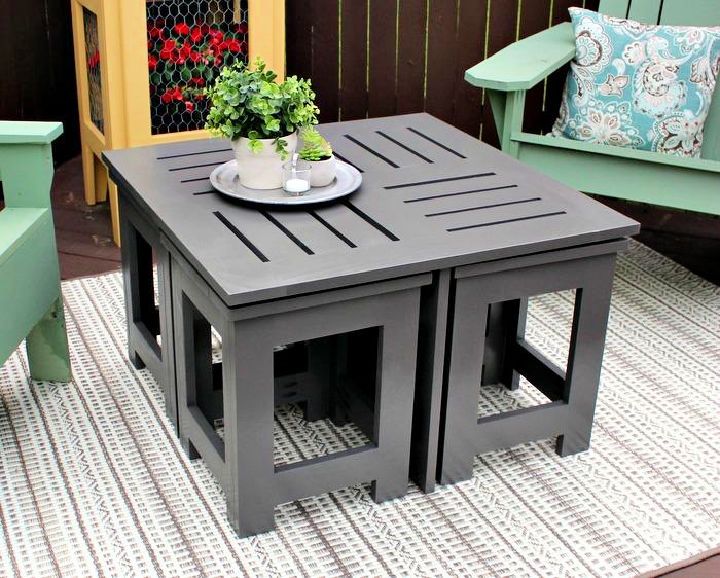 Looking for a space-efficient way to add style and functionality to your outdoor space? Consider building an elegant outdoor coffee table with this DIY plan. It is easy to make with some basic supplies and a bit of patience. It can be customized to fit your space and features hidden side tables that you can smartly keep under the table when not needed and can easily pull out to entertain yourself or guests. This plan offers a simple yet sleek and functional table to fit and match your space with a curb appeal. Get on this DIY plan to have a smart and sleek outdoor entertaining piece. kregtool
Materials: Wood Boards, Wood Glue, Exterior Pocket Screws
Tools: Miter Saw, Drill, Kreg Jig, Tape Measure, Sander
2. Free DIY Outdoor Dining Table Plan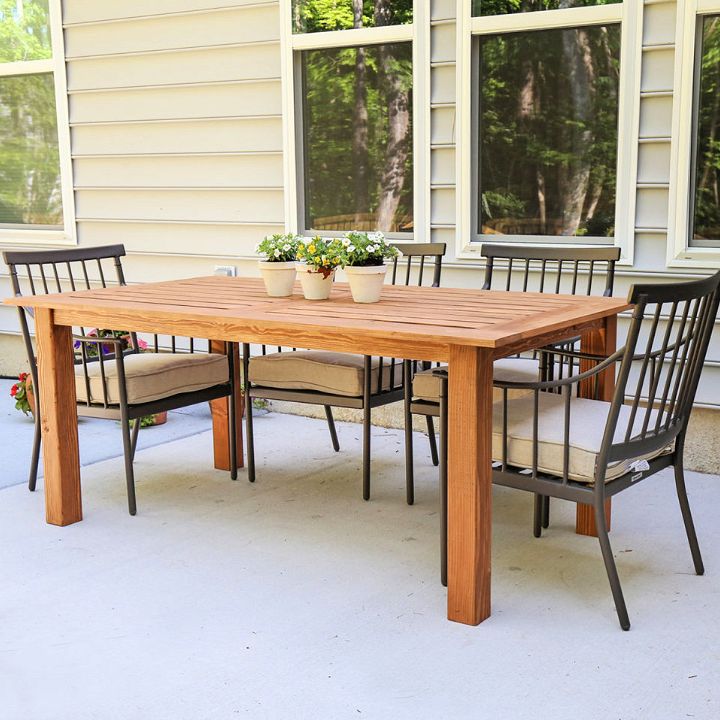 Do you love having a meal outside and thinking to buy an outdoor dining table? But buying one that is sturdy and large would be quite expensive. Try this DIY outdoor dining table plan instead of buying at a high price. It is a great idea to enjoy a meal outside. This table is 72″ long and adjusts 6 chairs easily, and offers an extra large surface area for more comfortable eating.
It is also very cost-effective, which makes it suitable for almost everyone and a great way to add some rustic and modern touch to your backyard. It is easy to do, and you can find all the supplies you need at your local hardware store. This project will take a few hours to complete, but it is well worth the effort. With this DIY plan, you can save money and have a beautiful outdoor dining table where you can enjoy a meal, play, or do other activities with family or friends. angelamariemade
Materials: Untreated Lumber, Waterproof Wood Glue, Kreg Screws, Exterior Wood Stain,
Tools: Clamps, Hole Saw Bit, Miter Saw, Speed Square, Tape Measure, Drill, Kreg Jig
3. DIY Outdoor Rolling Storage Bench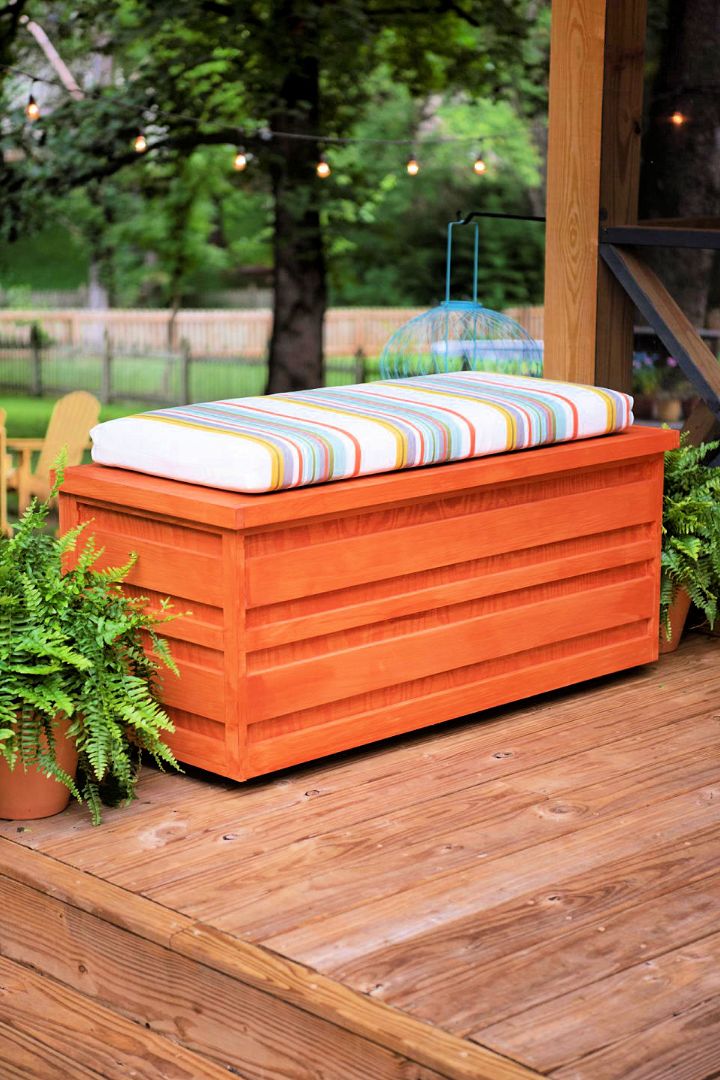 Looking for a versatile DIY project that will add storage with a decorative look to your outdoor space? Look no more! This DIY outdoor rolling storage bench is an excellent plan for you. This project is perfect for those with basic DIY skills and a few tools. It can be used as a storage bench, outdoor seating, or even as an extension to your storage unit. With this DIY you will be able to store all kinds of items easily at home or in an outdoor space where you want to keep them safe and secure. Plus, it's a great way to add style to your outdoor decor. DIY this desk plan to have the perfect outdoor storage and seating solution. hgtv
Materials: AC-grade Plywood Sheet, Pine Wood Pieces, Nails, Silicone Sealent, Exterior Wood Glue, Wood Filler, Locking Casters, Stainless Steel Hinges, Exterior Screws,
Tools: Speed Square, Clamps, Circular Saw, Drill with Drill Bits, Hammer, Nail Gun
4. Modern DIY Patio Chair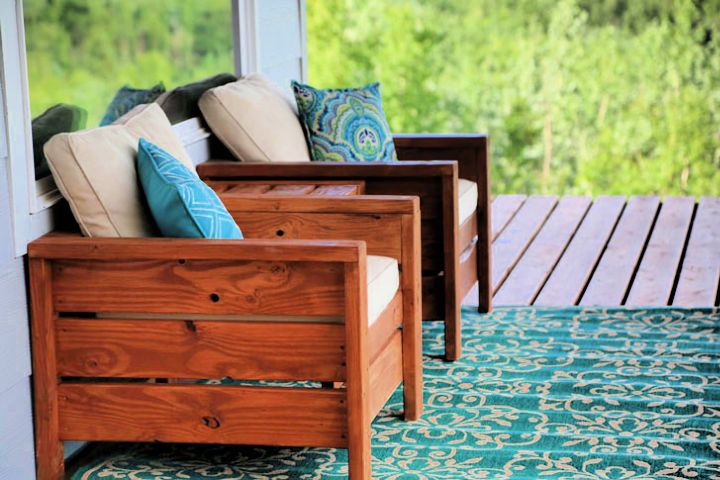 If you're looking for some beautiful, sturdy seating for your deck or patio, this DIY modern outdoor chair plan is a great option. It is easy to build, and you can save a ton of money by doing it yourself. Plus, it is heavy enough to withstand the elements and will add a touch of comfort to your outdoor space. To build this modern outdoor chair, you'll need some 2×4 and 2×6 lumber with other handy supplies and tools. It's a simple and frugal plan that you can customize to your taste to make your chair even more beautiful and sturdy. So get creative and enjoy your new outdoor chairs! ana white
Materials: 2x4s and 2x6s, Self-tapping Deck Screws, Semi-transparent Waterproofing Stain or Sealer, Outdoor Finish, Exterior Wood Glue
Tools: Cordless Drill, Spacers
5. Homemade Wooden Bar Table for Patio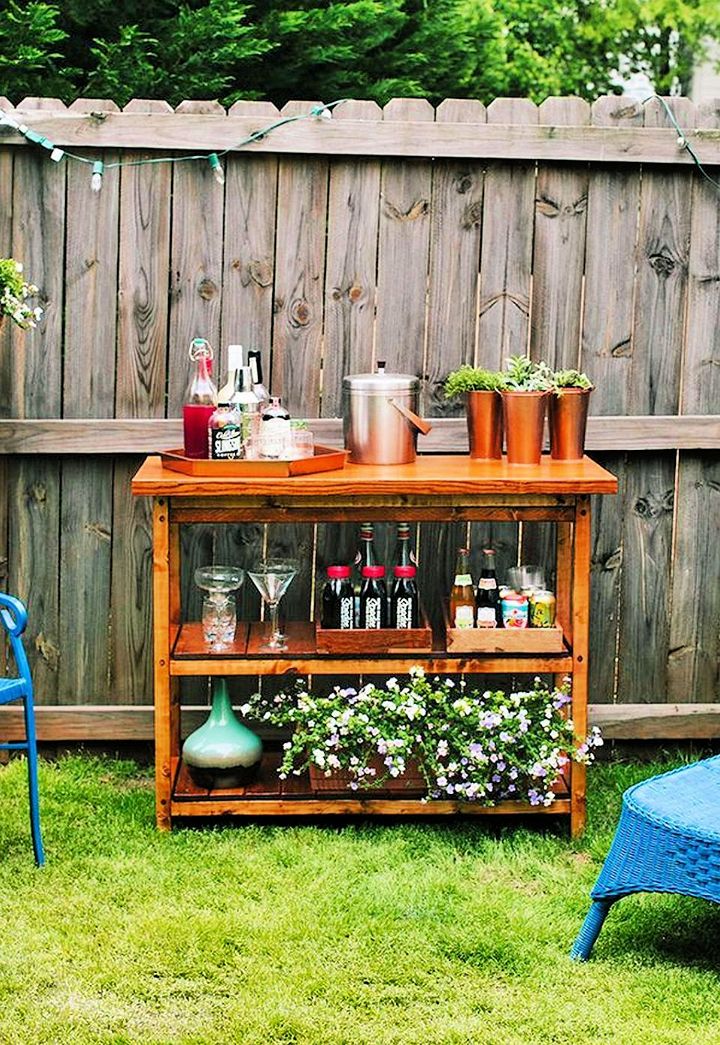 Do you love drinking outside while enjoying the weather? Try this DIY wooden bar table project! It is a perfect plan to enjoy drinking outdoors without worrying about your drinks getting knocked over. This bar table is easy to make, even for someone a newbie at woodworking. The cost of materials is also relatively low, making it a perfect project for anyone on a budget. You will need wood and some basic woodworking supplies for making this bar table. Start by cutting your wood to size, assemble under the frame and secure it with a tabletop, add a second layer under the frame and attach shelves. Once the table is complete, fill the holes and add other finishing touches. Then, add your beverages and enjoy drinking booze! inhonorofdesign
Materials: Whitewood Boards(standard pine), Screws, Hardwood Plug, Coarse Sand Paper, Wood Glue
Tools: Phillips Screwdriver Bit, Spade Bit, Saw, Clamps, Hammer or Mallet, Power Drill, Dill Bit
6. Building Patio Console Table With a Cement Tabletop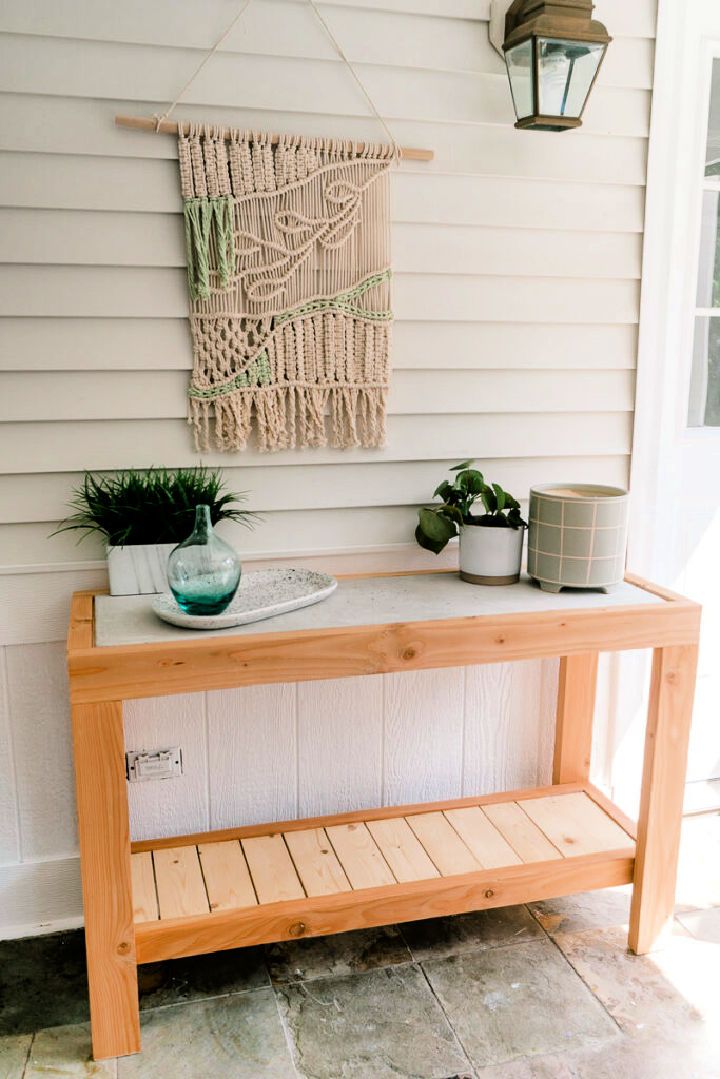 Add a modern and stylish touch to your outdoor space by making a console table with a cement tabletop with this DIY outdoor furniture plan. It is attractive outdoor furniture that looks stunning and adds elegance to your home. To make this DIY table you'll need inexpensive materials, essential tools, and a little time. And the outcome would be a sturdy and gorgeous piece of furniture that will add a touch of luxury and functionality to your patio or deck. You can store pots, pans, garden tools, and other outdoor items on this table or fit it with the wall to give your space a welcoming vibe. DIY this plan to bring some personality and functionality to your patio or entryway. ifonlyapril
Materials: Regular Pine Wood, Screws, Pocket Hole Screws, Brad Nails
Tools: Miter saw, Kreg Jig, Brad Nailer, Drill, Level, Right Angle Clamp, Speed Square
7. DIY Farm-Inspired Porch Swing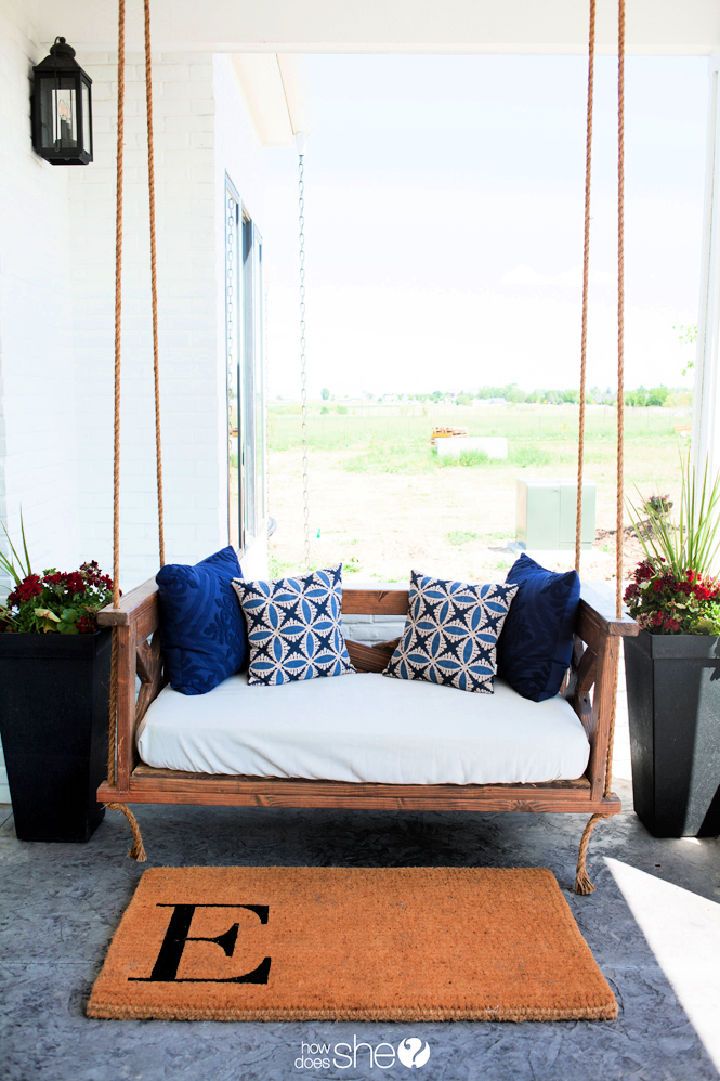 If you're dreaming of a beautiful porch swing to enjoy the relish hue of the summer evenings, make your dream come true. Try building this DIY Farm-Inspired porch swing plan that is a perfect summer project and will do wonders for your porch. This farmhouse-inspired swing is made of wood and screws and requires a few easily accessible materials and tools. It also uses a crib mattress making it deep and comfortable for everyone to sit on. It is a fantastic way of getting some exercise while enjoying the beautiful view of your outside and using the remaining space. Get this DIY plan to build yourself a sturdy and custom porch swing to have fun outdoors with some functionality. howdoesshe
Materials: Lumber Boards & Pieces, 4×8 Piece of Plywood, Eye Bolts with Washers, Polyurethane Sealant, Wood Stain, Heavy Duty Eye Bolt Screws, rope, Crib Mattress
Tools: Sander, Drill, Chop Saw, or Skill Saw
8. Modern DIY Outdoor Sofa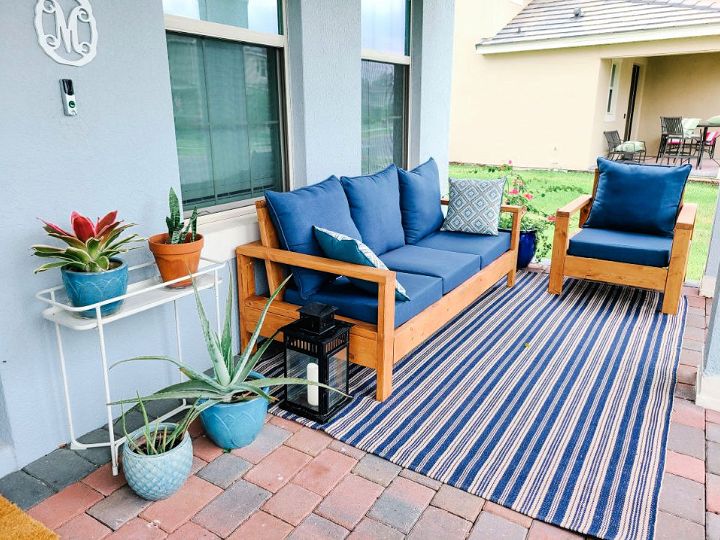 Want to bring some comfort to your outdoor space with a contemporary look? Try building this DIY modern outdoor sofa! This fantastic project is a great way to make your home look stylish and comfortable. This modern sofa is easy to make and uses 2″x6″, 2″x4″, and 2″x2″ lumber that will save you a lot of money. It does take a bit of time – you'll need two full days to complete it – but the outcome is worth it. You'll have a gorgeous, heavy, substantial piece of furniture that you can relax on and enjoy the outdoors. And, best of all, you can modify the size to fit your space. It is a durable and long-lasting furniture piece that you can use for years without having to replace it. It is not just good looking but practical too and has enough space to accommodate people to sit comfortably on it. supersimplesaltylife
Materials: Lumber 2″x6″, 2″x4″, and 2″x2″, Pocket Hole Screws, Wood Finish, Wood Stain,
Tools: Drill, Kreg Jig Pocket Hole Screw, Clamps, Cordless Jig Saw, Nail Gun, Circular Saw, Tape Measure, Level, Miter Saw, Stud Finder, Handheld Sander
9. Mudcloth Hammock Chair Plan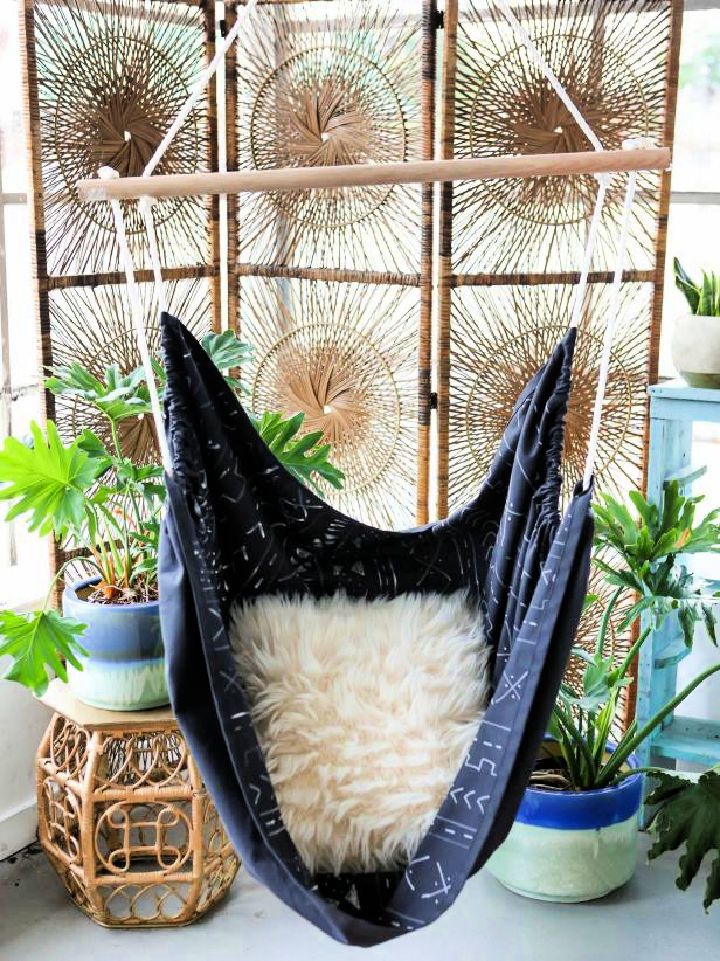 Do you want something unique and stylish way to relax outdoors? But find nothing to make you feel that cozy and restful. Give this DIY mudcloth hammock chair a try! This project is inexpensive and quick to make, and it looks great hanging on your porch or in your yard. All you need is a dowel, black canvas, rope, and a few other supplies. It doesn't need a space with expanded trees to hang your swing from, you can suspend it anywhere on your porch or yard, and also add a pillow to enjoy extra coziness. This lounging chair will do the trick to bring you an outdoor relaxation spot, and the mudcloth design is both eye-catching and comfortable. DIY this simple and unique plan and enjoy unwinding in style. hgtv
Materials: Oak Dowel, Polypropylene Braided Rope, Black Canvas, White Fabric Paint, Yardstick, Stainless Steel Spring Snap Link, Lighter, Stainless steel Quick Link
Tools: Shears, Drill, Iron, Sewing Machine, Drill Bit
10. How To Build an Outdoor Wood Planter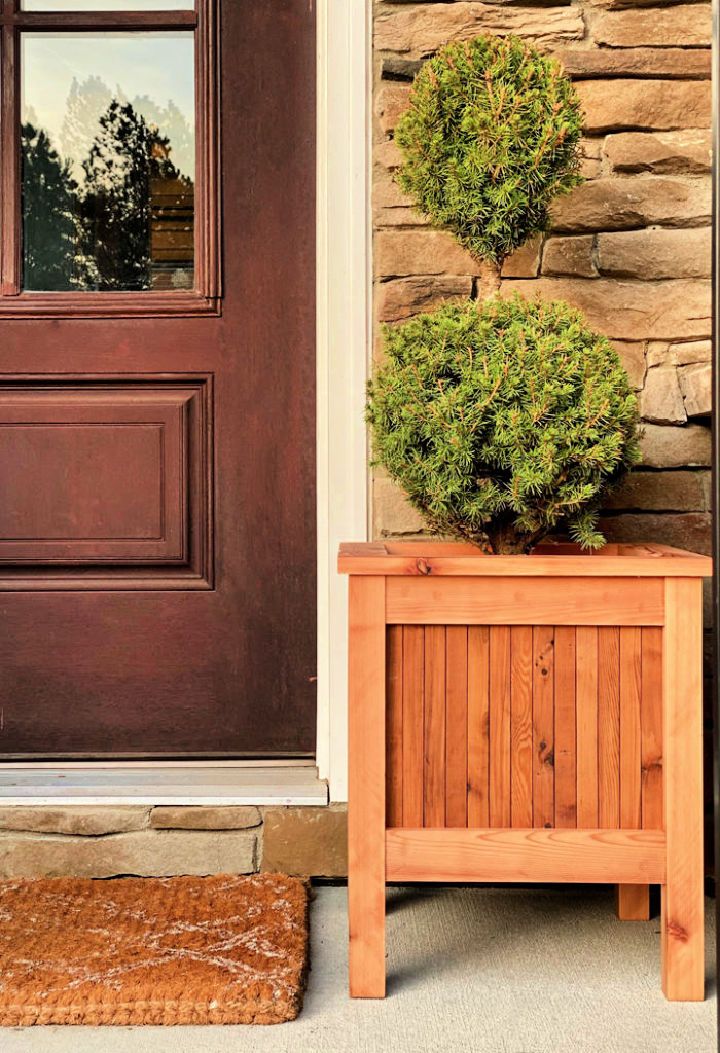 Bring some natural hue to your outdoor space with this DIY cedar wood outdoor planter project. It is a great plan to bring back the traditional outdoor planter made from cedar wood, which stands up to the weather and lasts longer than most other planters. It will also look great in your garden or yard. You can build this elegant piece with cedar wood which requires minimal tools and materials with a simple process that even a novice DIYer can do. This custom planter is lightweight, easy to assemble and maintain, can be installed outdoors without any problem, and have a beautiful aesthetic appeal. Get started with this DIY plan to add a natural temperament to your outdoor space. philiporflop
Materials: Cedar Wood, Waterproof Wood Glue, Pocket Hole Screws, Brad Nails, Stain, Sealent
Tools: Miter Saw, Kreg Jig, Clamps, Table Saw, Brad Nailer, sanding Block or Palm Sander
Simple DIY Patio Furniture Plans That You'll Love to Do
Many diy patio furniture plans are available below, in various styles and designs. Whether you're looking for a simple bench or a more functional table, you can find the perfect plan to suit your needs. In addition to saving money, diy patio furniture also offers the opportunity to customize the look of your outdoor space. With a little creativity and effort, you can create a stylish and inviting outdoor area that will be the envy of your neighbors. So why not take advantage of these free plans and build yourself some diy patio furniture today?
11. Patio Coffee Table Plan With Beverage Cooler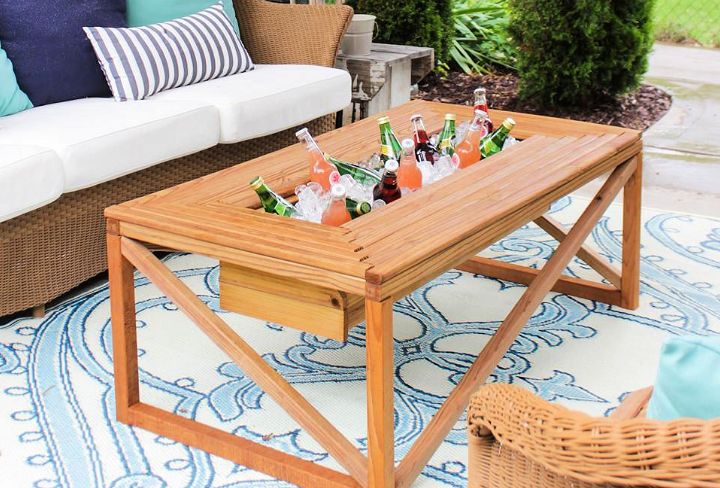 Looking for a way to add functionality and convenience to your patio or deck? Stop looking around and consider building this DIY outdoor coffee table with a beverage cooler plan. It would be a great addition to any outdoor space. This coffee table project is inexpensive and easy to do and can withstand weather elements. This DIY outdoor furniture will last long as it is made of cedar-tone treated pine wood which is an excellent choice for outdoor furniture. It features a removable drop-down insert that can be used to serve ice for a beverage cooler or hold planters depending on your preference can also make it flat when an additional top surface is needed by simply putting on the lid. Wait no more to have this multi-functional and versatile piece for your patio build it now! kregtool
Materials: Cedar-Tone Treated Pine, Cedar Picket, Exterior Wood Screws, Exterior 18 Gauge Nails, Sandpaper, Pressure-Treated Fill-It Strip, Thompson's Timber Oil In Natural, Wood Filler, Cotton Cloth
Tools: Table Saw, Nail Gun, Cordless Drill, Tape Measure, Sander, Miter Saw
12. How To Build an Beverage Station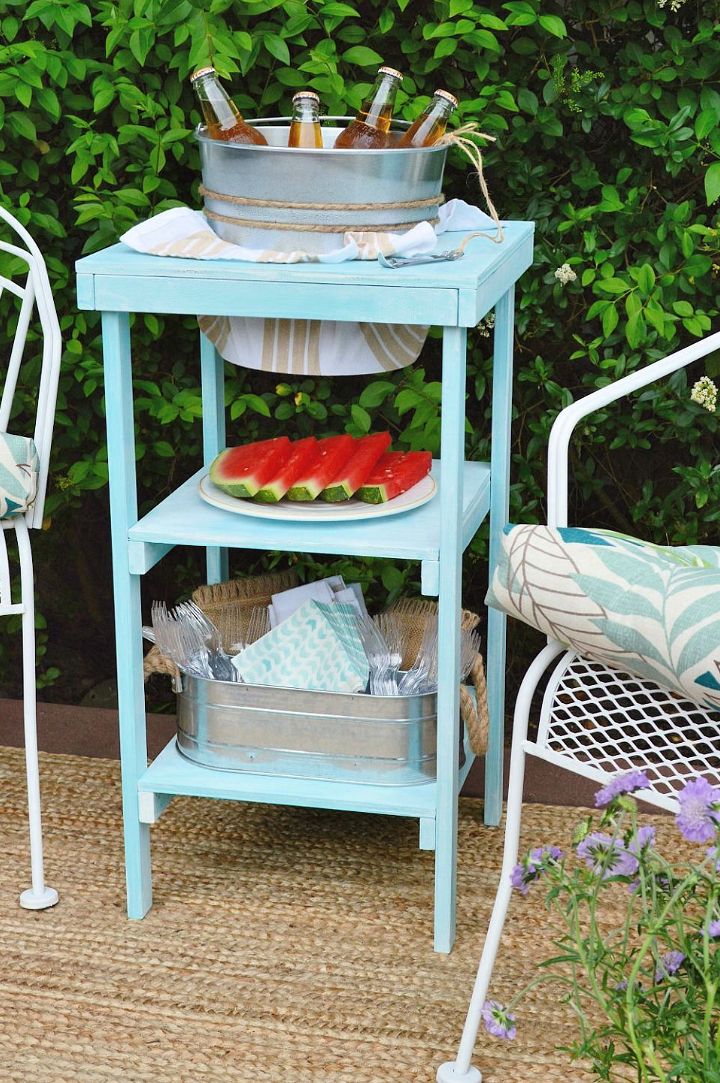 Do you want some outdoor entertainment without any hassle and knocking off the food or drinks but running out of ideas to get the way? Stop thinking over! Consider building this DIY outdoor beverage station project! It is a great plan to keep your guests hydrated and happy. It is an economical and straightforward build plan that you can customize to your taste. You can build this table with inexpensive supplies that you can get from any home improvement store. This super-cute little table is perfect for both indoor and outdoor entertainment. Plus, convenient to keep food off the ground or under feet. DIY this plan to have a delightful time outside.
Materials: 2 x 4 Sanded Plywood Sheet, Galvanized Pail, 1 x 2 Boards Twine or String, Stain or Paint, Brad Nails
Tools: Brad Nailer, Circular Saw, Drill, Sanding Block, Reciprocating Saw, Measuring Tape, Drill Bits, Pencil, Safety goggles,
13. Build A Reclaimed Wood Potting Bench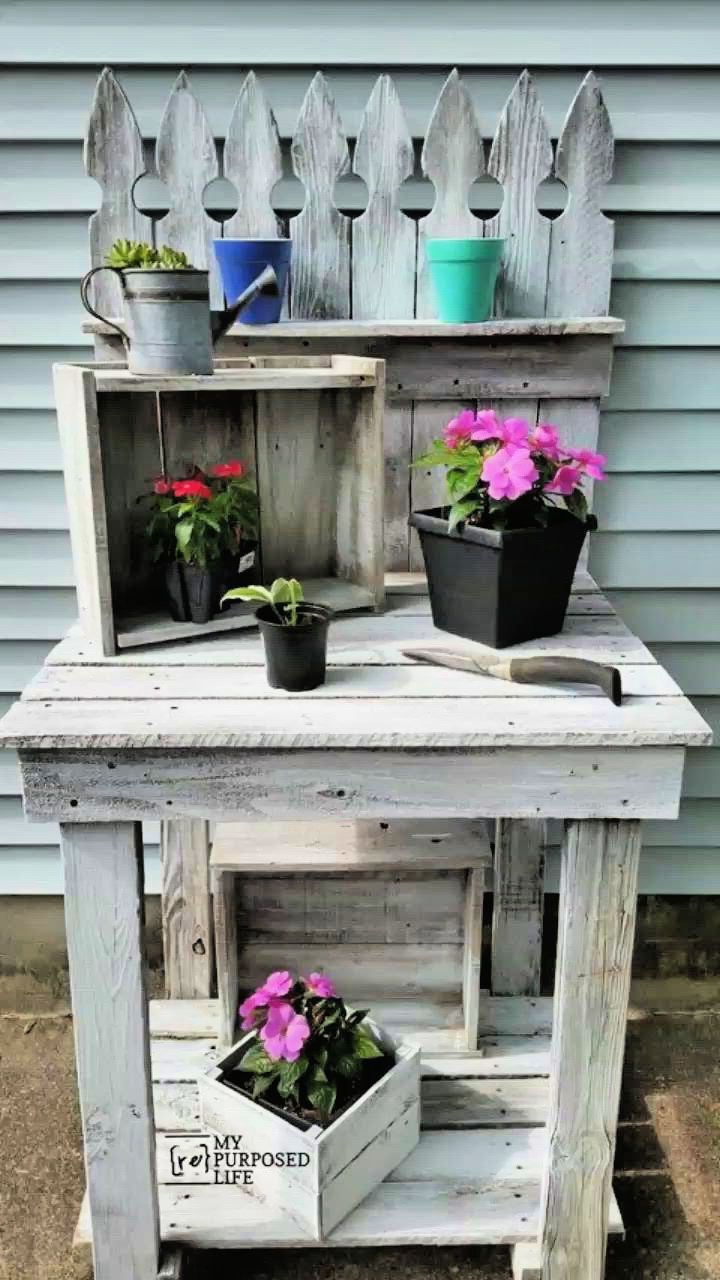 Have some recycled wood lying around and want to use it to make something unique and worthwhile that would be thrifty too? Fret no more! Try this DIY reclaimed wood potting bench plan. It is a quick and easy-to-do project that only requires some reclaimed, some screws, and a bit of your time and creativity. It features two large and a mini potter shelf making it sturdier enough to accommodate many plants, and its whitewashed look will add a vintage charm to your porch or garden. This refined and unique bench can also function as an outdoor beverage station. Get creative and build this versatile and great-looking piece. myrepurposedlife
Materials: Reclaimed Fence Pickets & Lumber, Screws, White Wash
Tools: Miter Saw, Cordless Drill, Clamps, Tape Measure
14. DIY Round Farmhouse Table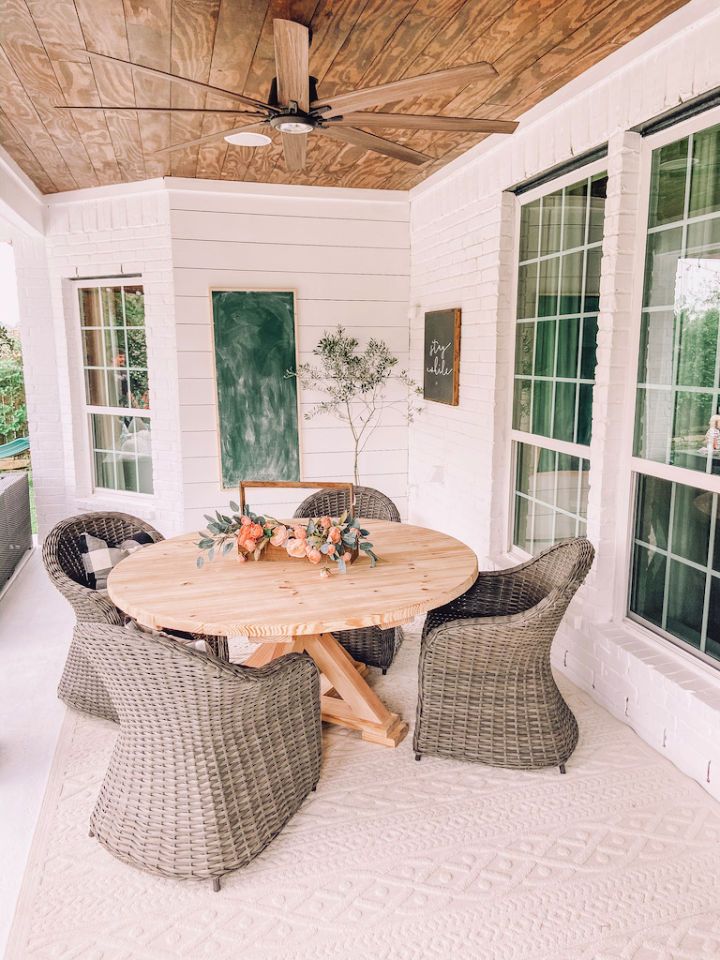 Want to have a more comfortable and enjoyable outdoor space? This DIY round farmhouse table is an excellent option for you. It is a sturdy, inexpensive table with a modern farmhouse look perfect for outdoor use, as it gives you more space to eat, play games, or enjoy the outdoors. Building this farmhouse table is easy and can be done in just a few hours with minimal tools and supplies. The most important thing is that the table is sturdy and enduring and will last for years. Plus, it is an inexpensive alternative to market-bought tables that are quite expensive. Its clean farmhouse design adds a sleek modern look to your deck or patio. lifebyleanna
Materials: Untreated Pine Wood, Lag Screws, Wood or Deck Screws
Tools: Jig Saw, Power Sander, Drill, Miter Saw, Router, Power Planer
15. How to Build Adirondack Chairs – Easy DIY Plan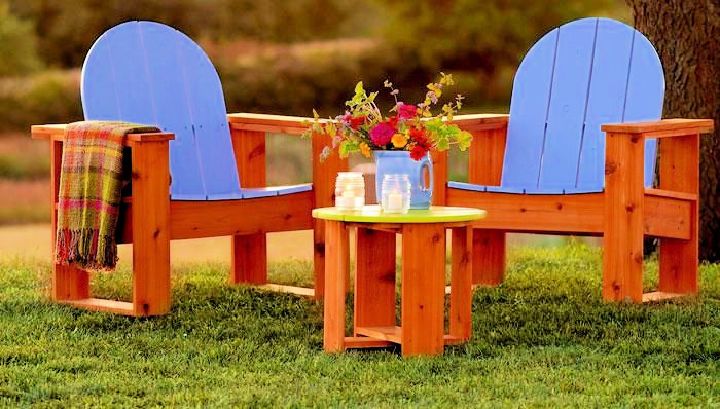 Looking for a classic-looking Adirondack Chair that's both affordable and easy to build? Look no further than this DIY plan! You can have a set of these chairs in just one weekend using a few simple materials and tools. Plus, they're incredibly relaxing, stable, and provide an overwhelming look to any outdoor space. This plan offers a traditional-looking chair at an affordable price and allows you to have a great place to relax, enjoy nature and spend time with family and friends. The design is simple and easy to build and provides an amazing furniture element that will add essence to your place. Get started with this DIY plan and build this customary set now. lowes
Materials: 1 x 6 Cedar Boards, Wood Dowel, Deck Screws, Exterior Glue, Olympic Naturaltone Stain
Tools: Random-Orbit Sander, Cordless Drill and Driver Bits, Jigsaw, Combination Square, Circular Saw or Miter Saw
16. Rustic Rolling Wood & Steel Console Table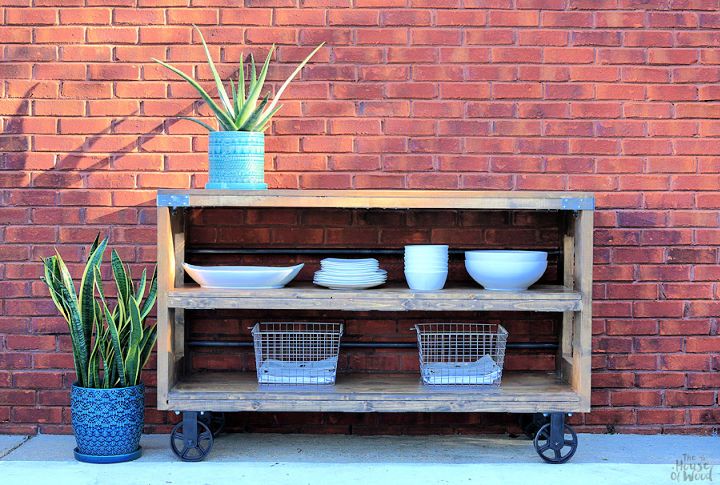 Give your home a practical addition with a decorative touch with this DIY rolling wood & steel console table plan. This DIY patio furniture project is a great way to add character and functionality to your home while being trendy. It is a simple and movable table requires wood, screws, casters, metal angles, Strong-Tie, and other handy tools and supplies to complete. The metal angles and strong-Tie give it sturdiness while preventing it not from falling over when moving around the room. This table is designed with the wood and steel combination that allows you to create the look you want and create something unique and beautiful. Its industrial design element makes it look rustic and modern at the same time. jenwoodhouse
Materials: Wood Boards, Strong-Tie, Metal Angles, Screws, Casters, GA2 Gusset Angles, A44 Angles, RTA2Z Angles, Wafers Head Screws
Tools: Forstner Bit, Drill, Miter Saw, Tape Measure, Screwdriver
17. DIY Wooden Grill Cart for Patio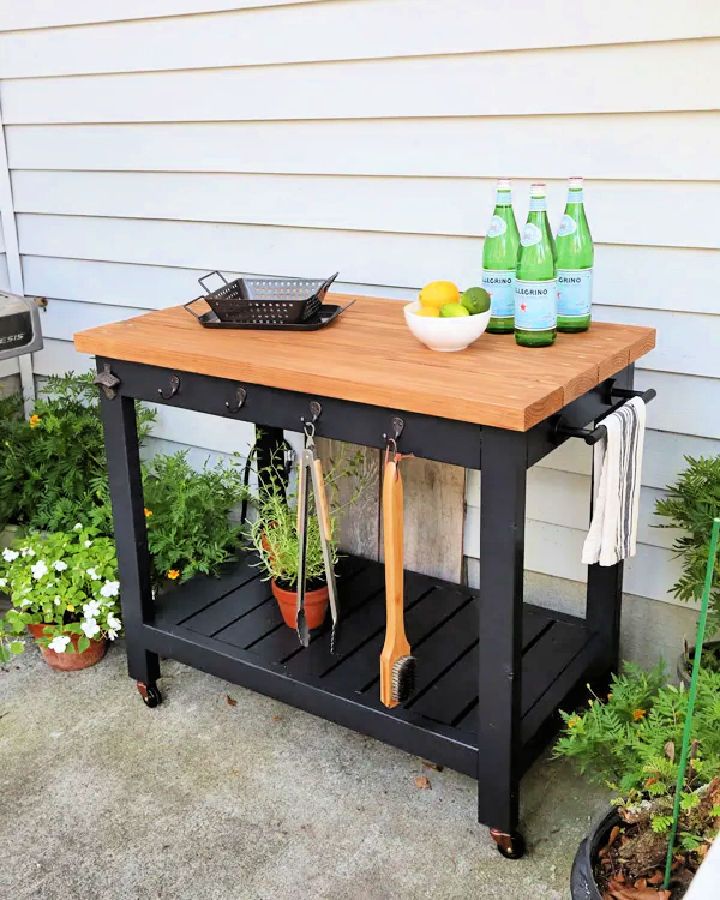 If you love grilling, but don't want to be tethered to your backyard patio, consider building this DIY grill cart. This mobile grill cart is both functional and stylish and is the perfect addition to your summer entertaining arsenal. Building this cart is quick and straightforward with handy materials and tools and requires no special skills. You can easily customize the height to your grilling needs or use it as a grilling table by exiting off the casters if you desire. And can also enhance its look using a variety of accessories or grilling hardware. And, best of all, it is a frugal way to get all the benefits of an outdoor grill without the high price tag. So, this summer, get the perfect time to grill by building your DIY grill cart. angelamariemade
Materials: Lumber, Pocket Hole Screws, Stain, Paint, Brad Nails, Wood Glue
Tools: Pencil, Clamps, cordless Drill, Miter Saw, Tape Measure, Brad Nailer
18. DIY Mosiac Tile Outdoor Table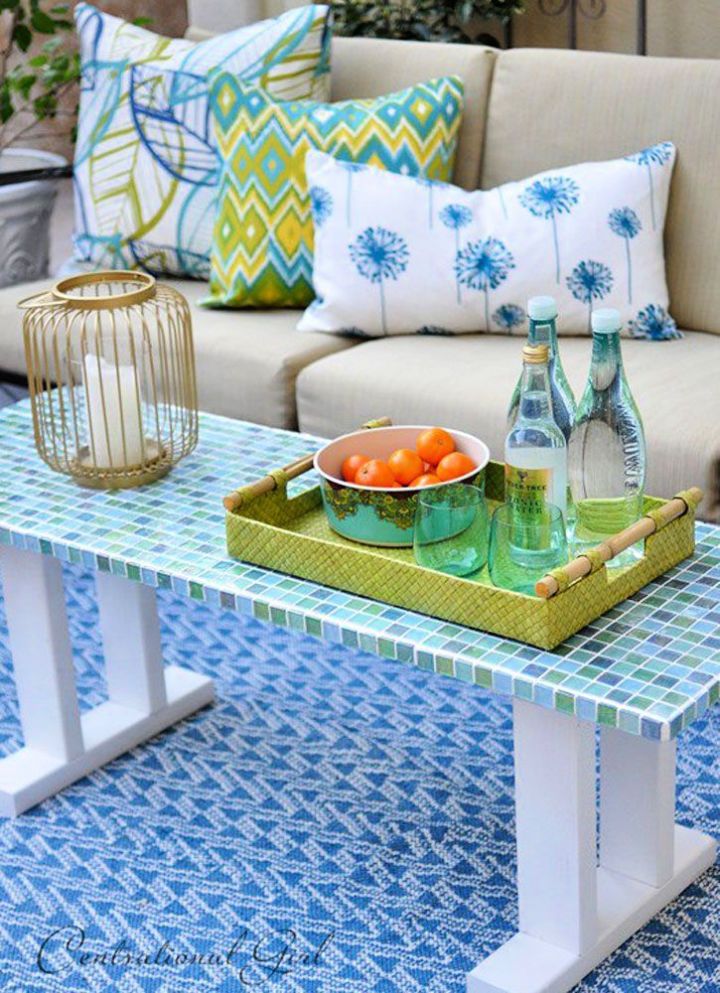 Want to add a splash of color to your courtyard seating area? Try this DIY mosaic tile outdoor table plan. It is a great idea to make your outdoor space more colorful and lovely. This table is painted and tiled in a fun and colorful design, and the table is sure to be a conversation starter. The best part about this project is that it is relatively easy to do yourself, and you can customize the design to match your style. To get started, you will need to gather some supplies. You will need wood, screws, paint mosaic tiles, grout, and sealer that can be easily found at your local hardware store. This unique and dazzling DIY outdoor table will add color and style to your otherwise dull space. centsationalstyle
Materials: Pine Wood, 2×4", Wood Screws, Wood Glue, Paint, Pocket Hole Screws, Thin Set Morter, Grout, Mosaic Tiles
Tools: Miter Saw, Clamps, Drill, Kreg Jig, Tape Measure
19. How To Build a Wooden Deck Stool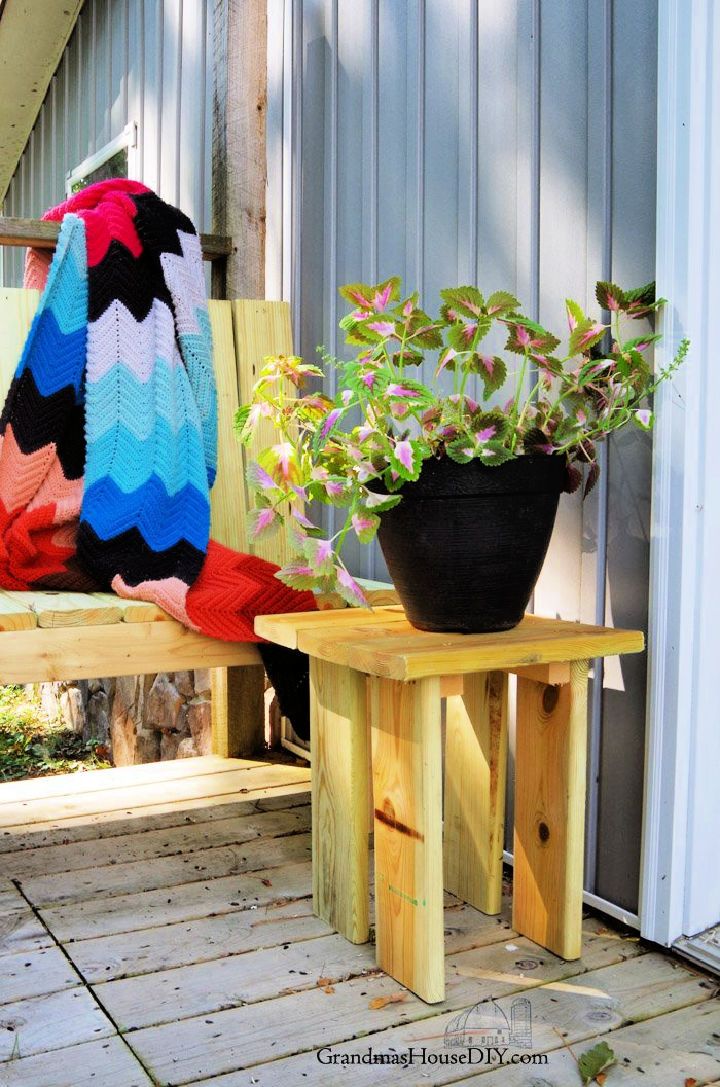 Looking for multi-functional and handy furniture to add extra seating to your deck or backyard? Consider building an outdoor stool with this DIY plan. This outdoor stool is a simple, inexpensive, and practical piece of furniture. It is an excellent way to add comfort to any backyard or patio. You can use this small and easy-to-carry stool any time of the day without worrying about the weather or the location of the furniture. It is a simple and inexpensive way to add extra seating to your deck or backyard. This versatile furniture can also be used as a footrest or plant stand and can easily fit any space. This DIY stool is quick, easy to build, and comfortable to sit on. So, what are you waiting for? Get this DIY plan to build a functional and portable outdoor stool. grandmashouse
Materials: 2x2s, Screws
Tools: Drill
20. DIY Outdoor Seating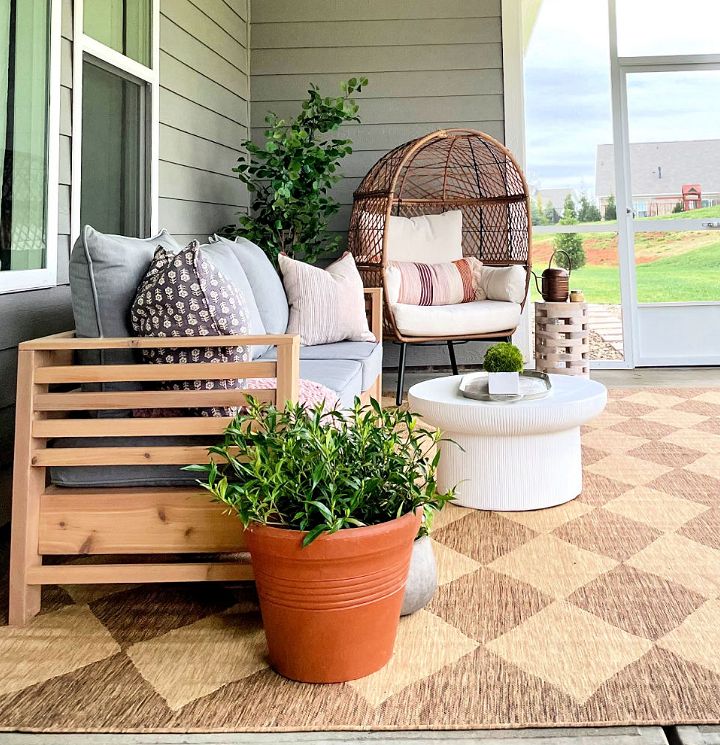 Are you looking for a cheap, high-end look for your outdoor sofa? Try this DIY plan to build your outdoor sofa. This outdoor sofa is an inexpensive alternative to a traditional sofa that you buy for basically nothing. You can make it yourself using cedar and other materials you probably have at home or find at any home improvement store. It's a good idea to be creative and use your imagination while building your outdoor furniture. It is a simple, elegant, yet sturdy sofa that provides ample and comfortable sitting outdoors. It can be made from weather-resistant wood as long as it is strong enough to withstand weather conditions. And the most satisfactorily of all is that you can get a deep, pretty smooth sofa that looks outstanding and is budget-friendly. homewithhay
Materials: Cedar Wood, Kreg Jig Screws, Nails, Sandpaper, Exterior Wood Glue, Wood Filler, Stain, Stainless Deck Screws
Tools: Kreg Jig, Nail Gun, Sander, Drill, Saw
21. Build An Outdoor Cabana Lounge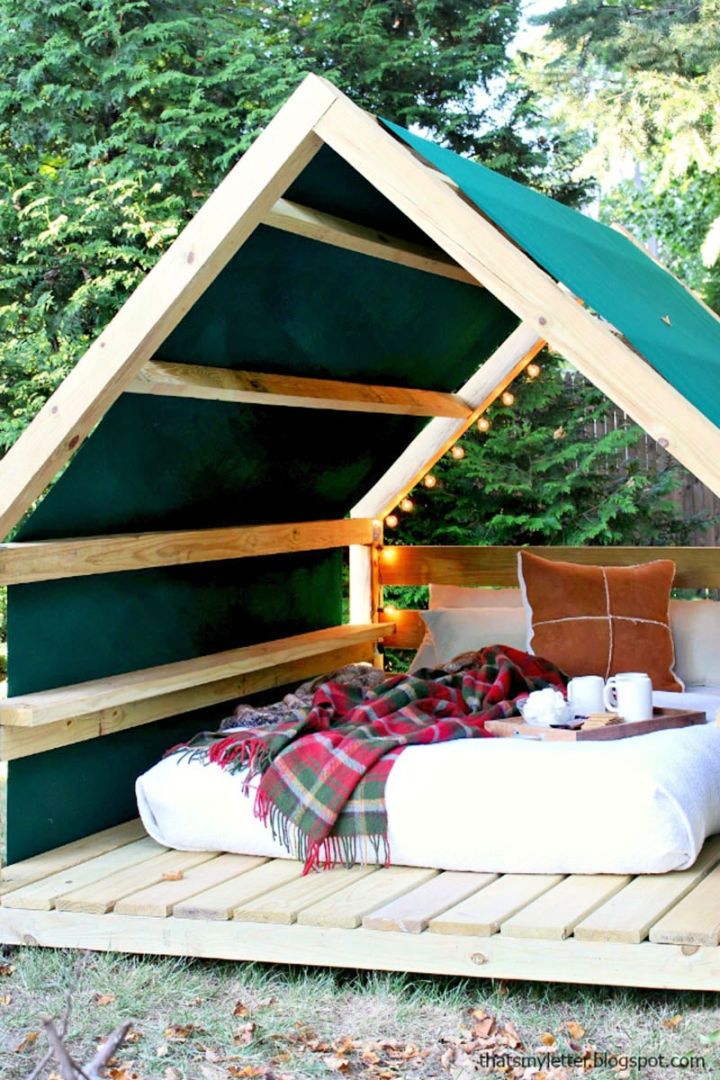 If you are looking for something quiet and peaceful to relax in during a sunny day, then this DIY outdoor cabana lounge is a perfect project for you. This inert lounge is an area where you can have a good time and take it easy on your day off. It's a perfect place to unwind and spend some quality time with your family.
This one of the best diy patio furniture plans is easy to build you need handy materials and a little patience to complete it. It is an excellent relaxing space where you can enjoy reading, playing, eating, and having fun. It has a design featuring a deck platform, a camping air mattress, and awning sides that can be rolled up or down the side to take light or fresh air in. Skip the hustle and bustle of daily routine and enjoy chilling outside in a perfect cozy spot with this outdoor lounge. jaimecostiglio
Materials: Lumber, Lag screws, Exterior Deck Screws, Pocket Hole Screws, Queen Camping Air Mattress, Awning Fabric, Electric Metallic Tube
Tools: Kreg Pocket Jig, Kreg Deck Jig, Multi-tool, Miter Saw, drill with Drill Bits, Tape Measure, Compact Circular Saw
22. Backyard Plant Stand Plan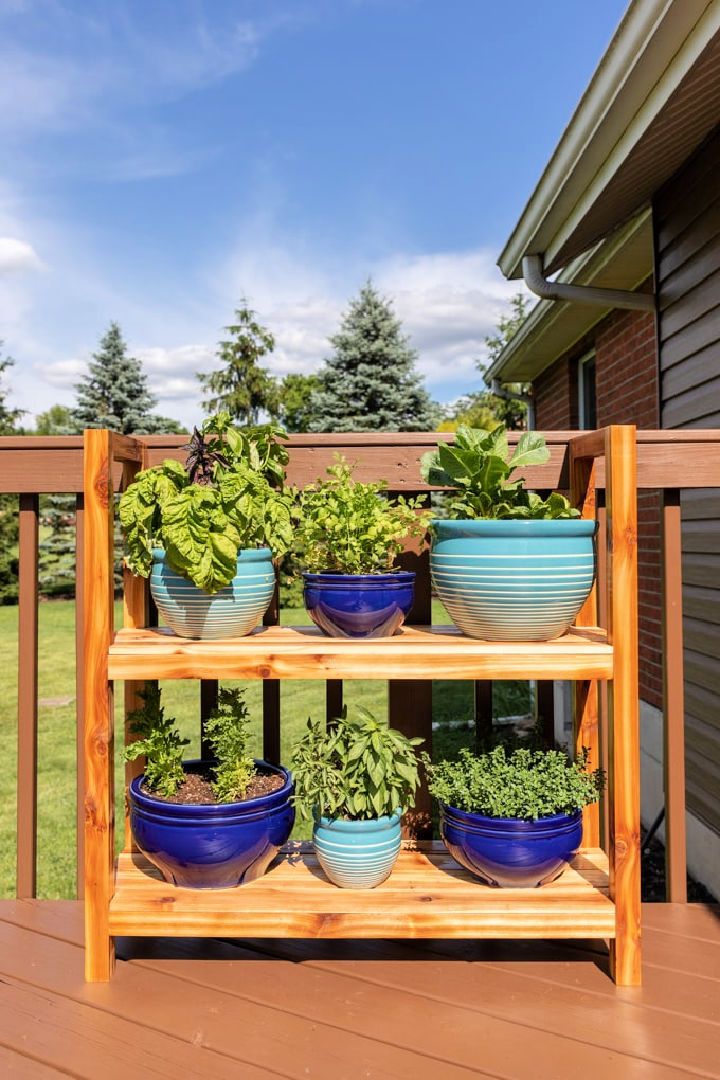 Finding a simple and inexpensive way to update your outdoor space? Build your outdoor plant stand with this DIY plan. It is a simple, easy, and economical way to modernize your backyard. With just a few inexpensive materials, you can add an embellishing touch to your yard and create a perfect place for your favorite plant. Plus, it will help you grow your edible garden and add beauty to your home while saving money on store-bought plant stands. DIY this plant that would offer you an excellent value for the money you spent on other plant stands and will look great in your backyard. handmadeweek
Materials: Cedar Post, Cedar Pickets, Outdoor Pocket Hole Screws, Outdoor Screws, Teak Oil, Outdoor Glue, Sandpaper
Tools: Pocket Hole Jig, Drill, Miter Saw, Table Saw, Jig Saw, Palm Impact Screwdriver, Clamps, Pencil, Tape Measure, Safety Equipment
Spring and summer is finally here, and that means it's time to start thinking about refreshing your outdoor space. If your patio furniture is looking a little worse for wear, consider giving it a makeover with one of these DIY patio furniture plans. From tables and chairs to lounge chairs and recliners, there's a project here for every skill level. And, best of all, each one includes detailed instructions and illustrations so you can easily follow along. Get started on your new DIY patio furniture today!
23. DIY Lawn Day Bed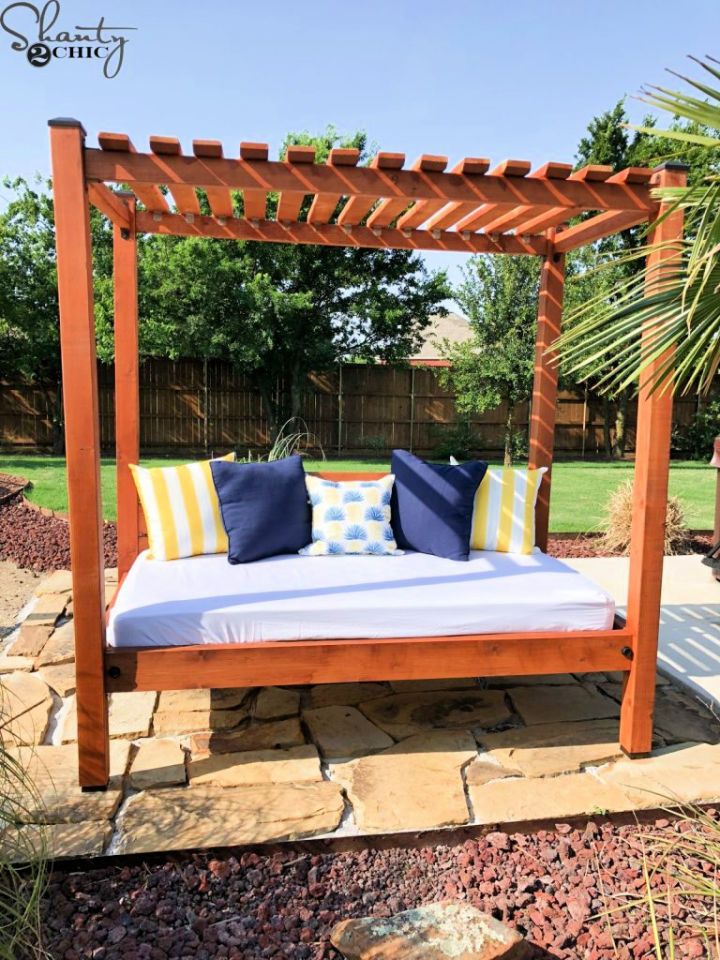 Summer is the time for outdoor activities and family fun. It is also a time when most of us need to take a nap. With the help of an outdoor day bed, you can enjoy a comfy sleep in the backyard. This DIY plan is a great way to make a comfortable and relaxing summer daybed. It is made of wood and will not take up much space in your backyard. This day bed is large enough to adjust the twin mattress and has a pergola on the top to provide some shade on hot summer days and a waterproof cover to keep it in good condition for years to come. This DIY day bed is simple yet elegant and functional and offers a perfect place to relax and enjoy the summer weather. shanty 2 chic
Materials: Lumber, Pocket Hole Screws, Caps & Bases, Wood Glue, Wood Stain & Sealer, Wood Screws
Tools: Kreg Jig, Cordless Drill, Kreg Jig
24. Outdoor Toy Storage Chest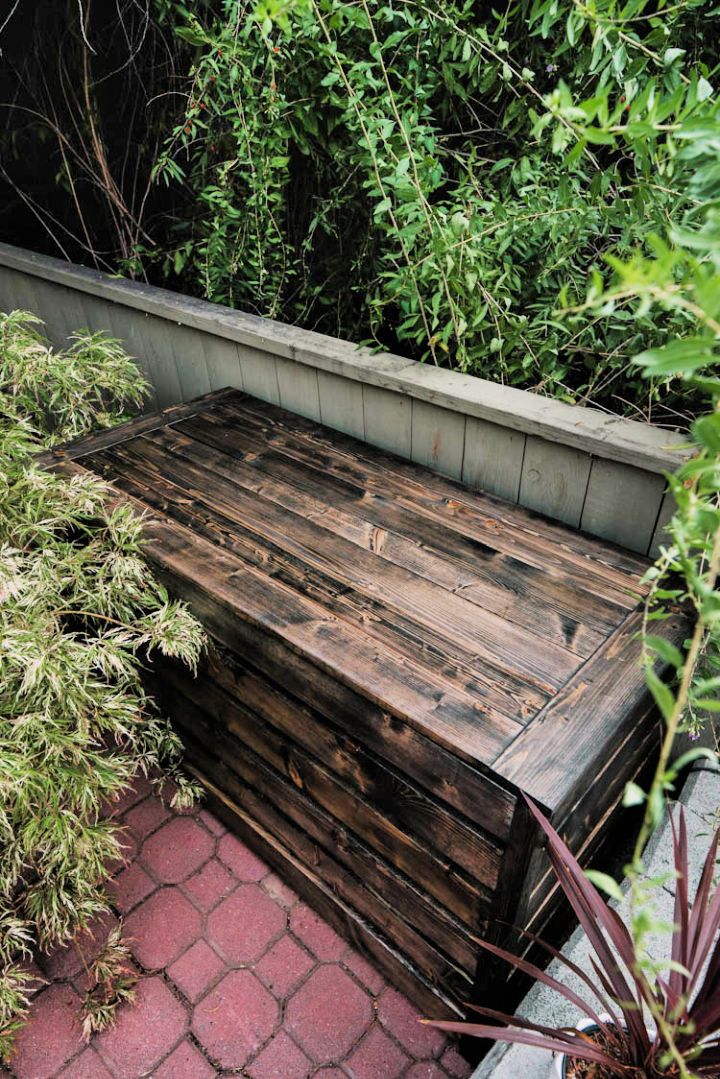 Love spending time outside with kids? But the cluttered toys everywhere seem a bother. Skip the fuss! Try this DIY outdoor toy storage chest plan! It is a perfect solution for storing toys and other outdoor equipment. It is easy to build and can be made with a few simple tools and is perfect for kids who love playing with their toys outdoors and want to keep them safe during rain. This giant outdoor chest has a slatted design to aid air flow to keep the toys dry and safe. You can also customize the size to meet your needs. Give this DIY plan a try to declutter your space by providing kids plenty of storage space to keep their toys out of sight and secure. lemonthistle
Materials: Wood Boards (1×4,1×2,2×2 ), Sandpaper, Stain, Outdoor Clear Coat, Kreg Screws, Hinge Supports, Screws, Long Hinge
Tools: Drill with Bits, Sander, Miter Saw, Kreg Jig
25. Modern DIY Garden Bench for Beginners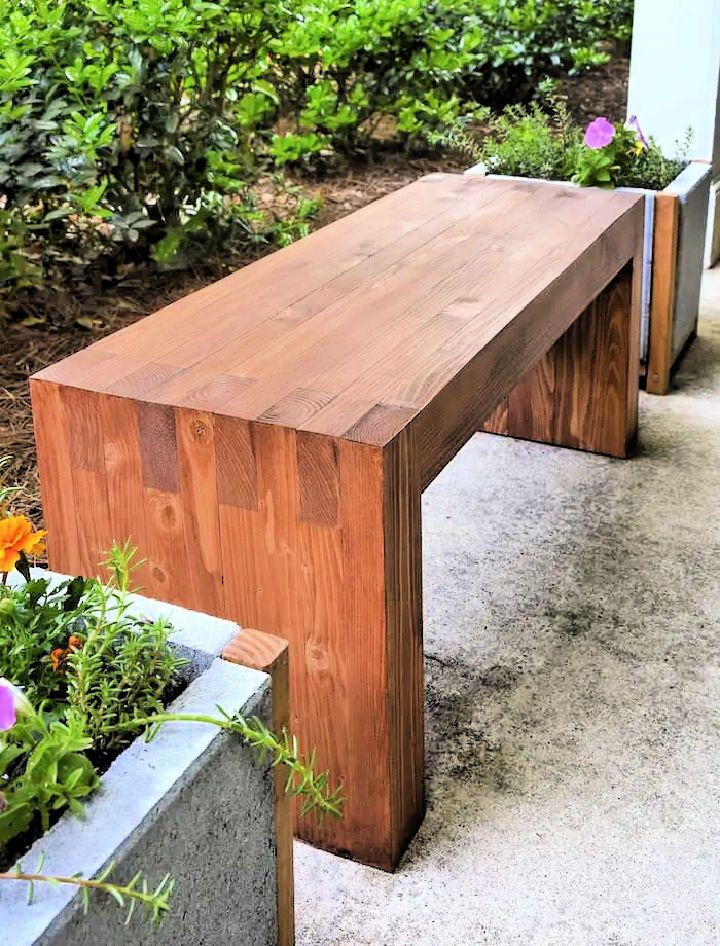 We are living in a world where we can create an infinite number of things. We have the power to create anything we want. But creation is not always easy, right? But you can build a modern outdoor bench with this DIY plan that is easy and uncomplicated. It is a perfect beginner project that will help you to make something beautiful out of wood. This modern desk plan uses no nails, or screws and only uses wood and adhesive to make this lovely outdoor desk that will cost you a few dollars. It is a modern, yet inexpensive and load-bearing bench that will perfectly complement any outdoor. Get creative and build this simple and thrifty outdoor seating for your garden or porch. diycandy
Materials: 2 x 4s Pine, Liquid Nails or any Construction Adhesive, Water Sealer & Stain, Surface Protection, Rag
Tools: Table saw, Clamps, Hand Held Belt Sander, T-Square, Paint Brush, Sanding Blocks, Drill
Related DIY Projects:
DIY Footrest – For those looking for a little extra foot support, try one of these DIY footstool plans. They range from simple to complex, so you can find the perfect project to fit your skillset.
DIY Outdoor Chair – Outdoor chairs have to be able to withstand the elements, but that doesn't mean they can't be stylish. Check out these DIY outdoor chair plans and find the perfect one for your needs.
DIY Plant Stand Ideas – Add a little extra height to your plants with these cheap DIY plant stand ideas. From simple to complex, there's a project here for everyone.
DIY Farmhouse Table – Rustic farmhouse table plans that will give your home country charm. These free farmhouse table plans are easy to follow and can be completed in a weekend.
DIY Outdoor Kitchen Ideas – With these easy DIY outdoor kitchen ideas, you can have the ultimate backyard entertaining space. From grill stations to pizza ovens, there's a plan for every need.
DIY Fire Pit – Gather around the fire with family and friends with these DIY fire pit ideas. With plans for both wood and gas burning pits, you're sure to find the perfect project.
Pallet Furniture Ideas – Add some personality to your home with these pallet furniture ideas. These easy-to-follow plans will help you create unique pieces that are sure to be conversation starters.
Conclusion About These DIY Patio Furniture:
Whether you are just a beginner or an expert woodworker, we have the perfect DIY patio furniture plans for you. Our collection of 25 free outdoor furniture plans includes a variety of styles and designs so you can find the perfect one for your home. From simple Adirondack chairs to beautiful mosaic tables, we have something for everyone. So get started on your new backyard project today and create the perfect spot to relax outdoors this summer. Need some help getting started? Check out our tutorial on how to build a patio table or chair. Have fun crafting your very own piece of outdoor furniture!