A footrest is a great way to add a bit of extra comfort to your home. Whether you're looking to prop up your feet while watching TV or just want a place to rest them while working at your desk, a footrest is a handy item to have around. And the best part is that you don't necessarily need to go out and buy one – with a little bit of creativity and woodworking skills, you can easily make your own DIY footrest.
There are plenty of different ways to make a DIY footrest. If you're handy with woodworking, you can create a simple stool or ottoman from scratch. Or, if you're not quite so handy, you can repurpose an old chair or crate into a stylish footrest. And if you really want to get creative, some fun upcycled footrests are made from items like tires and suitcases.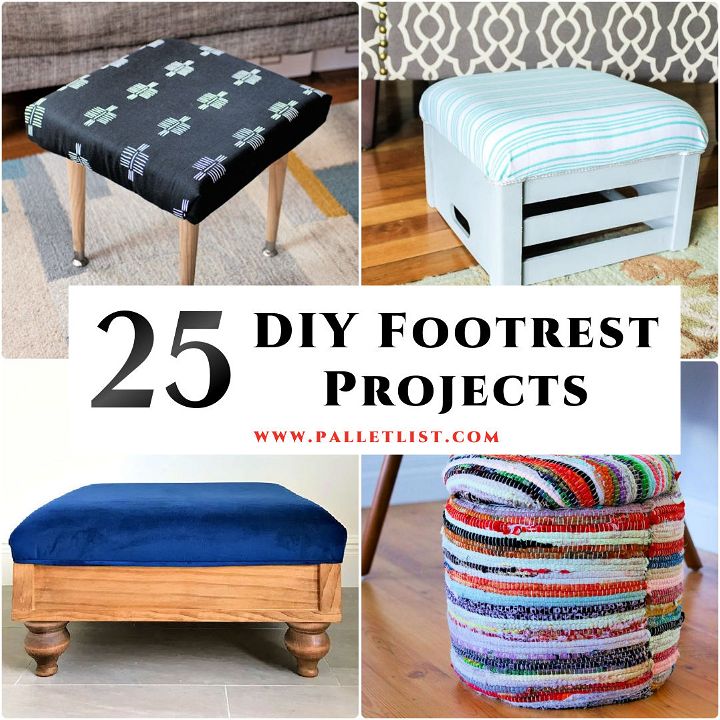 No matter your style or budget, a DIY footrest project is sure to be perfect for you. Check out these 25 simple DIY footrest ideas for inspiration, and get started on making your own comfortable footstool today.
1. Easy DIY Leather Footrest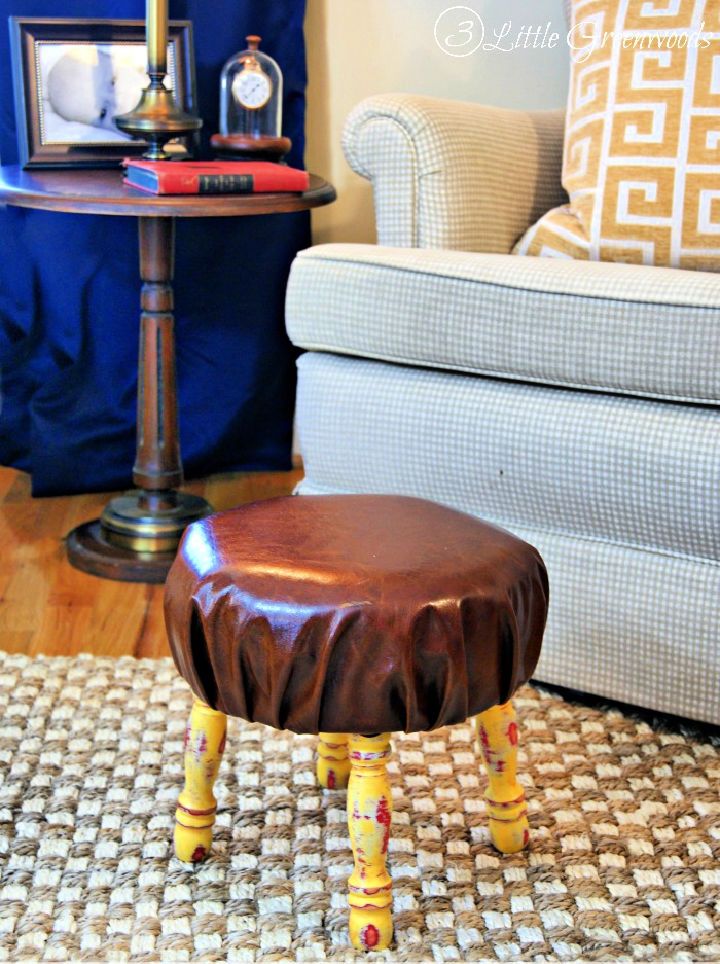 Looking for something beautiful and thrifty to make your working space more comfortable? Try this DIY leather footrest plan. It is a great way to bring you comfort during long hours of work. This DIY footrest is a great way to add a touch of luxury to your home décor. It's easy to do and relatively inexpensive, and the result is beautiful and comfortable. To make your own leather footrest, you'll need a large piece of leather to cover the top, foam or batting cushion, paints, and a staple machine. It has beautiful curvy legs add a vintage effect to your home office or workspace. Give this DIY plan a try and bring some comfort to your space. 3littlegreenwoods
Materials: Footstool, Leather Piece, Paint, Upholstery Foam, Hot Glue
Tools: Electric Knife, Staple Machine, Paint Brush, Hot Glue Gun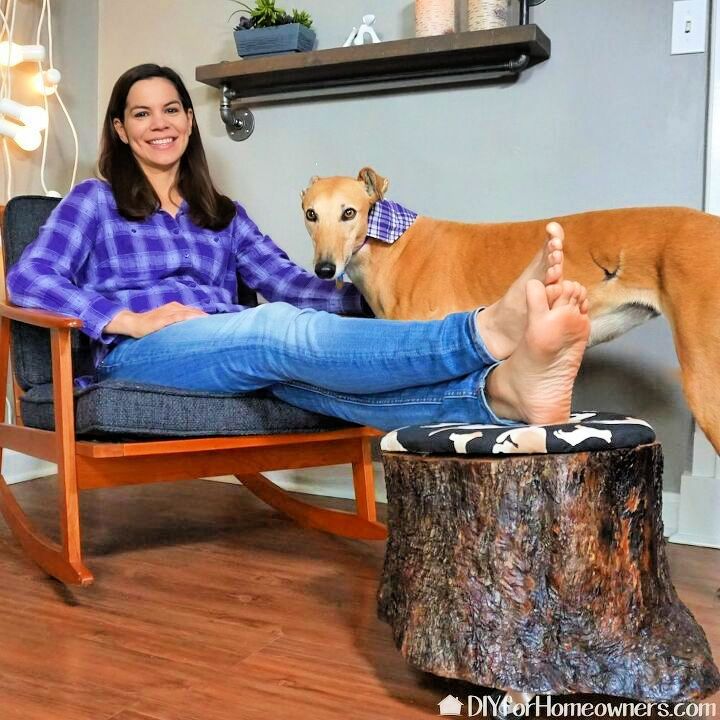 Do you have a wood stump lying in your garage, and want to make something functional from it? Make this DIY stump footrest with a hidden compartment project. It is a great idea to transform a wood stump into something practical and adorable that would also add a natural element to your home décor. This footrest has a simple making process and requires handy and upcycled materials. It is a movable footstool that can be used as a set as well and features a secret compartment where you can store money, keys, or small junk. Give this simple yet practical DIY plan a try and enjoy a multi-functional furniture piece. instructables
Materials: Wood Stump(dried), Casting Epoxy, Casters, Fabric, Wood Underlayment, Clear Aerosol Lacquer Spray
Tools: Bernzomatic Torch Kit, Reciprocating Saw, Staple Gun
3. How To Make A Footstool From Crate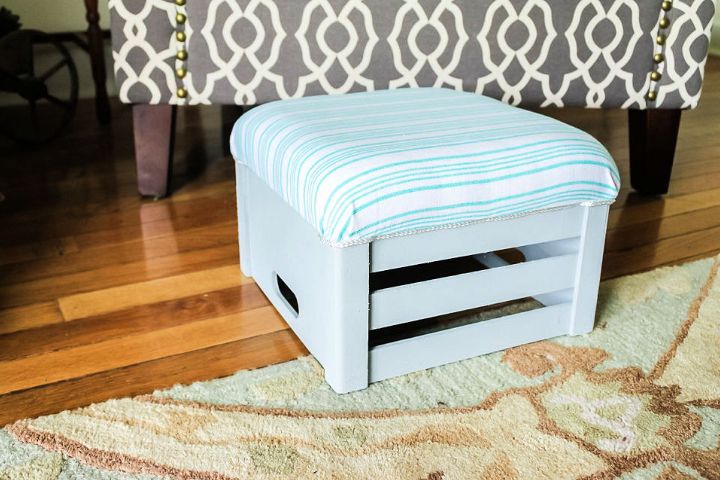 If you have a crate that is of no use, you can make a comfy footrest from it with this DIY footrest from a crate plan. This footrest is made from a crate and is super simple to make. In just minutes, you can have a great-looking footstool that's easy enough for anyone to do. To make this DIY footstool from a crate, you'll need a crate that's the right size for your needs and some plywood, foam, and handy materials to make a cushion. You can get creative with the crate and add some paint or decoration to personalize it. The most important thing is to make sure the crate is sturdy enough to support to withstand the weight. DIY this plan now to have a cozy footrest that is sturdy and will last long. thecountrychic
Materials: Wooden Crate, Plywood, Fabric, Padding, Foam, Paint, Liquid Nails, Hot Glue, Rope
Tools: Staple Gun, Hot Glue Gun,
4. Free DIY Under Desk Footrest Plan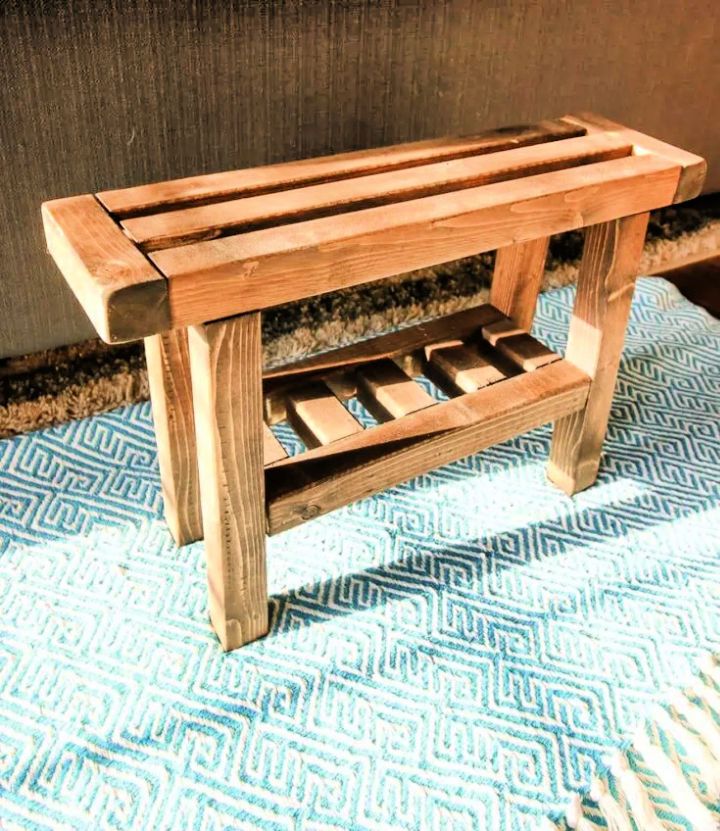 Do you want a sturdy, simple footrest that perfectly suits your needs? Worry not! Build this DIY under desk footrest that is both simple and sturdy. It's a great way to add a unique touch to your home or office, and it would be a thoughtful gift, too. This footrest is a very simple project that anyone can do with minimal materials in little time. It has a desk design that is great for anyone who spends a lot of time sitting at a desk as it keeps your feet comfortable and at the perfect height. This DIY foot res is affordable and highly customizable; you can personalize it to any size or color of your choice. Give this unique and functional peace a try, and have fun working. charlestoncraft
Materials: 2″x2″ Lumber, Screws,¼″ Dowel, Wood Glue, Stain, Polyurethane, Sanding Paper,
Tools: Sander, Saw, Drill
5. How To Build An Office Foot Rest Under Desk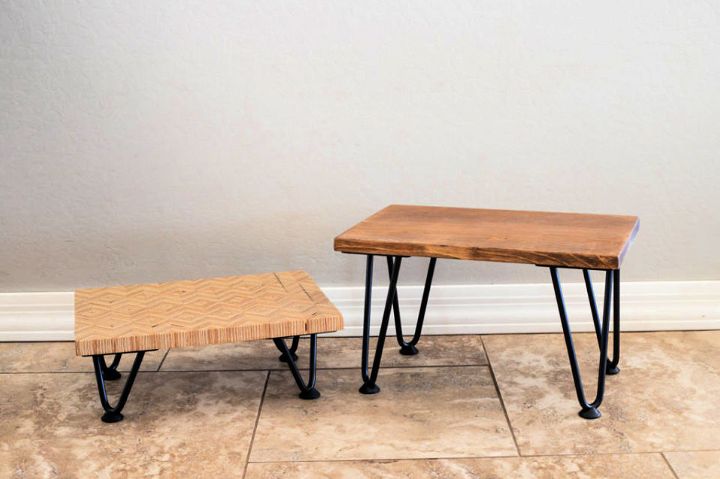 If you're looking for a way to keep yourself comfortable while you work from home. Consider building an office footrest with this DIY is a great option. It is also perfect for your kids who are practicing virtual learning and whose feet are small to reach the ground, as it will give them a perfect piece to take their feet to rest on. It's simple to build, requires only a few minimal materials, and is perfect for all skill levels.
To build your office footrest, you'll need a simple board and some hairpin legs, or you can customize it with some patterned plywood. Start by cutting the wood to size, then sand it and attach the hairpin legs to the board and you're all set. If you want to dress up your office footrest, you can use special wood or include some fun details. But no matter how you personalize it, this project is great fun and perfect for your home office. addicted2diy
Materials: Scrap Wood or Patterned Plywood Board, Sand Paper, Hairpin Legs, Wood Screws, Wood Glue
Tools: Sander, Cordless Drill, Adaptive Cutting System, Clamps
6. Making A Faux Fur Footrest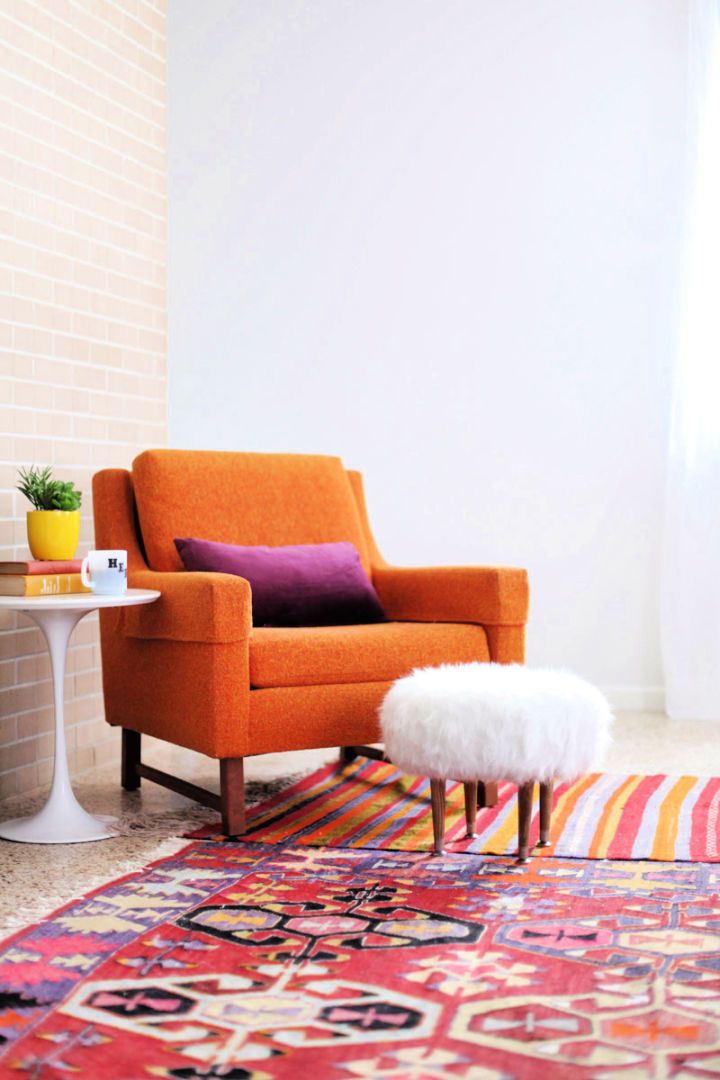 Faux fur is all the rage right now and the trend is slowly taking over homes. You can also introduce this trend to your home décor with this DIY faux fur footrest plan. This footrest will not integrate just a fashion statement but is also very functional and gives you an alternative to your regular wooden slipper. It's a pretty easy project, that enables you to have an exceptional and trendy piece. To make your faux fur footrest, you'll need a little round piece of wood, legs, high-density foam, faux fur fabric, wood stain, and some other handy materials and tools. This pretty little footrest would look great and complement your furniture perfectly. Get on this DIY plan to add a touch of fashion and decor to your home. abeautifulmess
Materials: Round Wood Piece, High-Density Foam, 4 Short Legs, Batting, Marker, Faux Fur Fabric, Leg Mounting Plates, Stain, Nail Heads, Rope, Muslin Cloth
Tools: Hammer, Hot Glue Gun, Staple Gun with Staples, Drill & Drill Bit, Fabric Scissors
7. Upcycled Plastic Tub Footrest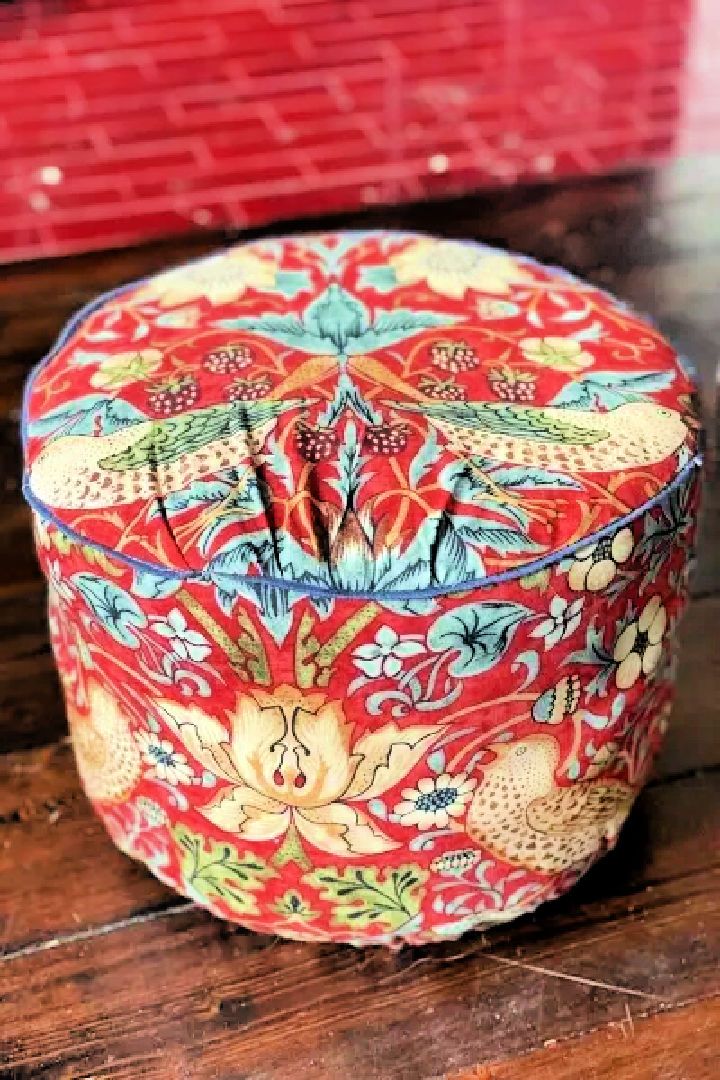 Nothing gets you into the right mindset faster than doing a DIY project. Get your mind and feet at ease by making this DIY upcycled tub footrest project. It's a great way to keep your feet restful and cozy while lying on the floor or chair. This footrest is made of an upcycled tub and is a cost-effective and eco-friendly alternative to the one bought from the market. Plus, it will perfectly complement your space with its distinctive look. This DIY project is quick, easy to do, and requires materials you already have in your home. It is sturdy yet relaxing to bring you comfort during work or leisure. It also makes your home look more attractive and comfortable. upcyclemystuff
Materials: Empty Platic Tub with Lid, Leftover Fabric, Fabric Scraps & Trimmings, Leftover Quilt Batting, Willian Moris Fabric Remnant
Tools: Fabric Scissors, Needle, Sewing Machine, Craft Glue
8. DIY Footstool with Hairpin Legs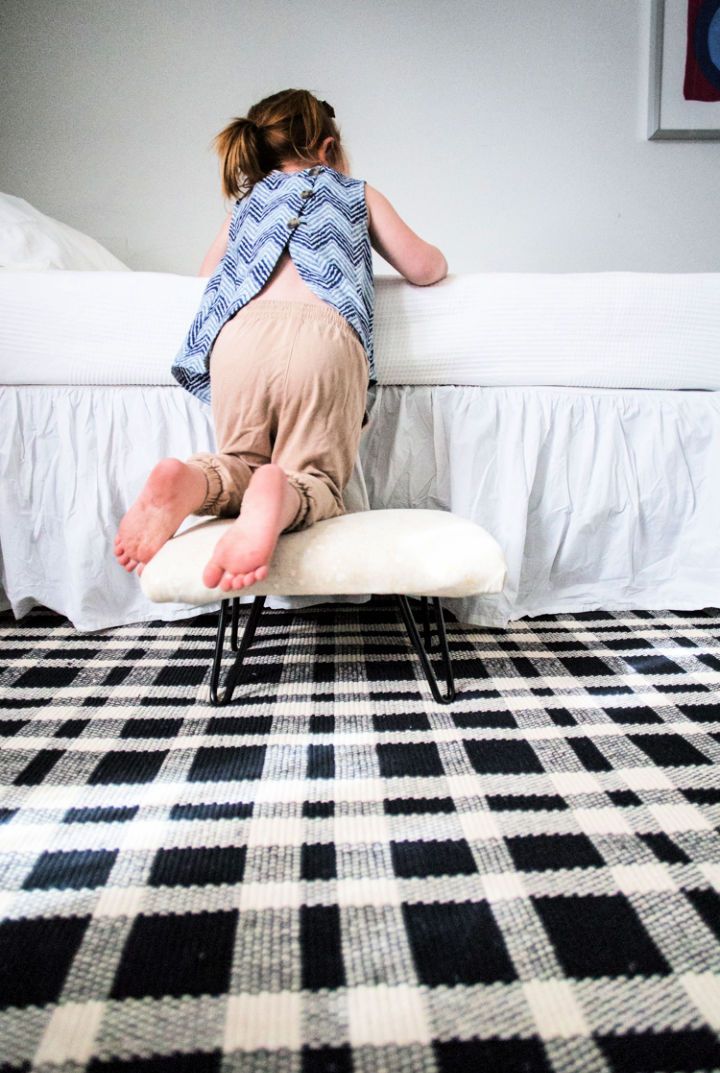 Making this DIY plush footstool with hairpin legs is a fun and creative way to add a stylish and modern mid-century touch to your home décor. This project is also inexpensive and easy to do, making it perfect for anyone, even if you're not a crafty person. To make this DIY footstool, you'll need some heavy canvas, natural cotton batting, and a few hairpin legs. This footstool is small, short, and perfect for kids enabling them to jump up or down a little extra height. Make this beautiful plush footstool to bring some ease and relaxation to your life with this DIY project. livefreecreative
Materials: Plywood, Spray Adhesive, Hairpin Legs, Cotton Batting, Canvas, Patterned Fabric, Black Cotton Piece
Tools: Staple Gun with Staples, Power Drill
9. Free Wooden Footrest Plan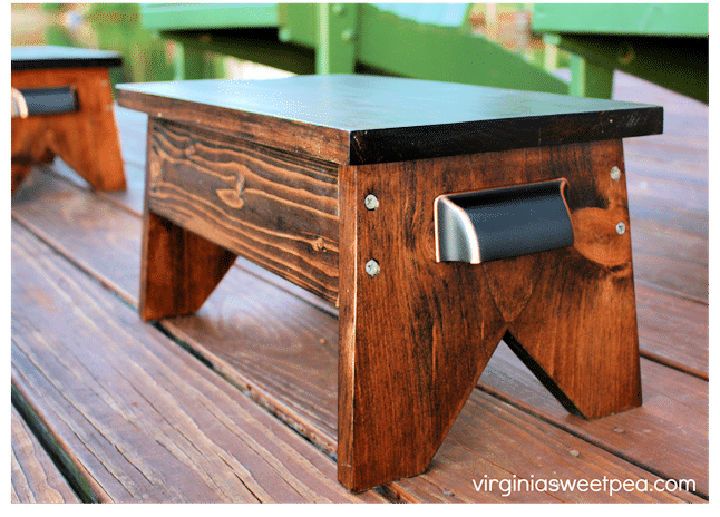 Do you love to relax and enjoy leisure outdoors? Add something more to your enjoyment with this DIY wooden footrest. It is a fantastic plan to relax on the deck or dock. This footrest is easy to build with handy materials and tools and only takes a few hours. It is sturdy, stable, and long-lasting with a decorative wood finish and simple design that looks beautiful, and is strong enough to withstand the weather. DIY this plan! Put your feet up on the footrests, and enjoy the outdoors. virginiasweetpea
Materials: Pine Wood Boards, Pocket Hole Screws, Deck Screws, Wood glue, Wood Stain, Polyurethane, Tack Cloth, Cup Pulls or Drawer Pulls (optional)
Tools: Drill, Miter Saw, Kreg Jig, Tape Measure, Band Saw, Palm Sander
10. Easy DIY Footstool From an Old Table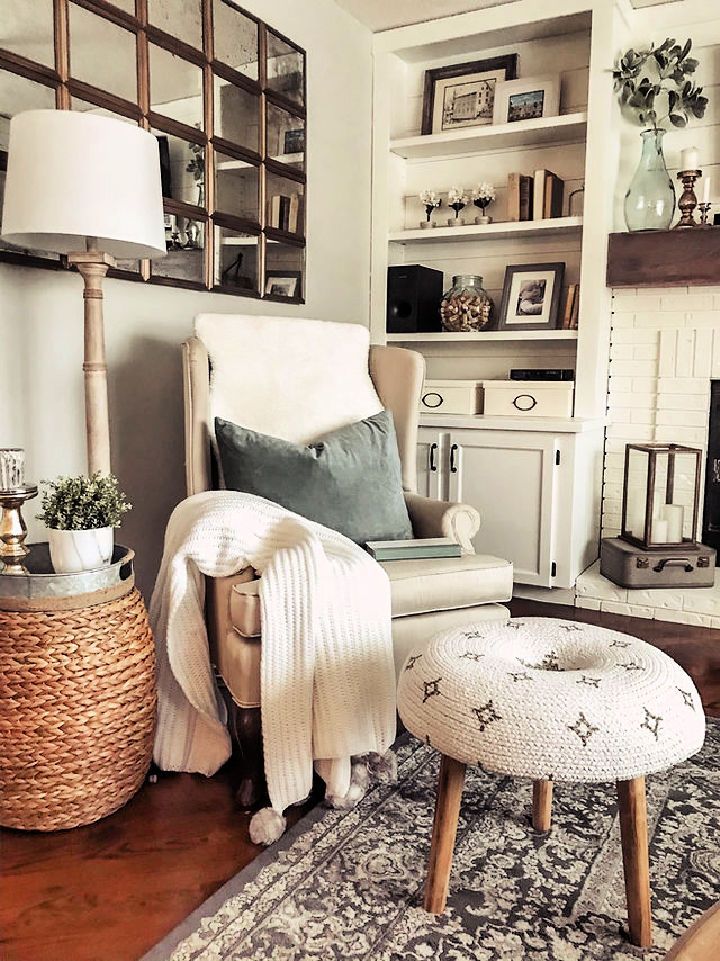 If you're looking for a cute little round footstool that you can make yourself, look no further than this easy DIY footrest from an old table project. With minimal effort, you can turn an old table into a beautiful and unique piece that will fit perfectly in your home. All you need to make this DIY footstool is a round old table, a weave rug, some other handy materials, and a bit of ingenuity. When you have the materials, now it is easy to put them together. This footrest features a faux tufted design giving it a sleek look, but you can customize the size and style of the footrest according to your taste. This DIY footrest is a no-frills plan that offers a striking piece that doesn't get flat and gives your place a warm and contemporary look. bloomingdiyer
Materials: An old Table, Upholstery Foam, Weave Rug, Batting, Wood Screw, Sand Paper
Tools: Staple Gun, Hot Glue Gun, Scissors, Saw, Level, Washers
11. Homemade Upholstered Footstool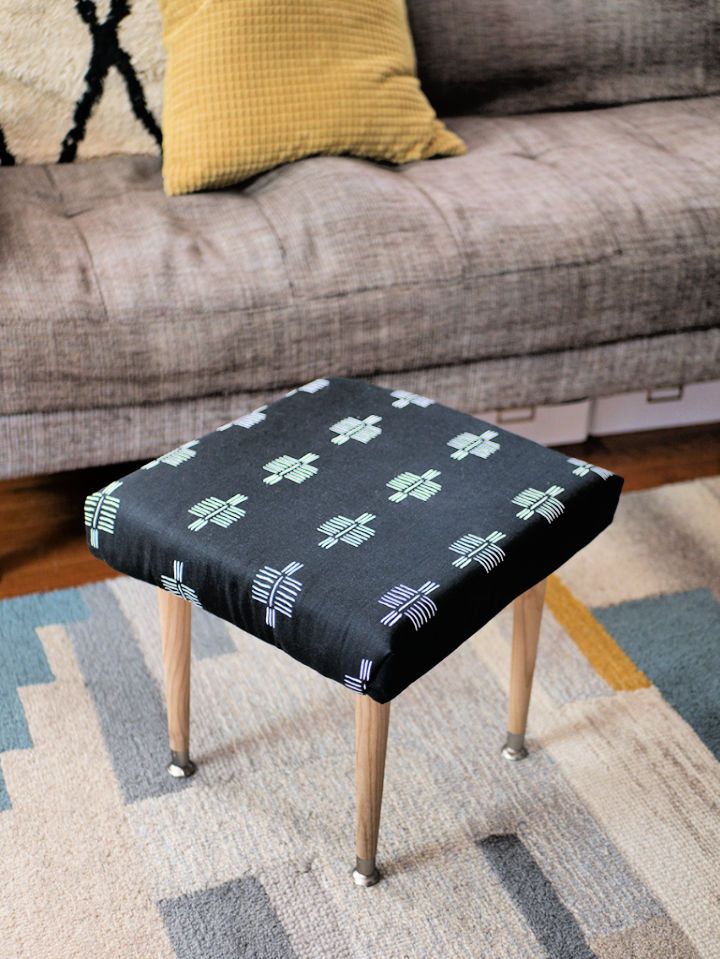 Want your feet to have a perfect height comfy seat? This DIY upholstered footrest is the perfect project for you. It will provide you with a comfortable place to rest your feet. It is made with only a few supplies you can find at your local hardware store, and the project can be completed in a few hours. This footrest is so cushy and comfortable with soft edges yet sturdy enough to withstand the weight and you can even use it as a seat. It would be a perfect addition to your living room. Wait no more! Make this upholstered footrest and bring yourself a relaxing spot with this DIY plan. thehomesteady
Materials: Wood Piece, Fabric, High-density Foam, 4 Top Plates, 4 Legs, Bating, Glue or Spray Adhesive
Tools: Drill, Staple Gun with Staples
12. How To Make a Footrest With Storage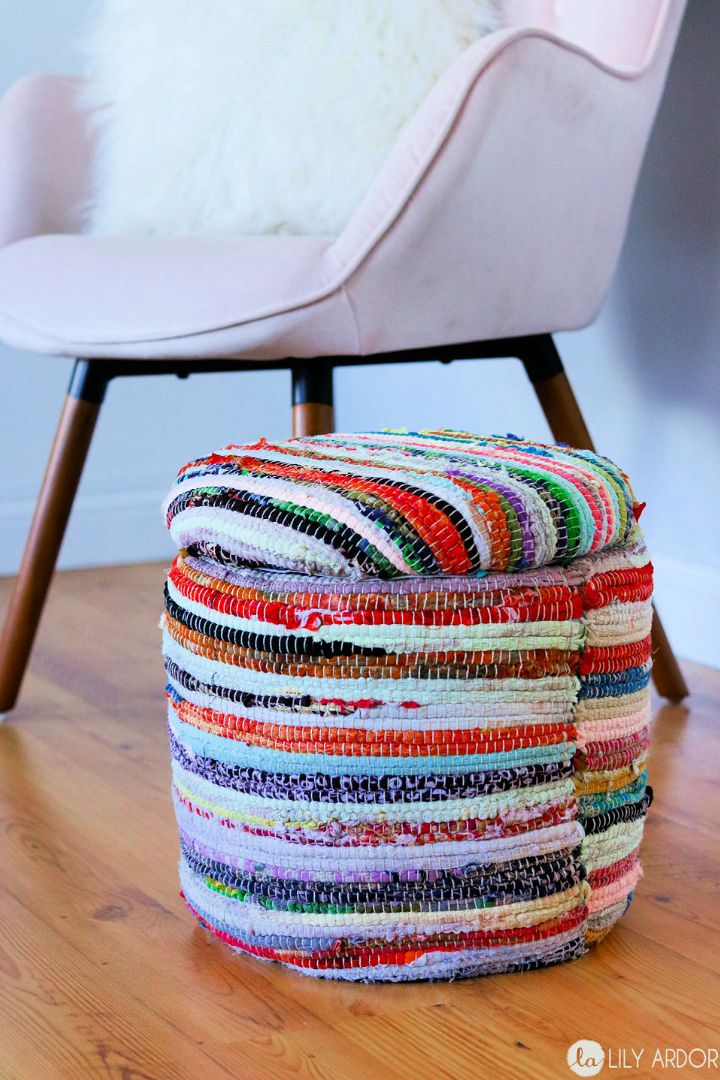 Looking for a fun and easy DIY project that will add some extra storage and style to your home? Why not upcycle an old bucket into a functional piece of furniture? Check out this great idea for a footrest with storage! This project is much easier and cheaper than it looks, and only requires a few inexpensive materials. You can use it as a footrest, storage, or even a chair and it's a great way to add some extra texture and color to your decor. This footrest is sturdier than it looks and is wrapped with a braided rug that gives it a fun and funky look. DIY this plan save money and enjoy comfort with style at a fraction of the cost. lilyardor
Materials: Round Wood Piece, Platic Bucket, Chalk, Bating, Yard Stick, Felt Fabric, Rag Rug, Foam Sheet, Heavy Duty Hot Glue
Tools: Heavy Duty Stapler, Hot Glue Gun
13. DIY Bar Stool Metal Foot Rest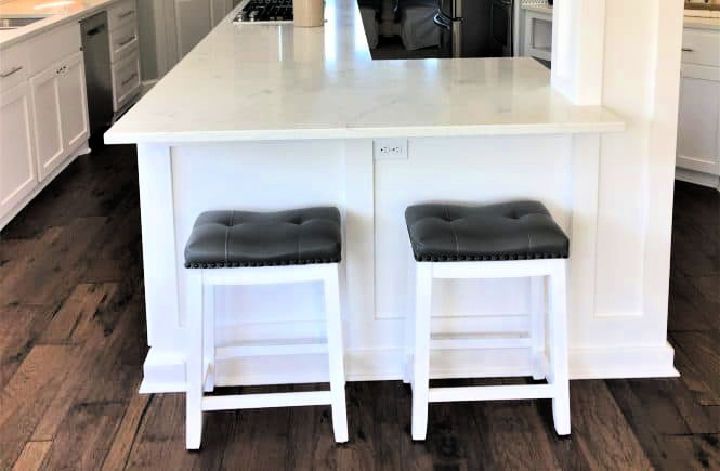 Want to bring some convenience to your bar stools to enjoy comfortable eating? Consider making this DIY metal bar stool footrest plan. It is a fantastic idea to add comfort and style to your bar stools. Its easy to DIY, and you can customize it to fit any size stool. It is a quick process that requires a few supplies and a little time to complete. This DIY offers a footrest made of metal making it sturdy and safe from scratches and scuff marks and perfect to enjoy ease for a long. Get this quick DIY makeover that will give your bar stools a modern feel. thetarnishedjewel
Materials: Bar Stool, Metal Nosing, Screws, Nail
Tools: Miter Box, Hack Saw, Tape Measure, Screwdriver or cordless Drill, Hammer, Pencil
14. DIY Ikat Footstool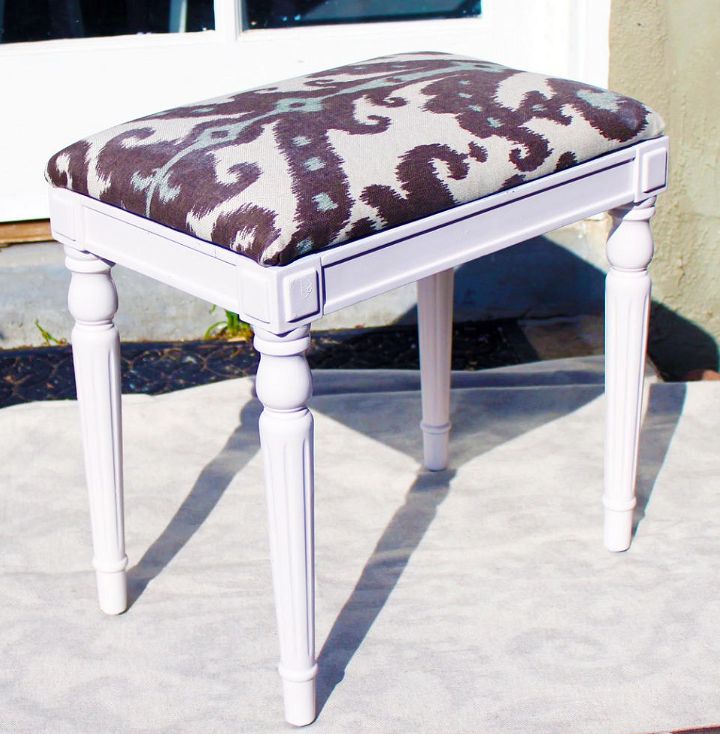 Have an old footrest fibbing around and want to give it a new fresh look? Stop looking around! This DIY Ikat footstool is a great idea for you. It is a quick and easy upholstery project that will add a pop of color to your home. It is a fantastic plan for beginners, and only requires a few supplies that you likely already have on hand. Best of all, it's a budget-friendly project that can be completed in just a few hours. It is a crazy useful DIY footstool that is easy to make and looks amazing and is a perfect way to turn an old footrest into something new and cost-effective. prettyprudent
Materials: Spray Paint, Fabric, Batting, Foam,
Tools: Scissors, Stapler Gun with Staples, Ruler, Marker, Drill
15. Cheap DIY Upholstered Footrest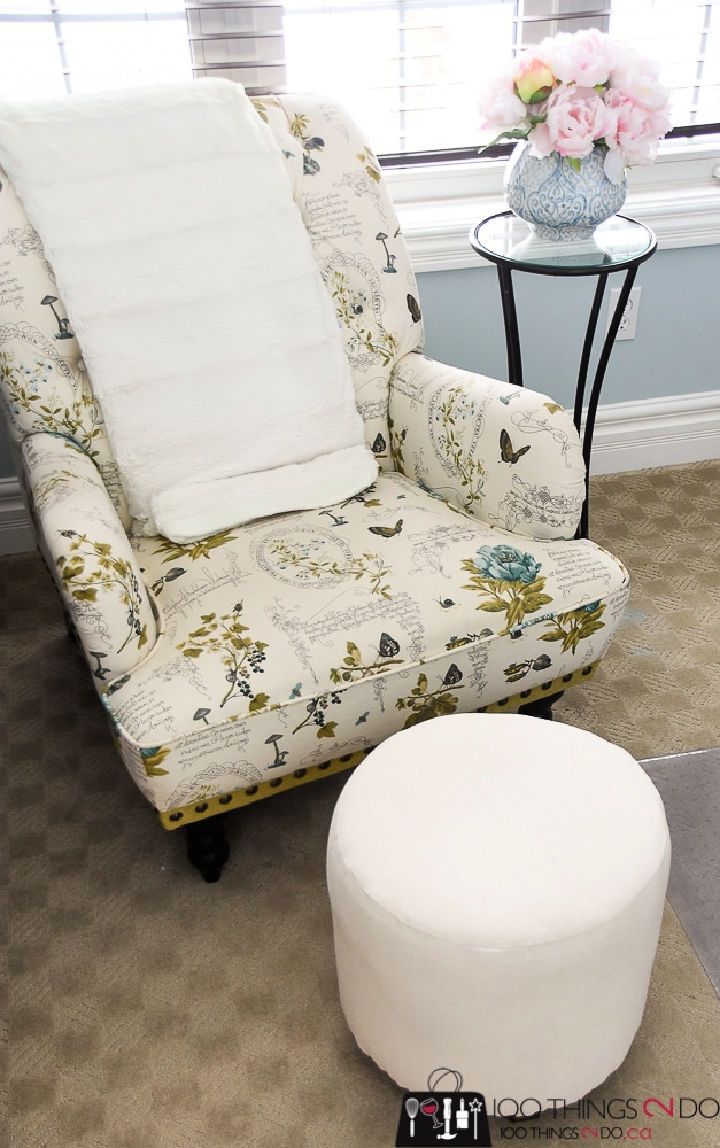 Do you want a footrest that is trendy but cheap but buying one would cost you much? Skip this hassle! Try this cheap DIY upholstered footrest project! It will provide you with a trendy and cushy piece. This project is incredibly easy and only requires a few inexpensive materials and a little time. To get started, grab concrete from any local home improvement store, place round plywood pieces on top and bottom, cover it with foam, and then with fabric, and lastly attach legs, and voila! You have a lovely and functional piece of furniture. You can add some decorative accents to it to make it more appealing and different. Grab your materials and get started with this DIY plan to have thrifty and unique furniture to relax your tired feet. jenwoodhouse
Materials: Concrete Form, Scrap Wood Pieces, Round Plywood Pieces, Quilt Batting, Upholstery Fabric, Wood Screws, Duct Tape, Wood Glue, Foam
Tools: Clamps, Sewing Machine, Upholstery Stapler, Jigsaw
16. Build A DIY Footstool Upholstery Plan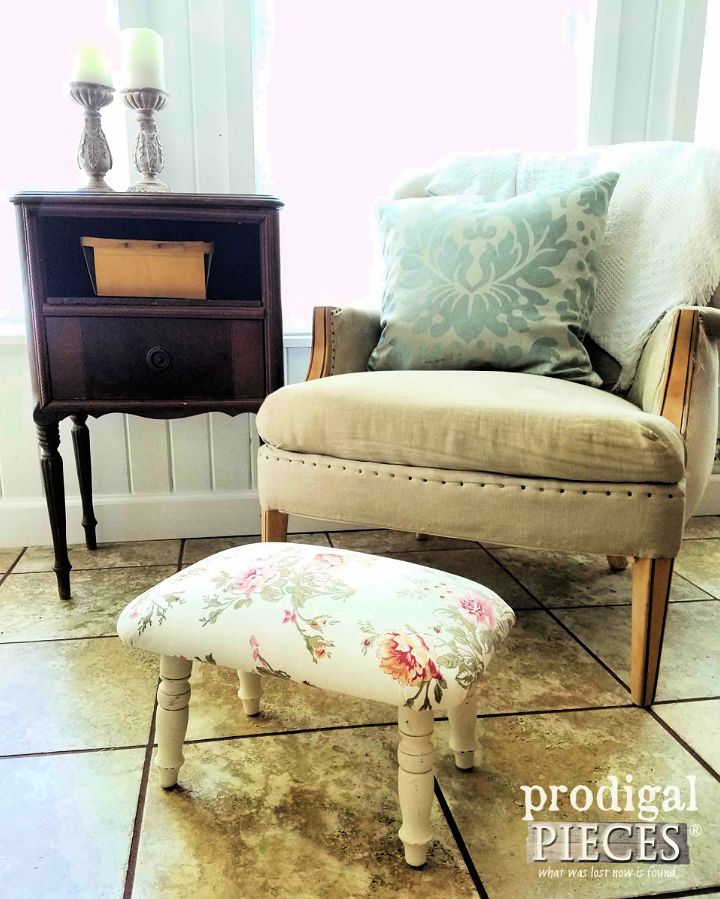 If you're looking for an easy and thrifty way to refresh a footstool, upholstery is the way to go! This DIY simple upholstery footstool is a quick and easy project that will add charm to your home. All you need is a footstool, some fabric, and a few supplies. The process of this footstool plan involves upholstery which is quite easy if you have the right supplies and a bit of creativity, you can make your personalized footrest with your own style in no time. This DIY footstool is a beautiful piece of furniture that looks great and cozy and coordinates with your decor. Give yourself a cozy and thrifty element to relax on and your home a style to shine. prodigalpieces
Materials: Fabric, Upholstery Bating, Small Spray Shelter, Upholstery Lining, Foam, Spray Paint, Staples
Tools: Sewing Scissors, Awl, Drill or Screwdriver, Scissors, Respirator, Safety Glasses, Stapler
17. Upholstered Ottoman for Under Desk Footrest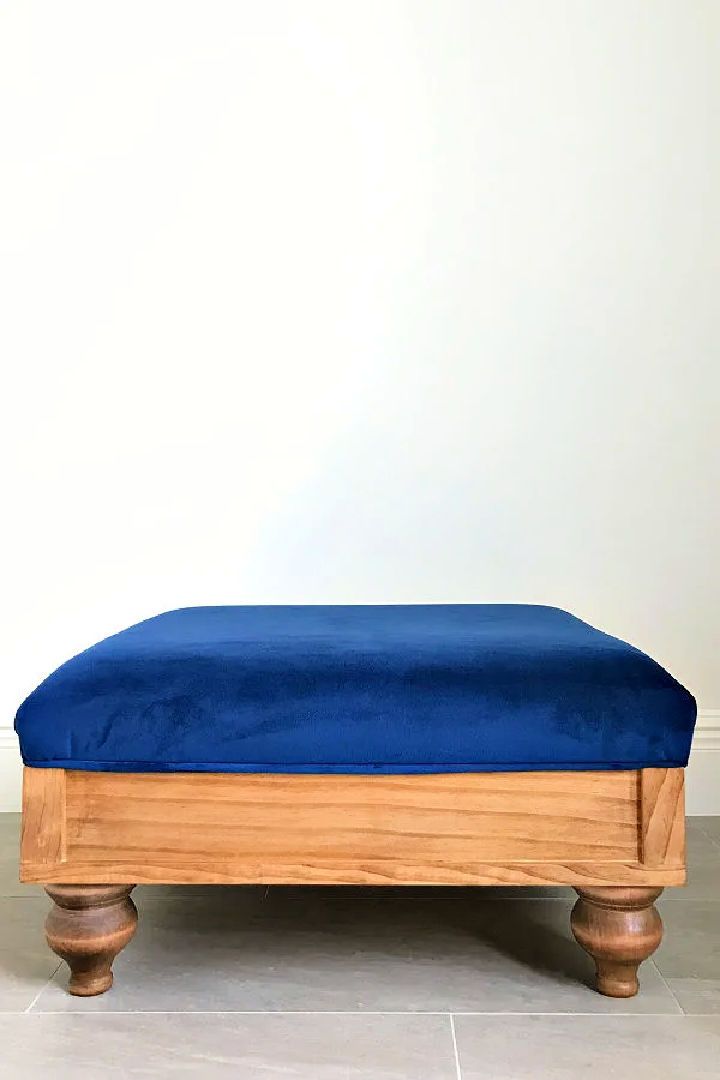 This DIY upholstered ottoman from scratch is a versatile piece of furniture that can be used as a footstool, extra seating, or a low coffee table. It is quick and easy to make, looks great, and can be easily made from scratch. You can make this footstool with easy-to-follow steps and it requires a few tools and accessible materials and a weekend to complete. This footstool is relatively inexpensive, project, and offers a perfect height and lightweight making it ideal for small spaces. It also gives an elegant and unique texture to your space. Put your feet on rest and get your versatile footrest with this DIY plan. abbottsathome
Materials: Pine Board, Plywood, Screws, Brad Nails, Pine Moulding, Heavy duty top Leg Plates, Extra Loft Batting, Upholstery Fabric, Unfinished Pine Wood Bun-Style Feet, Thick Foam
Tools: Wood Glue, Brad Nailer, Miter Saw, Sander, Scissors, Staple Gun with Upholstery Staples, Kreg Jig, Drill,
18. Custom Denim Footstool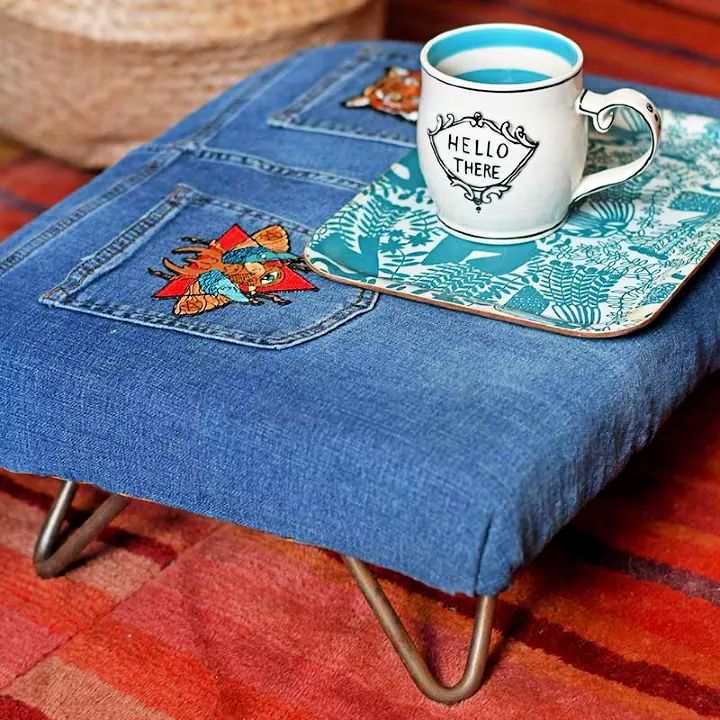 Looking for a unique, affordable way to add a touch of luxury to your home? This DIY custom denim footstool is the perfect solution! This project doesn't involve any sewing and can be customized to any size you want. To get this slick and unique-looking footstool simply upcycle an old pair of jeans into a stylish low stool. The denim pockets provide a suitable place to hold the TV remote. The stool can also be used as a side table and is strong enough to bear weight and doesn't wobble. With its customizable size and height, this upholstered footstool is a great way to add a unique and personal touch to your home décor. pillarbxblue
Materials: Piece of Plywood, Dense Foam, Thick Batting, Hairpin Legs, A Pair of Jeans, Scrap Piece of Fabric, Embroided Patches, White Glue
Tools: Electric Staple Gun, Saw, Knife, Scissors, Iron, Drill, Screwdriver
19. How To Upholster a Footstool for Chair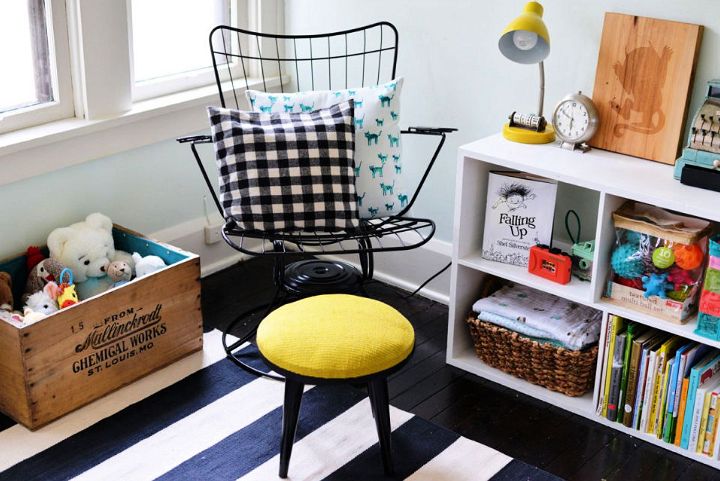 Do you want to add some retro flair to your place that would also bring nicety to you? Try this DIY plan to make yourself a simple yet practical footstool. This footstool is a great way to add a quaint appeal to your home without having to put together a complicated piece of furniture. With just a few basic tools and the right supplies, you can have your footstool upholstered to make you feel relaxed in no time. Plus, this footstool will save you money and looks stunning. Give yourself some relieve and try this DIY plan to have a clean look and thrifty footstool. homedit
Materials: Round Pieces of Wood, Fabric, Legs, Batting, Screws, Spray Paint, Sand Paper
Tools: Staple Gun with Staples, Drill, Drill Bits(regular & Philip head), Fabric Scissors
20. Simple DIY Footrest For Under Desk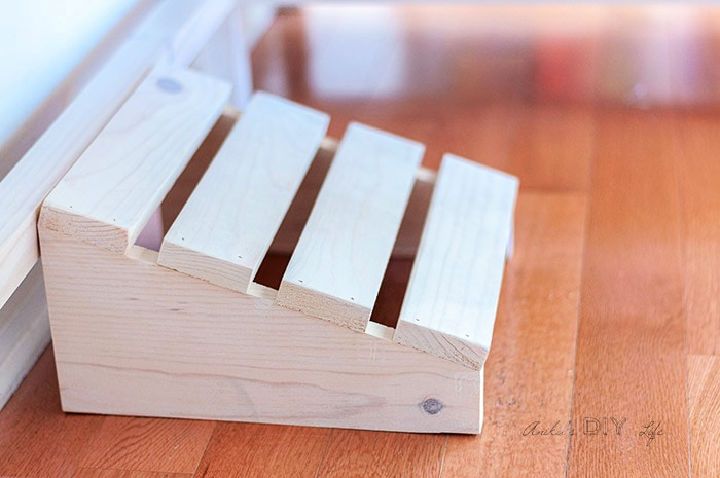 If you're looking for a quick and easy project to add a little extra comfort to your workstation, consider making this simple DIY footrest project from scrap wood. This simple footrest can be placed under your desk to make you relax while working. Its angled design allows for maximum ergonomic placement, helping to elevate your legs and relieve pressure. It's large enough to provide ample support, but not so large that it gets in the way, and it's easy to adjust to the perfect height for your needs. Plus, it's truly a great way to use up those scraps of wood you have lying around! anikasdiylife
Materials: 1″ x 3″ Boards, ¾" Plywood, Finish Nails, Paint or Stain, Wood Glue, Clear Coat
Tools: Miter Saw, Jig Saw, Brad Nailer, Hammer
21. DIY Mid-Century Inspired Footrest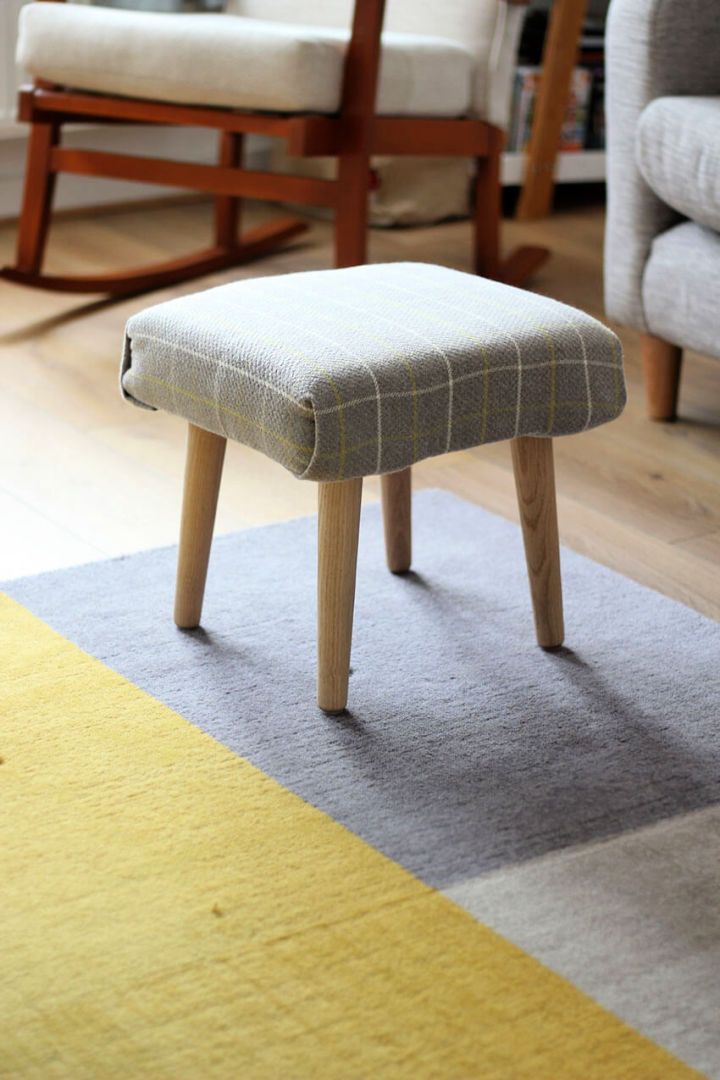 Making this DIY mid-century-inspired footrest is a really simple project that anyone can do. It is a great way to add a tone of fashion and comfort to your home. It's really simple to make and only requires basic tools and skills. Placing your feet up and gratifying yourself with comfort is so simple, inexpensive, and totally attainable with this DIY footrest plan. You can customize the fabric or size to match your decor and make it as simple or complex as you like. Best of all, it's an inexpensive way to get the look you want. So, give it a go! thecraftygentle
Materials: Plywood, Short Table Legs, Wadding, Upholstery Fabric, Brackets, High-Density Foam
Tools: Power Drill, Drill Bit & Screws, Fabric Scissors, Hot Glue Gun, Ruler, Pencil, Bread Knife or Hacksaw, Staple gun with Staples
22. $10 Oversized Footstool For Desk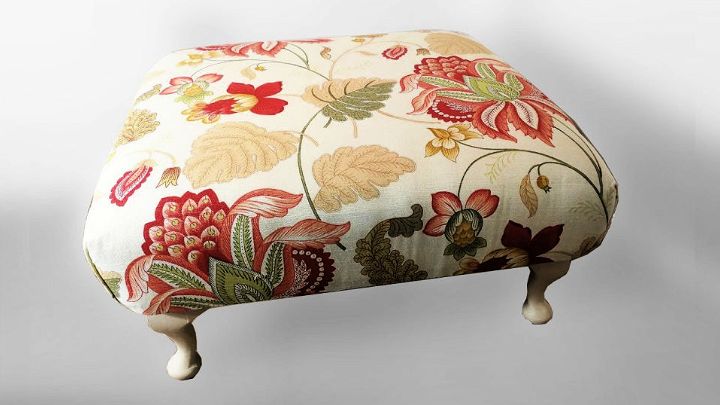 Want an innovative plan to make a large enough footrest for cheap? Consider making this DIY oversized footrest for a $10 plan. Making an oversized footstool is a fantastic way to add a unique, personal touch to your home décor. And, it is a great project for anyone who likes to DIY on a budget. To make this oversized footstool, you'll need a set of wooden legs from old cabinets, a piece of old foam, fabric, and some tools. The amazing thing about this project is that you can upcycle old furniture and turn it into a stand-out statement piece. It's also easy and simple to do. Just follow this DIY plan and you'll have your very own oversized footstool in no time. youtube
Materials: Wood Legs(old cabinet), Fabric, Paint, A Piece of Old Foam
Tools: Drill, Staple Gun with Staples, Scissors
23. Walnut Wood Footrest – Free Plan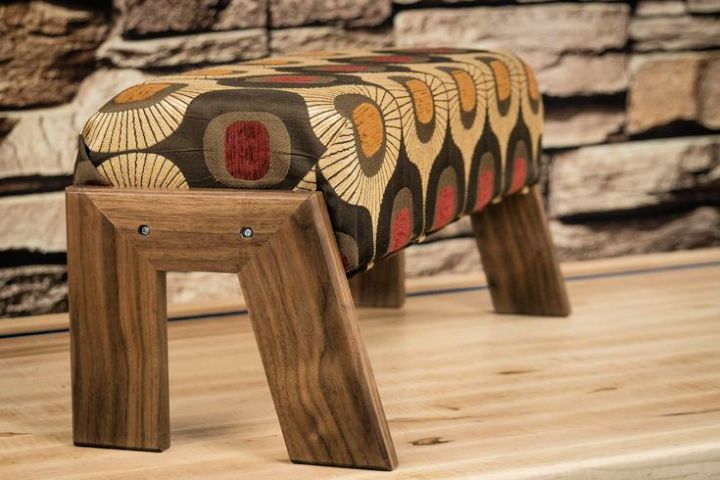 Add some natural and woody touch to your home with this DIY walnut footrest plan. This affordable, comfortable, and stylish footrest can be used under the desk. It is easy to use and a very attractive footstool that will add style to your home office or workspace. This footstool is both comfortable and stylish and can be made with inexpensive walnut wood. To make your own DIY walnut wood footrest, simply measure and cut the wood, make the top frame and legs, stain it, prepare upholstery, and put them all together. Your footrest is ready, now it's time to relax. youtube
Materials: Walnut Wood, Fabric, Thick Foam, Briwax Clean, Wood Finish
Tools: Drill, Table Saw, Countersink Bit, Ripper, Aluminum Bar Clamp, Miter Saw, Combination Square, Router Table, Large Band Saw, Staple Gun, Random Orbit Sander
24. Make Your Own Structured Pouf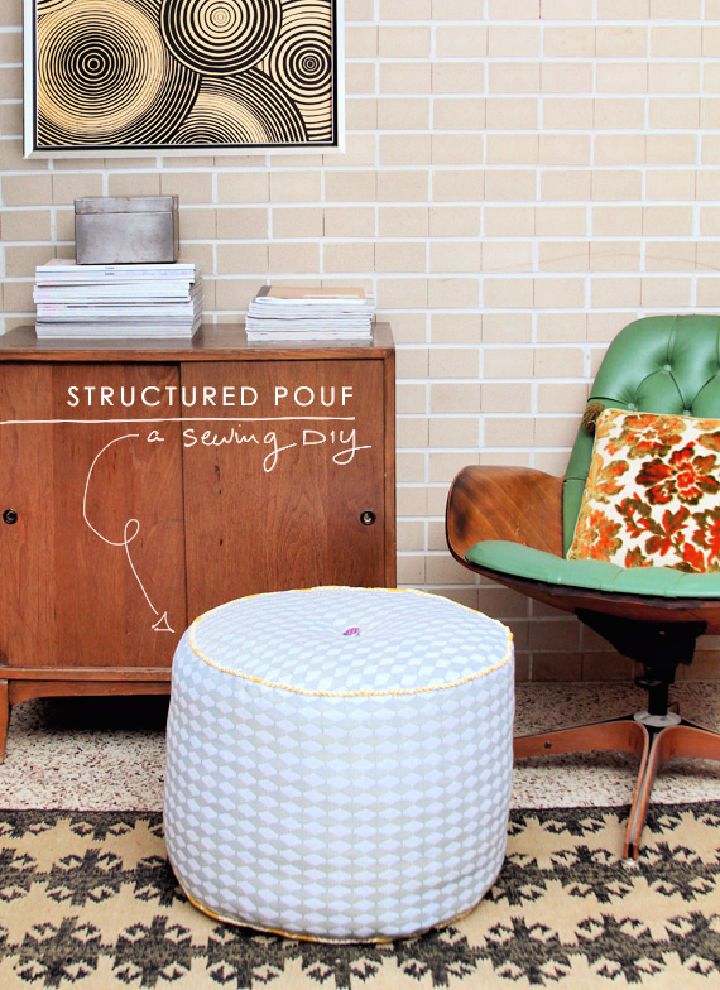 Do you want a frugal piece that will bring leisure as well as glamour to your home? This DIY Pouf-style ottoman is a great way to add comfort and beauty to any corner of your home. It is also a great space saver. It is a cylindrical piece that doesn't go flat to weight and can be used as a seat or footrest. This footrest is made from like-sized comforters, and fabric with the help of simple tools, like scissors, needle, and thread and requires minimal sewing skills. All you need is a little bit of time and patience. It is a simple and economical project to add a bit of fashion to your home. This DIY footrest is highly customizable, you can choose the size and fabric of your choice to make it seamlessly fit your home interior. Get this DIY plan now and enjoy comfort with joy. makingnicein
Materials: Like-sized Comforters, Duct Tape, Scrap Fibre, Cord, Wooven Fabric, Sewing Thread, Embroidery Floss, Large Upholstery Needle, Metal Washer, Straight Pins, Decorative Button
Tools: Sewing Machine, Tape Measure, Fabric Marker, Fabric Sheers, Scissors
25. DIY Computer Footrest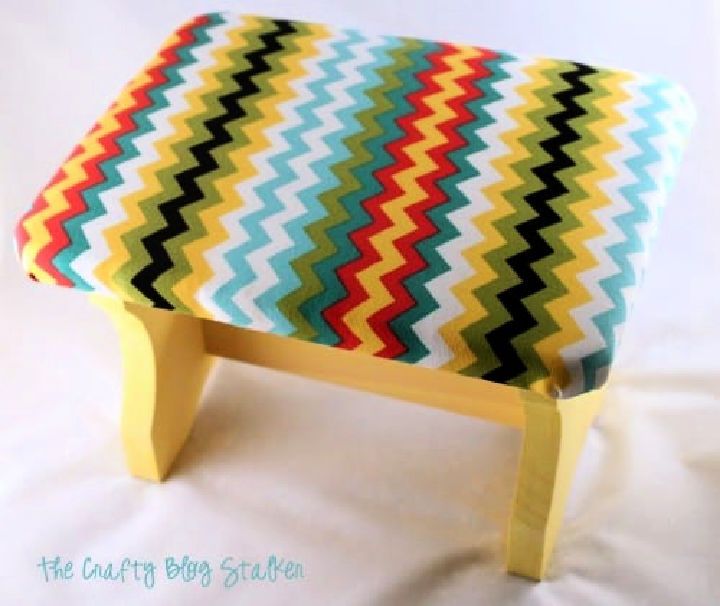 Want a perfect cozy spot to put your feet up while having to work for so long? Make your life much more relaxing and try making this DIY chevron footrest! This cute and sturdy footrest is perfect for anyone who wants to sit more comfortably while working. It is easy to make using chevron canvas fabric and handy materials and tools you probably have in your home. It is an easy, cheap, and quick plan yet perfect for bringing a pop of color and consolation to your home. By simply following this DIY plan you'll have your own unique and comfy footrest in no time! thecrafty
Materials: Wooden Foot Rest, Chevron Canvas Fabric, Polyester Quilt Batting, Staining Medium, Yellow Acrylic Paint, Ribbon, Hot Glue
Tools: Heavy Duty Staple Gun, Scissors, Hot Glue Gun
What can you use as a footrest? If You've One!
There are many different things that you can use as a footrest. A few popular options include ottomans, benches, and chairs.
Ottomans are a great option because they come in a variety of shapes and sizes. You can find ottomans with or without a back, and they can be upholstered in a variety of materials. If you need something that is easy to move around, an ottoman is a good option.
Benches are another popular choice for a footrest. They come in both indoor and outdoor varieties, and they are often made from wood or metal. Benches can be used as seating as well, so they are a versatile option.
Chairs are another option for a footrest. If you have an extra chair in your home, you can use it as a footrest. This is a great option if you need something with more support than an ottoman or bench.
Related DIY Projects, You'll Love to Build
Cheap DIY Headboards – Looking for cheap DIY headboard ideas? Check out our list of homemade DIY headboards that are easy to make and budget-friendly.
DIY Key Holders – Looking for a unique key holder idea? Make your own with our DIY key holder plans.
DIY Bookshelf Ideas – Need some new bookshelves? Check out our list of free DIY bookshelf plans.
DIY Nightstand Plans – Looking for an easy nightstand? Check out our list of free DIY nightstand plans.
Pallet Furniture Ideas – Need some new furniture? Check out our list of easy pallet furniture ideas anyone can DIY.
Cheap DIY Desk Ideas – Looking for a cheap desk idea? Check out our list of DIY desk ideas that are easy to make.
DIY Plant Stand – Looking for a unique plant stand idea? Check out our list of homemade DIY plant stand ideas.
DIY Dollhouse Plans – Looking for a dollhouse plan? Check out our list of free DIY dollhouse plans.
Conclusion:
Whether you're looking for a footrest to help with back pain or just want something comfortable to rest your feet on, we hope one of these 25 DIY footrest ideas will inspire you. If you don't find what you're looking for here, be sure to check out our list of free DIY footstool plans. And if you build a DIY footstool, be sure to share it with us in the comments!