Find 26 easy DIY shoe rack ideas for your home that will help you build a customized shoe storage system. These include step-by-step instructions and photos to help you make your own DIY shoe rack.
Whether you have a few pairs of shoes or a dozen, everyone can use a little extra storage space for their shoes. These 26 homemade DIY shoe rack ideas will help you create shoe storage that fits your needs and your style. From simple solutions like using a crate or an old ladder to more creative ideas like turning an unused cabinet into a shoe rack, there's sure to be something here for everyone. So get inspired and start building!
Anyone who has ever grappled with keeping their shoes organized knows it can be a real challenge. No matter how often you tidy up, your shoes always end up in a jumbled mess. One way to achieve better organization is to invest in a diy shoe rack. By taking the time to create your own custom storage solution, you can finally get your shoes under control.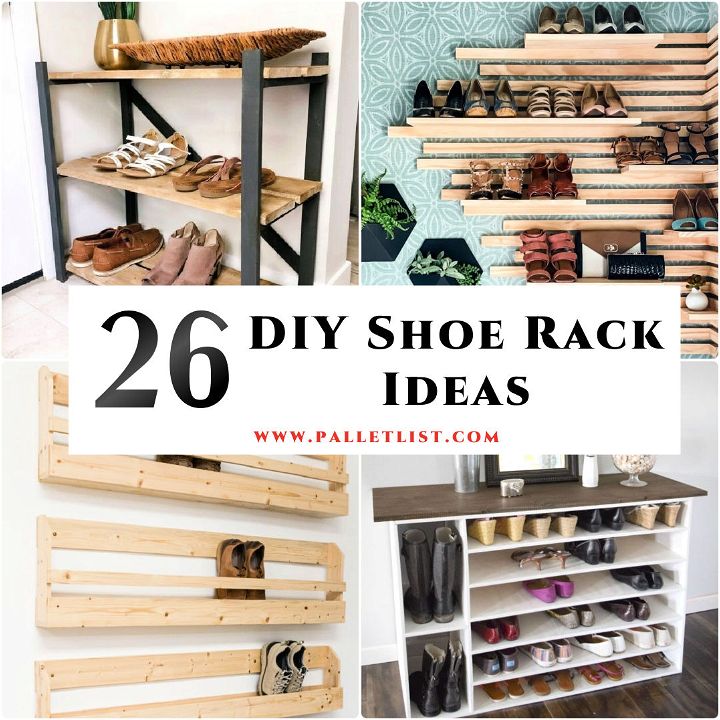 There are various diy shoe rack ideas to choose from, so you can tailor your solution to fit your specific needs. For example, if you have a small closet, you might opt for a hanging organizer that uses vertical space. Or, if you have a lot of shoes, you might opt for a larger freestanding unit. Whatever route you decide to go, diy shoe storage is an effective way to keep your footwear collection neat and tidy. With a little planning and some elbow grease, you can finally get your shoes under control.
1. Pallet Shoe Storage Bench Plan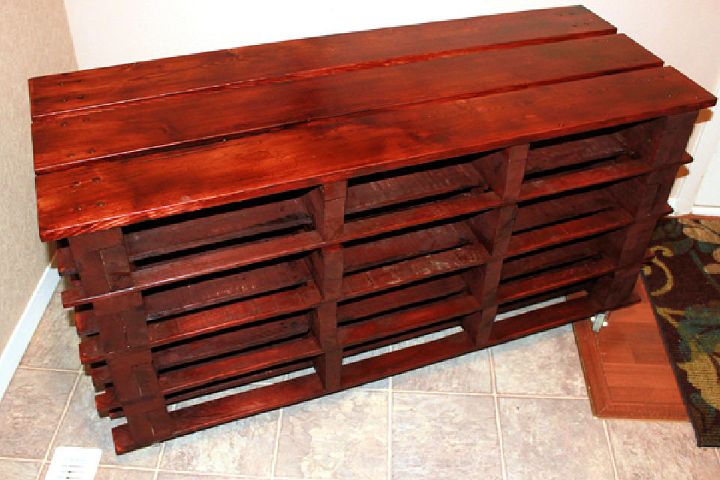 Want a shoe storage solution that's durable and attractive? This gorgeous pallet bench will satisfy your needs and look great in your home. Featuring sturdy construction, this bench is perfect for storing shoes, blankets, pillows, or anything you need to tuck away. Plus, it will last for years if you avoid spills and falls. This DIY bench is made from pallets, which are readily available, sturdy, and cheap, making this shoe rack perfect for storing shoes, blankets, pillows, or anything you need to tuck away. This clever apartment hack lets you store your shoes while keeping your space clutter-free and stylish. Build this DIY shoe bench that would be perfect for anyone with limited space. between3sisters
Material List: Wooden Platelet, Screws, Nails, Polyurethane, Sanding Paper
Tools: Drill, Hammer, Chisel, 4 casters, Nailer, Cordless Screwdriver
2. Wall Mounted Wooden Shoe Rack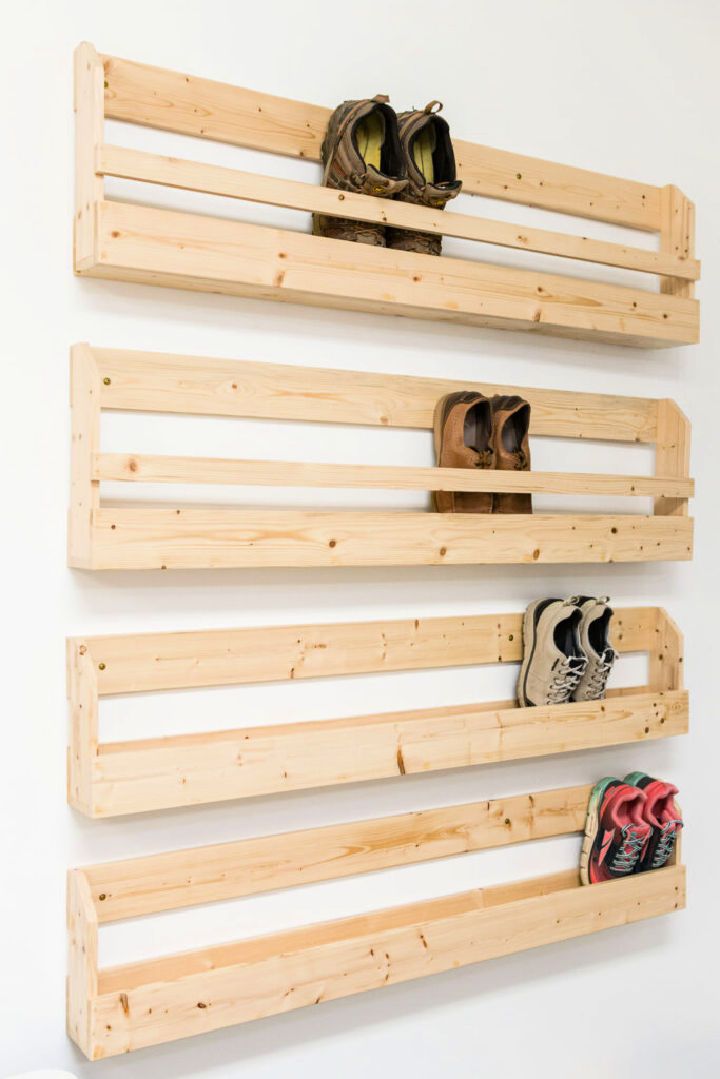 Organizing your shoes in a stylish way has never been easier rather than with this DIY wall-mounted wooden shoe rack. No more clutter or fussing with boxes! Just mount it on any wall, and you're good to go. It is a simple, budget-friendly shoe rack that keeps shoes off the floor and is a great idea for storing other household items. It's time to ditch the shoe boxes and organize your shoes with a contemporary touch! This shoe rack is stylish, sleek, and fits in any room in your home. Never lose your favorite pair again! Build this DIY shoe rack to free up much-needed space in your closet or hallway. kippiathome
Material List: Pine Wood, Screw( 1.25-inch trim ), Polycrylic Finish, Sand Paper(120 grit), Tack Cloth, Wood Glue, 2.5-inch screws (for mounting to the wall)
Tools: Compound Saw, Stud Finder, Crown Staple Gun, Cordless Drill, Measuring Tape, Putty Knife, Small Paint Brush, Saw, Speed Square
3. DIY PVC Shoe Organizer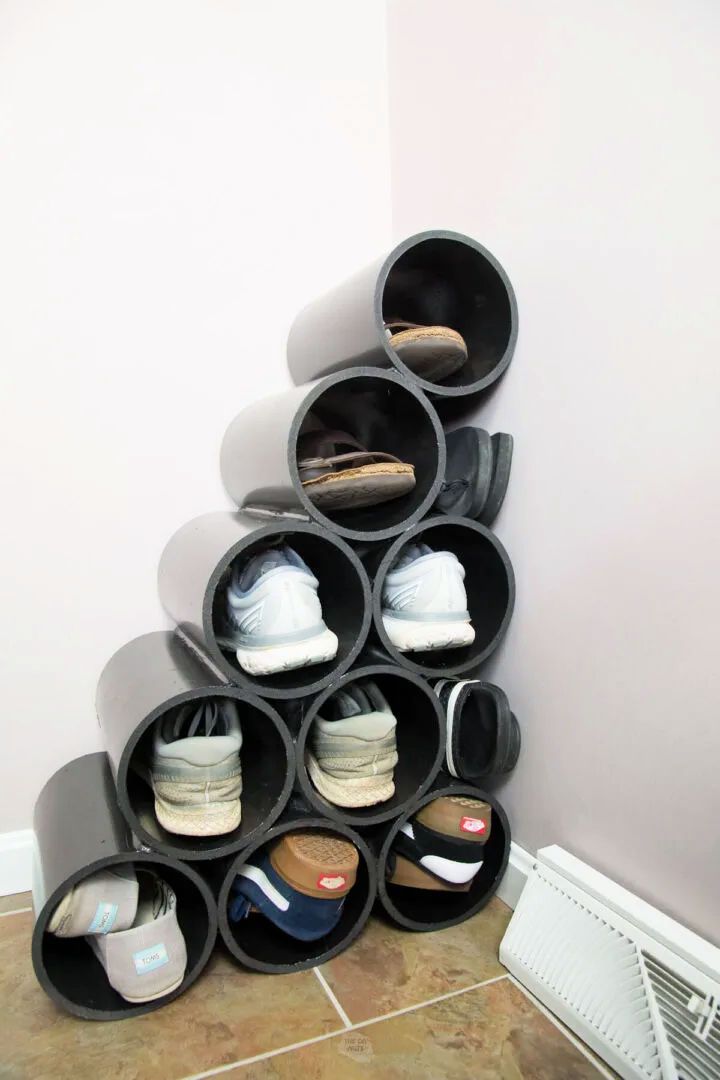 Looking for a shoe rack? Look no more! This DIY PVC shoe rack is a inexpensive, easy-to-build, space-saving shoe rack that's perfect for small closets. This shoe rack is easy to make, budget-friendly, easy to assemble, and can be customized in any way you like. It will take up minimal floor space, keep your shoes organized, and help you store them in your closet or under your bed. This DIY shoe rack is designed for people who want a more creative way to store their shoes. This unique shoe organizer will help you get your shoes off the floor and out of the way. Declutter your closet with the help of this DIY plan! thediynuts
Materials: PVC Pipe (6-inch), Glue, Pencil, Spray Paint
Tools: Miter Saw, Clamps
4. Making Shoe Shelves For a Closet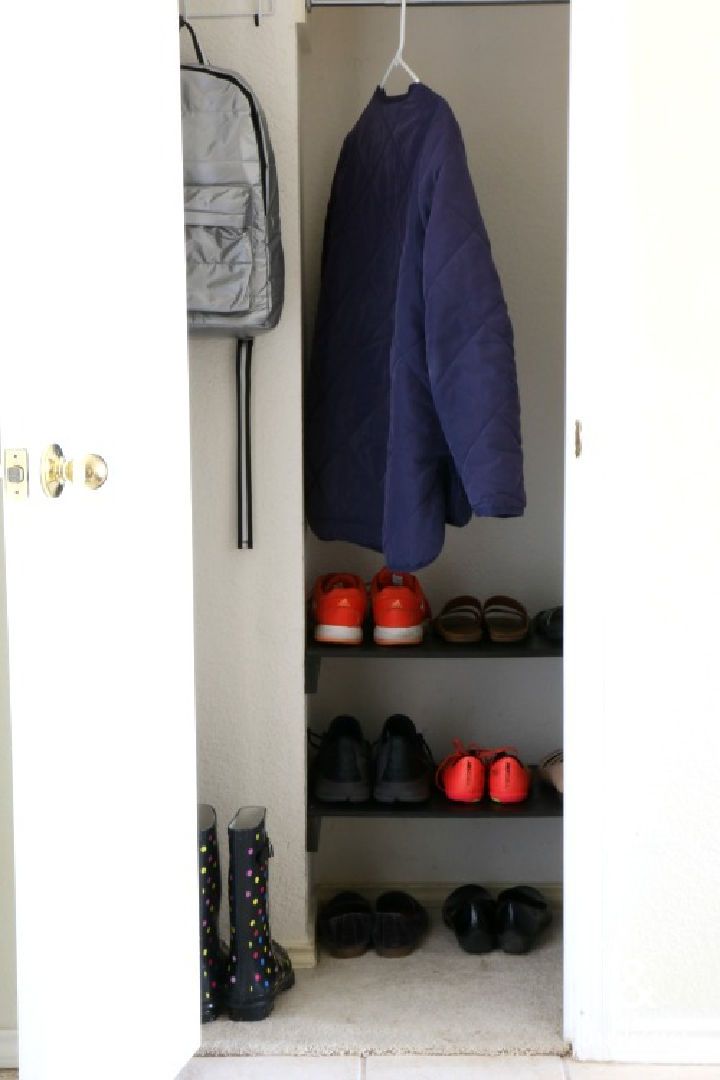 Standing in your closet, fighting with your shoe pile, is a terrible feeling. If you're tired of wasting time and money on shoes with messy closets and overflowing drawers, this DIY shoe shelves for a closet is a perfect solution for you. If you've ever had to cram your shoes into a small area and find them all in a heap on the floor, you're going to love this shoe storage hack. It will make your closet look like a dream, and it's so easy to make. This project is a great way to maximize space in your closet, and you'll be able to store your shoes effortlessly, find them quickly and take them with you when you travel! Create your own DIY shoe shelves for an organized closet. dukesandduchesses
Material List: Plywood, Scrapwood, Support Brackets, Screws, Paint, Polyurethane
Tools: Stud Finder, Drill, Spacers
5. Super Space-Saving Cardboard Shoe Organizer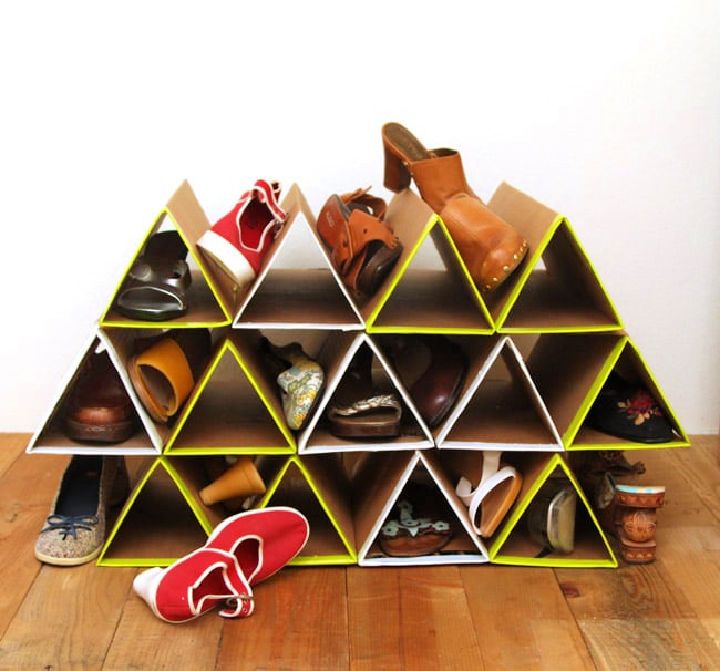 It's hard to find a shoe rack that's both stylish and functional. Usually, they take up too much space or are not sturdy enough, so they fall over when you walk by. DIY this stylish, space-saving shoe rack made from cardboard to solve both problems. It's unique, economical, creative, and great for apartment living or a space-efficient way to store your shoes! Don't let your shoes take up any more space, and organize them with this DIY super space-saving shoe rack, so they're all at your fingertips. Give yourself some much-needed relief with this simple DIY project. apieceofrainbow
Material List: Cardboard, Duct Tape
6. How To Build Wooden Crate Shoe Rack

Do you have a few wooden crates that you want to use to DIY a shoe rack? Dive into the world of DIYing with this easy DIY wooden crate shoe rack project. This shoe rack is uniquely designed that utilizes vintage crates to store and display your favorite shoes. It's cheaper, easier, and better for the environment than most other shoe racks. You can customize it to your preferred height and width to make them fit the shoes you want to display and get the desired effect by choosing any type of crate you want or mix and match to create your unique design. Don't miss out on this fun and rewarding project; give your space a rustic, industrial look with a modern touch. livefromjulieshouse
Material List: Large Wooden crates, 4 Pack 3′ Swivel Caster Wheel(Rubber Base), Wood Stain, Paint Brush, Rag, Sand Paper, Steel Wool, Tack Cloth, Small Wood Screws, 4 hooks for Keys,
Tools: Cordless Drill, Woodworker's Transfer Tool
7. Wood & Metal Rod Shoe Rack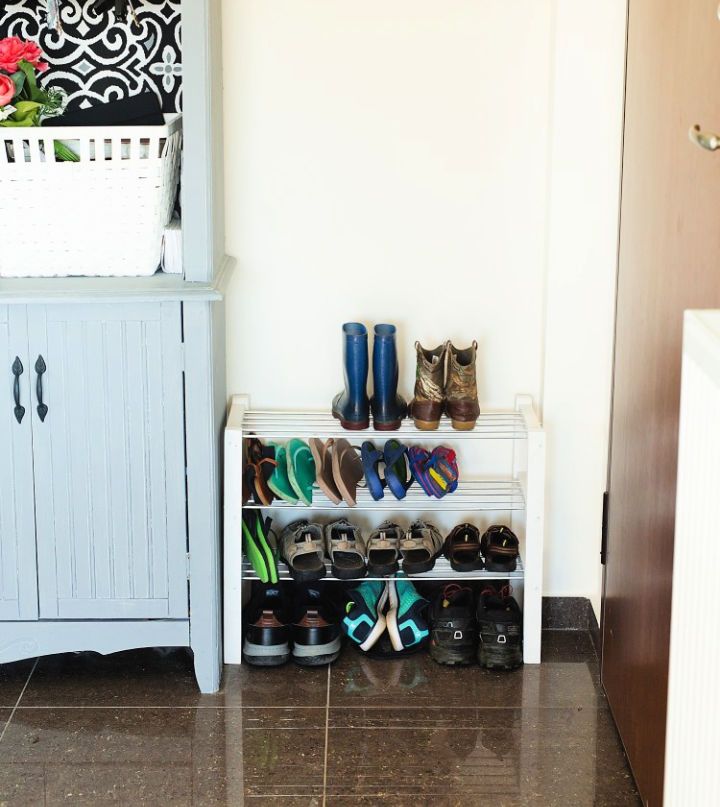 Do you have shoes cluttered around the house, living room, and closet? You know how messy that becomes. This DIY wood and metal rod shoe rack will solve your problem! No need to spend more money on bulky and expensive shoe cabinets, just grab some wood and metal rods and assemble this stylish DIY shoe rack. Due to its sturdy construction and durable materials, it will last for years with regular use! This perfectly sized metal and wood shoe rack is a stylish way to store your shoes and keep your shoes organized and easily accessible. It is a great idea to store your shoes and improve your home décor with this small yet effective shoe rack. Making this DIY shoe rack is an easy and fun project. sixcleversisters
Material List: Wood Strips, Metal Rod(25.5″ in length), Wood Stain
Tools: Drill, Sanding Block
8. Simple DIY Slat Wall Shoe Storage Rack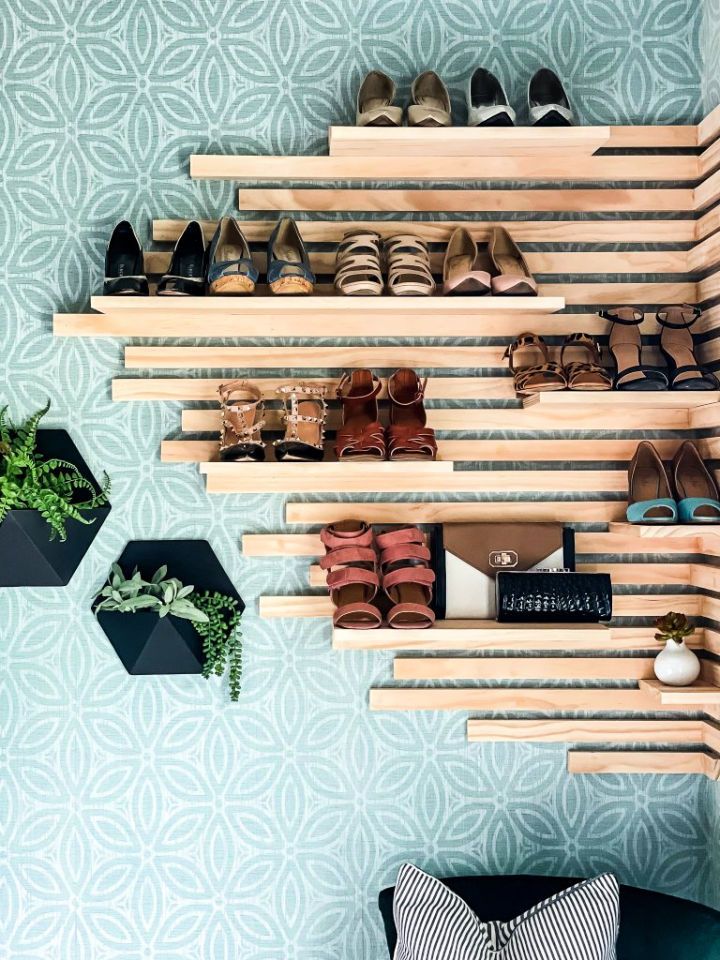 This DIY slat-wall shoe rack plan is a simple and convenient way to create a shoe rack. It is perfect for storing shoes in the entryway of your home or apartment. This wall-mounted shoe rack is BEAUTIFUL and easy to make and can be customized to fit any space and style. It is sturdy, durable, versatile, and way better than any other expensive shoe rack you can buy. It's an easy-to-install inexpensive way to maximize your space. ThisDIY shoe rack is an elegant and modern way to sort your space and promote cleanliness and style. Transform your dull or spare closet into a modern-looking storage space with little bother. hautehouselove
Material List: Pine Board, Edge Banding, Paint or Stain, Construction Adhesive, 2-2.5 inch Brad Nails, Wood Filler
Tools: Measuring Tape, Speed Square, Miter Saw, Orbital Sander, Table Saw, Brad Nailer, 4inch Foam Roller, Level, Stud Finder
9. Homemade Deck Board Shoe Rack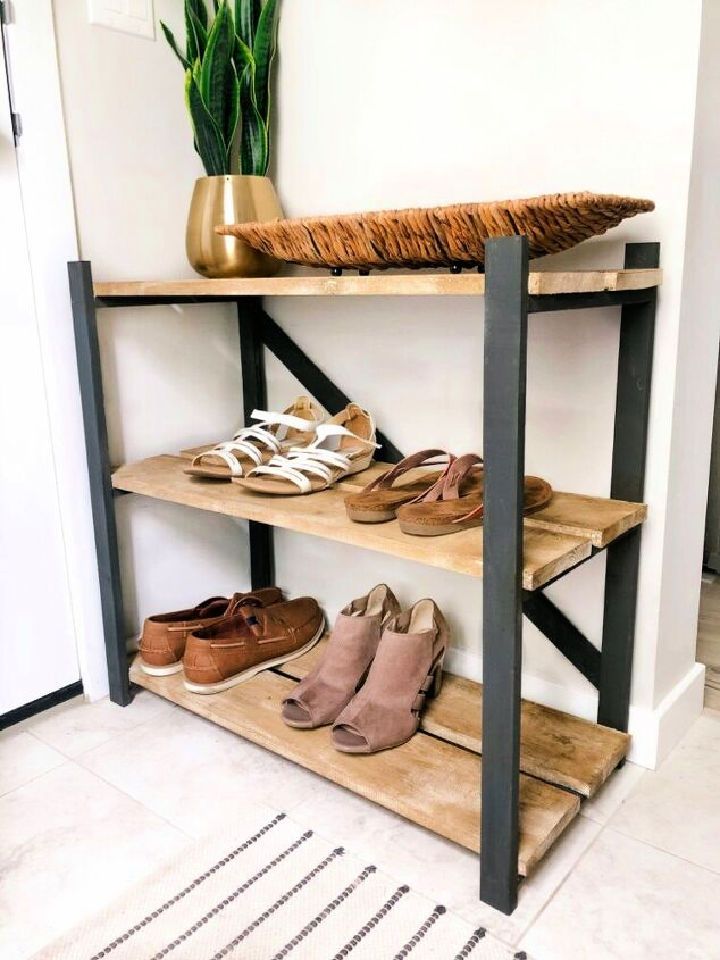 Tired of shoes all over your home? Don't worry about those shoe boxes anymore! Build this DIY deck board shoe rack, it will make your life much easier. This DIY shoe rack is the perfect project for families with kids and those with living spaces on the smaller side. Keep your shoes managed, off the floor and by the door with this uncomplicated and easy project. It's easy to construct and can be designed to suit any space or color scheme. To make this simple and sturdy shoe rack, you'll need some scrap wood, deck boards and a few screws It's time to get rid of your shoe clutter forever with the help of this shoe rack plan! hometalk
Material List: Scrapwood, Deck Board
Tools: Drill,
10. Super-sized Shoe Rack Woodworking Plan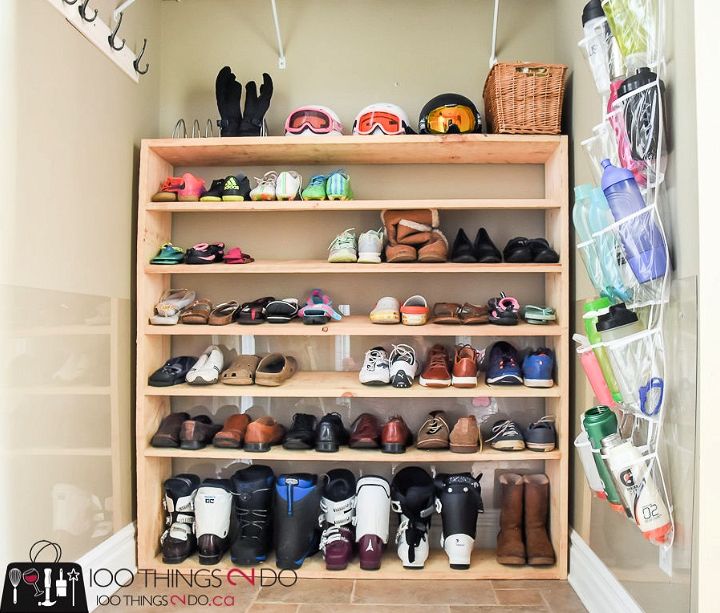 We know how hard it is to avoid clutter in your home and the chaos that ensues when shoes are scattered across the floor. Create this DIY super-sized shoe rack – a simple and cost-effective way to suit all your needs! This is a project for someone who has a lot of shoes and doesn't have enough closet space. It is a fast, easy way to store all your pairs of shoes in one place. Terminate your clutter, enjoy effortless access to all your shoes and keep your closet neat and tidy with this practical and chic accessory. No more fighting with your shoes build it now and give your space the much-needed organization it needs! jenwoodhouse
Material List: Pine Board, Screws (1 ¼" pocket hole)
Tools: Tape Measure, Miter Saw, Pocket Hole Jig, Speed Square, Level, Drill, Pencil
11. How tp Build Shoe Storage Cabinet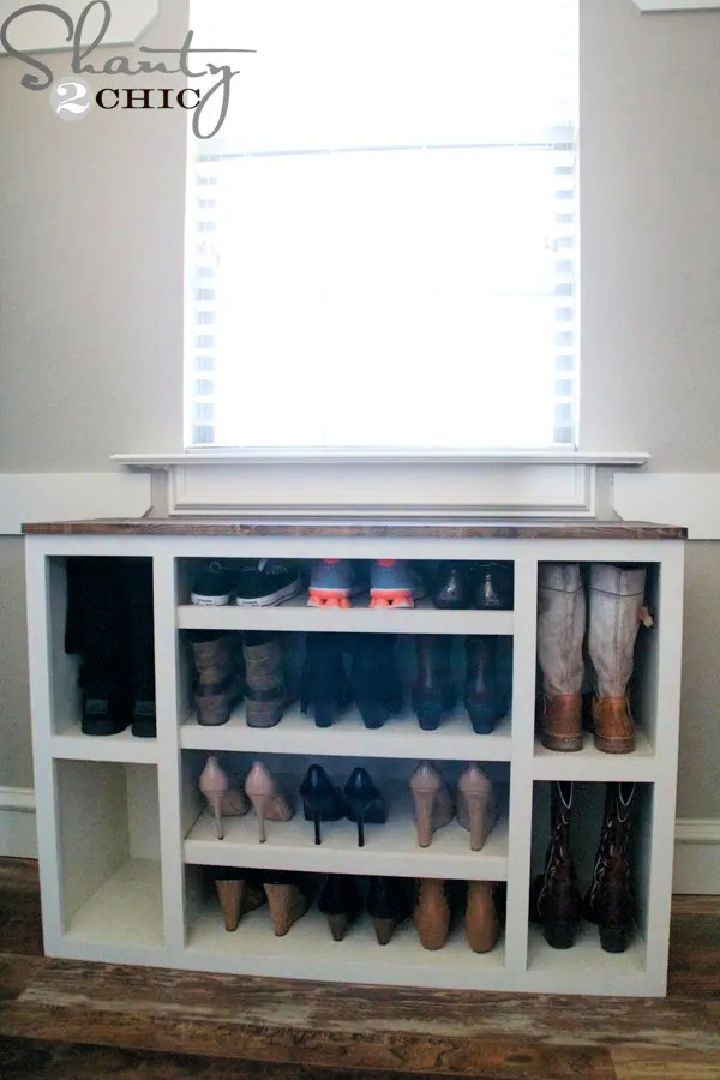 It's time to say goodbye to your disorganized shoe space looks so chaotic! Say hello to your new space-saving, contemporary DIY shoe storage cabinet. It can be customized to fit any space and can be used in any room of the house. Get the all-in-one shoe storage cabinet. This DIY shoe rack is ideal for you and manages your home by stowing away your footwear without delay. Make your shoes a part of the decor, and never have to search for that one pair again. Don't wait any longer! Get crafty with this shoe storage cabinet plan. shanty-2-chi
Material List: Plywood, Pocket Holes, Wood Glue, Wood Stain
Tools: Kreg Rip Cut, Drill, Shelf Pin Jig, Nailer, Circular Saw, Stapler, Clamps
12. DIY Bedroom Shoe Rack

Looking for an easy way to keep your shoes handy without taking up any floor space? This DIY shoe rack is an innovative, space-saving solution that works great for shoes or anything! It is easy to assemble and can be used in any small space. Use it in your bedroom, kitchen, closet, or office! This shoe rack is a perfect way to organize your shoes in an often jumbled area it will save you a lot of space! Build this DIY shoe rack for tight space, and stop tripping over shoes. notmartha
Material List: Plywood, Wood Stain, Wood Screw (1.25 inches), Dry Wall Anchors, Safety Goggles, Mask For Dust, Working Gloves
Tools: Drill, Sanding Block, Screw Driver, Power Driver
13. Hexagonal Shoe Rack Project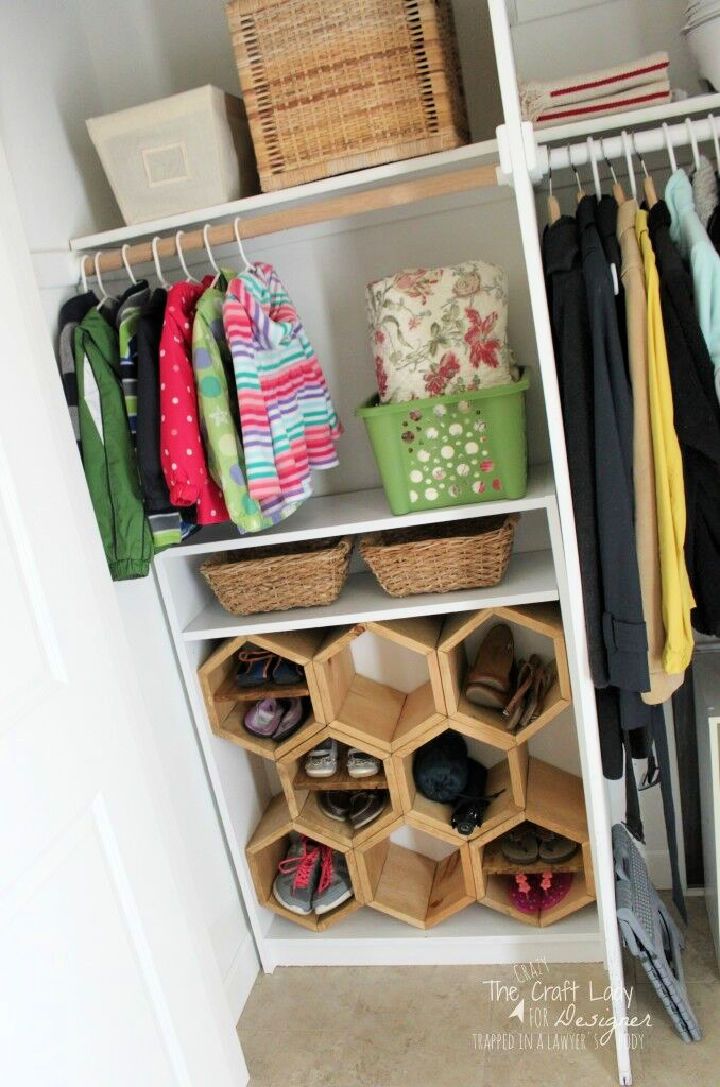 Looking for something new and trendy? Create a space-saving and stylish DIY hexagonal shoe rack for your own home. It's economical, stylish, and easy to create. This is the perfect gift for savvy homeowners who love a good DIY project! Organize your shoes with this creative DIY project without spending too much time or money! This shoe rack looks stylish and will also fit seamlessly into your room's decor. The hexagonal shape of the shoe rack is more aesthetically pleasing and provides more space for shoes. The possibilities are endless for what an all-purpose, multi-functional, low-waste, space-efficient hexagonal DIY shoe rack can do for your closet. So get on it! designertrapped
Material List: Wood, Wood Stain, Finishing Nail, Drop Cloth, Sand Paper, Brush, Rags
Tools: Drill, Nailer, Hammer
14. DIY Entryway Shoe Rack Design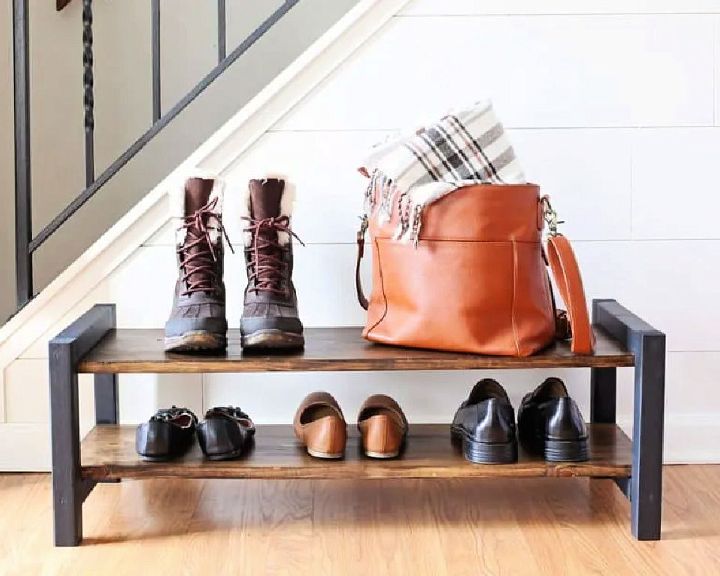 Don't let your shoes take over the place. Find clever ways to store your shoes in your home's front entryway that are both chic and practical. Create a stylish and practical shoe rack for your entryway without any hassle. This DIY entryway shoe rack idea is not only practical but also elegant. It is easy to build and affordable because it only costs a few dollars. This is a cost-effective way to keep your front entryway clutter-free with shoes. Don't buy a shoe rack, go for this quick yet super-cool idea instead! There's nothing to lose, only more storage space to gain. Create a functional and trendy entryway shoe rack with just a few cheap materials. angelamariemade
Material List: Wood, Wood Screw, Stain, Paint, Polyurethane, Lightweight Spackles
Tools: Miter Saw, Drill, Clamps
15. Do It Yourself Copper Pipe Wood Shoe Shelf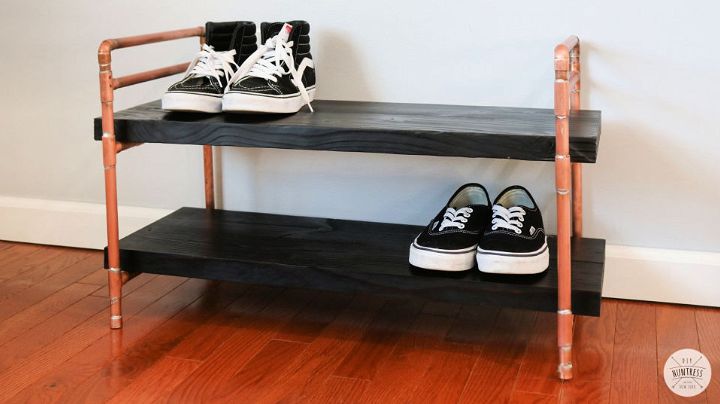 DIYers and crafters, get ready for a pretty, budget-friendly project! This DIY copper pipe wood shoe shelf plan is the perfect way to show off your favorite pair of shoes and store them out of sight. It is made out of copper pipes, wood, and screws. All the materials are easily accessible, so this sturdy and stylish shoe rack doesn't require much effort. This is a great project for people who love DIY projects, are crafty, and enjoy a good challenge. With this awesome piece of furniture, you won't have to worry about how you store your shoes or how much storage space you have left! So, get ready to build a stunning shoe shelf on a budget! diyhuntress
Material List: Wood, Copper Pipe, Copper Tee Fitting, Copper Tube Straps, Copper 90 Degree Cup Elbow, Copper Cap Fitting, Wood Glue, Wood Screw, Outdoor Sealer, Wood Stain
Tools: Miter Saw, Table Saw, Copper Pipe Cutter, Wood Clamps, Metal File, Sandpaper, Scotch Bright Pad, Wet Rag,
16. Simple DIY 2-Tier Hallway Shoe Rack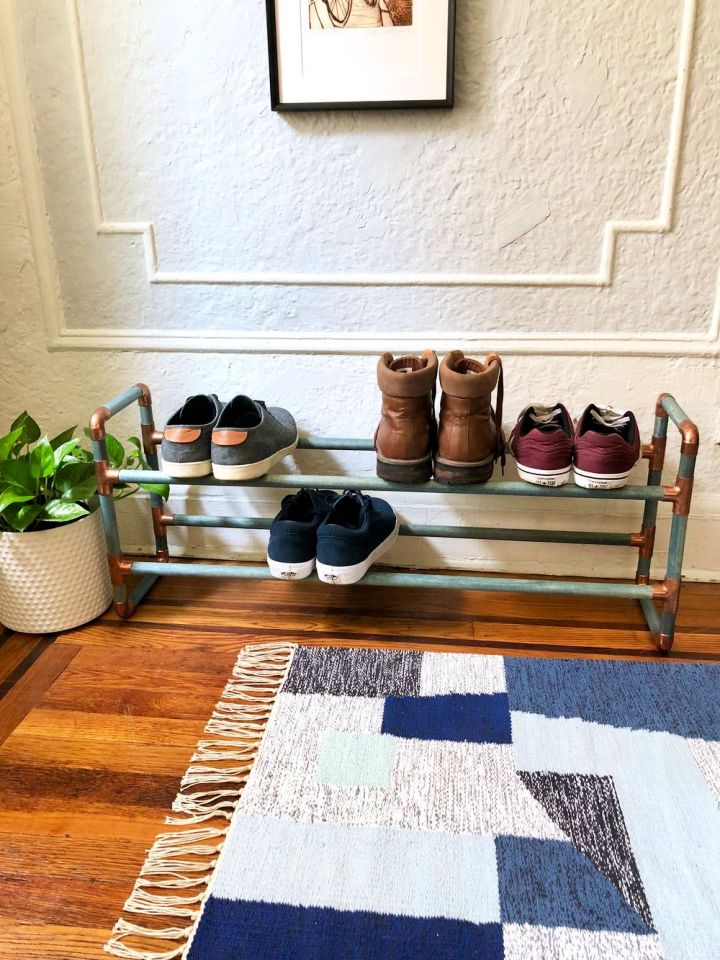 Is your hallway always look untidy? Say bye-bye to an untidy hallway! DIY 2-tier hallow shoe rack! It's the perfect solution for organizing your shoes in a very small space, and it can keep you from tripping over them too! You can now keep your shoes organized and streamlined with this shoe rack. This shoe rack is made of copper fittings and wooden dowels that are strong and sturdy. In addition, the racks are super easy to make, so you don't have to spend hours puzzling over piecing things together! It's perfect for any hallway that needs a quick solution to shoe storage. craftylumberjacks
Material List: Wooden Dowel, Copper Tee Fittings, Elbow Fittings(8 x 90˚)
17. Creative DIY Shoe Cubby Design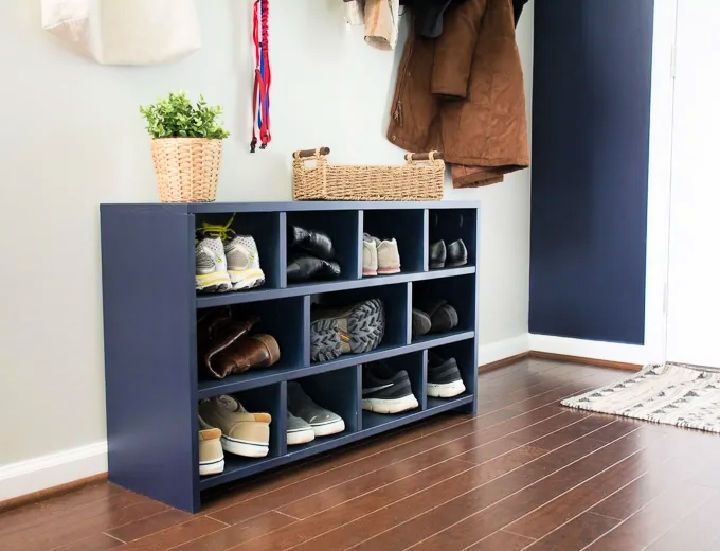 Missing shoes? Stop the madness and save yourself all the time and trouble searching for your missing shoes with this DIY shoe cubby. Say goodbye to wasted hours of searching, and never spend another dollar on expensive shoe racks or organizers again. This DIY shoe rack is perfect for storing several pairs of shoes and still has plenty of room for shoe accessories, such as shoe holders or trees. It's designed with modern living in mind. Build this DIY shoe cubby that fits your needs and stores your shoes and accessories in one convenient place. bybrittanygoldwyn
Material List: Pine Wood, Paint Sprayer, Primer& Paint
Tools: Pocket Hole Jig, Radial Arm Saw, Screw(1 ¼ inch), Rubber Mallet, Sand Paper, Nail Gun, Measure Tape, Water Putty
18. Make Corner Shoe Rack At Home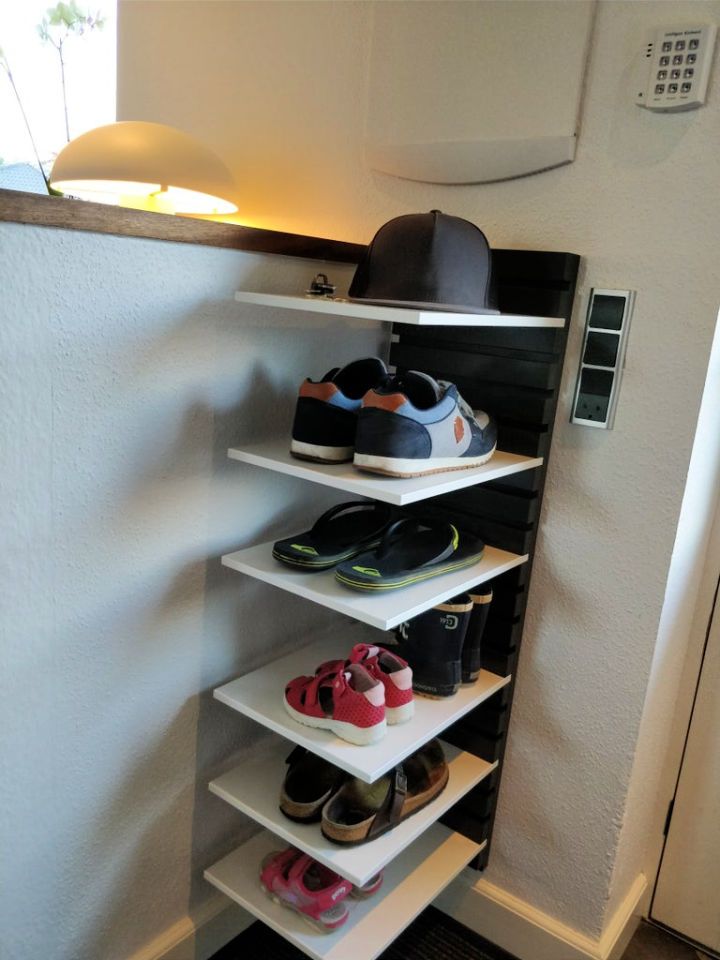 Let's be honest here, your shoes are a mess. You need a shoe rack that can handle all your shoes, no matter what you wear! Discover the easiest way to get organized without compromising on style! By following this DIY corner shoe rack design, you'll be able to hang all your shoes in one place no matter where you live! This type of shoe rack is also ideal for people with limited floor space, as it takes a small amount of space yet still has plenty of storage room. The design of this shoe rack is created to be simple yet smart this shoe rack can easily be made with materials that are easily available at any home improvement store or hardware store. Use this DIY shoe rack design and stay stylish the entire time! instructables
Material List: Wood, Chip Board, Paint, Sand Paper
19. Easy DIY Iron Pipe Shoe Rack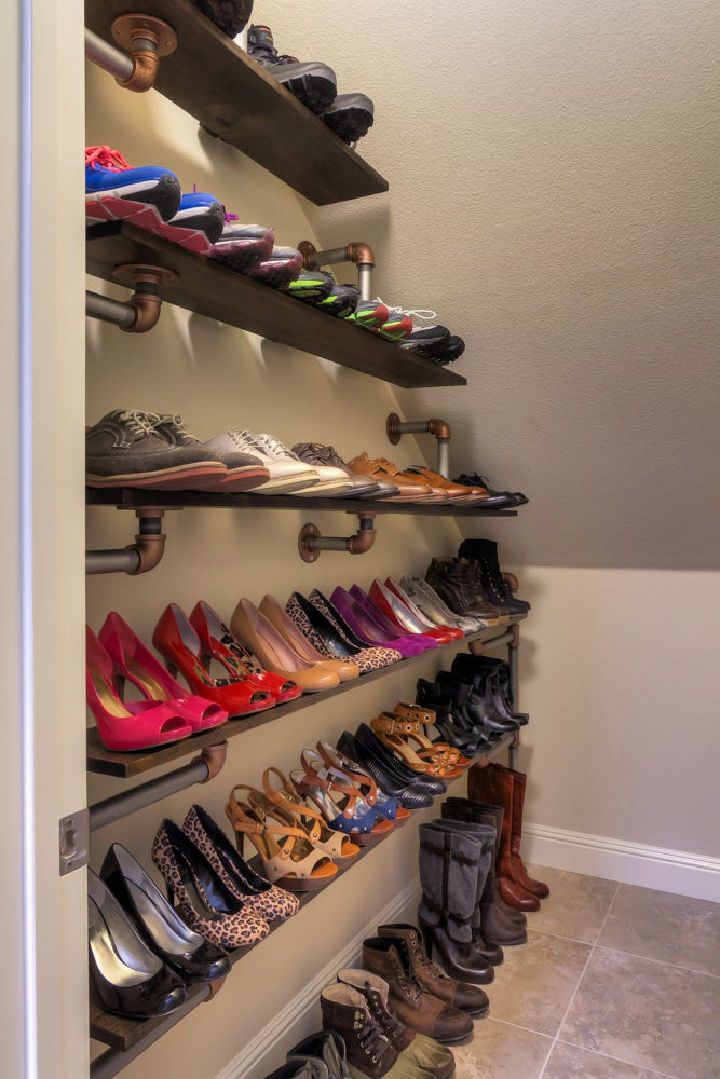 Neatly store your favorite footwear in a shoe rack that you can build in minutes. This DIY iron pipe shoe rack is an easy solution to keep your shoes sorted and off the floor. This shoe rack is the answer to all of your organization's problems. Stay on top of your shoes with this long-lasting and easy-to-make rack. Not only will you be able to see what shoes are out for the day, but you will also have an easier time finding those shoes once you put them away! This piece of furniture is a must-have for any shoe lover and will be sure to change how you look for your footwear. Set yourself up for a successful day by making this DIY shoe rack! instructables
Material List: Pine Wood, Iron Pipes & Fittings, Wood Stain, Spray Paint, Spacers
Tools: Drill, Screwdriver,
20. How to Make Scrap Wood Shoe Cabinet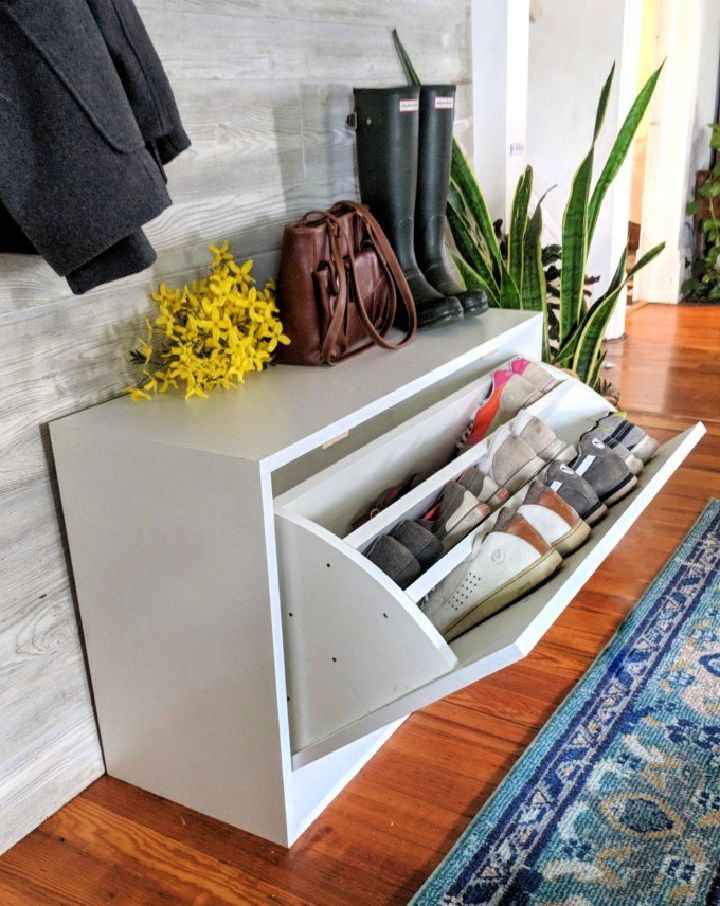 If you're organized, you know the importance of remaining neat and tidy. And with limited closet space, finding ways to store your shoes is not always easy. Craft a cozy shoe cabinet for your home that is reasonable, functional and easy to build. This DIY scrap wood shoe cabinet is convenient, innovative and creative and is made from scrap wood which is expedient and cost-effective! This DIY shoe cabinet project is perfect for innovatively storing your shoes and will give you that extra storage space you need. It's organized, so it will be easier to find the perfect pair of shoes for any occasion. Do it yourself with this simple plan and build your own shoe storage cabinet! realitydaydream
Material List: Pine Wood or Melamine, Head Course Screw, Trim Head Screw, Melamine Edge Banding, Titebond
Tools: Table Saw, Band Saw, Pocket Hole Machine, Oscillating Drum Sander, Drill Press, Drill or Impact Driver, Iron, Drill Bit, Forstner Bit, Wixey Angle Gauge
21. DIY Wooden Dowel Shoe Rack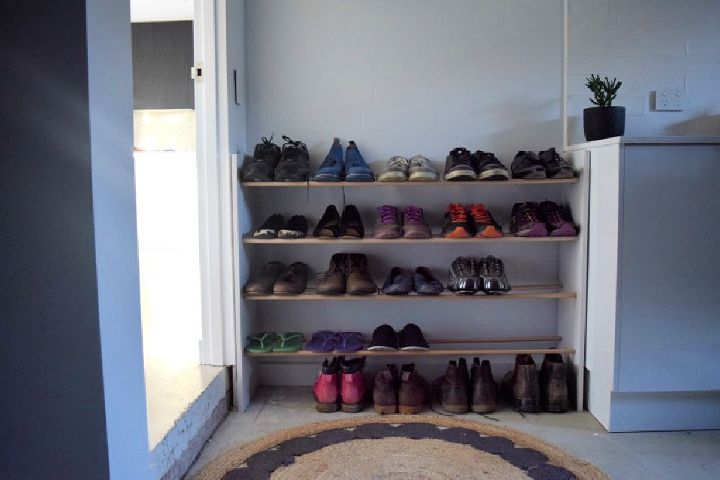 The worst part about shoes is their significant amount of space and the clutter they create. This DIY wooden dowel shoe rack is a great way to manage your shoes and store them in a neater, more organized way. It's easy to make, and you can customize it to fit your needs. This shoe rack is chic and spacious to suit your needs, with two shelves on top and two on the bottom. It can easily be put away, has no tripping hazard, and is sturdy and nicely created. You can put it in your bedroom, hallway or closet! Stop looking for shoe racks that don't hold as many shoes or are not as sturdy. Transform your old, messy shoe collection into a neat and tidy one with this unique piece of furniture. stylecurator
Material List: MDF Board, Wooden Dowel, Pencil, Paint, Super Glue
Tools: Drill, Spade Drill Bit, Measuring Tape, Paint Brush or Roller
22. DIY Flip-Flop Hanger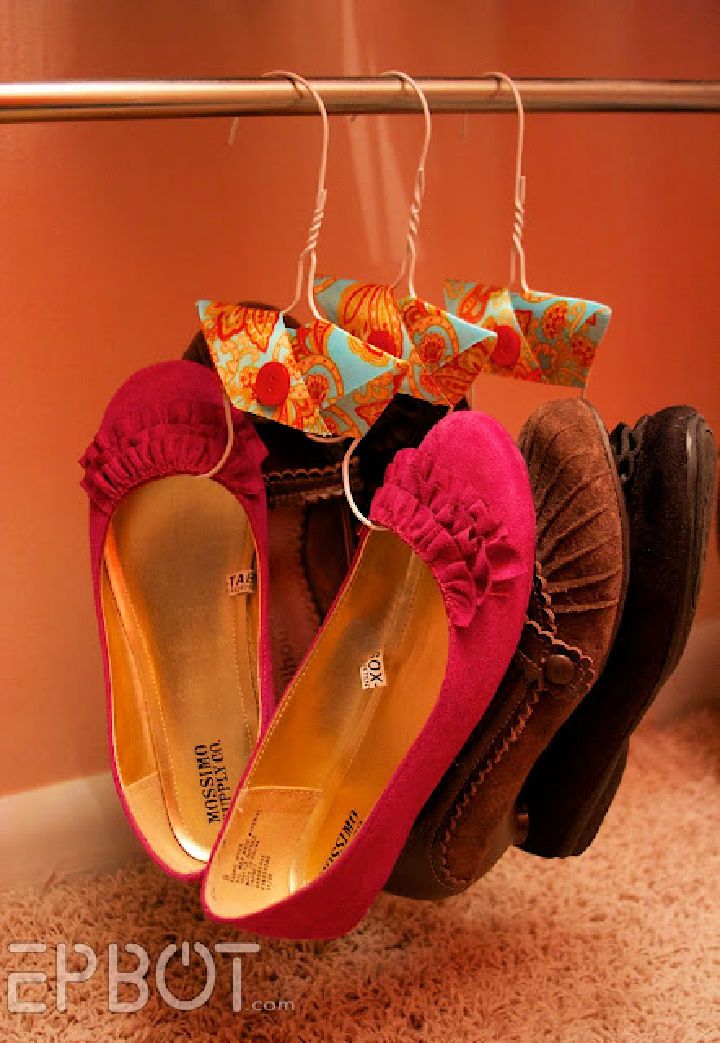 Keep your flip-flops at hand and off the floor with one of these great ideas for a shoe hanger. This DIY flip-flop hanger is the perfect thrifty and creative way to keep your feet happy. Many people store their flip-flops by hanging them on a hanger and placing the hanger on a door knob or towel rack. This DIY hanger idea for flip-flop storage is an alternative to this option and provides relief options in terms of cost, materials, and ease of assembly. DIY allows you to hang your flip-flops organized without taking up too much space in your closet. This idea is easy and won't take long for you to make. Make slippy flip-flops a thing of the past with this simple hack. epbot
Material List: Metal Hanger, Spray Paint, Ribbons, Glue
Tools: Plier
23. Stylish Shoe Rack With Boot Cubbies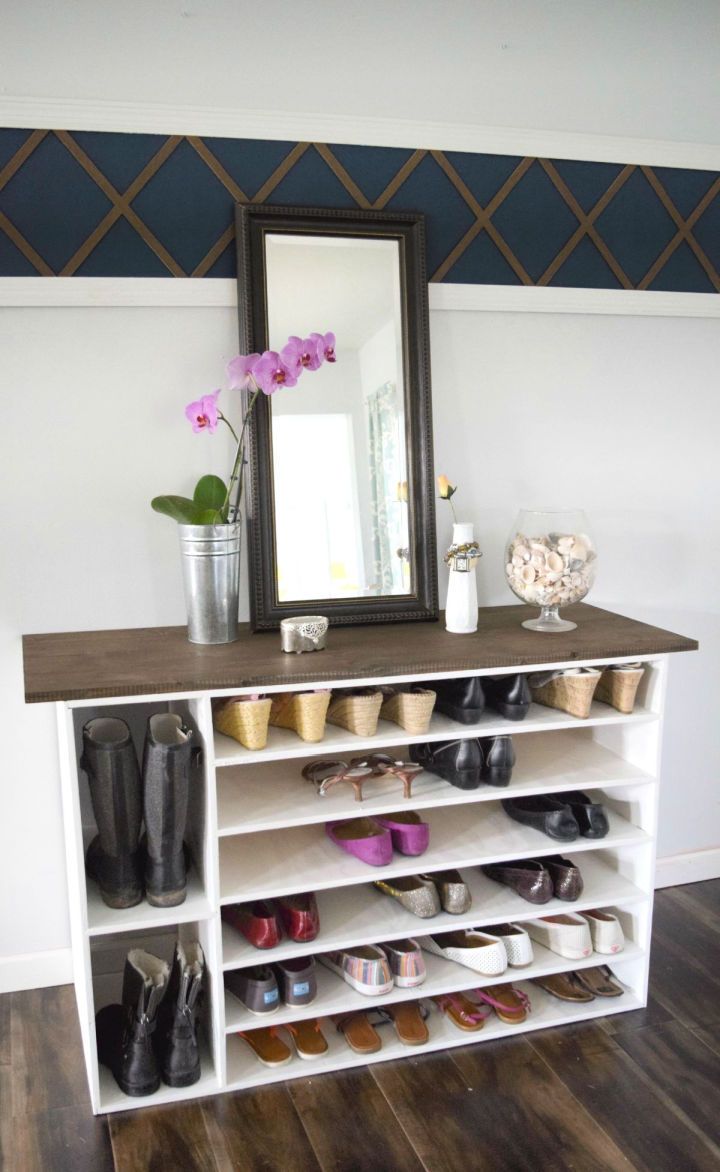 Do you want to keep your shoes in order and tidy? But you don't want to spend a fortune on a shoe rack. Look no further! We have the perfect DIY plan for an affordable and contemporary shoe rack for all your needs! Keep your shoes off the floor, save space, and avoid the mess! This shoe rack is the ideal way to keep your shoe space orderly while saving space and time. This DIY stylish shoe rack with boot cubbies has everything you need to easily organize and store your shoes. This shoe rack is practical, attractive, and perfect for any room in the house, and it's so easy to install! homedit
Material List: Plywood, Pine Board, Clamps, Wood Glue, Stain,
Tool: Circular Saw, Router
24. Free Industrial Shoe Rack Plan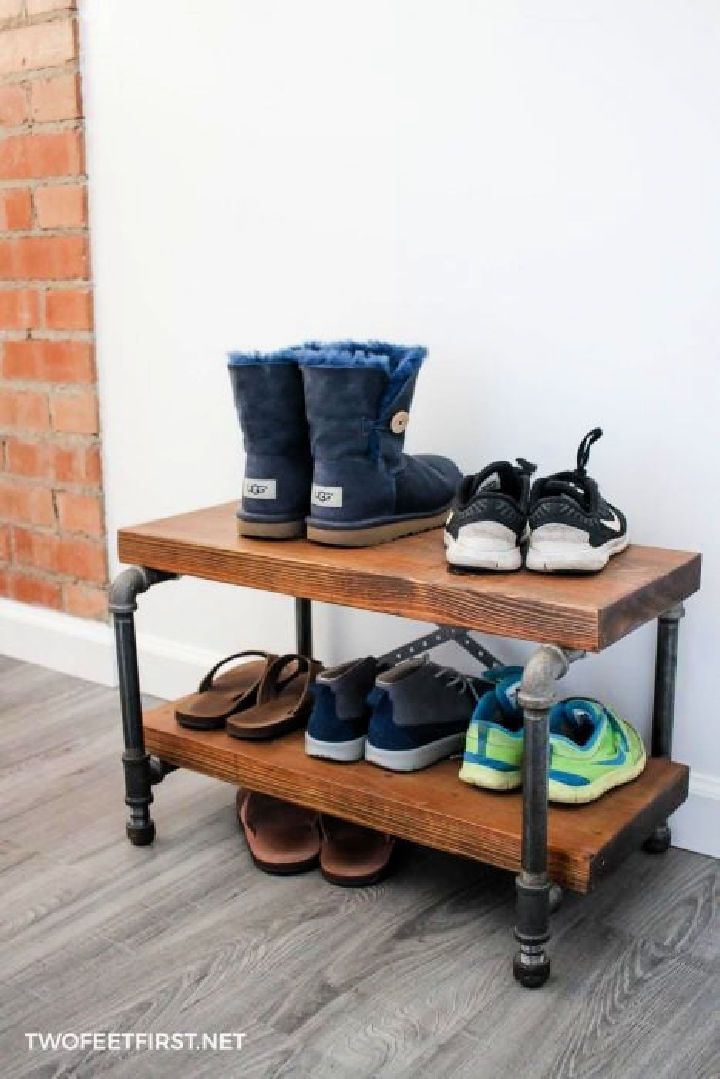 Give yourself a quick pick me up and simplify how you store your shoes. Get this DIY industrial shoe rack, then say goodbye to messy closets for good! Create a space for storing your favorite shoes that is both stylish and functional with this shoe rack. This shoe rack will save your space with a bunch of shoes lying around the house. You'll need simple materials like wood, pipes and some screws to make this smart and savvy shoe rack. It will drive a stylish statement to your shoe place! Add the perfect accent piece to your space with this DIY plan, and put your shoes neatly in their cozy spot! twofeetfirst
Special Instructions:
If you want to add more shelves to your DIY shoe rack, you need the following materials: one more wood board, 4 more pipe tees, 4 more 7″ pipe nipples, 2 more 10″ pipe nipples, and 4 more conduit straps with screws.
Material List: Wood Board, Pipe Tees, Pipe Fitting, Pipe Caps, Pipe Nipples, Pipe Elbow, Sand Paper, 2- Strap Tie, Stain & polycrylic, Conduit Strap
Tools: Drill, Pencil, Tape Measure, Wrench
25. Entryway Shoe Storage Bench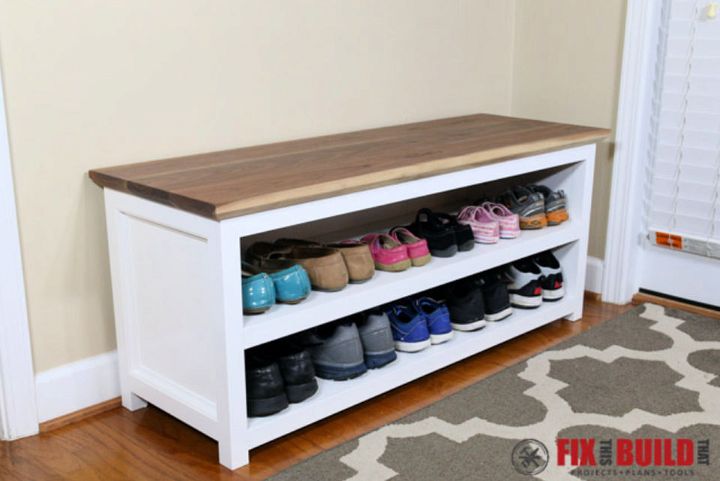 Don't let the chaos of shoes ruin the look of your entryway! Our DIY entryway shoe storage bench has everything you need to keep your shoes neatly under wraps. With this DIY shoe rack, you'll never have to worry about jumbled entryways again! This DIY project is perfect for anyone needing extra space in their entryway. Make a beautiful addition to your space with this sturdy entryway shoe bench that is a great way to keep your shoes out of the way but still easily accessible. fixthisbuildthat
Material List: Plywood, Pine Wood, Shelf Pins, Pocket Hole Screw, Semi-gloss White Paint, Satin Polyurethane
Tools: Table Saw, Digital Angle Finder, Miter Saw, Orbital Sander, Cordless Drill, Drill Press, Forstner Bit, Pocket Hole Jig, Face Clamp, Brad Nailer
26. DIY Shoe Rack Plan For Closet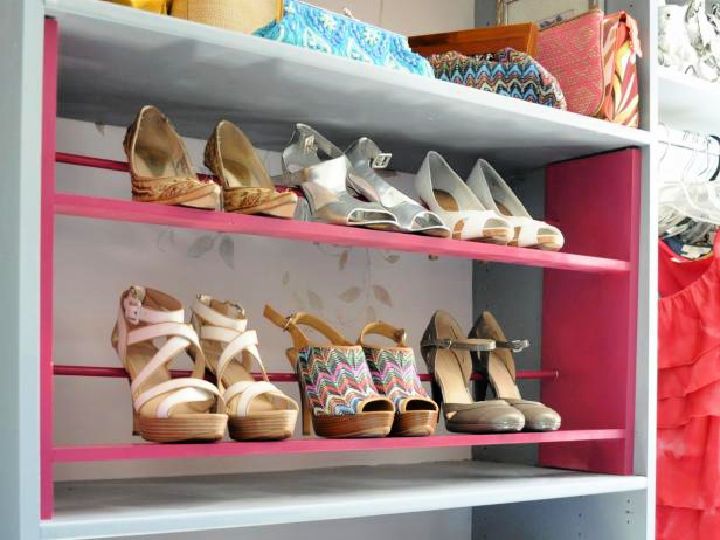 Stop wasting your closet space! With this DIY shoe rack, you can now store your shoes in one well-organized and compact place. Don't give up on half of your closet's potential! Create your own custom shoe rack with this DIY shoe rack plan for the closet. This DIY shoe rack helps you to use every inch of space best. It is nifty and uncomplicated to build and only requires particular materials, like wood dowel rods, poplar board, and some screws, which are all effortlessly found at any home improvement or hardware store. This shoe rack is also great for adding personality and color to your closet without spending too much money. Take action now with this DIY shoe rack plan. hgtv
Material List: Poplar Board, Dowel Rods, Spray Primer & Paint, Wood Screws
Tools: Drill Bit, Miter Saw, Measuring Tape, Power Screwdriver,
Conclusion
Whether you're looking for a shoe rack to organize your closet or need diy shoe storage ideas, we hope this roundup of 26 homemade DIY shoe racks has inspired you. If you have any questions about how to make one of these racks, please don't hesitate to leave a comment below, and we'll do our best to help. Thanks for reading!