If you're looking for a fun dollhouse, why not build your own dollhouse? Dollhouses make great gifts for little girls and can provide hours of fun for kids of all ages. Plus, building your own dollhouse is a great way to save money. Learn how to make a dollhouse with these 25 free DIY dollhouse plans and ideas with complete instructions and a step by step PDF guide. So you're sure to find one perfect for your skills and budget.
Dollhouses are classic toys that have been around for centuries. Though they've evolved over the years, they continue to be popular toys for children of all ages. If you're looking for a unique gift or a fun project to work on with your child, consider building a dollhouse.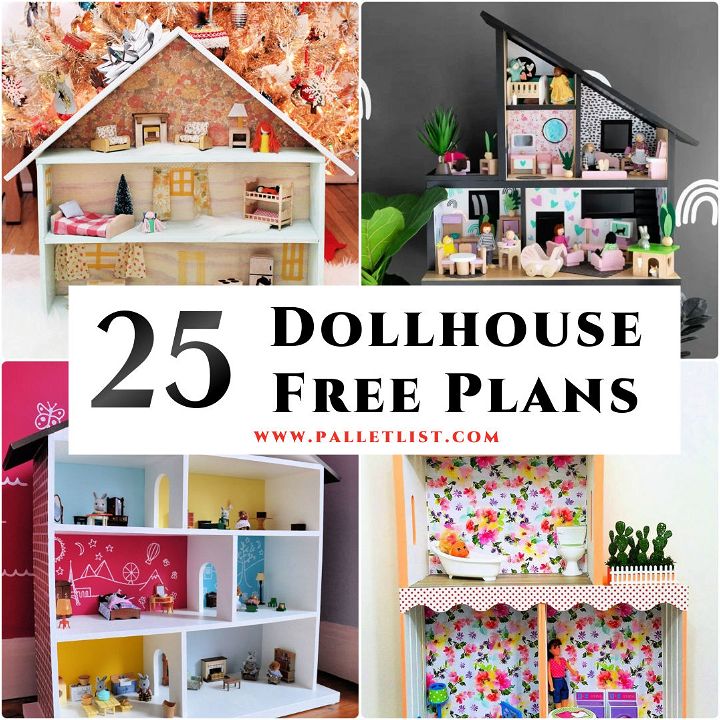 These 25 free DIY dollhouse plans will help you do just that. With various styles and designs to choose from. Find the perfect diy dollhouse plan for your next project, gather your supplies, and start building the perfect DIY dollhouse today.
1. DIY Cardboard Box Dollhouse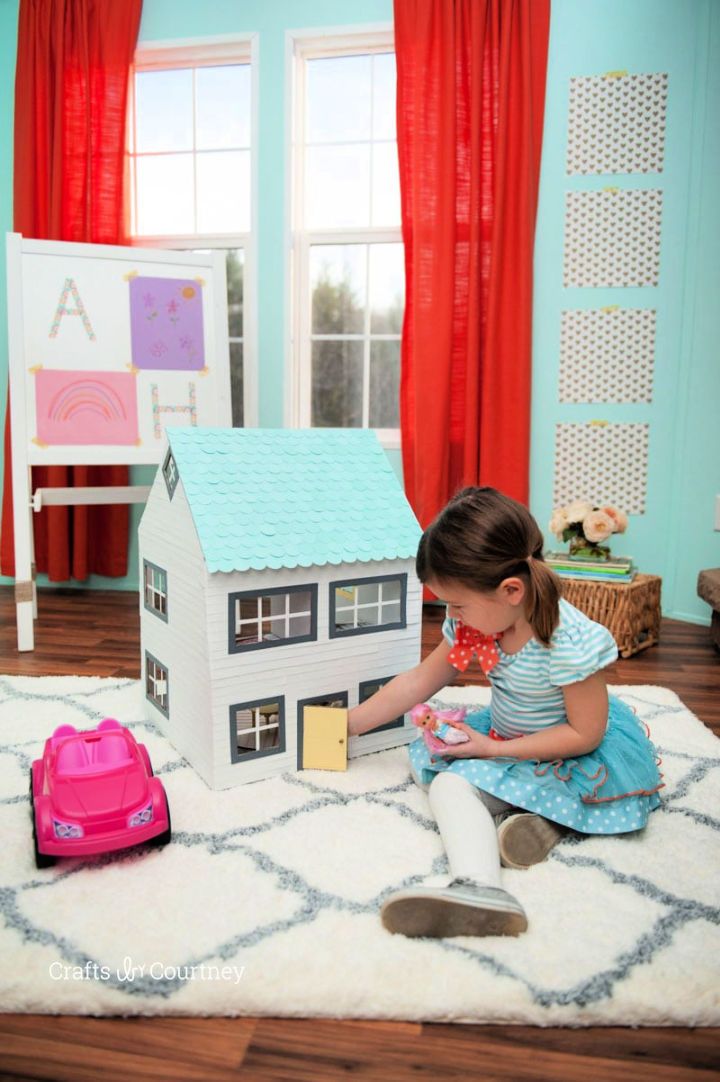 Looking for a fun and easy DIY project? Why not make your own dollhouse? This DIY cardboard box dollhouse is a great project for kids and adults alike, and it's super simple and inexpensive to make. All you need is a cardboard box, some wood scrapbook paper for the flooring, and a few basic and crafty materials. You can find the full instructions here. Just cut out the windows and doors, decorate the outside of the house however you like, and then furnish the inside with whatever you have on hand. This is a great project for a rainy day, and your kids will love playing with their new dollhouse! craftsbycourtney
Materials: Cardboard Box, Craft Glue, Glue Stick, Hot Glue Gun, Green painter Tape, Yard Stick, Push Pins, Small Scrapbook Paper, White Spray Paint, Cardstock, Wood Scrapbook Paper
Tools: Cutting Mat, Glue Gun, X-Acto Knife, Circle Hole Punch
2. Making A Dollhouse From Shoe Boxes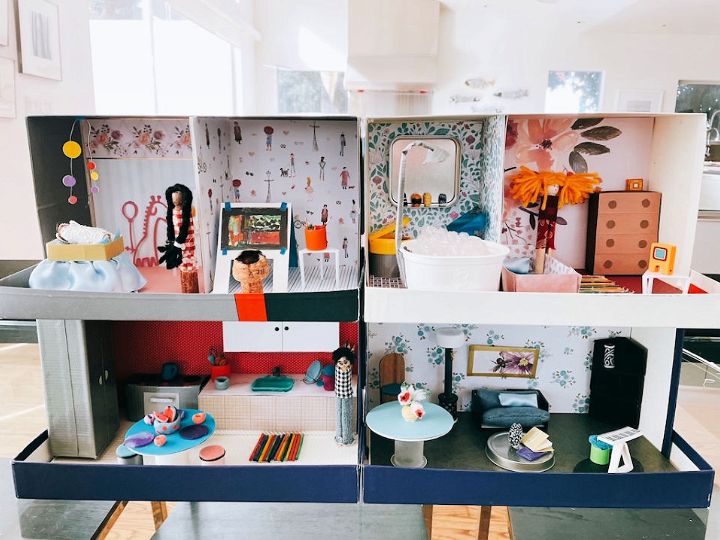 Do you have shoe boxes lying around? Don't make them waste! Use them to make a dollhouse with this DIY dollhouse plan from shoe boxes. It is a quick and easy project that can be done in the afternoon. This DIY dollhouse is a creative and space-efficient project that anyone can do. All you need are some shoe boxes, some glue, and some imagination. You can turn scrapped items into furnishings for your dollhouse and collapse and put the dollhouse away when you're done playing. It's an inexpensive and innovative way to keep your kids entertained, and you can even get them involved in the project by helping to decorate and furnish the house. callmegrandma
Materials: 4 Shoe boxes(similar size), Cardboard, Foamcore Board, Adhesive-backed, Heavy Duty, Decorative Cardstock, Assorted Discarded Items(empty dental floss container, spools, boxes etc to make furniture & accessories)
Tools: Pencil, Ruler, Blue Painter's Tape, Silver Duct Tape, Glue Stick, Glue Gun, Sharp Scissors, Matte Knife
3. DIY Dollhouse Plan out of Wooden Crate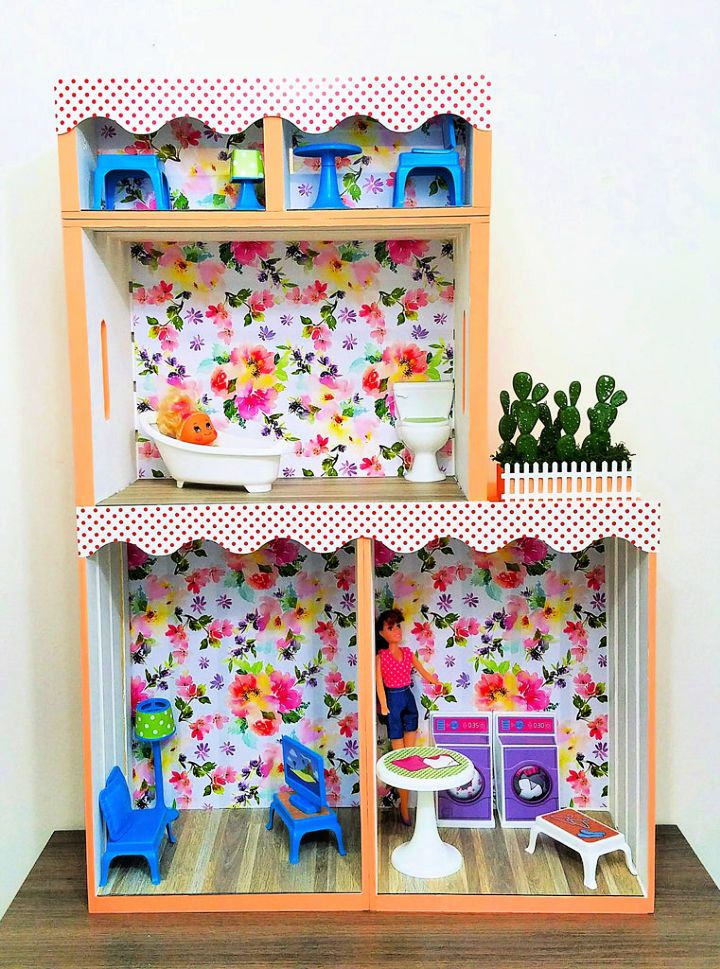 If you are looking for a unique DIY project that would be perfect for children and adults, then this DIY wooden crate dollhouse is for you. This project is uncomplicated and fun to do. You can assemble it any way you want in a few hours. You can use any wood crates to do this affordable project and customize it to your preference. To make your own dollhouse, recycle some wooden crates and assemble them however you desire. Then, decorate it however you like! You can also use this dollhouse to store playthings, books, and other decorative items. DIY this innovative plan to encourage imaginative playtime for your kids. craftboxgirls
Materials: Large Wooden Crates, Large Wooden CD Crates, Peel & Stick Vinyl Flooring, Decorative Adhesive Paper, Chalky Finish Paint, Glue stick, paper Boarders, Doll & Furniture, Miniature Faux Cactus & Flowers(optional)
Tools: Scissors or Utility Knife, Glue Gun, Paint Brush
4. Handmade Foldable Dollhouse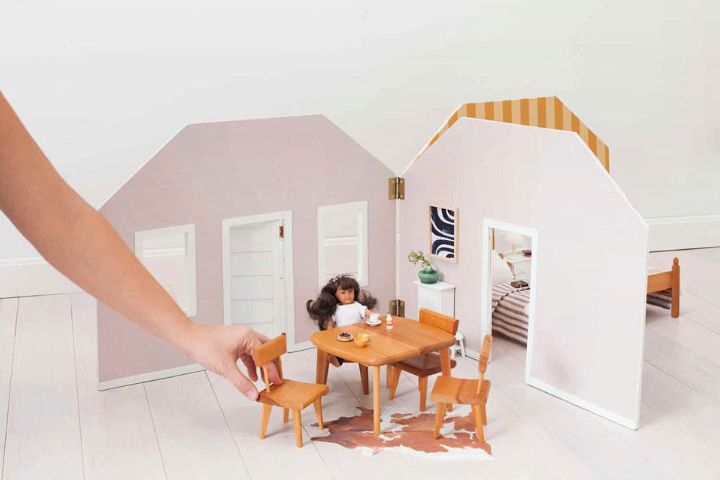 Finding an alternative, space-saving solution for your child's dollhouse? Try this DIY fold-away dollhouse plan! This simple design can be made from plywood and folded up when not used. Its fold-away design lets you put everything away neatly and store furniture and dolls in the basket. You can make it in any order to suit your needs and add a small decoration to personalize it. This DIY plan offers an affordable, portable, easy-to-build dollhouse that can efficiently be folded up and moved around. Get crafty and build this nifty dollhouse for your kids that also would be a great gift idea. abeautifulmess
Materials: Plywood, Basswood Trim Pieces, Sandpaper, wood Glue, Hinges, Primer, Paint, Painter's Masking Tape(optional)
Tools: Jig Saw, Square, Power Drill, Miter Shear or Sharp Scissors, Paint Brush
5. Build A Bookshelf DollHouse

Want your kids to have a thrifty dollhouse with some functional unit? DIY this bookcase dollhouse plan that will be perfect for your kids. This dollhouse is the perfect size for a child's or any room. It can be used to store books and other things you want to keep in one place while still being able to see them clearly. This plan uses a 6- cube bookcase to turn it into a beautiful dollhouse with furniture. This plan is a great way to make a doll house with some functionality and allows your kids to have fun and explore their imagination. Build this dollhouse for your kids to give them a healthy playing and learning environment at a fraction of the cost. diyimhome
Materials: Bookshelf, Wrapping Paper, Popsicle Stick, Doll Set, Cardboard, Computer Paper, Washi Tape, Pipe Cleaner, Hot Glue, Tape,
Tools: X-Acto Knife, Hammer, Scissors, Hot Glue Gun
6. DIY Fabric Dollhouse Plan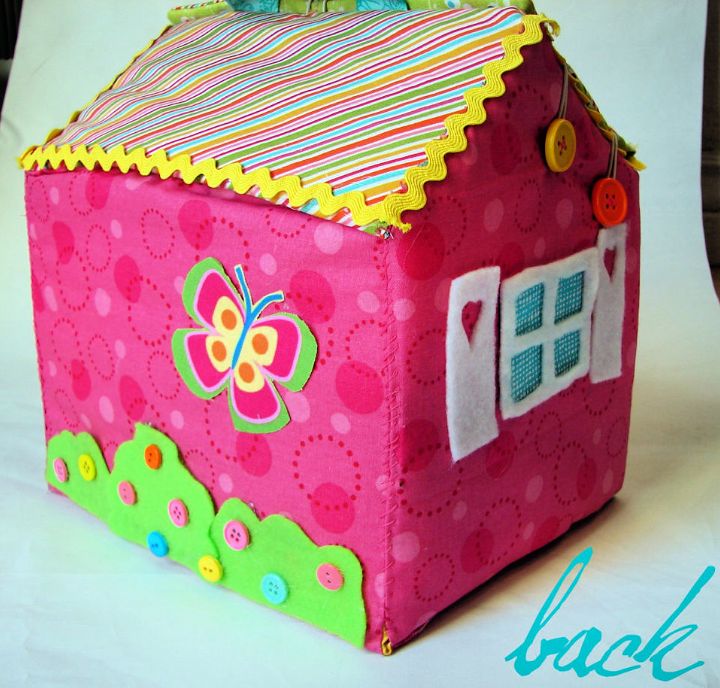 Want to make a cute, easy, and affordable dollhouse for your kids? Make this DIY fabric doll house plan. It is a cool idea that you can use to create your personalized design for your doll house. This DIY project is simple, affordable and does not require particular sewing skills or other complicated tools. All you need is a sharp pair of scissors, some fabric, elastic and glue to finish. The best part about this project is that you can customize it to your liking with the materials you have on hand. You can use whatever fabric you want to make it look like your favorite Disney princess house or any other design you prefer. Make your customized dollhouse with your own style and creativity with this DIY plan. agirlandaglue
Materials: Fabric, Mesh Stuff, Hot Glue, Tape, Fibre, Elastic, Felt, Button
Tools: Needle, Scissors
7. How To Build a Wooden Dollhouse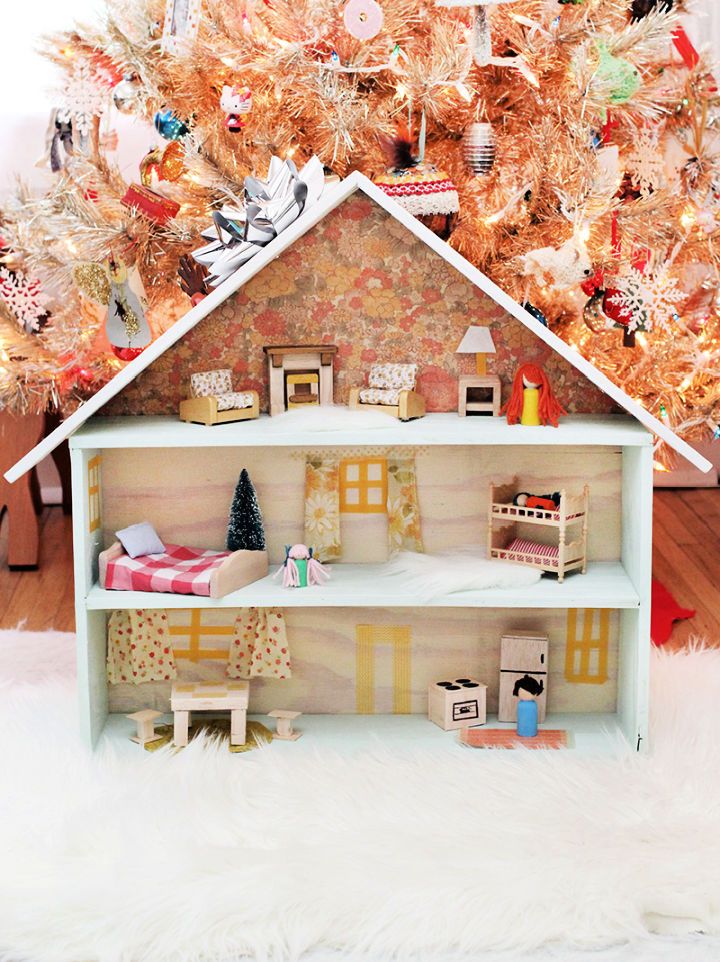 Dollhouses are wonderful toys to have. They are also quite expensive, so making your own is a great way to save money. This DIY doll house is a quick and inexpensive project you can build at home. With some planning, you can turn wood into a wonderful toy for your kids. And, if you're feeling extra generous, you can even turn it into a special gift for your kid. To get started, you'll need to gather wood and some supplies, measure and cut the wood to size, screw the pieces together and assemble them. Now stain, paint and decorate it! Save money and build a beautiful and appealing dollhouse for your kids with this simple step-by-step plan. abeautifulmess
Materials: Wood, Plywood, Wood Screws, Paint, Furniture & Decorative Materials
Tools: Miter Saw, Drill, Screwdriver, Paint Brush
8. DIY Fairy Tree DollHouse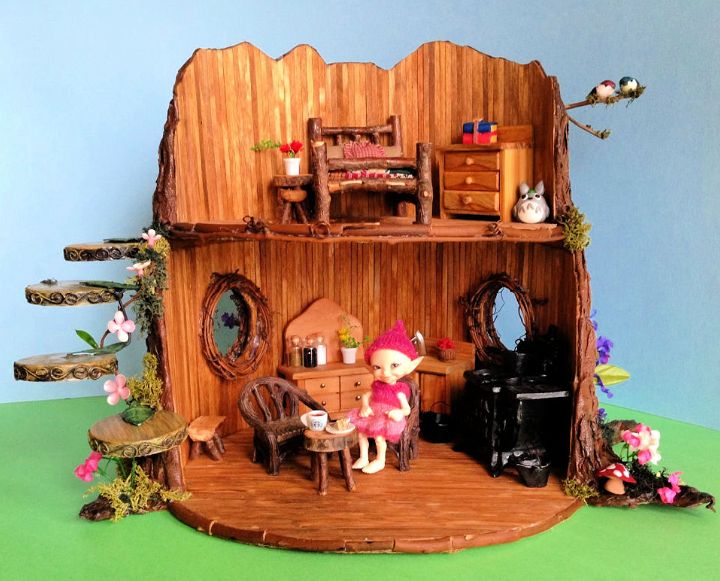 Have you ever dreamed of having your own fairy tree dollhouse at a fraction of the cost? No more dreaming with this DIY fairy tree dollhouse plan. It is an affordable and fun project that can be made with recycled and handy materials, and you can alter the size to your requirements. This project's most important part is creating a realistic tree bark which can be done by layering cardboard and newspaper and then gluing them together. Once the tree bark is complete, you can stain it with wood to give it a more realistic look. This DIY dollhouse project is an affordable and attractive alternative to the traditional dollhouse. You can use this dollhouse as a kids' toy or living home decoration piece or gift it to your loved ones! onceuponadoll
Materials: Cardboard Box, Newspaper, Glue, Wood Stain, Wooden Coffee Stir Sticks, Decorative Hardware (grapevine wreath, braches, leaves etc), Furniture
Tools: Scissors, Hot Glue Gun
9. How To Make a Free Printable Dollhouse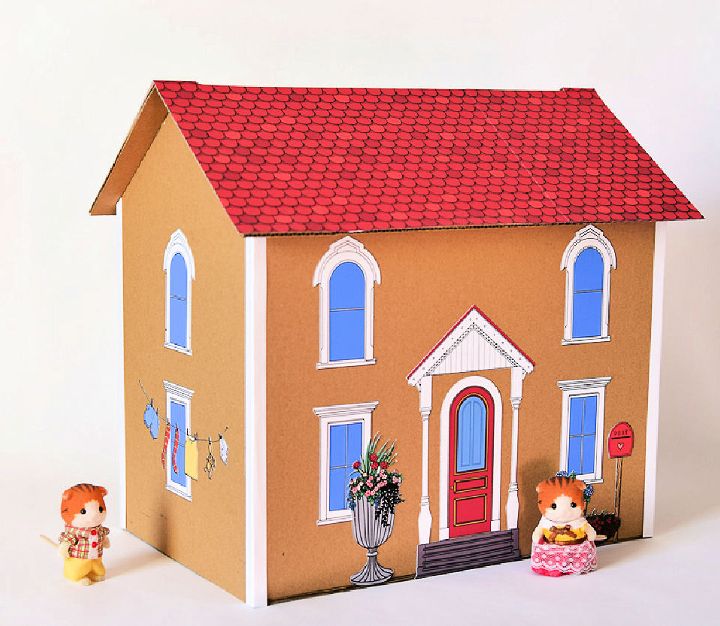 Have some cardboard boxes lying around and thinking of creating something fun and eco-friendly? Stop pondering over it! Recycle it to turn something fun with this DIY printable dollhouse plan. This DIY dollhouse project is a great way to save money and get a unique toy for your child. You can find free printable dollhouse templates online, which you can use to create a cardboard dollhouse. You can also find free printable accessories, which you can suitably design for small-sized dolls or Calico Critters. To make your dollhouse even more special, you can turn it into a real-life toy by adding printable furniture and accessories. Decorate the dollhouse as your kids want, and then easily recycle them when they are done playing. Save money and reduce waste by making this DIY dollhouse with a cardboard box you usually throw away. adventure
Materials: Cardboard Box, Free Printable Dollhouse Template, Glue Stick, Glue, Free Printable Accessories Template
Tools: Scissors, Glue Gun
10. Upgraded DollHouse Construction Plan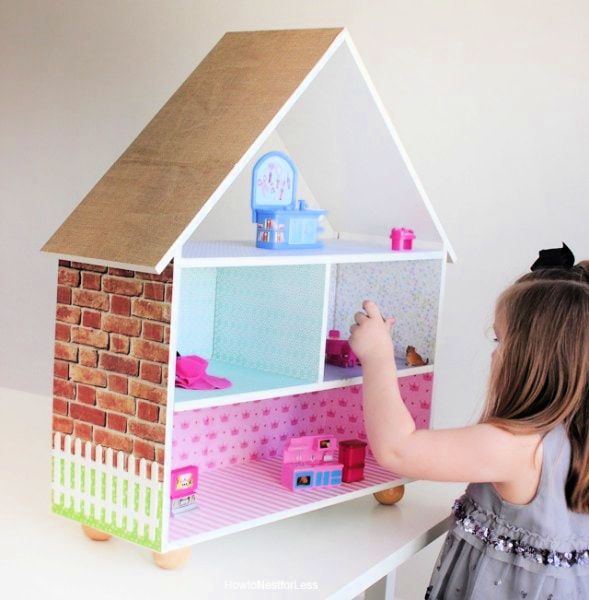 Craving for a fun DIY project? Why not upgrade a dollhouse? It's a great way to add your own personal touch to a child's toy, and it's also a great way to use up some scrapbook paper. To get started, trim your scrapbook paper and adhere it to the dollhouse with a mod podge. You can create it with any pattern you like. This dollhouse project uses a brick pattern for the exterior, a burlap pattern for the roof, and a little picket fence outside to give it some texture. Finally, fill the dollhouse with goodies. Your child will love playing with their upgraded toy, and you'll love the satisfaction of knowing you made it yourself! howtonest
Materials: Plain DollHouse, Scrapbook Paper, Mod Podge, Picket Fence, Doll & Goodies
Tools: Scissors
11. Design Your Own Milk Carton DollHouse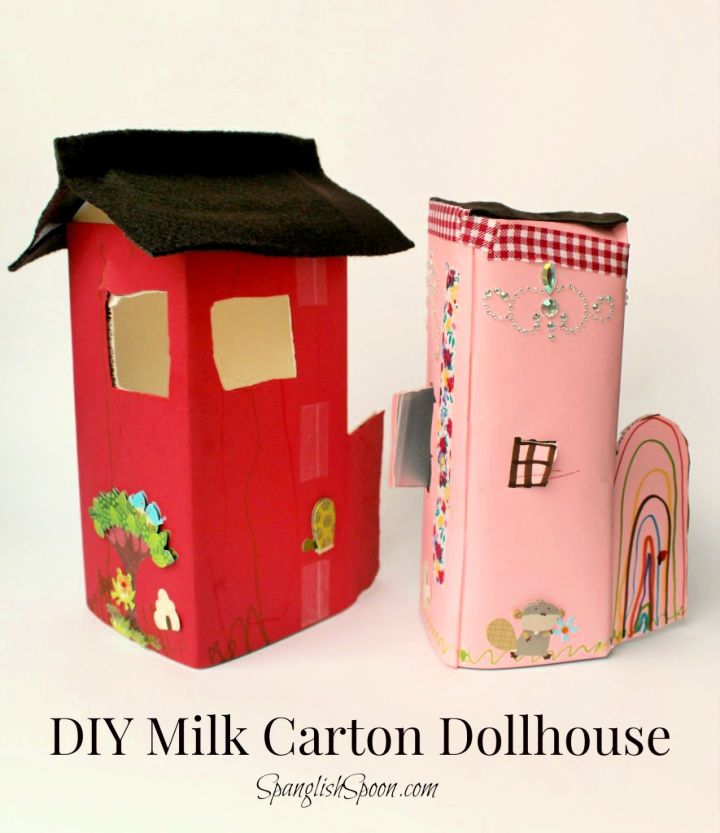 Want your kids to teach some creativity, color distinction, communication and interpersonal skills? This DIY milk carton dollhouse project is a fun way to introduce kids to creative skills, teach them about the world, and let them know they are a part of it. This project is also great for teaching kids about recycling and sustainability and is a superb idea to have a fun time with kids. Making this DIY dollhouse is a great plan to minimize waste and create a fun, miniature dollhouse.
All you need are some handy materials and a bit of imagination. To get started, cut the top off a milk carton and then decorate it however your kids want. They can paint it, add stickers, or even wrap it in fabric or any paper of their choice. Once it's decorated, cut out a door and windows. Then, use other milk cartons to create furniture and accessories for the dollhouse. Your kids can blast making their own little world out of milk cartons! spanglishspoon
Materials: Milk Cartons (clean), Scotch Tape, Sticky Felt Paper, Construction Paper, Stickers, Markers
Tools: Scissors, X-Acto Knife
12. DIY Dollhouse For Toddlers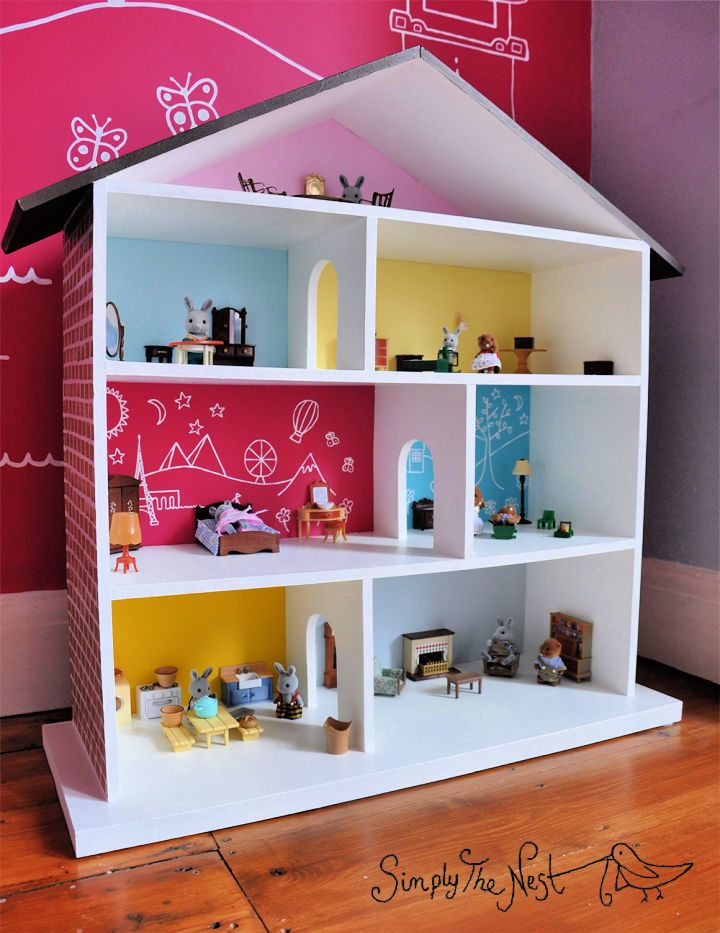 Making a doll house for a toddler is not too challenging, but it keeps your toddler busy and having enjoyment for hours. This DIY doll house for a toddler would be a fun and simple project for you as it will let your toddler have some joy while learning something new at the same time. This dollhouse is sturdy to handle a child's weight, and the space is efficient enough for them to reach and put everything back in its place without knocking anything over. It is fancy enough to do and has two storeys with an attic, and rooms are sized suitably so that your toddler can have fun exploring all the nooks and crannies. Get this flexible DIY plan and create memories and stories with your kid while having fun. simplythenest
Materials: MDF Boards, A Piece of Old Tabletop(base), Screws, Nails, Paint
Tools: Miter Saw, Hammer, Screwdriver, Drill, Paint Brush
13. How to Make a Dollhouse On Budget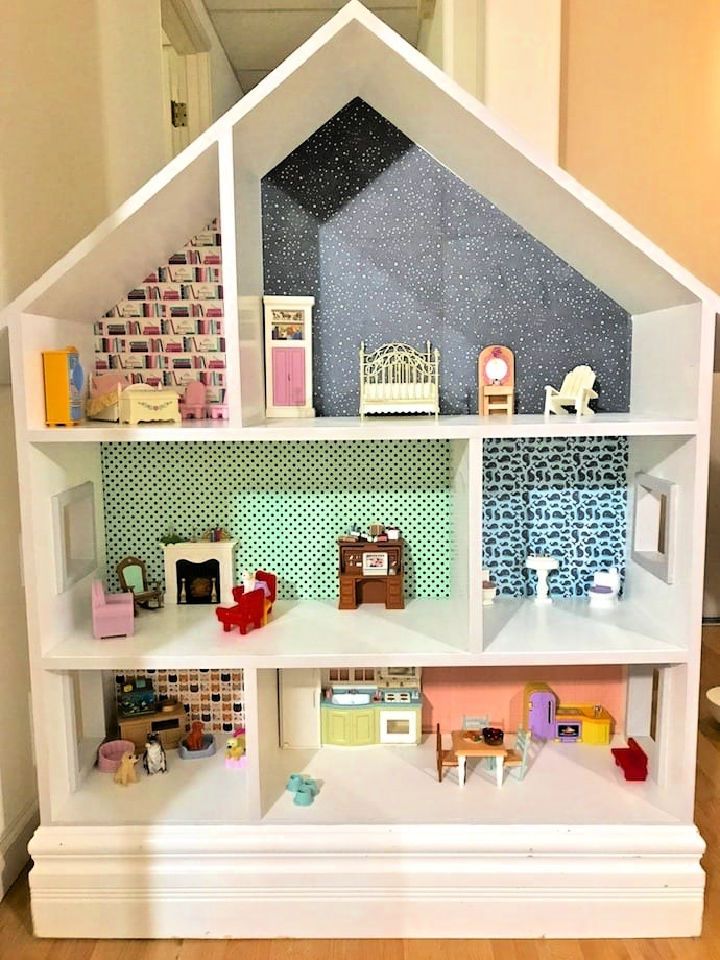 Why not try remodeling a dollhouse if you're looking for a fun and cost-effective DIY project? Renovate your old wooden dollhouse into a magical wonderland in a very short period with this DIY project. It's a great way to add your personal touch to a classic toy and can be done on a budget. To start, you'll need to gather some supplies. You'll need paint or wallpaper and basic tools like scissors and a glue gun to give the dollhouse a new look. You can also have fun decorating it with items you already have around the house or from recycled materials. This wooden dollhouse can be a great addition to any home and a beautiful work of art that you can play with or give as a gift to someone. twisttravelmag
Materials: Wooden Dollhouse, Paint, Wallpaper, Glue, Mod Podge, Furniture For Dollhouse, Paint
Tools: Scissors, Paint Brush
14. How To Build A Dollhouse Out Of Wood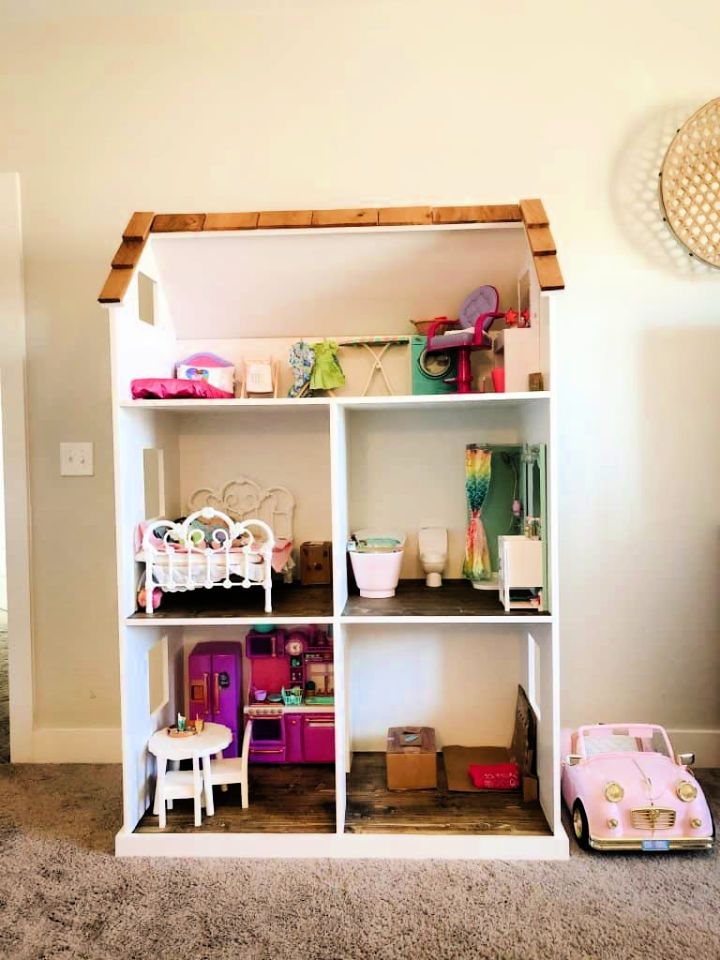 Do you have a lot of doll items and 18-inch American Girl dolls? You may want to consider making this DIY giant dollhouse project. Learn how to make a dollhouse with this DIY dollhouse plan that will provide a tidy and organized home for your doll and all your doll items, and the dolls will have a home too. Making this dollhouse is quick and only requires wood and some basic tools and materials. Once you have everything you need, building the dollhouse is fairly easy.
The finished dollhouse is stylish and functional, and your dolls will love their new home. This plan offers a giant, tidy, managed home for your 18-inch American Girl dolls and all doll items. Its design features one interior door and several exterior windows that make the house more realistic. Keep creativity in mind and build this giant yet functional DIY dollhouse that your daughter could enjoy and play with. ellebeelovely
Materials: Plywood Sheet (¼″), White Pine Shelving, Wood(1 x 2,1 x 3), Cedar Shingles, Liquid Nails, Walnut Stain, Paint
Tools: Miter Saw, Jigsaw, Circular Saw, Kreg Jig, Drill, Roofing Nails, Finishing Nail Gun, Square, Kreg Screws
15. Modern DIY Dollhouse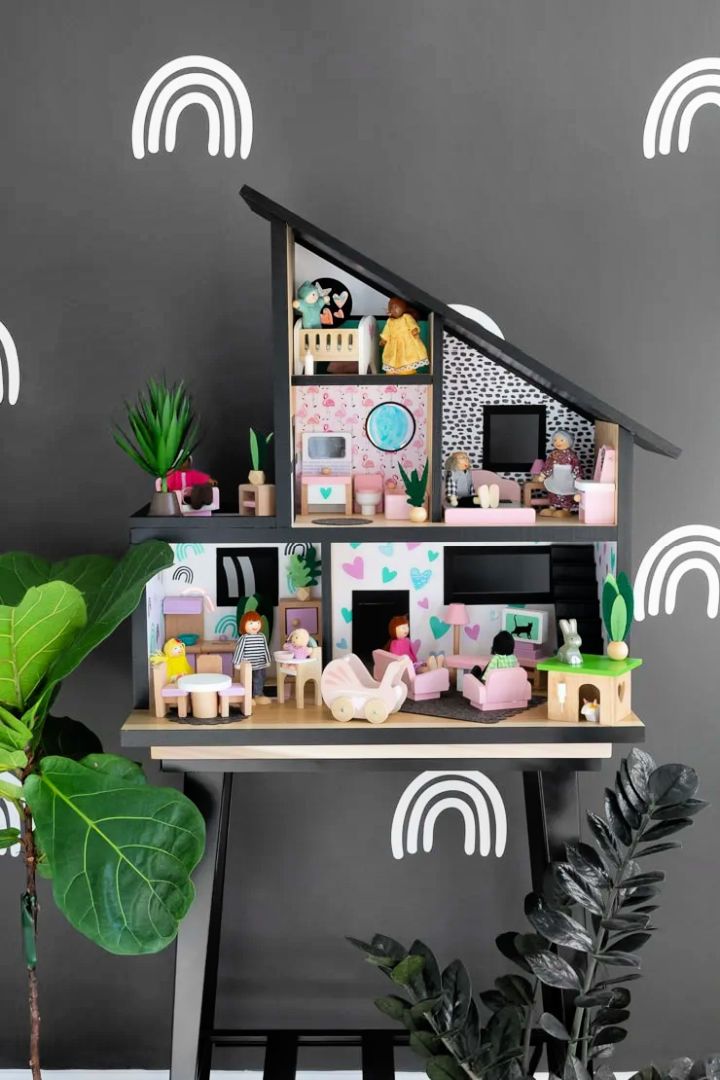 Yearning to have a stylish dollhouse for your kid that would have a sleek look? Enjoy building one with this DIY modern dollhouse project. It is a fun project for those who love to create modern on their own. It's easy, affordable and stylish – you only need a few materials, some time and your imagination! This dollhouse has a contemporary look, tilted siding, and a chic, stylish interior. It would be a great gift to make for any child or adult who loves doll houses. You can decorate it as per your taste and style. It's also easy to build, and you can customize it to fit any theme you like. This plan has a modern design with a cute kitchen, an inviting living room, and even a gorgeous bathroom. The best part about this dollhouse is that you can make it your own! bybrittanygold
Materials: Poplar Wood, Wood Glue, Nails, Pocket Hole Screws, Sandpaper, Paint & Finishes
Tools: Jig Saw, Drill, Kreg Jig, Miter Saw, Cordless Drill, pocket Hole Jig, Bar Clamps, Speed Square, Tape Measuring
16. Easy Dollhouse Makeover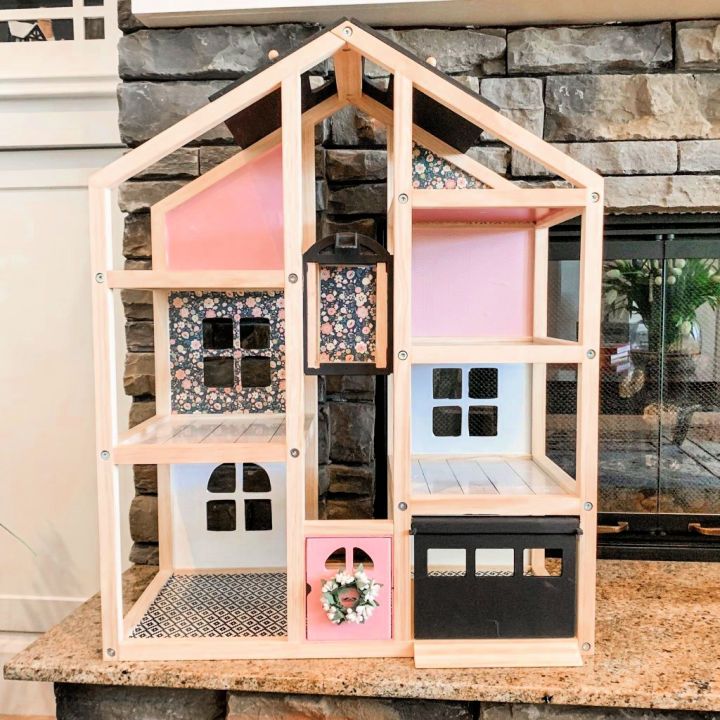 Transform a simple dollhouse into a modern one with this DIY dollhouse makeover plan. It requires a few materials and some creative skills. This DIY plan helps you to decorate your doll house to look and feel more like a real home. To renovate your dollhouse, you need simple materials that you might already have at home. First, dismantle the dollhouse and apply vinyl on the walls & floors, then cut the windows and, paint the windows and doors and decorate with wallpaper or as you want. DIY this plan to give your girl a sleek-looking modern space that she can call home for her doll. ohhappyplay
Materials: Wooden Dollhouse, Adhesive Vinyl, Chalk Pain
Tools: Smoothing Tool or Xactoo Cutter, Paper Cutter
17. How To Make a Box Dollhouse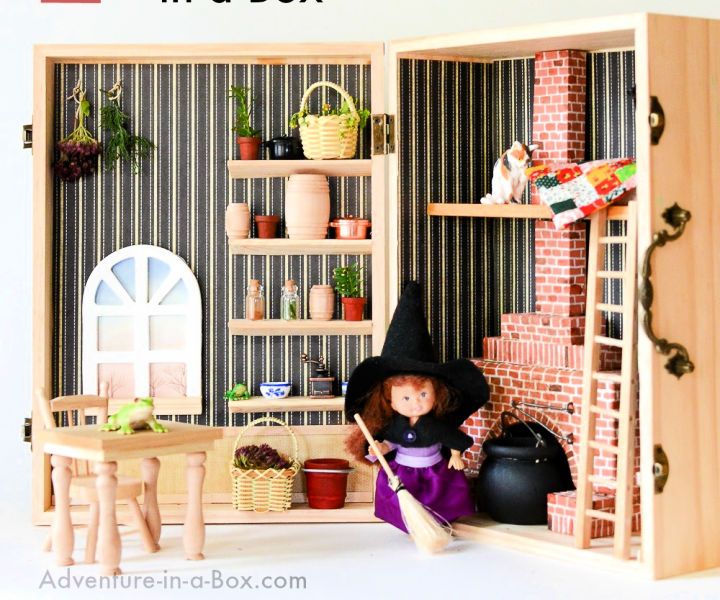 Do you ever imagine a box dollhouse depicting a witch's house? If not, give your imagination a hike with this DIY box dollhouse plan. It is an easy and affordable project that requires no special tools or skills to complete is a wonderful project that helps you transform a simple wooden box into a witch's house. It features a stove, cauldron, shelves with pots and wild herbs, a fireplace and a witch with a broom that will create an inviting sense for everyone. You can use it as a toy or as decoration in your room. Make a dollhouse that will give you an aura of imagination and will last and be useful for years to come. adventure
Materials: Wooden Box, Scrapbooking Paper, White Glue, Wallpaper, Craft Sticks, Window, Paint, Interiors, Accessories
Tools: Scissors, Paint Brush
18. DIY Huge Dollhouse For 18″ Dolls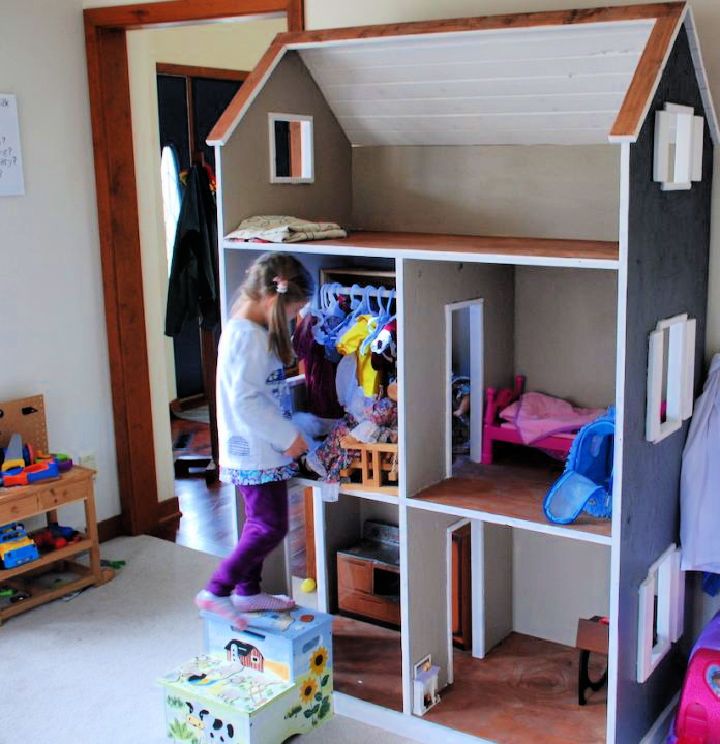 If you're looking for a huge dollhouse that can accommodate 18″ dolls, look no further than this DIY project. This massive dollhouse is made from plywood, is sturdy and big enough to bear weight and includes plenty of room for all the doll stuff. It's also inexpensive to build, so you can save money while creating a beautiful dwelling for your dolls. This project needs some creativity and a few tools; you can make your own big doll house that is stable and looks amazing in your home. With this DIY plan, you can create the perfect huge place for your kids to have and enjoy. screenfreepare
Materials: Plywood Sheet, Wood Glue, Screws, Paint
Tools: Miter Saw, Measuring Tape, Drill, Screwdriver
19. Make Your Own Mini Dollhouse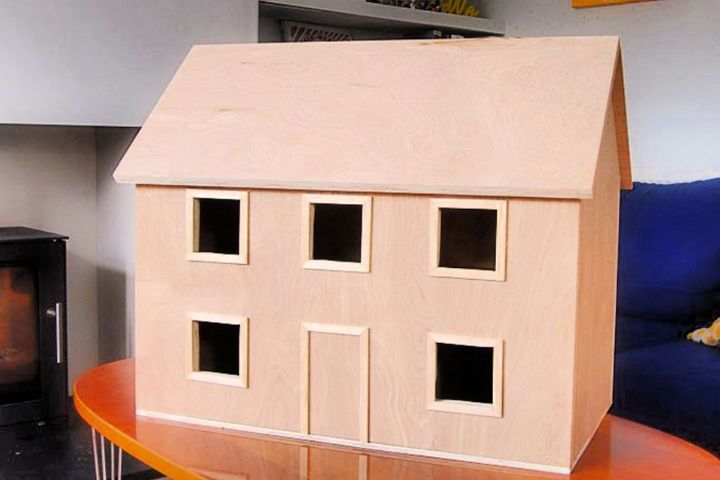 Want to make a dollhouse that is small yet elegant? Build a mini doll house with this DIY plan. This DIY mini dollhouse project is smaller and more manageable than a full-sized dollhouse and also sturdy. Plus, it can be completed in a shorter time frame, making it perfect for kids who enjoy playing with dolls and want to create their own dollhouse. This mini dollhouse is handy for people just starting with their hobby of collecting dolls and who need a place to store them. It is a fantastic project to build a smaller dollhouse with kids and create something new and unique without spending much money on it. Save money and build a little dollhouse for your kids that they can pick up and carry around with them. littlehouseon
Materials: Wood, Wood Glue
Tools: Circular Saw, Worx Sonicrafter
20. Building Your Own Plywood Doll House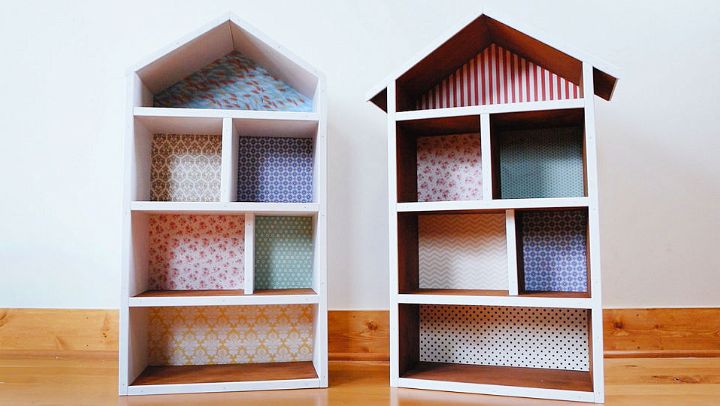 Are you looking for a dollhouse that would be a cost-effective alternative to market-bought? Look no more! Make one yourself with this DIY plywood dollhouse plan at a fraction of the cost rather than buying one from the store. This project is a great way for children and adults to have fun together. It is a cost-effective, easy-to-build and durable plan you can complete in hours. Depending on your requirements, you can make the dollhouse as large or small as you want. Create a play space for your child with this DIY plan to provide them with a sense of peace and tranquility. dunnlumber
Materials: Birch Doorskin, Shop Grade Plywood, Screen Molding, Grit Sandpaper, Wood Stain, Spray Adhesive, Paint Brush, Rag, Patterned Paper, Drop Cloth, Spray Paint, Plastic or Newspaper, Matte Gel, Finish Head Screws, Finish Nails, Fast Dry, Wood Filler
Tools: Hammer, Scissors, Safety Glasses, Measuring Tape, Straight Edge, Utility Knife, Clamps, Electric Drill, Miter Saw
21. DIY Barbie Dollhouse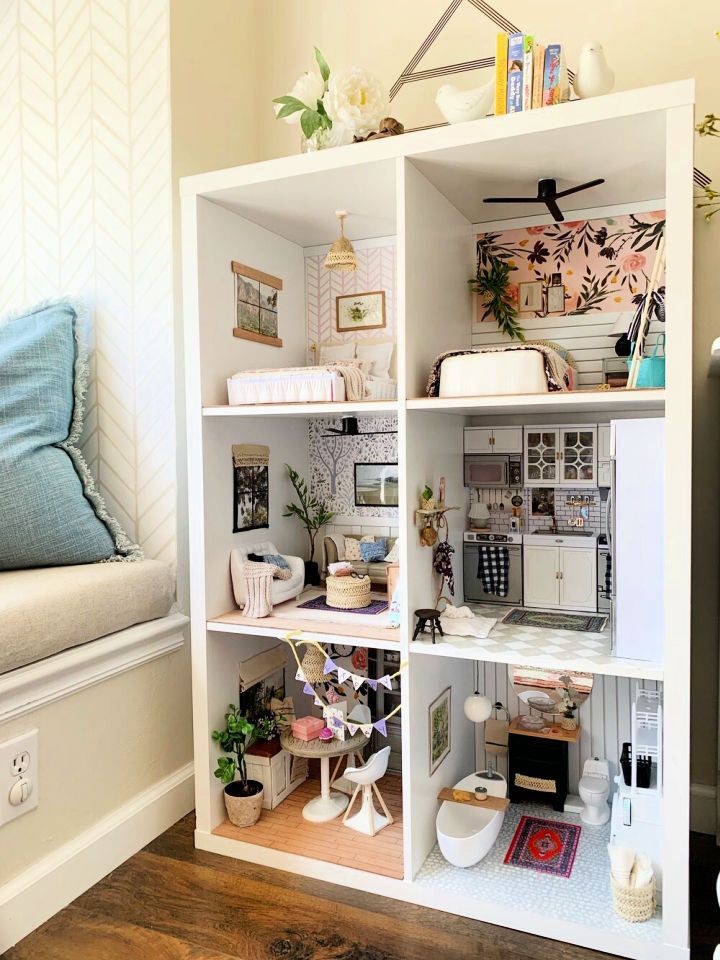 Do you want to have a creative and amazing Barbie Dreamhouse of your own? This DIY Barbie dollhouse plan will show how easy and fun it can be to create your dream dollhouse. This project is perfect for getting your favorite Barbie's love and attention while twisting into madness. To decorate your own Barbie dollhouse, you will need recycled materials, a hot glue gun, scissors, and patience. Try making your own stylish and trendy barbie dollhouse that your kids can play with, or it can be an elegant decorative element for your house. hartleyhome
Materials: Old Clothing, Clear Contact Paper, Velcro Strips, Wood Scraps, Straw Hat, Small Makeup Mirrors, Wallpaper Samples
Tools: Scissors, Glue Gun,
22. Homemade Dollhouse for Small Play Set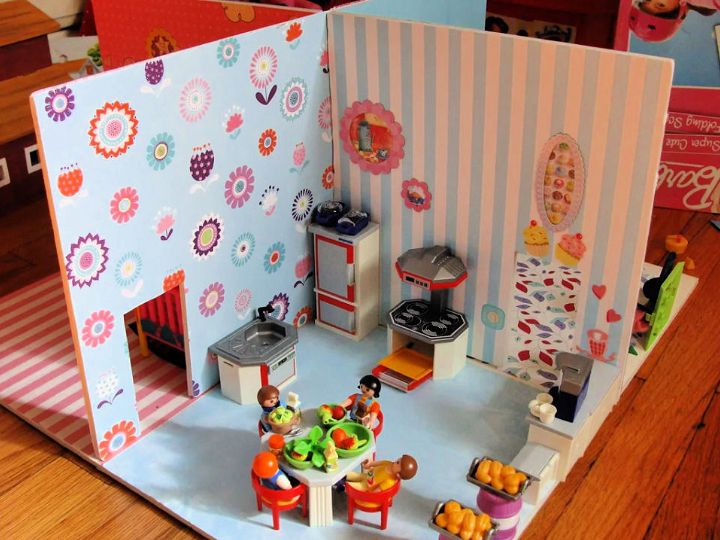 Are you a DIY beginner and want to try crafting and creativity? Make this amazing and slick DIY small play set dollhouse plan. It is also a fun way to play with your child's imagination and creativity while providing them with the opportunity to explore new ideas. This dollhouse is a fun and easy project that can be done with just a few materials. It can be stored flat when not used and has reversible floors showing different colors and designs. You can use it as a gift for someone you love or even an ornament in your room or office. This DIY dollhouse can be used for imaginative play during travel. It is small and lightweight so that it can be stored easily in a backpack or suitcase for kids on the go! instructables
Materials: Foam core, Chip Brush or Paint Brush, Scrapbook Paper, Tissue Paper, Stickers, Glue
Tools: Utility Knife, Cutting Mat, Ruler
23. Free Drawer Dollhouse Pan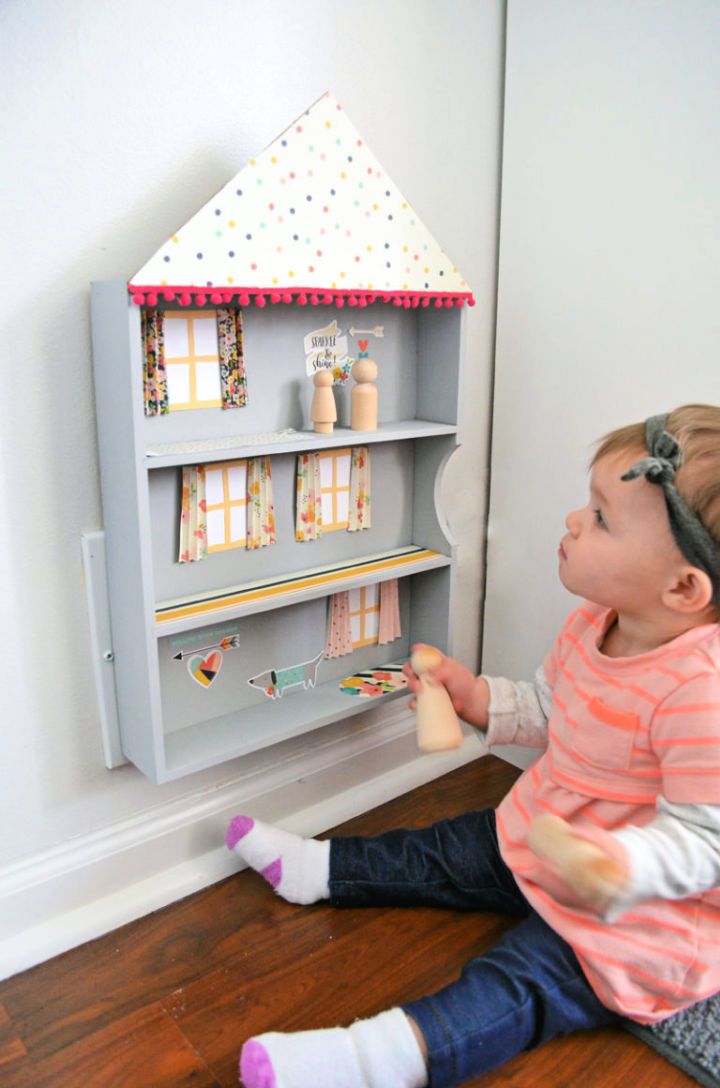 If you're looking for a fun and creative way to entertain your little one, Try making a DIY drawer doll house. All you need is an old cutlery drawer, some paint and some imagination. Your little one will love playing with their new doll house; when they're done, it can be easily taken down and stored away. This dollhouse is designed to be small and minimalistic, making it perfect for a child's room or if you don't have much space. Get crafty, make this DIY plan, and make a small drawer dollhouse to contemplate your little one. diys
Materials: Old Cutlery Drawer, Gray Paint, White & Yellow Cardstock, Mini Pom Pom Trim, Scrapbook Collection With Stickers, Cardboard, Rope, 3M Hook
Tools: Hot Glue Gun, Craft Mat, Cutting Mat
24. Doll House Thrifted Makeover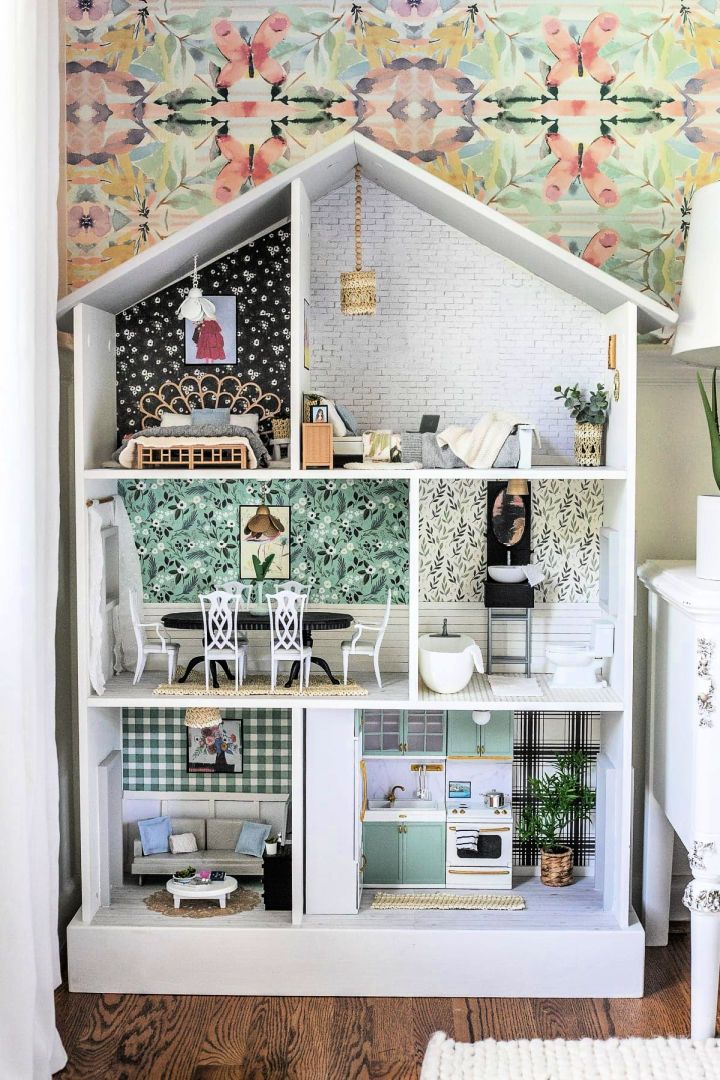 Dollhouses are one of the most popular home decor items. However, not everyone can afford to buy a new one. If you are looking for an affordable and stylish way to spruce your home, try this DIY dollhouse thrifted makeover plan. This makeover plan is a great way to give an old dollhouse a new lease on life at a fraction of the cost. You can redo your old dollhouse into a stylish one by creating beautiful accessories and aesthetic furniture with recycling materials or everyday-use items around your house. With a little bit of creativity and some thrifty materials, you can easily transform an old dollhouse into a stylish and modern home. blesserhouse
Materials: Scrapbook Paper, Spray Paint, Clothes from the Donation Pile, Old and New Barbie Furniture, Acrylic Paint & Brushes, Small Knick-knacks Repurposed ( around the house), Rubber Cement,
Tools: Hot Glue and Glue Gun, Paint Brush, Scissors
25. Simple DIY Cardboard Dollhouse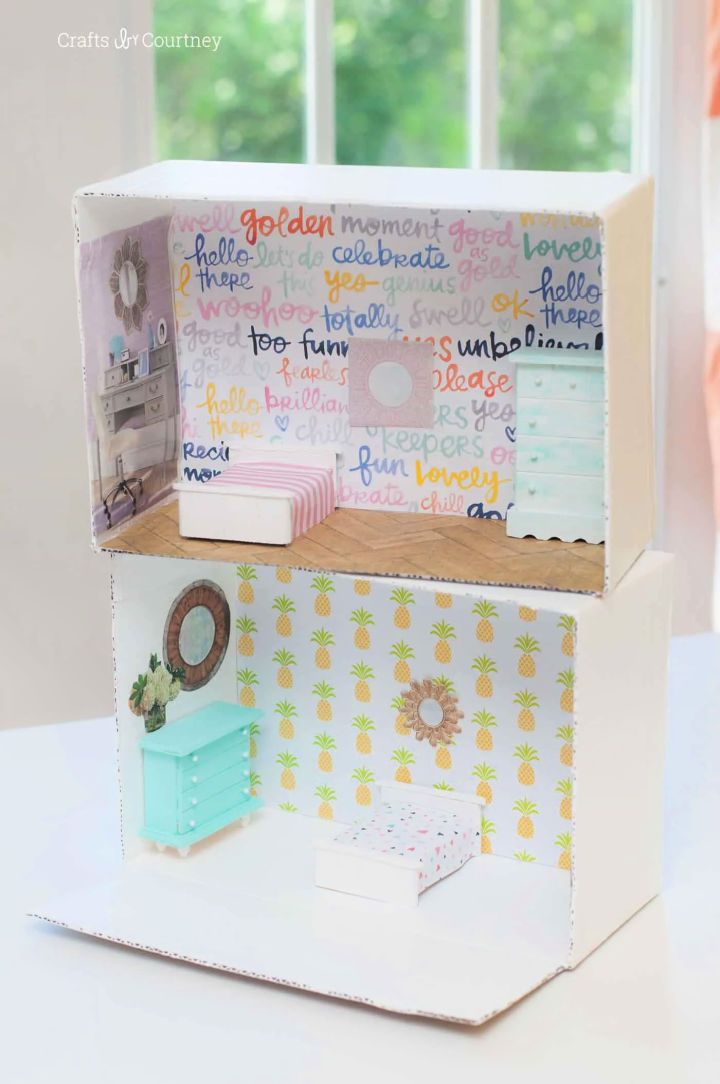 One of the best ways to keep kids engaged is to give them creative latitude. This DIY cardboard dollhouse is such an awesome idea. It allows children to use their imagination and create whatever they want. You can complete it in just a few hours with recycled materials, and it's inexpensive too. This homemade dollhouse also gives kids creative freedom, letting them create whatever they want without limits or restrictions. This dollhouse is easy to make, and it's great for children of any age, especially those new to crafting and building things with their hands. Let your kids express themselves by making this DIY cardboard dollhouse. modpodgerocks
Materials: Small Cardboard Box, Mod Podge, Scrapbook Paper, Magazine, Painter's Tape, Paint
Tools: Paint Brush, X-Acto Knifer
Related DIY Projects and Crafts To Do
DIY Mother's Day Gifts – Make this Mother's Day extra special with a homemade gift from the heart. Whether it's a photo frame, a mug or a simple card, these DIY gifts are sure to make mom smile.
DIY Chicken Coop Plans – If you're looking to build your own chicken coop, our DIY chicken coop plans are the perfect place to start. We provide step-by-step instructions for building a variety of coops, from small and simple to large and luxurious.
Wreath Ideas for Front Door – Wreaths are a classic front door decoration, and these DIY wreath ideas are sure to please any mother who loves spending time crafting.
DIY Key Holder Ideas – Key holders are a great way to keep track of all the important things in life, and these DIY key holder ideas are sure to please any mother who loves staying organized. These creative and stylish key holders are perfect for any home.
Shoe Rack Ideas – Looking for some easy and inexpensive DIY shoe storage ideas? Check out these awesome DIY shoe rack ideas to build your shoe storage space!
DIY Bird Feeder Ideas – Looking for a fun and easy DIY project? Why not make your own bird feeder? This simple DIY bird feeder design can be made in just a few hours!
Homemade Firewood Rack Plans – Firewood can be a pain to store, but not with this DIY firewood rack! This simple and easy to follow plan will have your wood neatly organized in no time!
DIY Footstool Plans – Need a place to rest your feet? This free DIY footstool plan is the perfect solution! This project can be completed in just a few hours and is sure to add some extra comfort to your home!
Conclusion:
Whether you're a beginner or an experienced DIY-er, we know you'll find the perfect DIY dollhouse plan in our roundup of 25 free DIY dollhouse plans and ideas with come with detailed instructions and step by step guide. So get your tools ready and start building—your dolls will thank you! Do you have a favorite dollhouse plan that wasn't featured here? Let us know about it in the comments below.