A growing number of homeowners are making plans for a home theater and investing in home entertainment devices as we continue to spend more time indoors. For 2021, sales for TV sets larger than 70 inches, as well as 8K ultra-high-definition TVs, are projected to reach 1.7 million units, according to a survey by the Consumer Technology Association. Moreover, apart from spending on TVs and quality speaker systems, those who want the ultimate cinema experience are also expected to shell out money for comfortable theater seating and furniture. Building a home theater system may seem like it requires a fortune, but there are lots of ways to cut costs, and one of them is by using pallets to build your furniture. To create a beautiful and comfy space that your family will enjoy, here's how you can build a home theater from wooden pallets.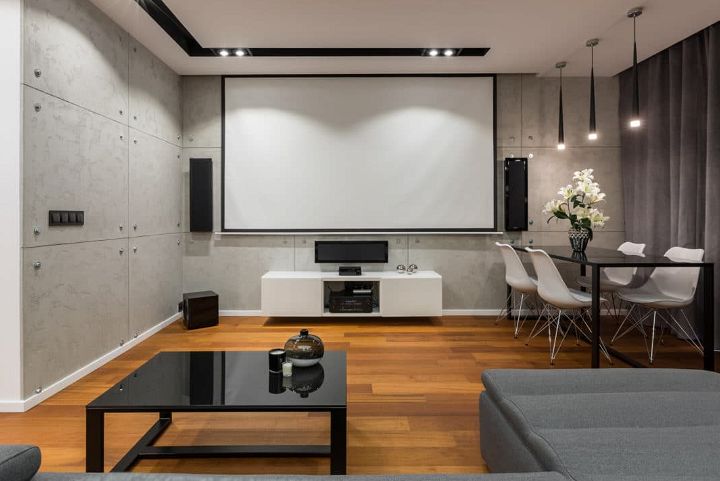 Create DIY home theater seats
Custom home building is popular in Texas, so it's helpful to look for renovation inspiration here. When it comes to creating a home theater, a specialist Austin home builder usually recommends a partial remodel, as it makes way for energy-saving features such as solar panels and new technologies to be added to your home. But if you already have a dedicated space for it, then all you have to do is to add furniture, appliances, and decoration to give your space a luxurious feel. Start by laying down the carpet on the floor to absorb some of the noise in the room and to reduce reverb and echo. You can also hang thick or soundproof curtains to reduce incoming sound. After that, it's time to build your home theater seats.
To make them, use 12 wooden pallets, and stack them in ascending order. To create the first level, place two pallets side by side; then for the second level, place two more pallets on the floor and stack one pallet on top of each one. Stack three pallets on top of one another to make the third level. Use wood screws or wood glue to keep the pallets in place. Next, sand the pallets to create a smooth finish, and paint them to suit your color scheme. To hide flaws, choose matte black paint for your DIY theater seats, or leave them unpainted for a rustic look. You can also paint them in white if you want a clean or minimalist look for your home theater.
Add some cushions
Adding plush cushions to your DIY home theater seats will make them more comfortable and inviting. You can buy oversized cushions for each pallet, or consider placing a single mattress on each level. Place no more than two oversized throw pillows on each level, and keep a few throws or blankets nearby to keep warm during the cold months. Place the throws and blankets in a wooden crate made out of pallet boards, and paint the crate in the same color as the seats to create a unified look in your home theater.
Useful extras
Apart from theater seating, there are other things that you can make out of wooden pallets to keep your home theater organized. You can create small side tables where everyone can place their snacks and drinks, or just one large, low table where everyone can gather around and enjoy a full meal or a pizza while sitting on the floor. If you collect records or DVDs, you can make a shelf using pallet wood to house your collection and keep your space neat and tidy.
After creating your home theater furniture, all that needs to be done is to add a TV, speakers, or projector to your space, and you're ready to enjoy watching movies and TV series with your family. Try these tips to create an amazing DIY home theater, and have fun bonding with your loved ones.