There are many more pallet wood creative ideas you can incorporate to your spaces to adapt an all better living style, you can simple stack the pallets for gorgeous fully functional and featured bed frames, you can also try your hands on pallets to install custom wooden chairs with amazing fun statements like the given fish style colorful pallet Adirondack chair! Build custom mudroom and dressing room shoes rack out of pallet to take good care of your shoes pairs along with their better view and display and also make the beautiful pot organizers out of pallets to showcase your favorite garden flower pots on your own selected garden wall!
Just get crafty with pallets for sometime and get comfortable couches, sofa sets, garden two seaters and backyard benches of pallets and also very engaging styles of outdoor chairs for free! Build also hallway trees, bathroom towel racks and toiletries shelves out of pallets, the main items you need to have in possession to get your home uncluttered!
Shoes Rack Made of Pallets: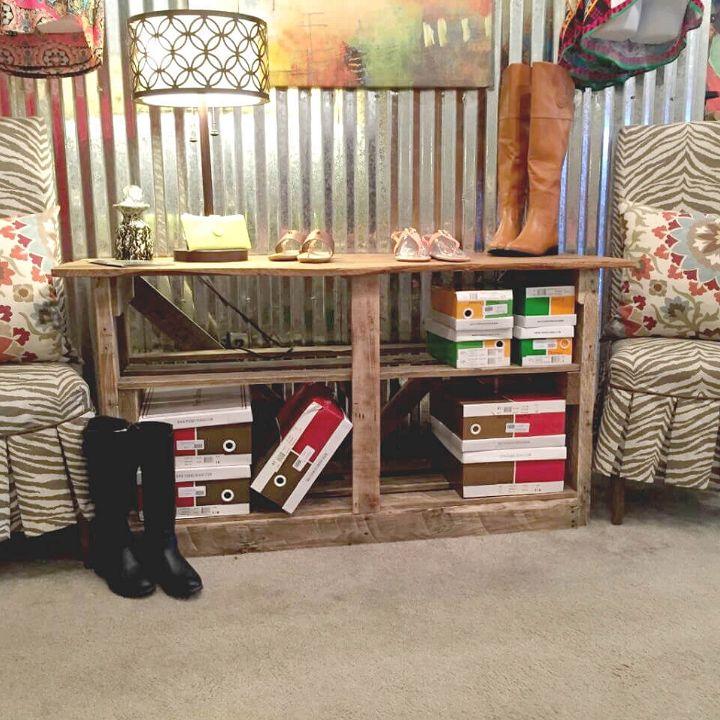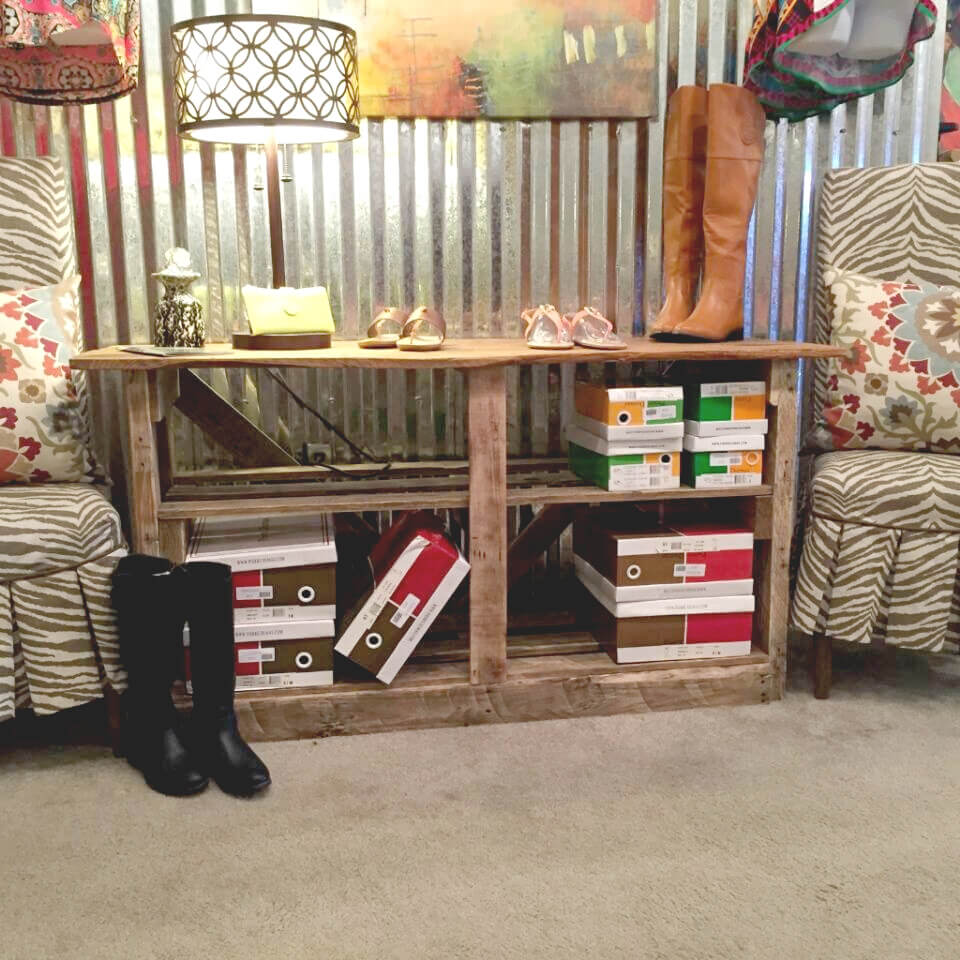 We always need a mudroom bench and a shoes organizer so we can just take our shoes off there after getting access to home! This wooden shoes rack can be surrounded with chairs to do so in a super comfortable way, it would also be cool addition to your wardrobe or closet room!
White Painted Pallet Wall Hanging Pot Organizer: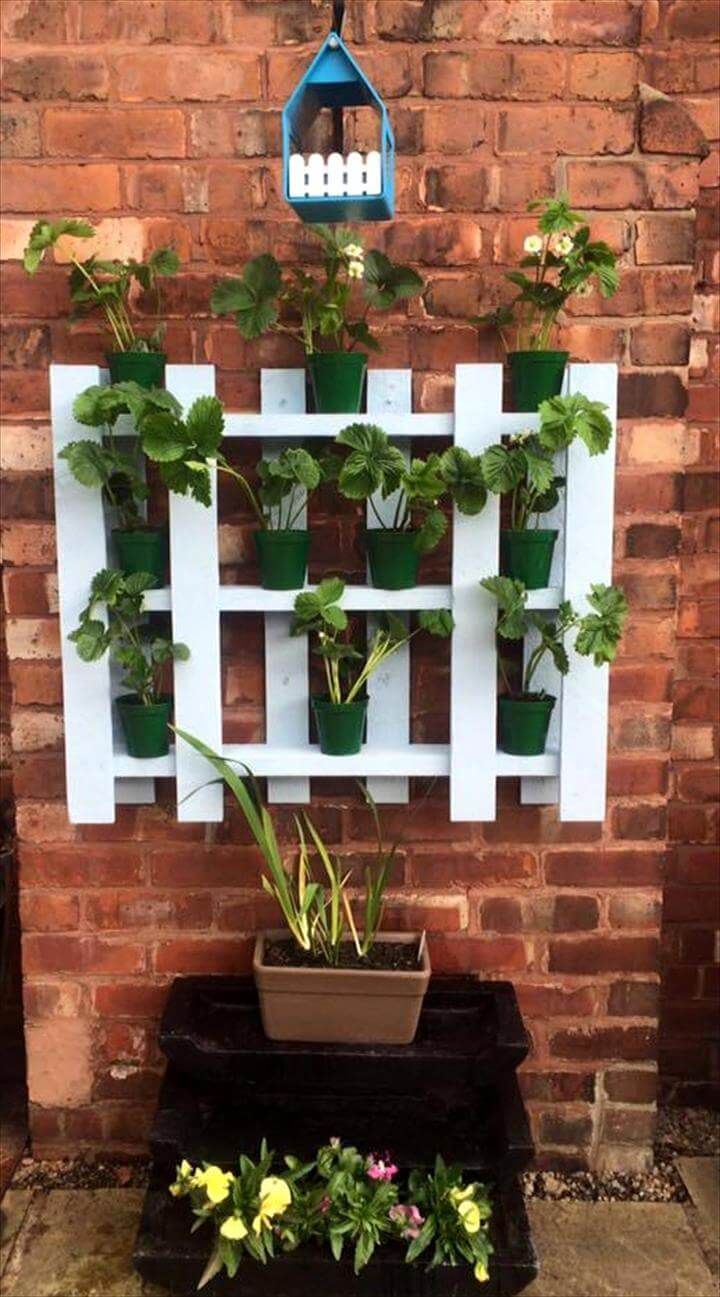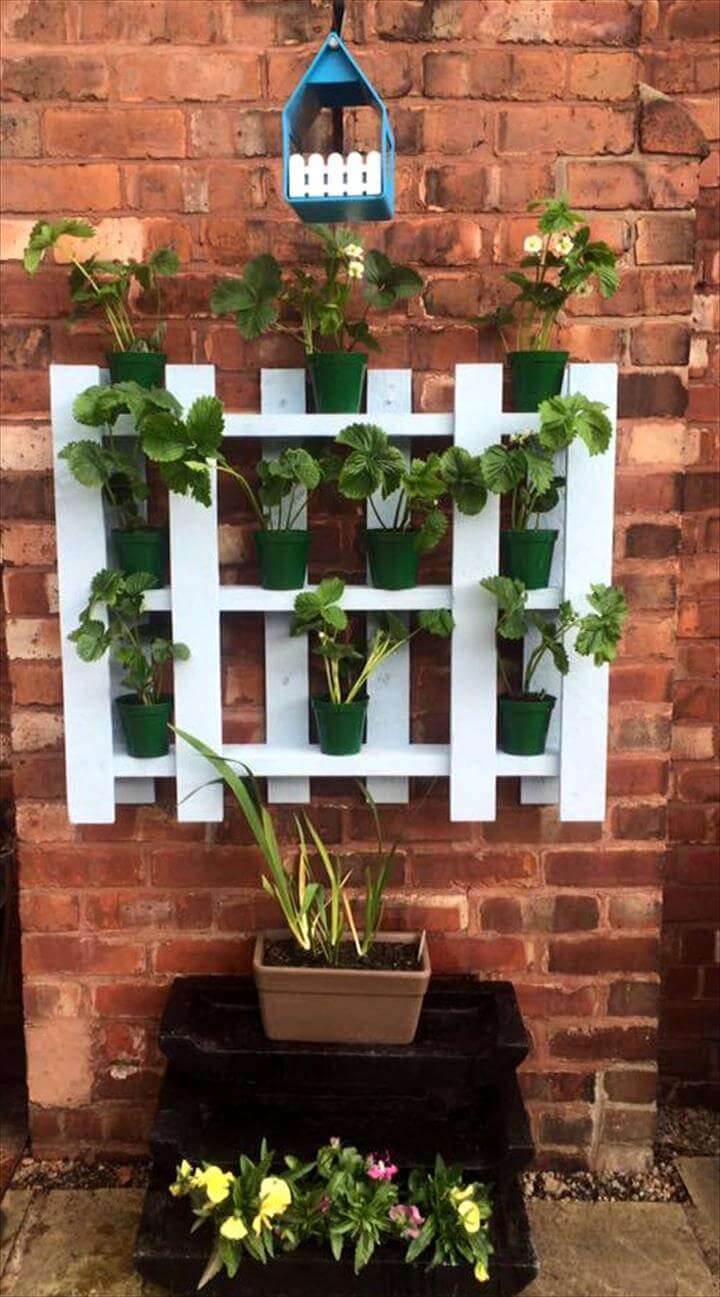 Willing to have something visually attractive to give a natural touch to outdoor walls? You should definitely go with wall hanging pallet planters and pot organizer to create a garden like sensation to any custom indoor or outdoor wall area! This mini white painted organizer has all been made of white painted pallet slats!
Stacked Pallet Toddler Platform Bed: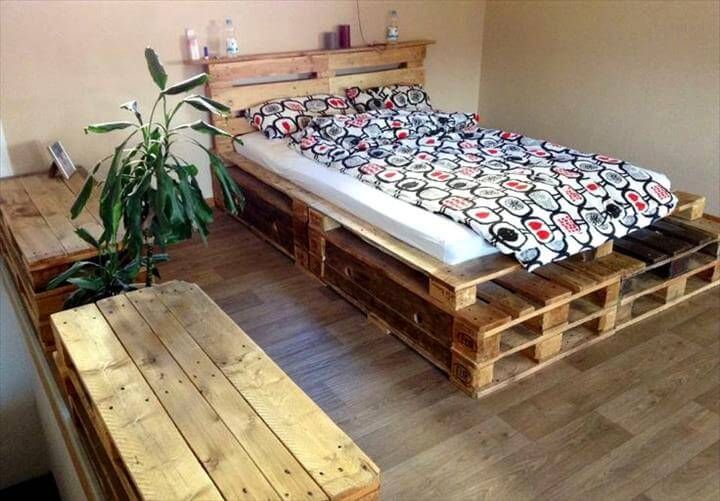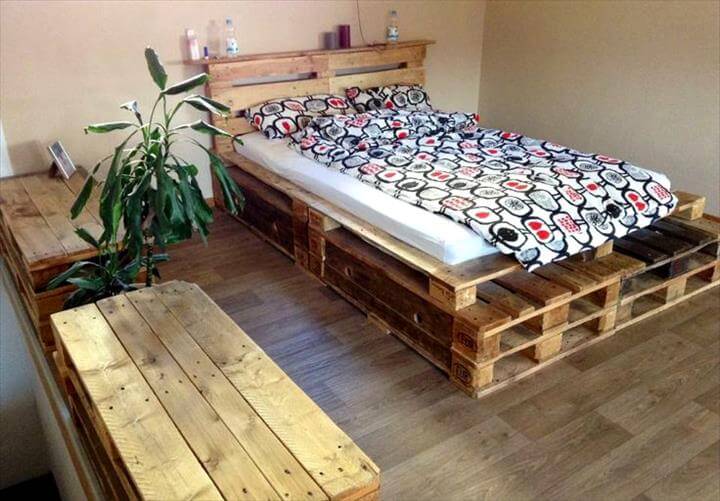 Avail the neat piles of pallet for adorable toddler bed construction, this custom platform toddler bed is all made of 10 pallets stacked up to 3 rows as you can see and final layer of pallets have been cushioned with white foam mattress for a complete comfy pallet bed out of it!
Pallet Dining Table: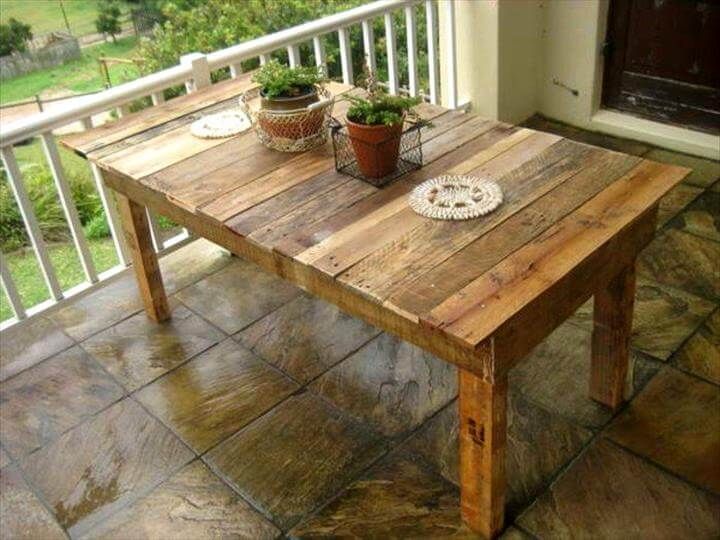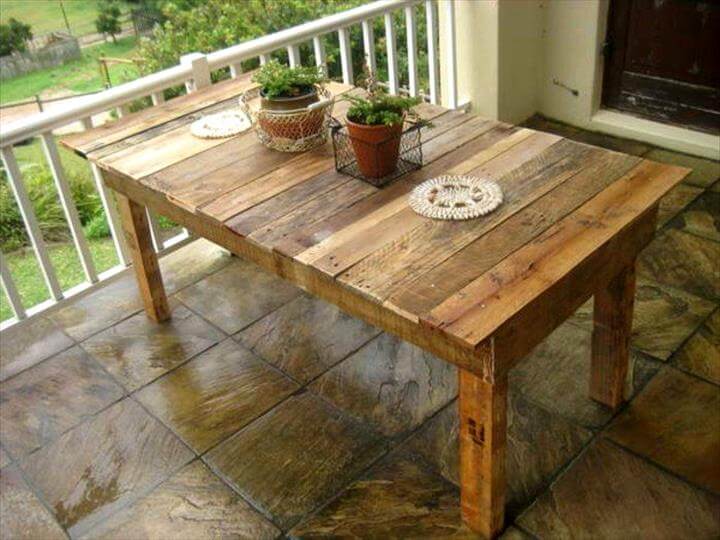 Get bigger help from pallet to handle your dining affairs, you can build all from dining chairs to dining tables to dining room sideboards with pallets and this will also cost you nothing big, this robust dining table model your are seeing is purely handcrafted one with pallets!
Rustic Pallet Bathroom Sink & Mirror: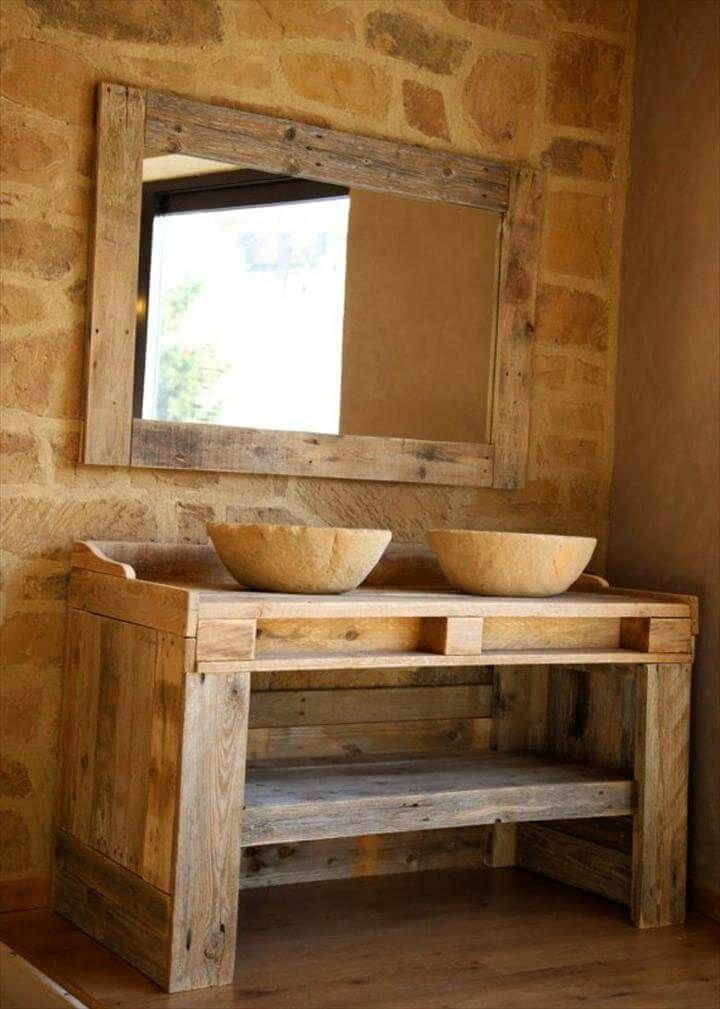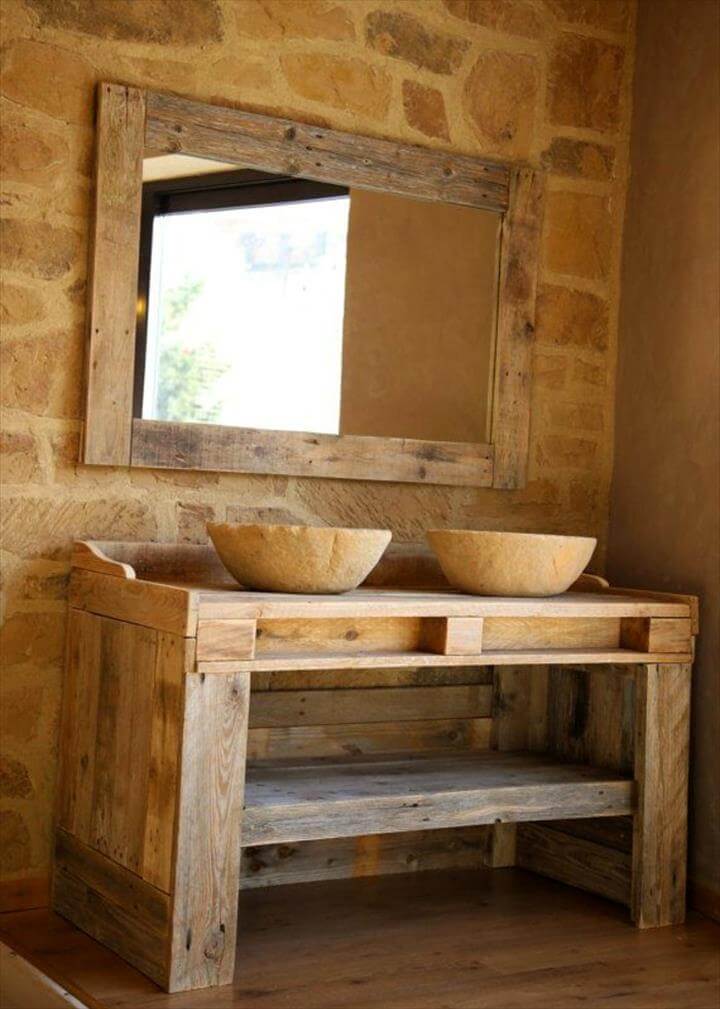 Here a rustic pallet sink for your vintage inspired or mid century modern bathroom interiors, having accent artful boundary around the top and there is also a rustic built-in shelf to store your respective material! Rustic mirror is also made of pallets!
White Painted Pallet Platform Bed: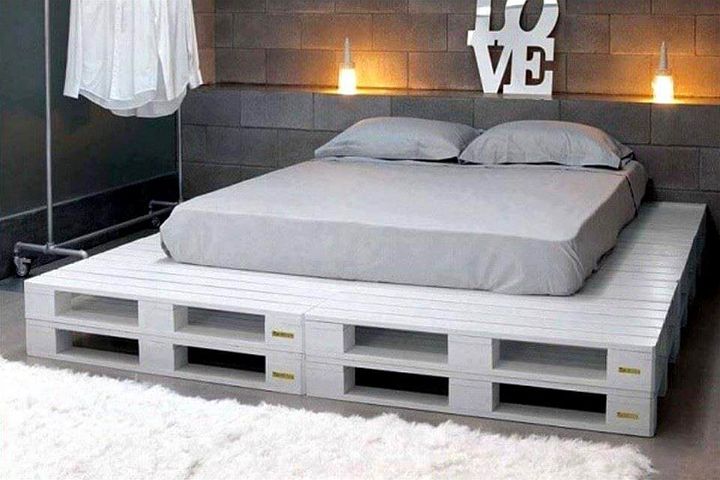 Again here a square shape raised wooden platform has been created using clone sizes of Euro pallets, this has been decided to use as a better sleeping bed and to do only a thicker foam mattress have been put over it as you can see!
Upcycled Pallets Wood Hall Tree: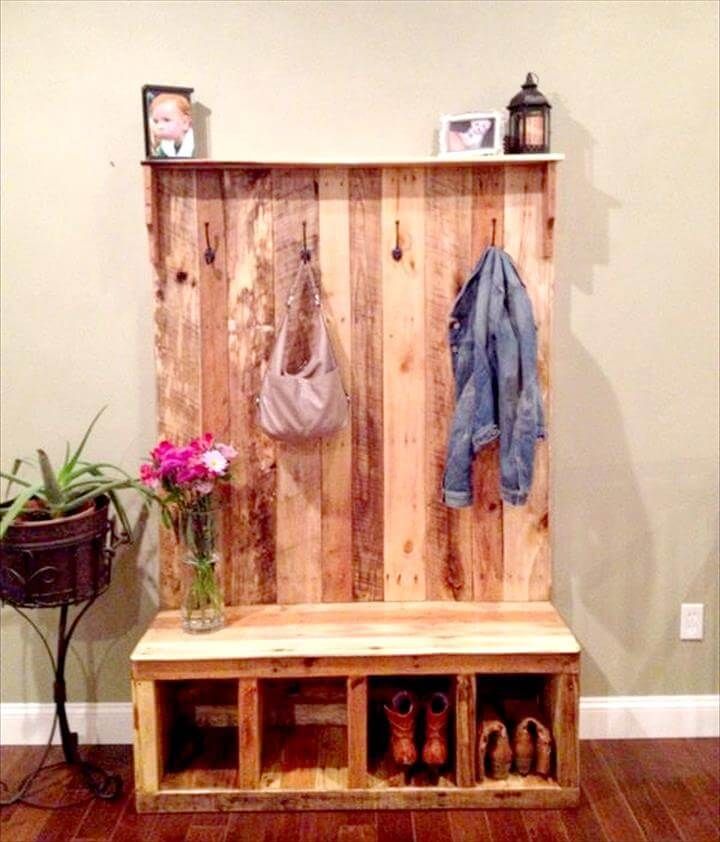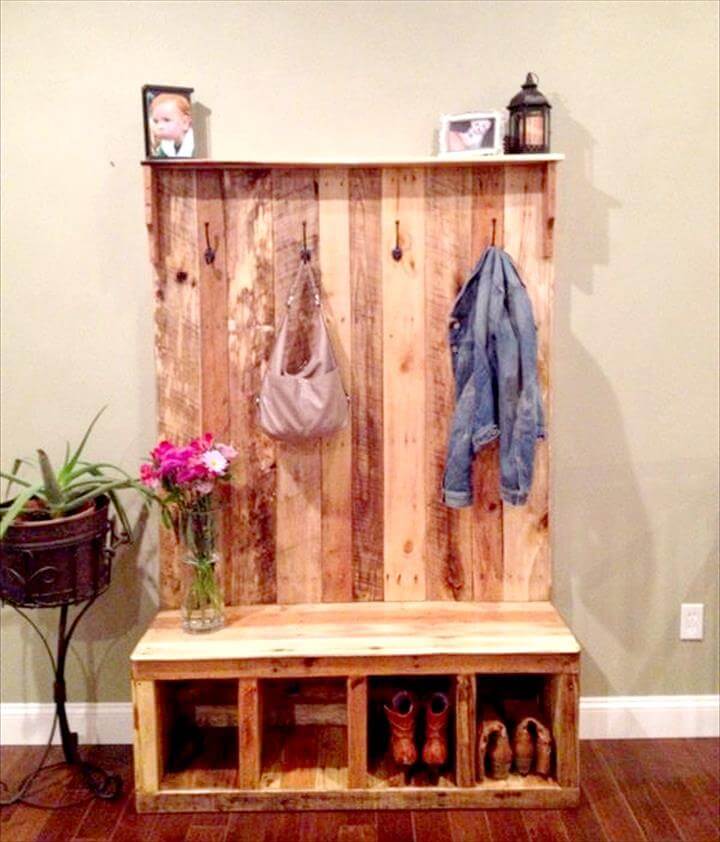 Mostly the hall trees are adapted for your instant hanging and immediate storage needs while coming back to home after work! Build fancy wood pallet hall tree with custom hanging and storage solutions using pallets, going with pallets would also be friendly to your wallet and you will also be able to craft the model with custom storage options and in custom dimensions at home just like the given creative sample!!
Pallet and Tiny Bucket Wall Hanging Garden: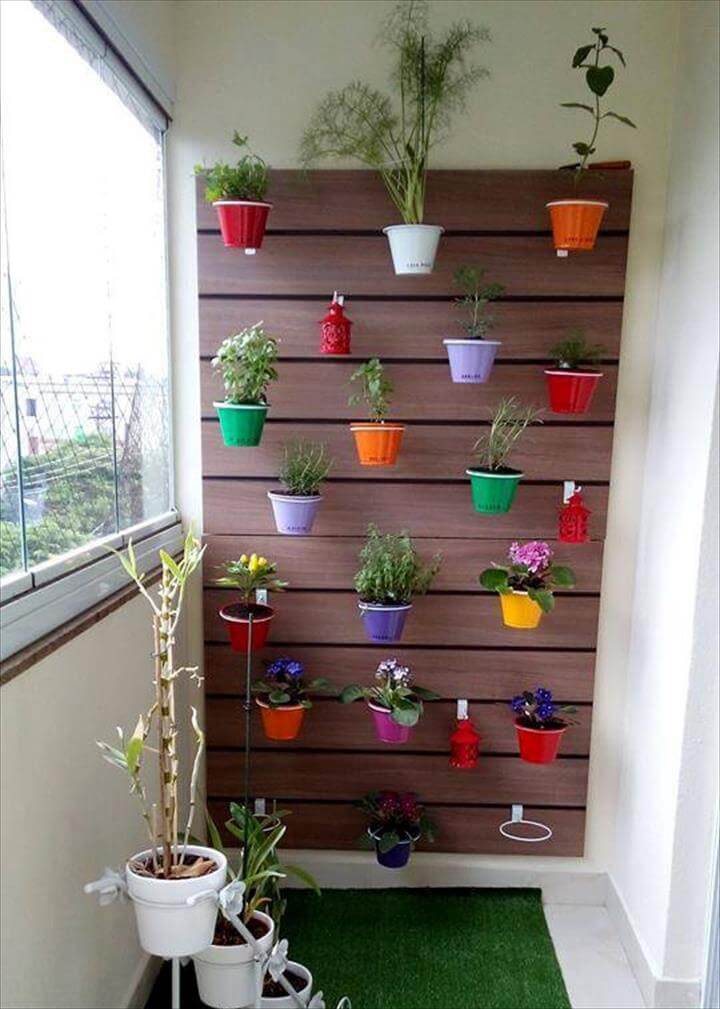 Here a beautiful indoor decor for nature lovers, a mind-blowing wall hanging garden, tiny buckets have been fixed in metal pot holders fixed tight on the pallet-made wooden wall and then tiny and colorful buckets have been filled with potting soil for herb and flower growing! An instant, cost effective and cool way to transfer greenery to your home interiors!
Fully Featured Pallet Bed: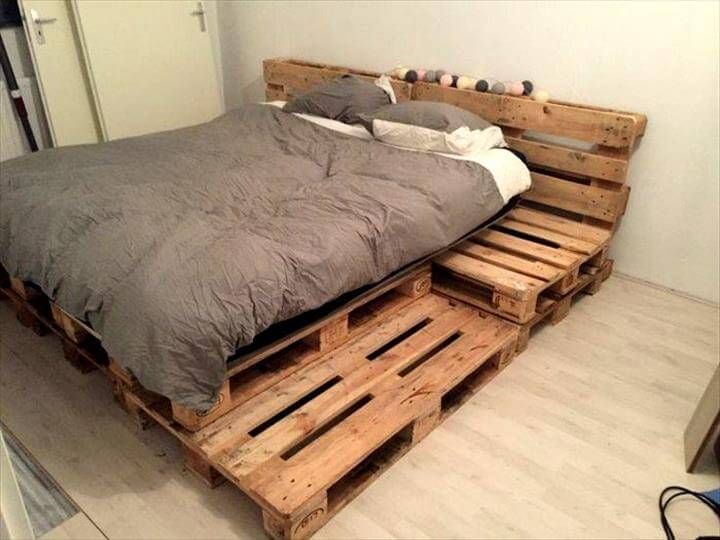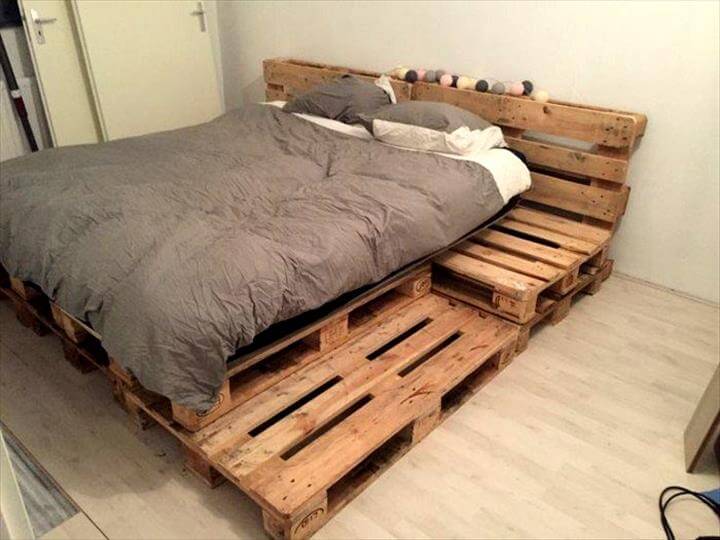 Here a custom gathering of pallets is providing an ever robust model of platform bed with headboard and bedside table setups! Just get a super comfortable foam mattress to replace the wooden hardness with peak value sleeping comfort!
Pallet Toddler Platform Bed with Drawers: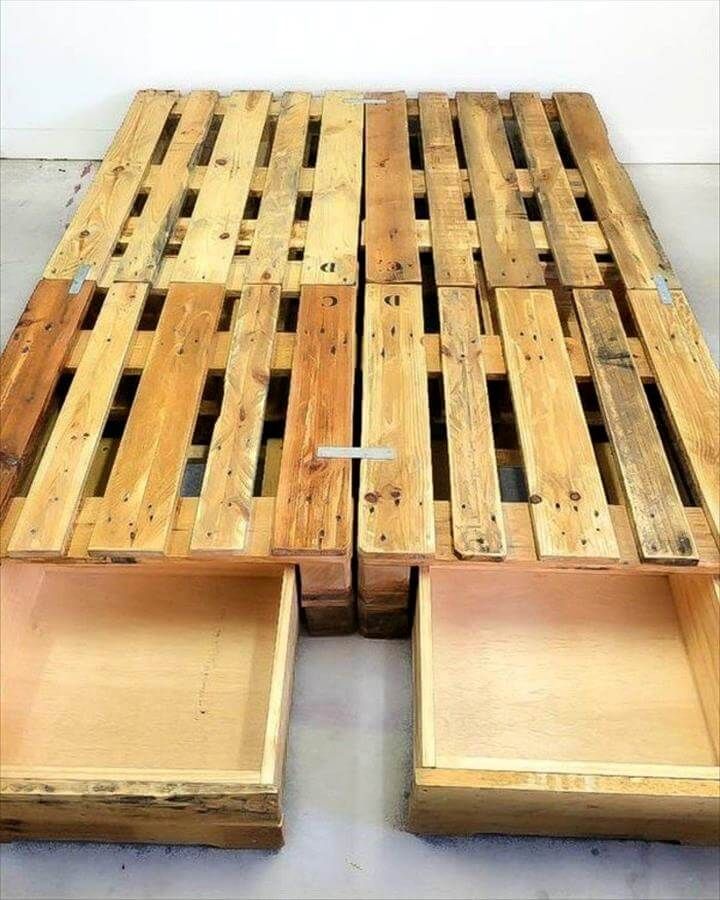 Here a storage-friendly toddler platform bed has been installed using 4 pallet boards only, packed flat and hold together tight with metal plates! Two drawers have been added to openings in pallet board, would come in handy to store the pillow covers, bedspreads and also night supporting material!
Crazy Pallet Furniture Ideas: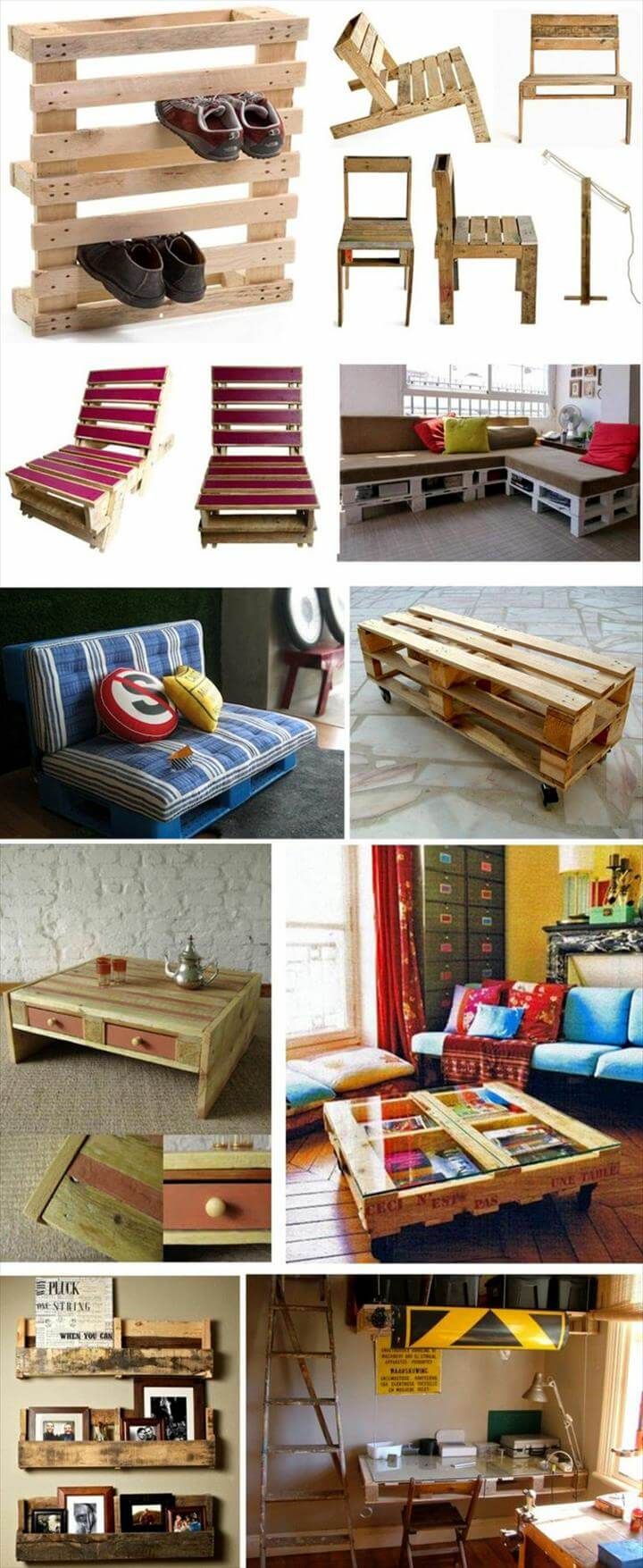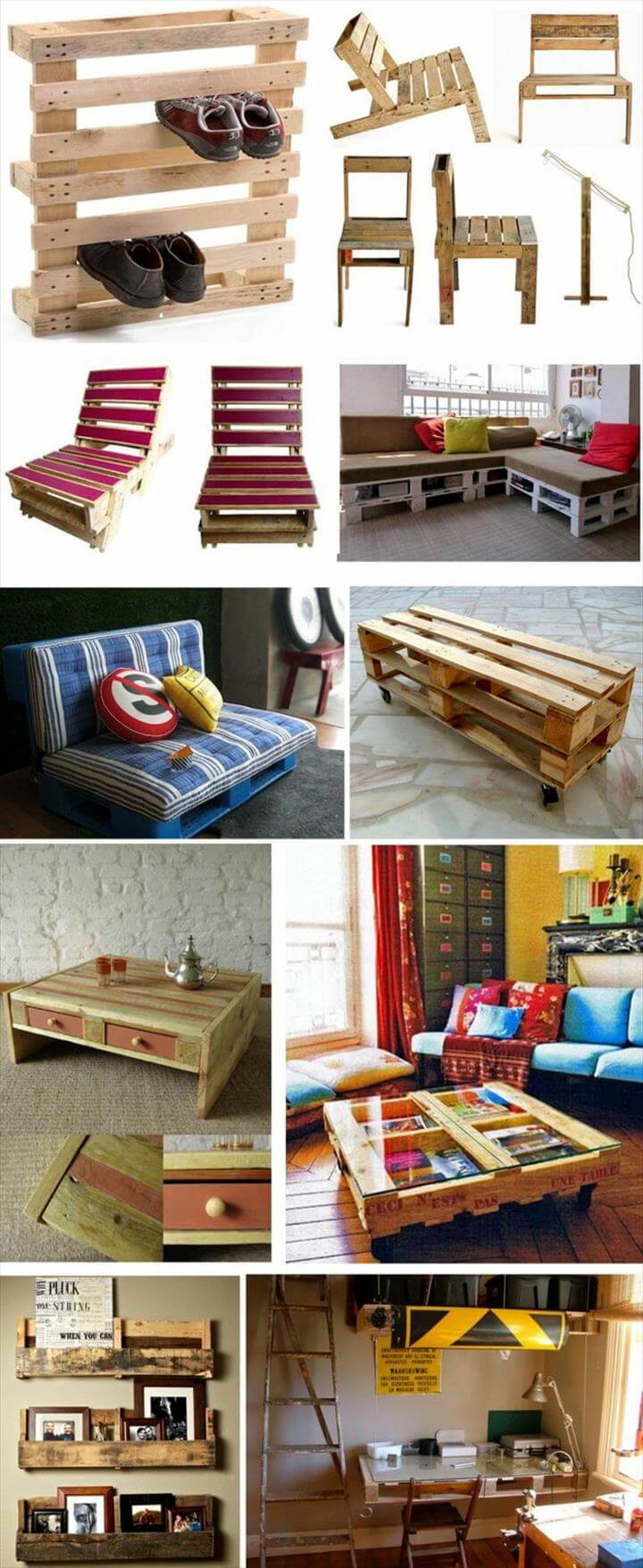 Checkout here this better showcase of some highly clever pallet furniture projects, fancy wooden chairs, hanging desks, shelves, sofas and coffee tables have been listed which you all need in your home and here can learn how to build them easily with pallets, just take a look of all the showcased item!
Robust Pallet Chair + Round Cushioned Ottoman: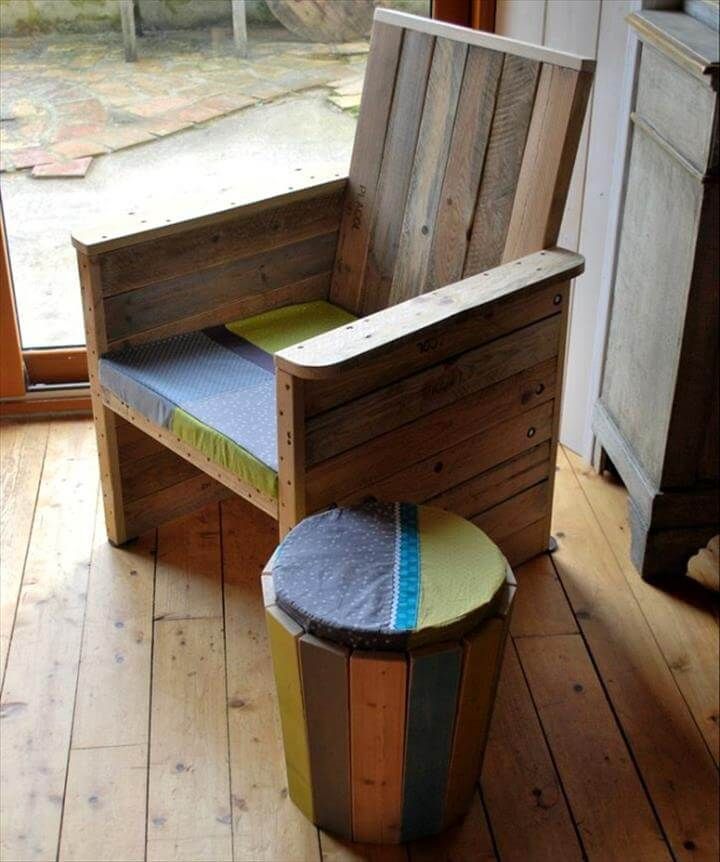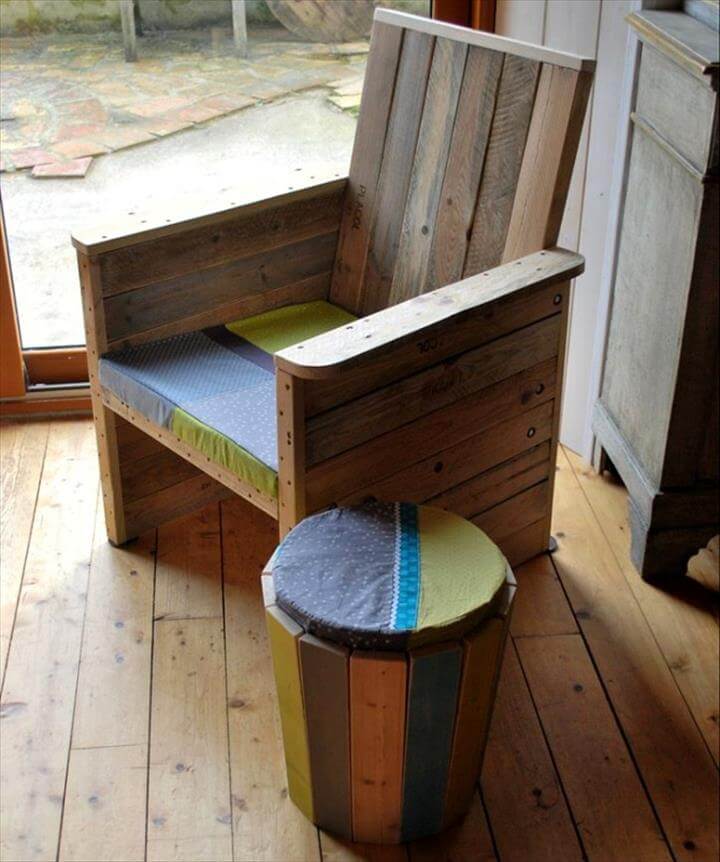 Craft the pallets for any custom furniture model having in your mind, this block style robust cushion chair and round cushioned ottoman or side table also tells here about an super ingenious use of pallets! Clone this sitting set for book reading, part time garden sitting and also for daydreaming!
Pallet Cool Fish Adirondack Chair + Garden Decor: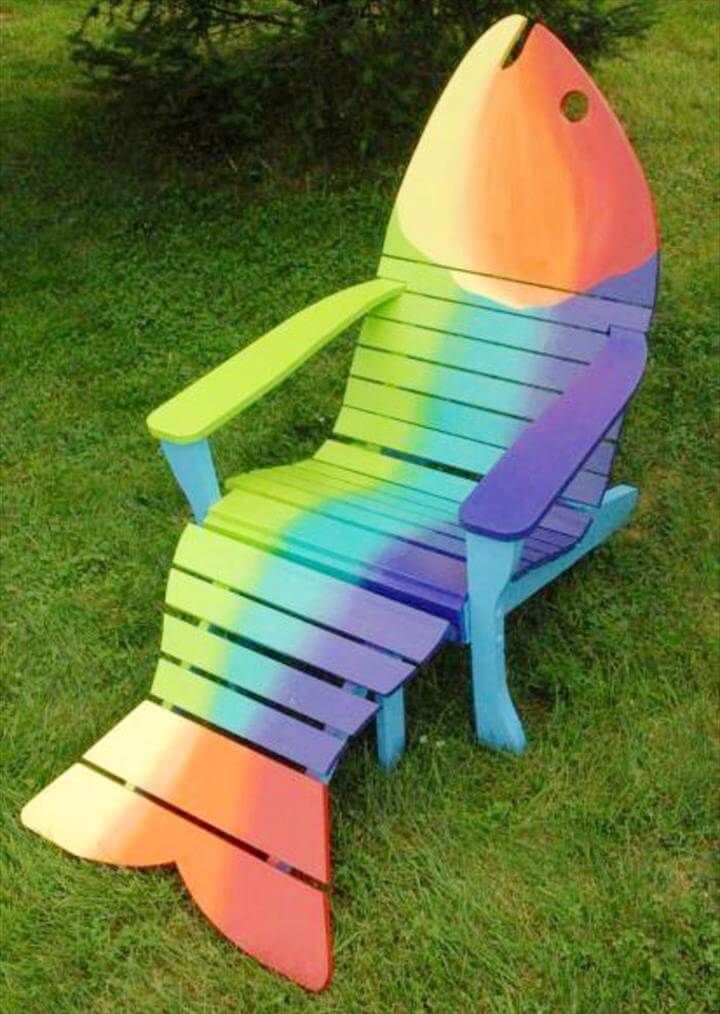 This is here a basically Adirondack chair but has all been raised in fish style, foot rest is the tail of the fish and rest of fish body gives the berth and backrest of the chair! It would more be a decorative object to your garden than a sitting chair, would also be a lovely garden gift to your kids!
Pallet Bathroom Shelf with White Over Written Banners: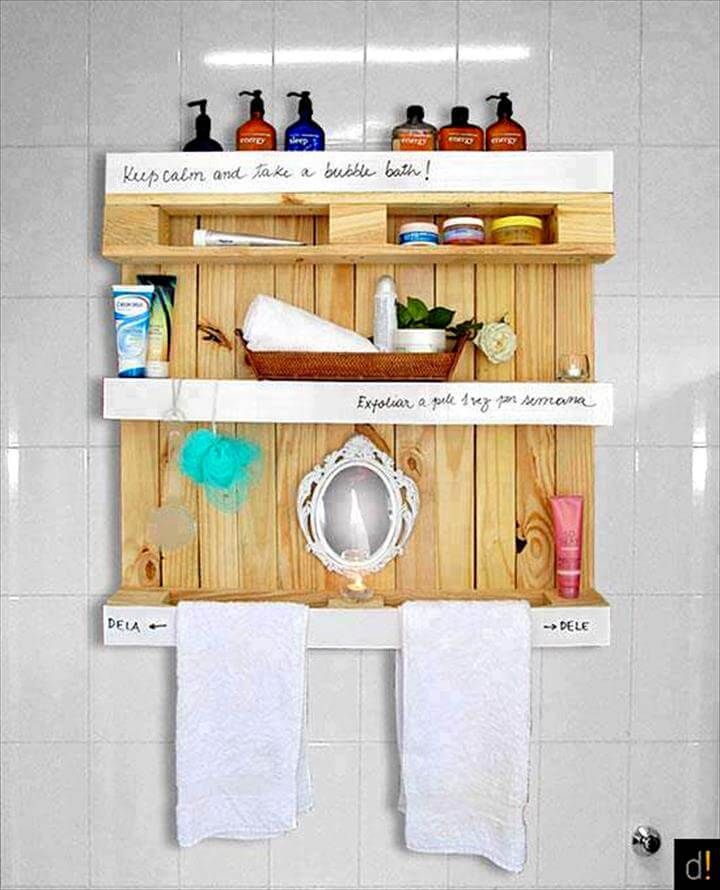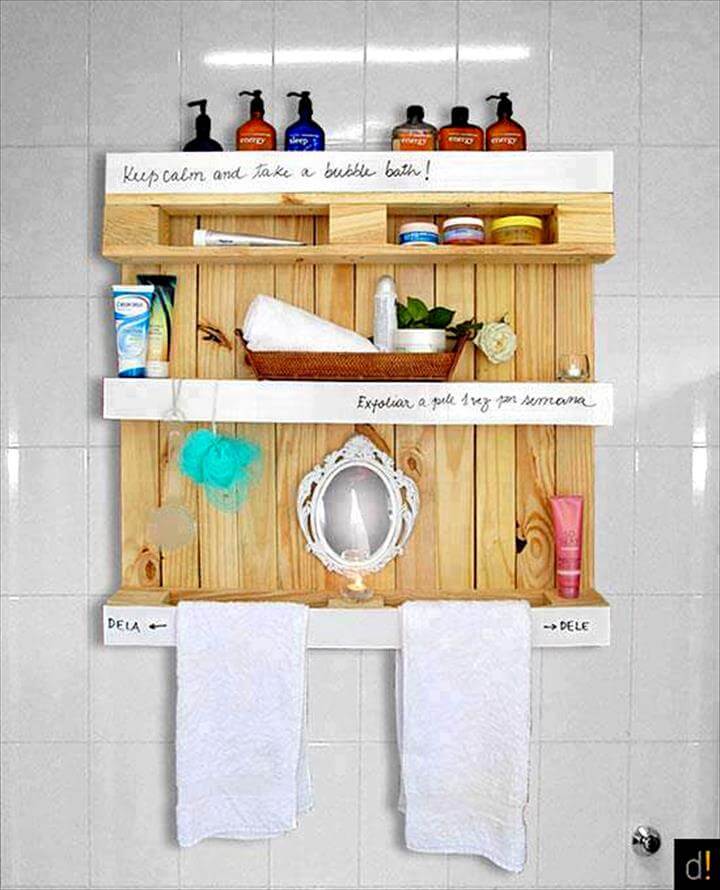 Grab this stylish bathroom shelf, having separate built-in portion to organize the toiletries, bathroom mirror and towels! There are white banners mounted in front of shelving levels and there custom letters written over them using black marker!