If you're looking for a natural way to improve the condition of your hair, consider making your own diy hair mask. There are a variety of homemade hair mask recipes that you can try, depending on your hair type and the condition you're hoping to improve. For example, if you have dry hair, you might want to try a mask that contains avocado or olive oil. If your hair is prone to tangles and knots, a diy hair mask with egg whites could be helpful. And if you're simply looking to give your hair some extra shine, a diy mask with yogurt or honey could do the trick. No matter your specific needs, there's sure to be a diy hair mask recipe that's right for you.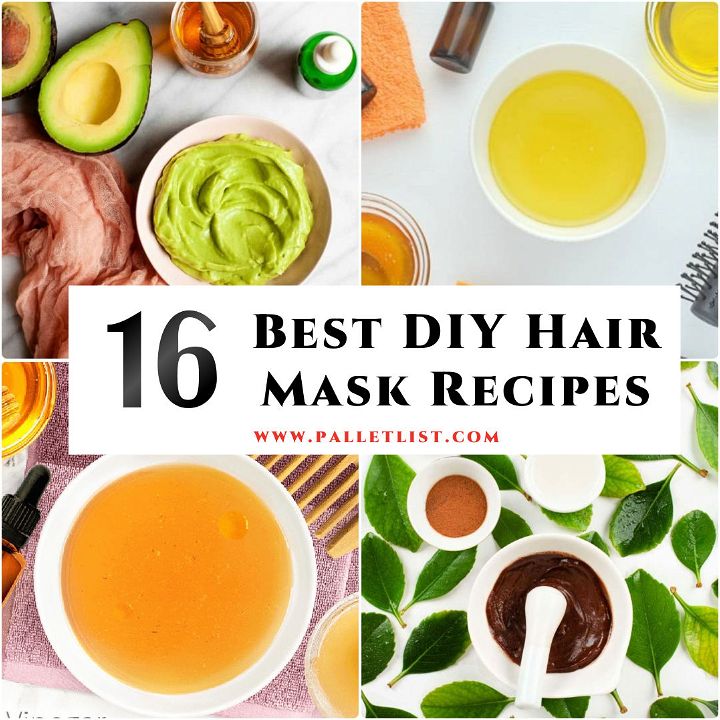 Natural hair masks are a great way to keep your hair healthy and help with dandruff, split ends, dryness, and more. These 16 homemade DIY hair mask recipes are easy to make at home and will only cost you pennies. Get the best results when you DIY a homemade hair mask with a few ingredients you probably already have around your house! The best part is that you can mix and match these ingredients to make as many hair masks as you want!
1. DIY Hydrating Hair Mask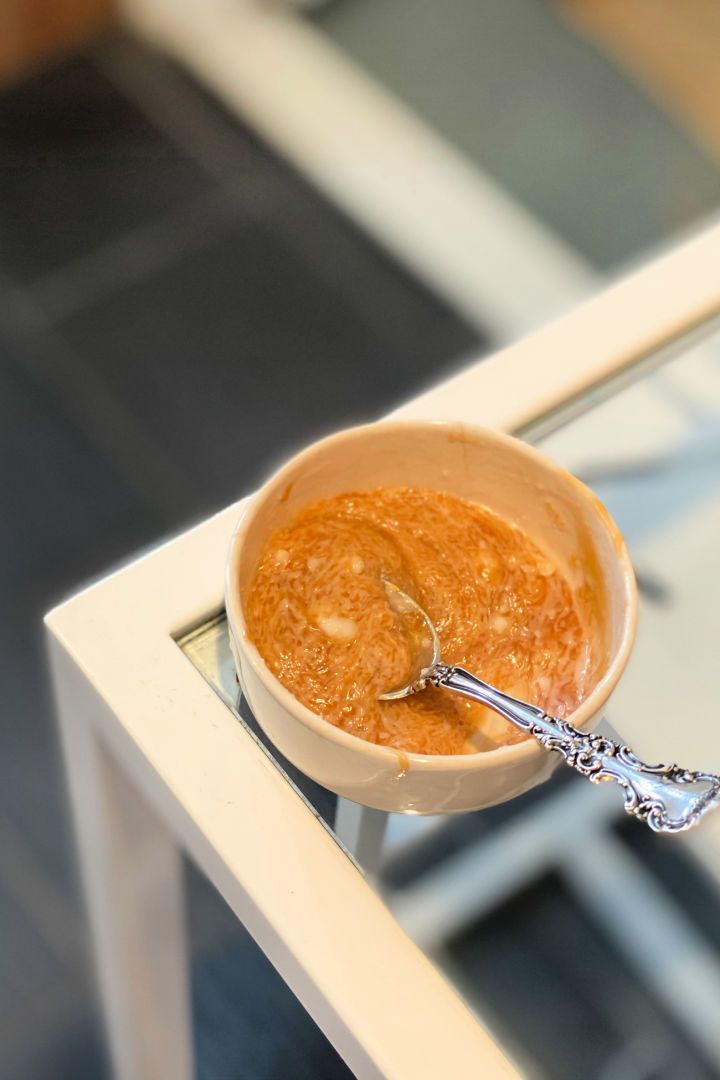 This DIY Coconut oil and honey hair mask is all-natural, inexpensive, and easy to make, leaving your hair looking and feeling healthier! This is a great hair mask recipe that nourishes your hair moisturizes it, and makes it soft. It is formulated with natural ingredients that pack a punch. This DIY recipe will give your tresses a boost of ultra-hydrating moisture, leading to more manageable hair that won't break as easily. Make this quick and easy hair mask recipe that will hydrate your dry, damaged hair. thestripe
Ingredients: Coconut Oil, Honey, Essential Oil(Optional)
2. Make Your Own Natural Hair Mask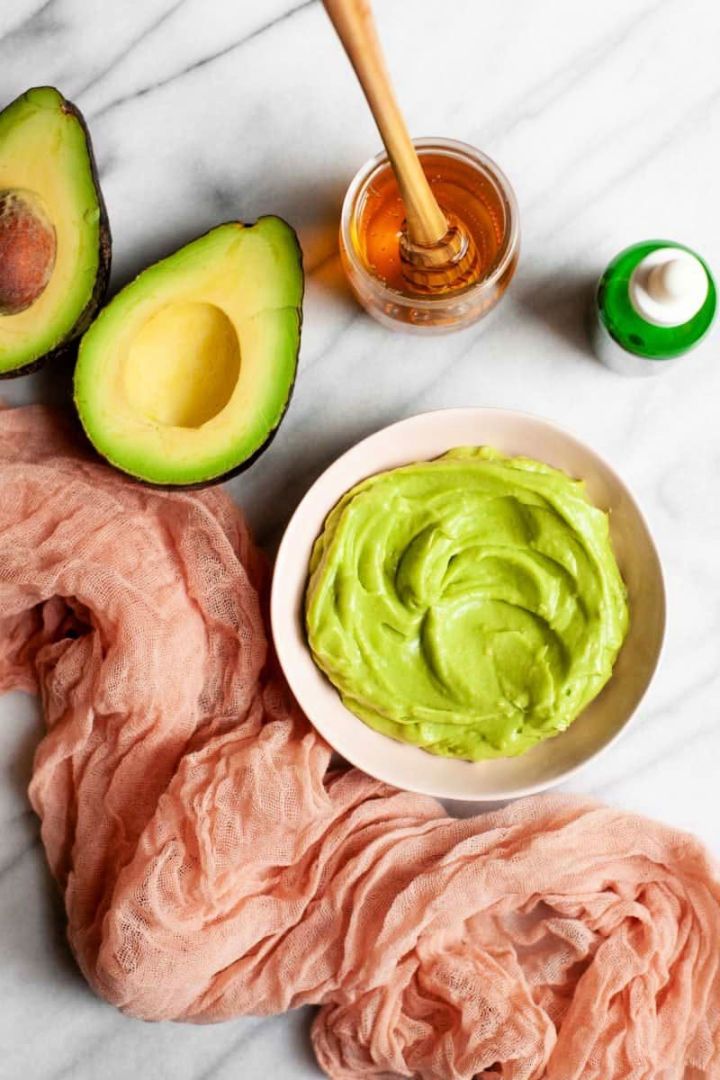 If you want to give your hair a unique DIY-style treatment that nourishes and hydrates it deeply, then this avocado almond hair mask is just what you need. It is made with avocado oil which thoroughly nourishes the hair and scalp, and honey, which coats each strand of hair, leaving them shiny, strong and hydrated. So ditch your chemical-laden shampoo for this DIY natural conditioning mask recipe. wholefully
Ingredients: Avocado, Honey, Olive Oil, Lavender Essential Oil(Optional)
3. Homemade Hair Mask For Damaged Hair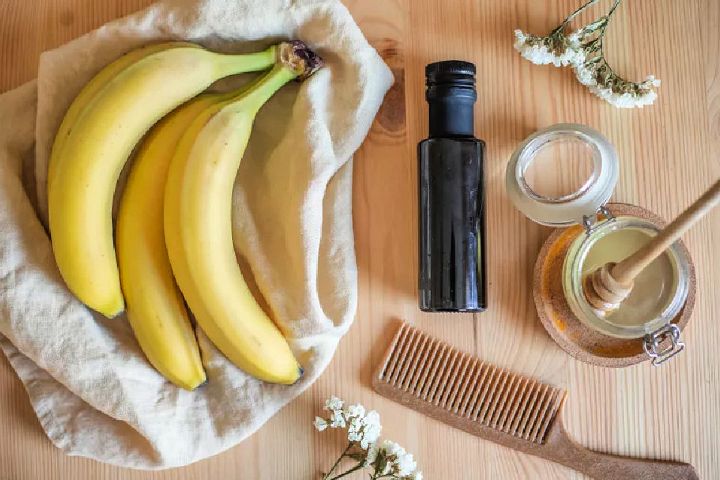 Looking for a nourishing hair mask that's easy to make, reasonable and gentle enough for daily use? DIY homemade banana & honey hair mask is just the dish for you! This recipe will help you to soothe dry hair, add shine and make your hair more manageable. This DIY hair mask is gentle enough for daily use. It won't clog your pores and will help in restoring damaged strands. Add this perfect DIY hair mask to your routine and give your hair the nutrients it needs. treehugger
Ingredients: Banana, Olive Oil, Honey
DIY Lip Scrub: These homemade lip scrubs will save you money, your time and even some ingredients. Perfect for those looking for homemade lip scrub recipes that are easy to make, these recipes have ingredients that anyone can find in their kitchen.
4. Best DIY Strawberry Hair Mask
Try this DIY strawberry hair mask if you have dry or tangled locks! It is a great choice for your natural beauty routine and an easy way to make your hair healthier, nourished and hydrated, as strawberries are full of nutrients and antioxidants. This is a quick, inexpensive and easy DIY hair mask recipe that will provide you with healthy, beautiful hair. With only a few ingredients, you'll get this luxurious deep conditioning hair mask you've been looking for. treehugger
Ingredients: Strawberries, Honey, Coconut Oil, Apple Cider Vinegar
5. How to Make Honey & ACV Hair Mask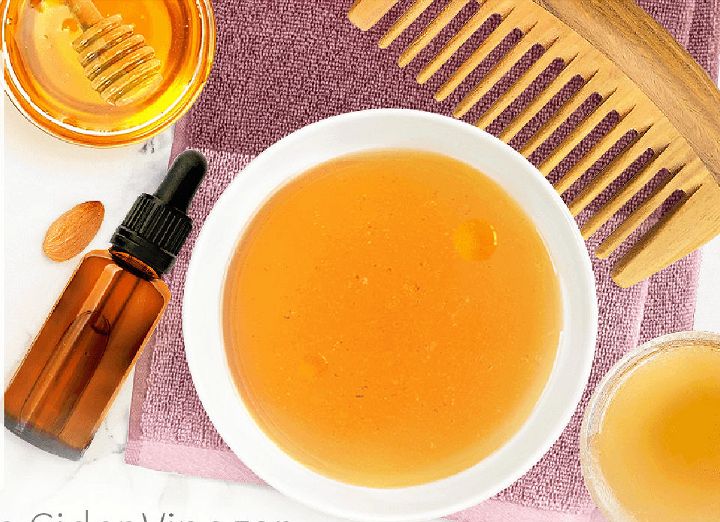 Do you have dry, frizzy hair? Get a great deal here! Turn your locks from dull and lifeless to shiny and bouncy with this DIY honey & ACV hair mask. It is made out of honey and apple cider vinegar. The honey provides the hair with nutrients, while the ACV helps to balance the pH levels and cleanse the scalp. You can use this mask as often as possible to give your hair the hydration it needs. It can be used on all hair textures and gives your hair deep conditioning treatment. Try this recipe to eliminate dry and frizzy hair. herbazest
Ingredients: Honey, Apple Cider Vinegar, Almond Oil
6. Coconut Oil & Cinnamon Hair Mask For Growth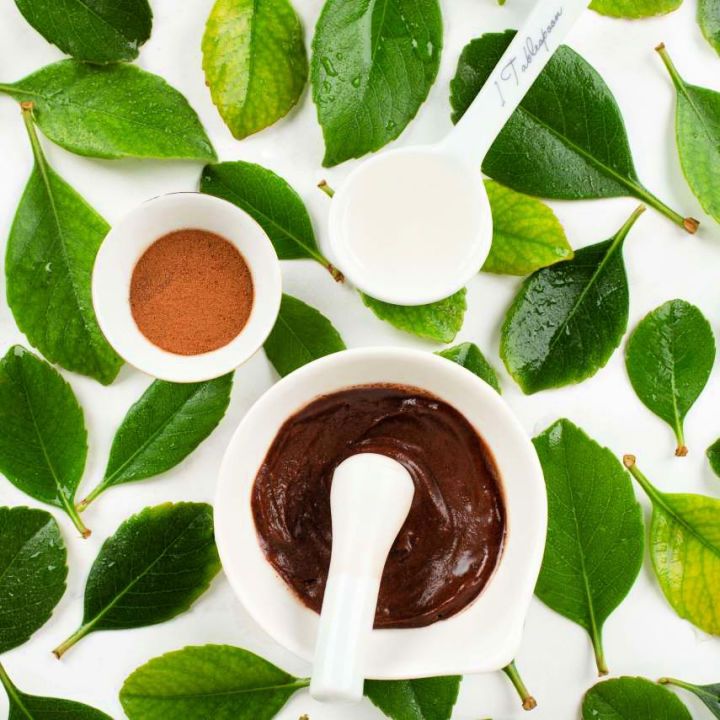 Want healthy and radiant hair? This DIY coconut oil and cinnamon hair mask will give your dry and damaged hair a bright, silky, and strong makeover! This hair mask will restore your natural curls and shine and is a perfect solution for dry, damaged hair. Coconut oil is a natural moisturizer that is great for dry and damaged hair, while cinnamon has anti-inflammatory properties that help to soothe scalp irritations, stimulating circulation in the scalp to promote hair growth. It is also a simple, low-cost hair treatment that can be done at home. Use the DIY hair mask today for a quick fix! naturesflavors
Ingredients: Coconut Oil, Ground Cinnamon
7. Green Tea & Apple Cider Vinegar Hair Rinse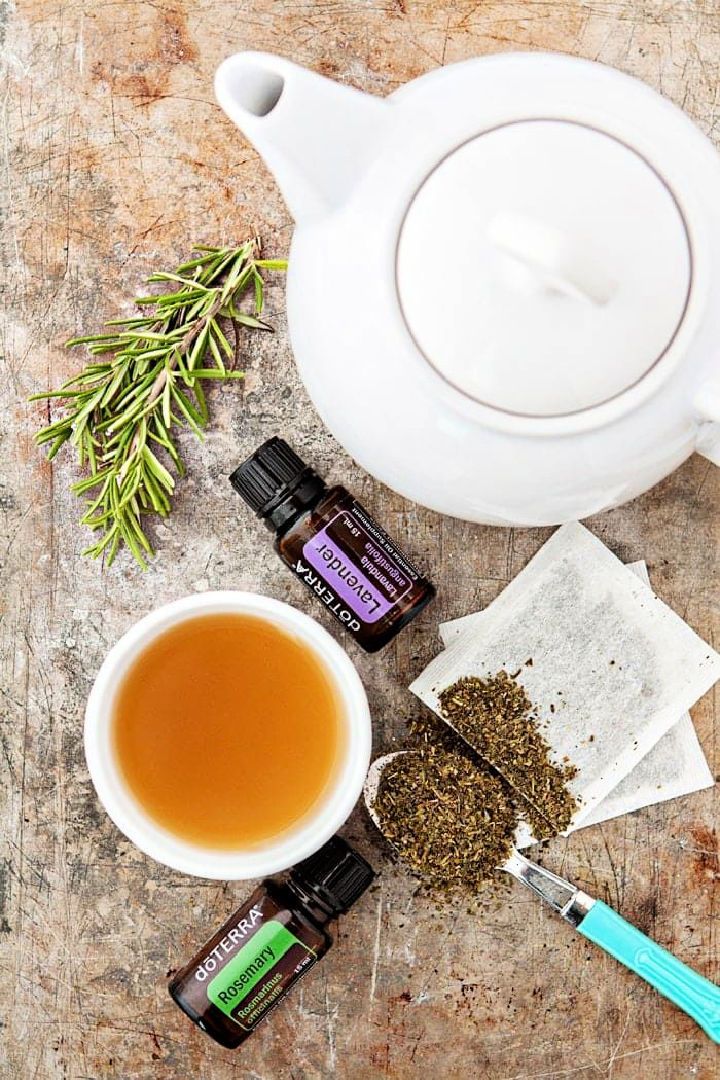 Does your hair feel a little dried out? The DIY green tea & Apple Cider Vinegar hair rinse will make it soft, shiny, and bouncy. This simple, all-natural recipe for hair rinse is perfect for those with sensitive skin or allergies! This DIY hair mask recipe will help you to create a beautiful mane and to rejuvenate your hair. It's a great natural alternative to chemical-laden store-bought shampoos and conditioners, restores hair health and removes buildup. It's easy to make with just a few ingredients you probably already have in your kitchen cupboard. Make it today! goodlifeeats
Ingredients: Green Tea, Apple Cider Vinegar, Lavender Essential Oil, Rosemary Essential Oil
8. DIY Oatmeal Hair Mask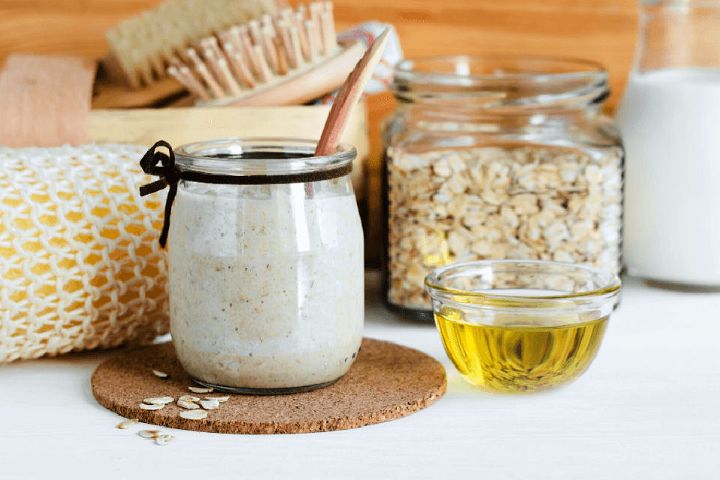 Scratch your head, I'm out of ideas. No worries, a DIY oatmeal hair mask recipe here will revive your lustrous locks. Why spend hours in the salon when you could be in the kitchen making a nourishing DIY oatmeal hair mask? This recipe is easy-peasy; just put ingredients in a bowl and stir! This DIY oatmeal hair mask is the perfect way to give your tresses a protein boost. It is perfect for dry, damaged hair it's free of any harsh chemicals or a long list of ingredients. Spice up your lathery locks with this easy and effective hair mask recipe! allthingshair
Ingredients: Oats, Honey, Milk, Coconut Oil
9. Castor Oil Hair Mask Recipe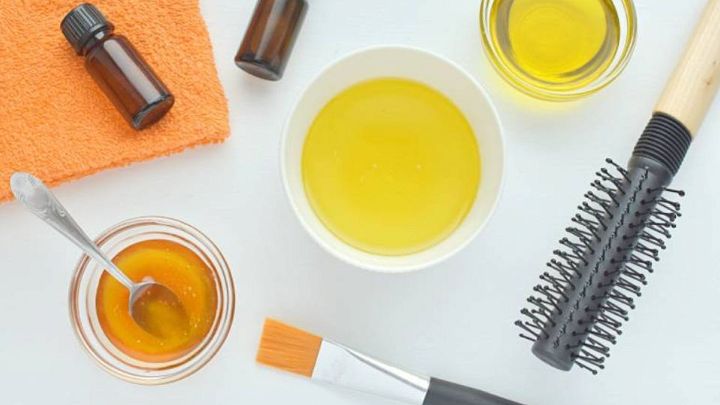 Are you looking for ways to improve the health of your hair? Homemade Castor Oil Hair Mask is a natural hair care treatment that's both economical and effective. It's perfect for even the most sensitive scalp as castor oil is an excellent conditioner that helps prevent dandruff and other scalp conditions. Castor oil hair masks can help with dry, brittle, frizzy and unmanageable hair and is the best way to grow long and strong hair. It is a natural alternative for hair masks, is highly resistant to breakage, and weakens split ends. Get this luxurious one-step solution for damaged hair you'll be amazed at the results. healthshots
Ingredients: Castor Oil, Honey, Lemon Juice (few drops)
10. Homemade Hair Mask For Dry Hair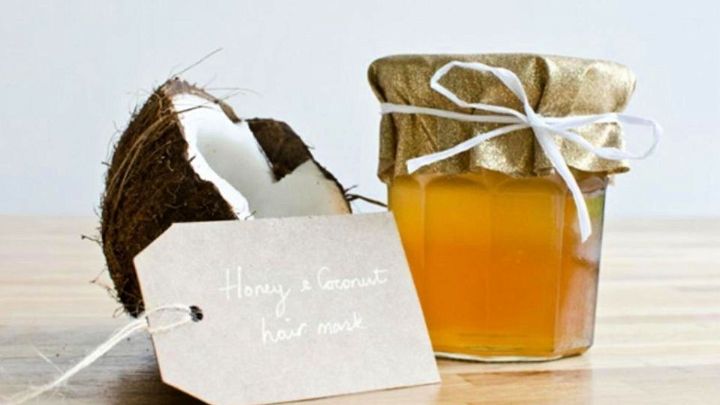 No more split ends or rough, dry hair! Get ready for gorgeous locks with this easy-peasy homemade mask recipe! DIY honey hair mask that will leave your hair feeling smooth, soft and shiny. Prepare this best-smelling deep conditioning mask for your damaged hair! This DIY hair mask is perfect for treating different hair conditions and is one of the easiest and most effective ways to care for your hair without spending a fortune on a store-bought product. Make this hair mask and get the healthy, voluminous hair you always wanted. graziadaily
Ingredients: Honey, Coconut Oil, Apple Cider Vinegar
11. DIY Banana & Olive Oil Hair Mask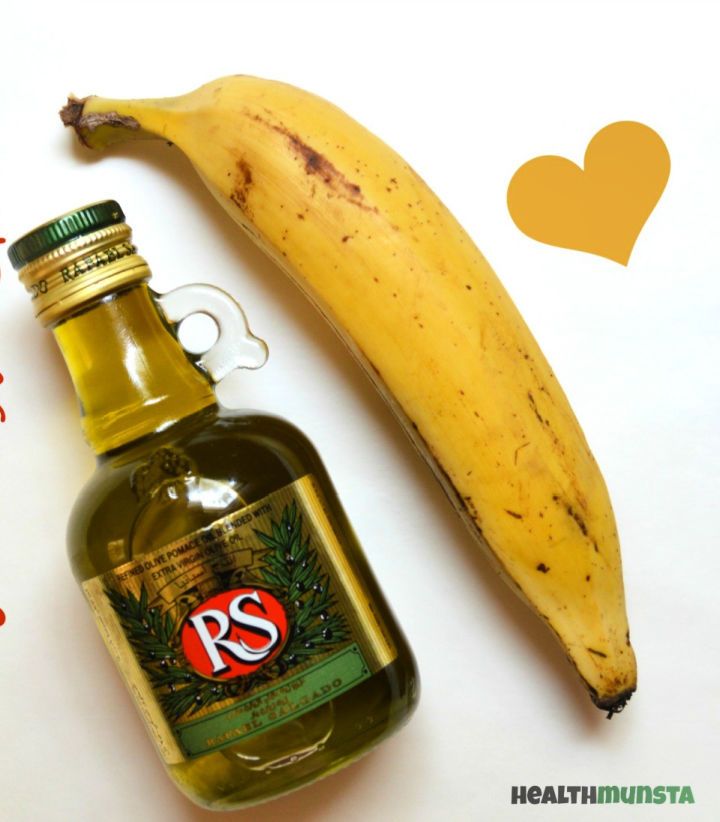 You'll be surprised at how easy it is to turn your favorite fruits into a nourishing treatment for your tresses. DIY banana & olive oil hair mask is a simple and easy way to relieve dryness and damage while restoring moisture and shine instantly. It's a healthy, natural solution to dry or coarse hair, prevent hair damage and promote healthy hair growth. It clears away dirt, grime and excess oils from your hair, boosting the shine and softness of your hair. Give your locks some love with this DIY Banana & Olive Oil Hair Mask. bellatory
Ingredients: Banana, Olive Oil
12. Homemade Egg & Olive Oil Hair Mask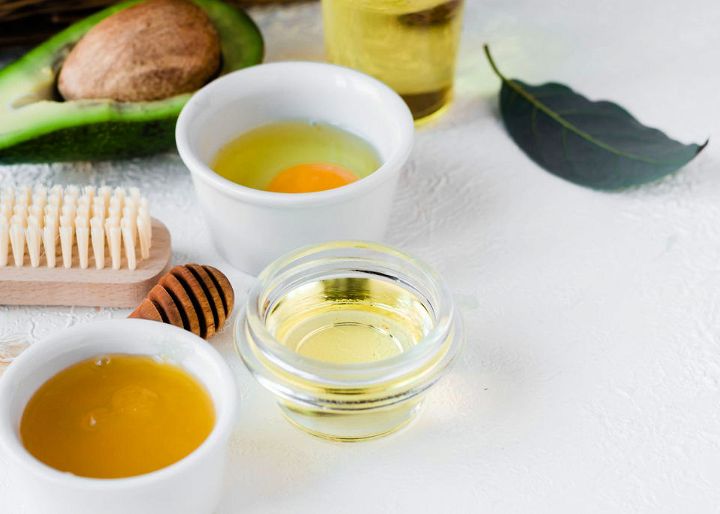 If you ever wanted to try a DIY hair treatment, here's an idea for you! DIY egg & olive oil hair mask is a DIY beauty treatment that can help you achieve silky smooth locks! This homemade hair mask recipe is a perfect way to nourish your scalp and hair with essential oils, vitamins, and proteins. Olive oil is a natural moisturizer that helps to soften and condition the hair, while eggs are high in protein, which help with hair growth. It's the perfect hair care at-home treatment for those days you're too busy or just want to pamper yourself. Plus, it won't cause any damage or have a negative effect on your hair because you know what you're putting in your body. Give this simple DIY a try today! oliveoil
Ingredients: Egg, Olive Oil, Honey
13. Making Your Own ACV & Lemon Hair Mask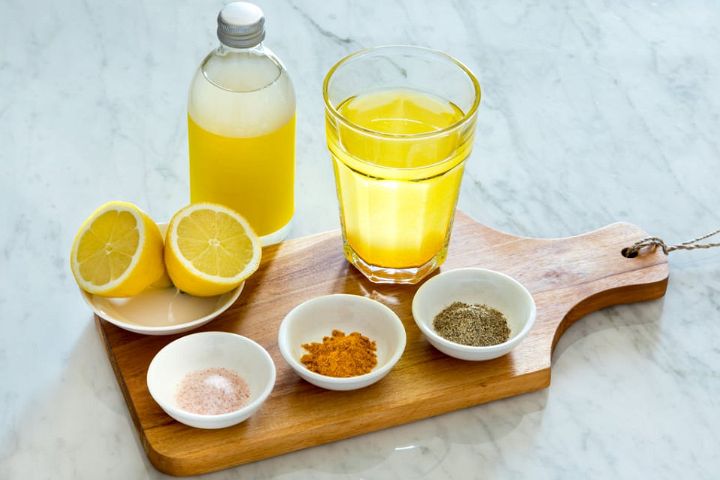 Completely dry strands or brittle ends? Want to give your hair a natural, healthy sheen? It's time to get started with this DIY ACV & lemon hair mask. With simple ingredients and easy-to-follow steps, you'll be on your way to shiny and beautiful locks in no time. This DIY hair mask is a natural, easy, and inexpensive hair mask that will give you healthier hair. It is fantastic for thinning hair and will leave you with fuller and healthier hair and a rejuvenated scalp. Try this perfect recipe now to get rid of your frizzy hair and itchy scalp. popsugar
Ingredients: Apple Cider Vinegar, Lemon Juice, Water
14. Make Yogurt & Honey Hair Mask at Home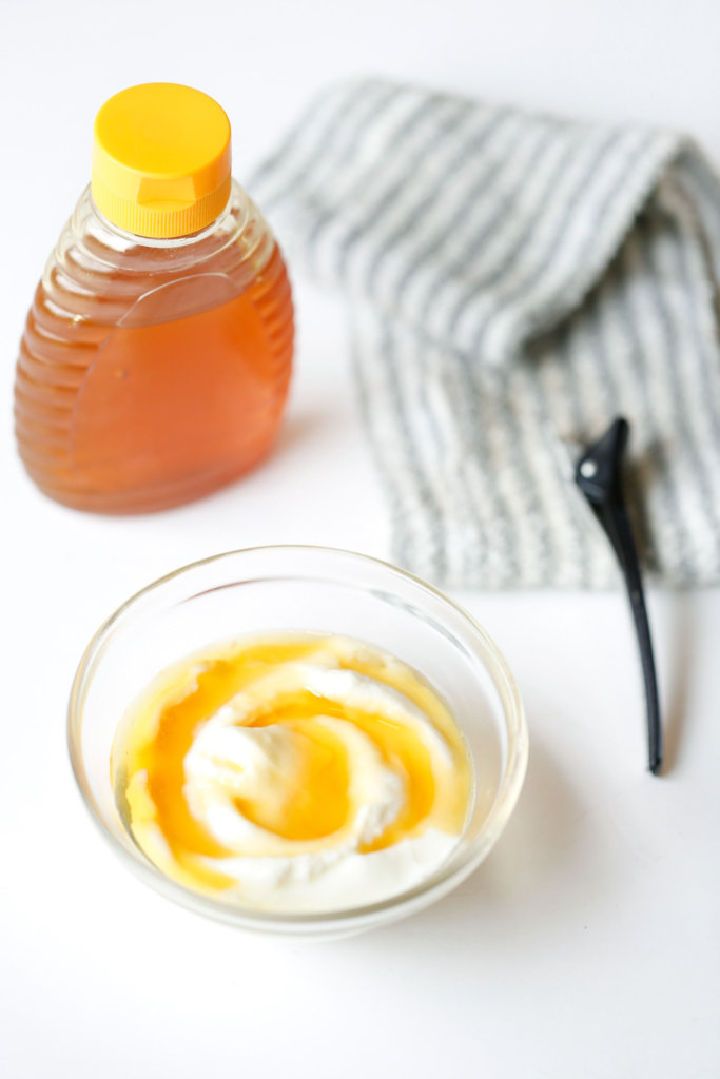 Do you want thick, natural, healthy hair? DIY yogurt honey hair mask is the best way to natural stronger, and healthier hair than you've ever before. Hair breakage happens because of over-styling, chemical treatments, and environmental stressors. This homemade hair mask is a powerful combination that moisturizes, strengthens and prevents breakage. Honey will make your hair silky soft while also boosting its natural sheen and brilliance, and yogurt helps to restore the pH balance. This hair mask is best applied on damp hair, so it's a good idea to wash your hair before applying it. Make this homemade mask to boost your hair's shine, texture, and health. littlegreendot
Ingredients: Honey, Yogurt
15. DIY Aloe Vera Hair Mask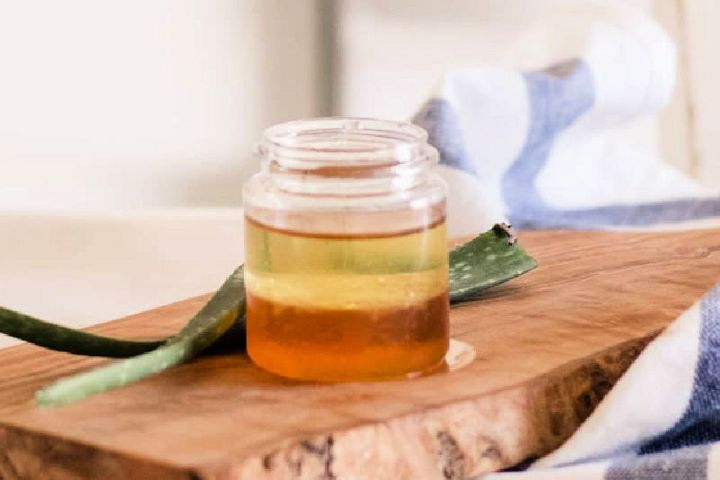 Tired of expensive, complicated hair masks? Here is a great alternative! We know the struggle to feel like our best selves with dry, damaged, frizzy hair. We also know the energy it takes to care for a head of thick, wavy locks! That's why we have this DIY aloe vera hair mask recipe for you for easy application without any complicated steps. This is an all-natural and organic hair mask that can help your hair be moisturized and beautiful. It will help you repair dry and damaged hair while making it healthier and shinier. It is an easy recipe you can make at home with simple ingredients. DIY this recipe to save money and time. ouroilyhouse
Ingredients: Aloe Vera Gel, Argan Oil, Honey, Lavender & Rosemary Essential Oil
16. Homemade Papaya Hair Mask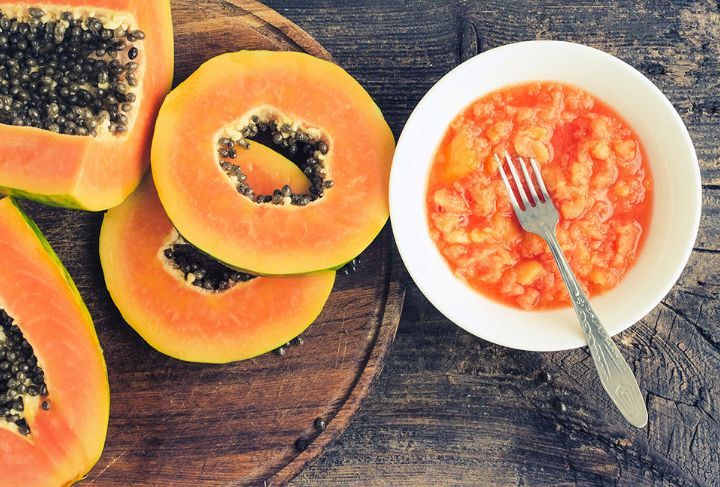 Trying to get rid of dandruff? Have you tried this DIY papaya hair mask yet? It's great for boosting shine, making your hair healthier, and repairing damaged locks. Papaya has an anti-fungal property that is a perfect solution to dandruff, it also nourishes and moisturizes your hair. This hair mask is easy and cheap to make and provides multiple benefits as it helps with hair growth and luster and makes your hair feel healthy and strong. It also contains vitamin C, which aids in reducing dandruff and eczema on the scalp. Give your hair the love and care it needs. Try this natural hair mask today! to clear out dry, damaged, and dull hair. emedihealth
Ingredients: Papaya, Oil(coconut or olive oil), Honey, Aloe Vera Gel
Conclusion:
If you're looking for an easy and affordable way to improve the condition of your hair, give one of these homemade DIY hair mask recipes a try. With ingredients that are likely already in your pantry, you can whip up a mask that will nourish and revitalize your locks in no time. Have you tried any of these diy hair masks before? What was your experience? Let us know in the comments below!