If you have access to an outdoor space in your home, one of the best things you can do is to invest in your patio. If you don't already have a patio, it's very easy to build and it works in both small and large spaces. If your home has an existing patio, chances are that it might be time for an upgrade. A lot of people think that upgrading the patio is going to be expensive and difficult but in reality, the process can be quite simple if you plan it right. The most important thing to keep in mind is what you need. It would also be good to consider your overall environment as well as local building regulations, but there are a lot of ways to incorporate the features that you really want.
One of the most common mistakes that people make is that they look at premade patio designs, or they will go through a catalog of patio styles and want to replicate that look. While there is nothing wrong with drawing inspiration from elsewhere, the challenge is installing that in your own space. Start with a thorough evaluation of what is and what isn't possible in your patio space and then build from there. Alternatively, you can look into some of the specific upgrades we'll discuss below and see what will work in your situation.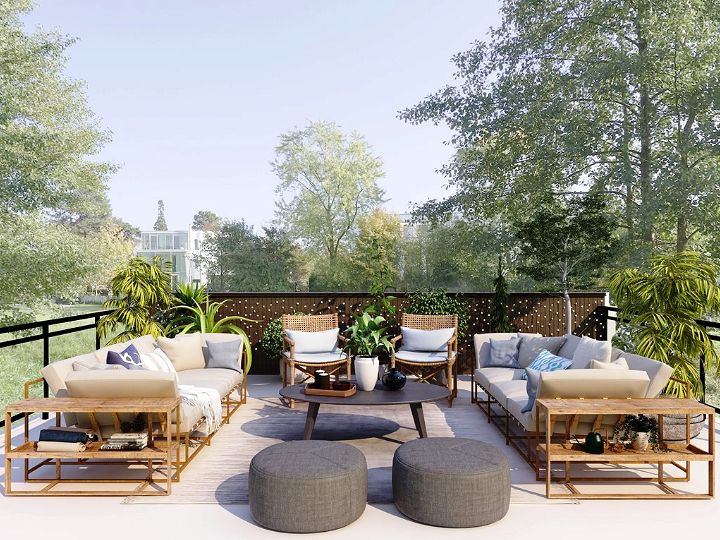 Outdoor Kitchen
One of the biggest benefits of patio space is that you get to cook outside. When you are throwing a party, or just spending time with the family, one or two people don't have to be in the kitchen inside preparing things while the others sit outside. Moreover, cooking out in the open is a different experience altogether. Outdoor kitchens are very versatile depending on how you choose to build one and the specific kind of amenities you choose to include. A critical component in an outdoor kitchen is a good BBQ pit. Modern outdoor kitchens minimize the work involved even further by using gas BBQ grills. This way you don't need to bother with lighting coal, or clearing up the ash when you are done cooking. They look and work just like regular BBQ grills but they use a gas burner which you can switch on and off just like a gas cooktop.
Seating
If you are spending time outside, you don't want to be standing up and walking around all day. You need some good seats that you can relax on, or possibly a recliner set up that you can get really comfortable in. Seats can be a little challenging to pick because you need to consider whether you want them to be outside permanently, or you want to be able to move them indoors when they aren't being used and the weather isn't favorable. A good solution is to get seats with a weatherproof frame and then get informal outdoor cushions for seating to use when you are outside. This way, you can leave the frames outside all year, and when you need to use the seats just throw on some cushions and you are good to go. If you want it to be a permanent solution, you can always get cushions that are weatherproof so you can leave them outside all year long.
Speakers
When you are spending time outdoors with some great weather and your favorite people, it's nice to have some entertainment. Some people prefer to have a very robust entertainment system complete with a TV, media center, recliners, and everything else. However, if you want to keep it simple, you can just get a good set of outdoor speakers and set those up around your patio. To make things even easier, get some speakers that can be connected via Bluetooth. This will eliminate the need for a lot of wiring and will also eliminate the need for a central media deck.
You can just connect your phone or your laptop through Bluetooth and air music directly through the speaker. Outdoor speakers come in a lot of different sizes, models, configurations, and specifications. Look into the different options before finalizing your selection to get the best sound quality.
Fans
In the summertime, it can get quite warm outside and there is also the issue of bugs and other pests. While air conditioning won't be a very effective solution, there are a lot of fans that can do an excellent job at keeping the space cool and keeping the bugs away. If you live in an exceptionally warm area you can get mist fans. These generate a very light mist which is dispersed with the air from the fan. These fans are great for cooling down a space even under the scorching sun. Think of it as an outdoor air conditioner. If you have a roof that can support the weight of a fan, you can also go for ceiling fans for your patio.
Lights
Patios are a great place to hang out during the day or in the evening, but they are even more fun at night. To prepare the patio for nighttime use, the first thing you need is some lights. Ideally, you should go for LED lights as these produce a lot of lumens, no heat, and are available in many forms, sizes, and colors. If bugs are a problem in your area, consider getting a light that can change colors from white and yellow light to orange and red light. Orange and red light attracts much fewer bugs and it's also very comfortable on the eyes.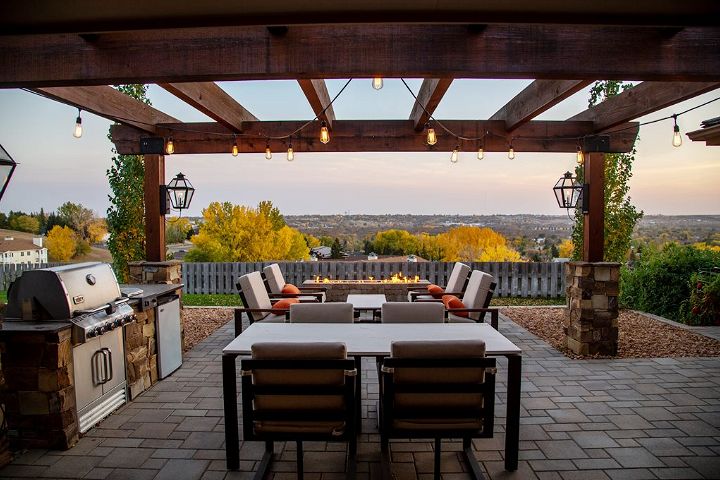 Other than functional upgrades, there are also a lot of aesthetic upgrades that you can make to enhance your patio space. For instance, redoing the flooring, changing the paint in the area, adding some plants, or even including artificial decorations, are all great options. Upgrading your patio is a great way to liven up the home and it's also a fun project to do on your own or with your family. A lot of the things that you do for your patio, for instance redoing the paint, are simple jobs that you can do with basic tools. If you're in search of a DIY project for the summer, upgrading the patio can be the perfect pastime.