People find it often a daunting task when it comes to getting material for their furniture. Whether you want to use the furniture indoors or outdoors, getting quality material that can last you for a considerable duration is challenging. When you select your furniture, the material is an essential element.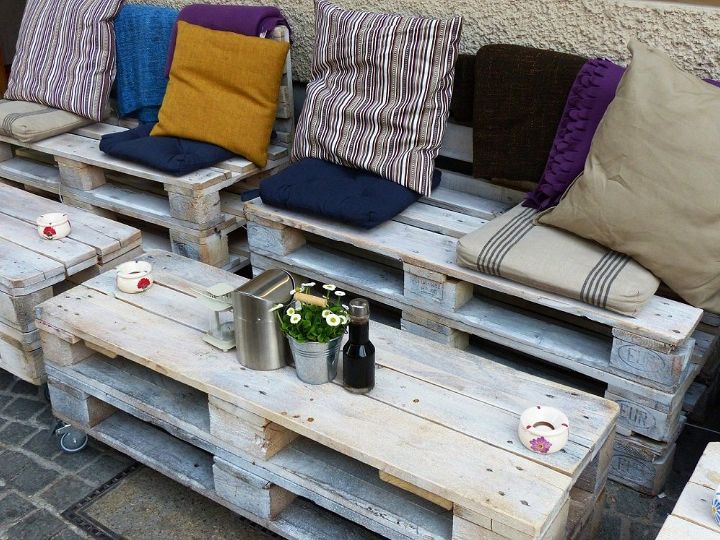 Spruce Up Your Space With Amazing Pallet Furniture Material
Pallets are wooden structures used in supporting goods while on transit. The pallet creates a firm foundation that allows proper placing of goods on flight or ship. The pallet also supports products in a stable position as they get lifted by a pallet jack, front loader, forklift, erect crane, or jacking device. 
People continue to adopt pallets as furniture due to the versatility, affordability, and authentic pieces that make a space unique. Pallets allow you to be creative. You can gather DIY ideas and create chairs, beds, desks, storage areas, patio bars, patio pallet furniture; the list is endless. All that the patio needs is a suitable quality sealant. After making a wood sealers comparison, it's much easier to arrive at an option that matches your needs and budget. With the perfect choice, you can assemble the pallets to whatever items you want to create. 
Another crucial aspect is getting appropriate materials for furniture. Below have a look at some tips to guide you in getting affordable furniture material in your quest to create unique, inexpensive furniture and sprucing up your space.
1. Local Shops Or Facilities 
Quality furniture is everyone's choice, but also affordability is essential. One of the places that you can get affordable materials for your pallet furniture is at the local shops or the facilities. These two spots are a gold mine when it comes to getting pallets. Suppose you need specific pallets, and you happen to be a valued customer. In that case, you can ask your local store or facility. They will be glad to hand them over to you. You can ask them to keep them aside for you once they offload their new stock.
2. Distribution Centers 
Pallets are one of the most inexpensive materials that you can use to get quality furniture. Another place that you get good quality non-conforming pallets is at the distribution centers. You can contact the distribution center to inform you once they have pallets that they need to dispose of.
3. Outside Of Business
When many businesses receive products, they offload and put the pallets outside. Most times, you will notice pallets leaning on the business entrances, probably to be picked by recycling trucks. You can always ask the arrangement to select the pallets; most will gladly agree since they are looking into creating more space. 
4. Visit Local Recycling Plants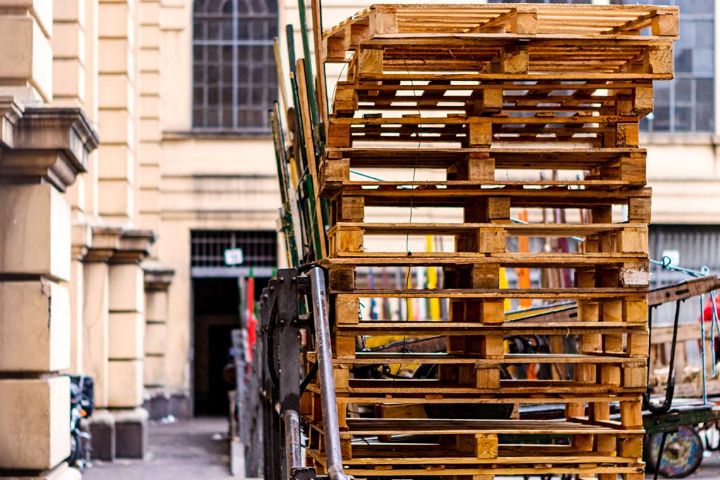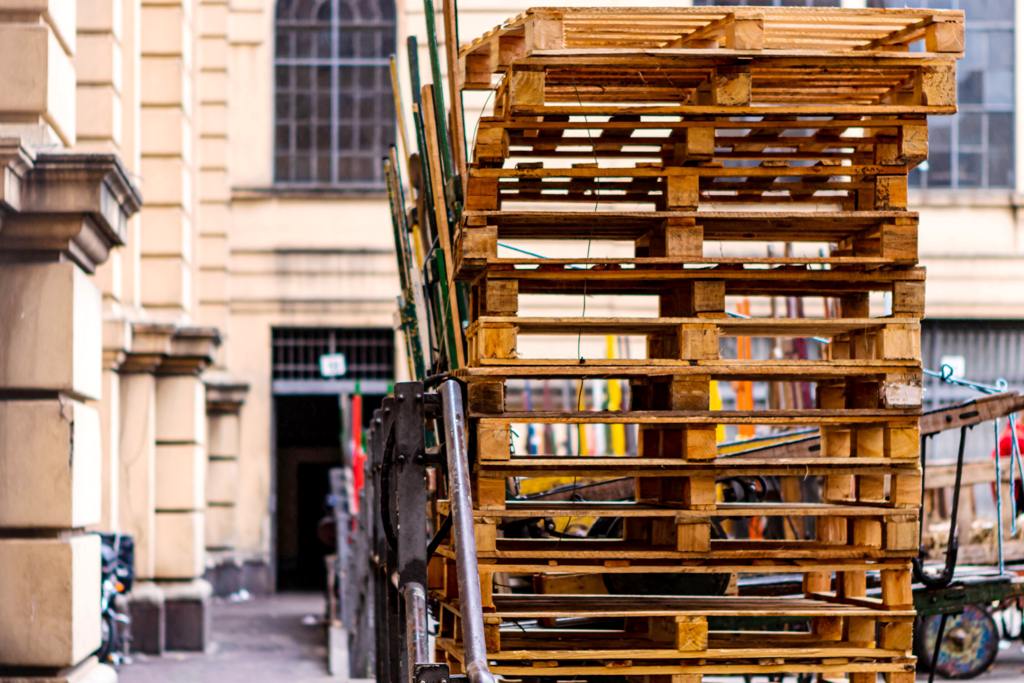 You can get good quality pallets from the recycling plants. The pallet recyclers usually receive good quality pallets that have no value to them. You can approach them before they are dismantled and ground. All you need to do is explain to them the type of pallet you need, and they can give it to you for free or ask for a small fee.
5. Construction Companies
Construction companies typically ship plenty of bulky construction items. The construction site is one of the places where you can get pallets of any size that you can use to create quality furniture. You can visit the site manager and ask what the pallet collection policy is. You can also offer to pick the pallets from the job site for free. The company will save money on hauling the pallets to recycling plants or the primary office.
6. Universities And Schools 
Schools and universities generally have wooden pallets that come with the deliveries, such as food, supplies, stationery, and more. They would be more than happy to have them collected to save on time and resources.
7. Liquor Stores 
Liquor bottles are delicate, and one of the ways to transport them is by using pallets. Visit the liquor stores to ask if they are willing to give out or sell the pallets. The best thing with the liquor store pallets is that they come in sturdy small-sized that would be ideal in creating chairs and stools.
8. Furniture Stores 
Yes, you can get quality pallets to make affordable furniture from the furniture stores. The furniture stores in your local area get plenty of pallets in different sizes as they ship in many pieces of furniture. The furniture store gets frequent new shipments, so this would be ideal for getting pallets to create space in the warehouse. You can also ask them constantly to keep you updated when they receive new shipments, so you never miss out on the pallet, especially if you own a business of creating affordable furniture from pallets.
9. Use The Internet
Well, there is no denying that the internet has taken over the world. And the internet is one of the places that you can source for pallets. You can post on the internet that you require pallets for affordable furniture, and in no time, you will start getting the contact of places to pick up. You will only need to arrange for transport.
10. Start A Pickup Service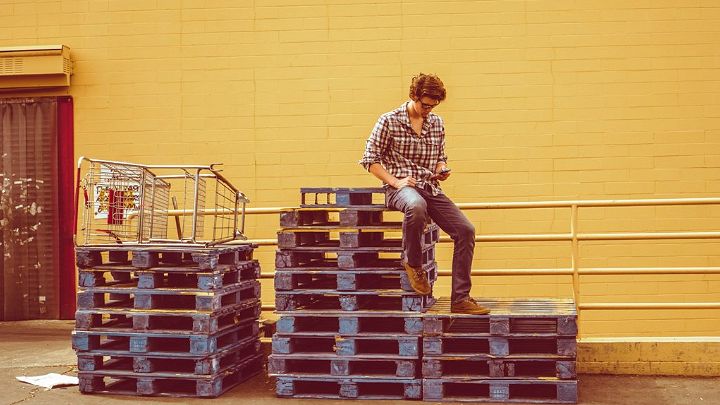 As discussed, using a pallet is one of the ways that you can get affordable furniture. However, getting the materials for the furniture can be challenging. You can start a pallet pickup service from numerous locations. You can offer to pick up from local businesses for free as you will be helping to pick up the pallet that they don't need, and you end up getting all the pallets for free. All you have to do is make calls to various places depending on your pallet needs. If you happen to get extra pallets, you can save them for future use if you need to make more furniture.
Getting quality affordable furniture should not be stressful, as you can see above the different ways you can get the materials for furniture. More and more people continue to embrace the various ways they can use pallets to transform their spaces. The best thing with pallets is the affordability, as in most cases, you can get the pallets at no extra cost.