Do-it-yourself enthusiasts take pride in their work. They love learning new skills and taking on projects that allow them to improve their homes. If you're one of these people, you'll know that the process can be challenging, fulfilling and fun. In this article, we'll discuss some easy ways that you can renovate and enhance your home using DIY techniques.

By Doing Plenty Of Research
This will help you learn how to repair, replace or install something. You can get an idea of how much money you'll need to spend, and which tools and materials you'll require. Home improvement stores are always a good resource. You can also find plenty of helpful articles and videos online. Finally, don't forget to ask your friends, colleagues or family members for advice if they've tackled a similar project before.
Even though you're doing the work yourself, you may wish to seek guidance from a professional before you start. This could be an electrician, plumber, builder, interior designer, landscaper or architect. The people who visit rebornrenovations.com reflect the need for help with kitchen renovations, basement developments and bathroom remodels. They also want assistance with external renovations, infill and acreage builds, and garage additions.
By Taking Lessons
There are all sorts of lessons available for those interested in home improvement. They cover things like:
how to lay tiles or bricks
how to install a new roof
electrical or plumbing skills
plastering and carpentry
kitchen fitting
These lessons can be found both online and offline, and they're often provided by experts. They can give you the skills and confidence you need to tackle a wide variety of projects. Not only will taking lessons help improve your home, but it can also save you money in the long run.
By Getting The Right Tools
There are a few key pieces of equipment that every budding DIY enthusiast should purchase. They'll be useful for a wide range of different jobs and will enable you to do them quickly and efficiently. A good drill is essential, as is a set of screwdrivers. A hammer and reliable ladder will also come in handy for various tasks. Additionally, a sander will be useful for sanding down rough edges on furniture or walls.
Here are some other essentials you may wish to consider:
A set of saws for cutting wood
A variety of screws, nails and other fixings
A power strip for plugging in multiple electrical items
A tape measure
A level
By Making Safety A Priority
Practical tips to consider include always wearing the proper safety equipment, such as gloves, goggles and a dust mask. You should also be aware of your surroundings at all times. Additionally, it's important to have the proper tools for the job and to know how to use them correctly. If you have children or pets, make sure that any harmful chemicals or tools are out of reach and that there's no danger of them being injured by your work.
A first aid kit is a collection of supplies and tools that are used to provide medical treatment. It's important to have one because it can help you deal with any injuries that occur as a result of your activities. The kit should contain items such as bandages, antiseptic wipes, pain relievers and a thermometer. You should make sure that the kit's easily accessible and that everyone in the household knows where it is. Additionally, it's a good idea to keep a list of emergency phone numbers nearby, in case they're required.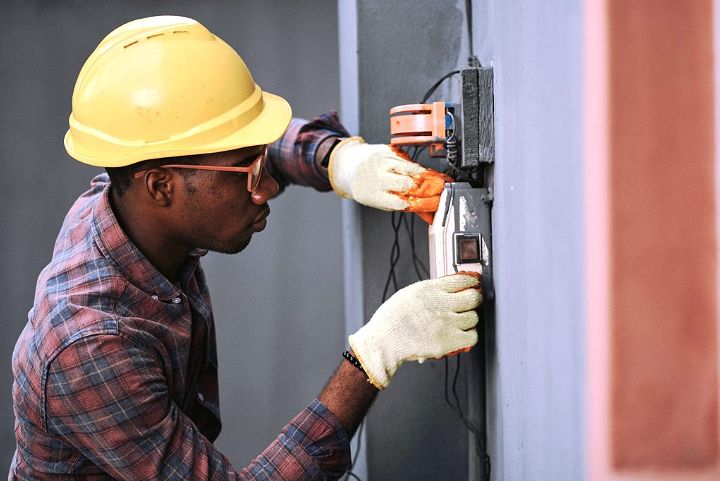 By First Tackling The Simple Tasks
One of the most important things for a beginner to do is to start small. Basic tasks like painting or staining a piece of furniture can make a big difference to the overall look of your home. Here are a few more things you could tackle at the beginning:
fixing leaky faucets
putting up shelving
hanging pictures and mirrors
installing new light fixtures
re-caulking tubs and showers
After a while, you may be confident taking on some larger tasks, such as building a deck or patio, or even extending your home.
By Getting Organized
If you're a DIY enthusiast, it's important to plan your activities upfront. This can help you save time and money, and ensure that your home renovation project goes smoothly. First, you'll need to decide what tasks need to be completed. Once you have a list of activities, you can start creating a timeline for each one. Be sure to allow yourself some flexibility, as unexpected delays can always occur.
It's also wise to create a budget for every project. By knowing how much money you have to spend, you can avoid overspending on materials or being too ambitious with your activities. You should also have a financial buffer in place, in case of unexpected issues. Finally, you'll need to start gathering the materials you'll need for your project. If you're not sure where to find supplies, check out your local home improvement store or go online.
Understand The Legal Aspects
Depending on where you live, there may be building regulations and zoning laws that dictate what type of work you can do on your property. These regulations exist for a reason – to keep you and your neighbors safe. If you're not sure whether or not your planned project is allowed, reach out to your local building department for clarification. They'll be able to tell you exactly what needs to be done in order to get approval for your project.
In terms of insurance, most homeowners' policies will cover damage that's caused by accidents. However, if you're planning on doing major renovations, check with your insurance company to see if they'll cover the work that's being done.
If you apply the tips we've supplied in this article, you'll be all set to proceed. With the right planning and preparation, you can begin your tasks and look forward to a great result. Before you know it, the work will be completed and others will be asking you for tips!