If you have a huge number of pallet woods in your homes, then you should not throw them. You should use them in making the pallet wood wall in your home. Cut the pallet woods in different lengths and join them against the wall in such design and shape that it can give an attractive look. Different colors of pallet woods give an amazing and antique look and give an excellent impression on your friends and guests. It is also easy to hanging decoration pieces or clock on the pallet wall with the nails.
If you want to make your room colorful then you should paint the pallet woods on the pallet wood wall in different and attractive colors. You can also make the shapes of different animals on the wood wall and cut it in the correct shape. It is also an art to make a portrait with pallet woods in different styles and hang against the wall. Some people like to make the wall clock with the pallet woods and hang on the pallet wall. This wood wall gives an excellent look in your study or bedroom and make along with the cupboard or place the computer table there.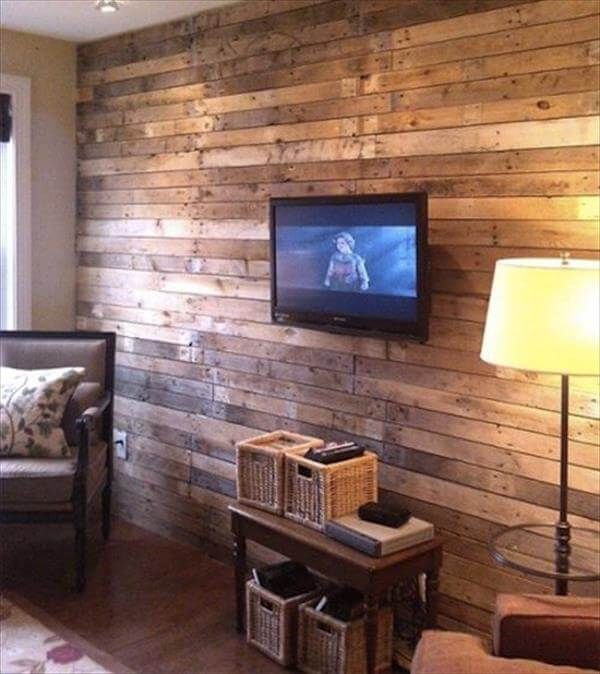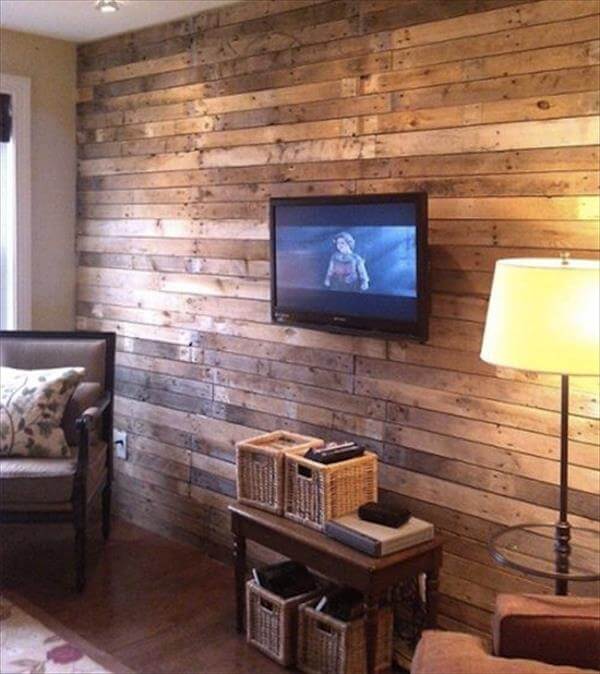 Build pallet wall in living room for tremendous wall art for appealing and endearing effects. the mounted LCD TV gives it more charm and shine.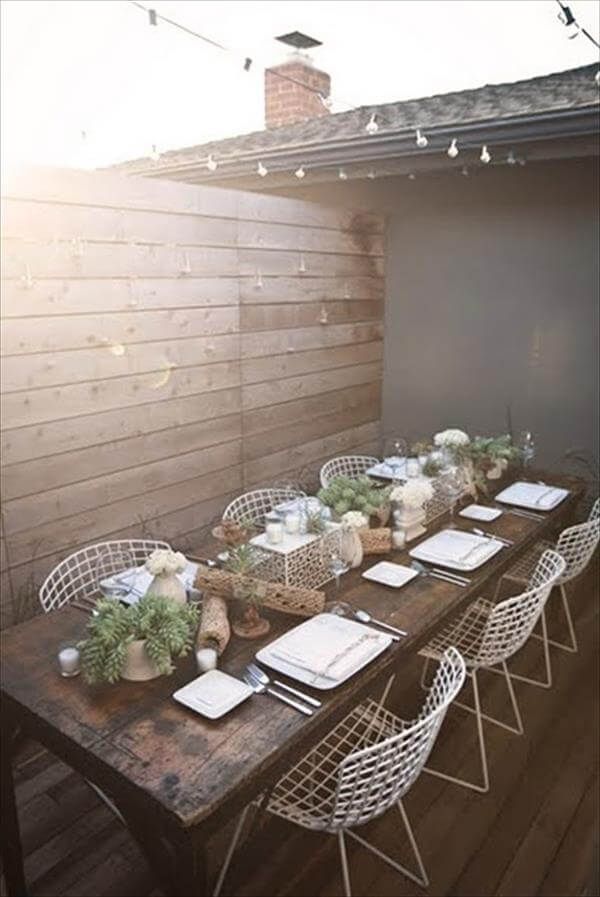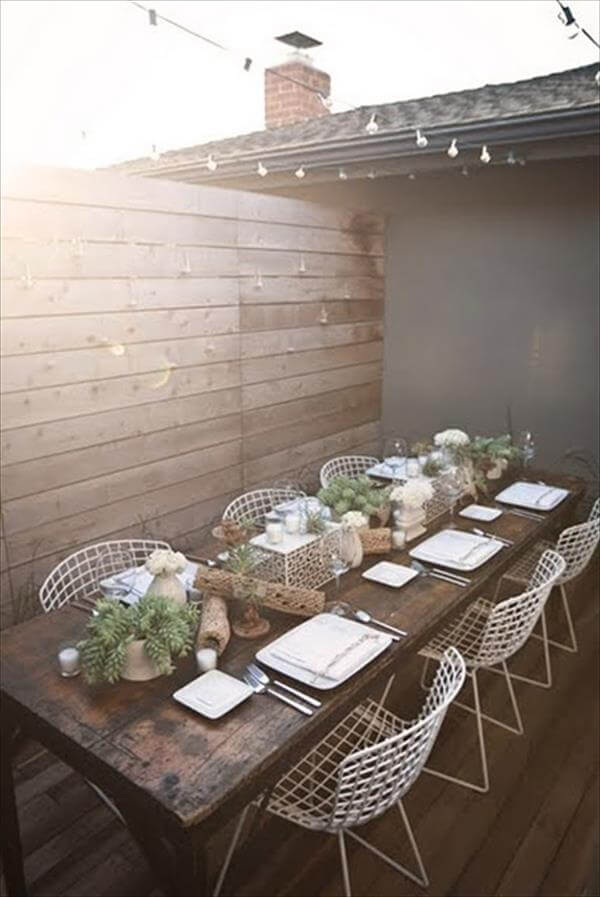 Give your outdoor dinner a trendy theme and background while sitting around dining table for eating. this idea will definitely a supporting and decorative mixture for outdoor sitting plans.
Pallet Wall Ideas for Bedrooms:
 We mostly make our bedroom more captivating and enchanting with different pain and color shade. but if you use pallet wall ornament as you bedroom wall texture then it would be intellectual thought on a budget to be modern in fashionable living. after making the pallet wall you can add more mind blowing ideas like hanging of lights and mounting of wall picture etc.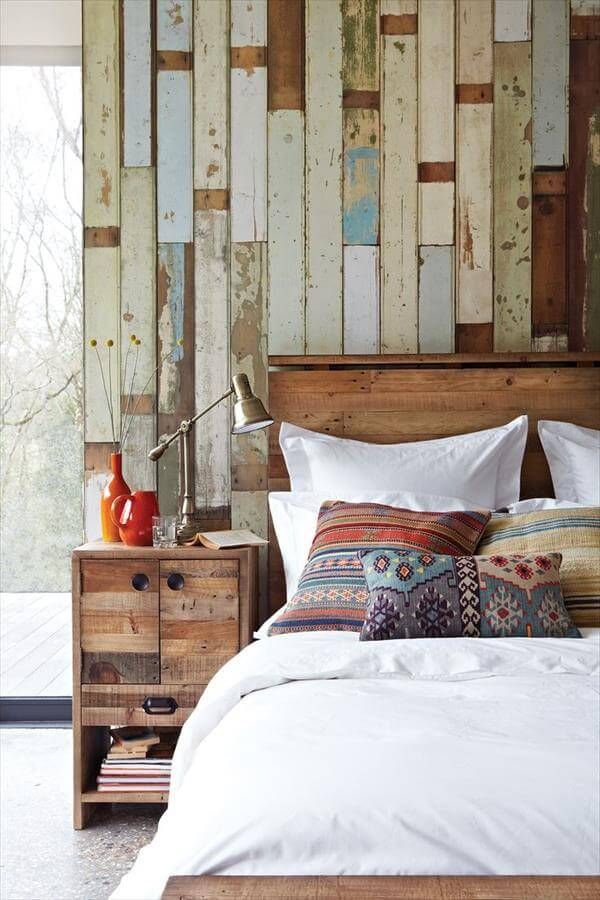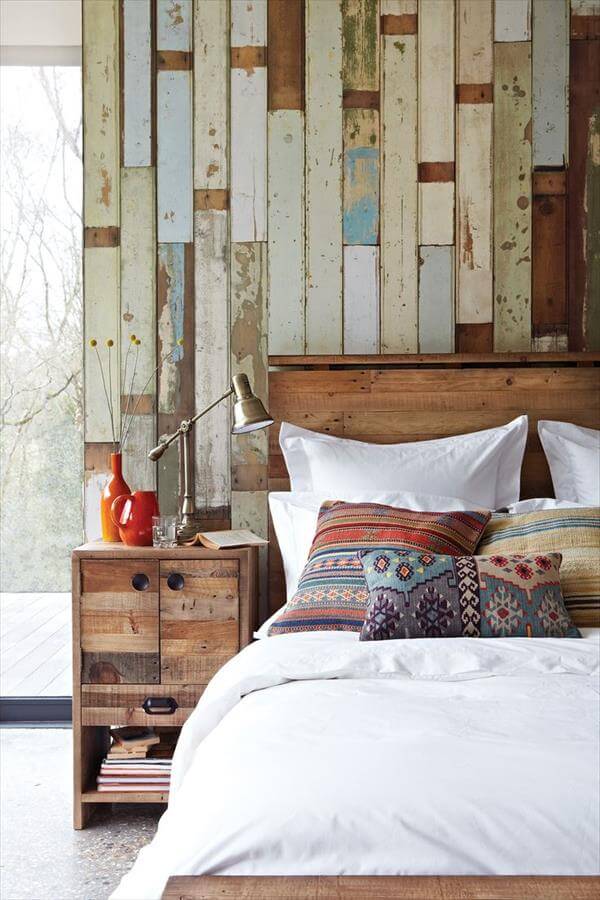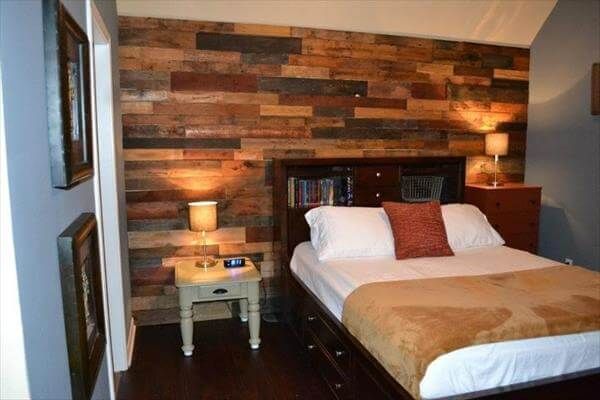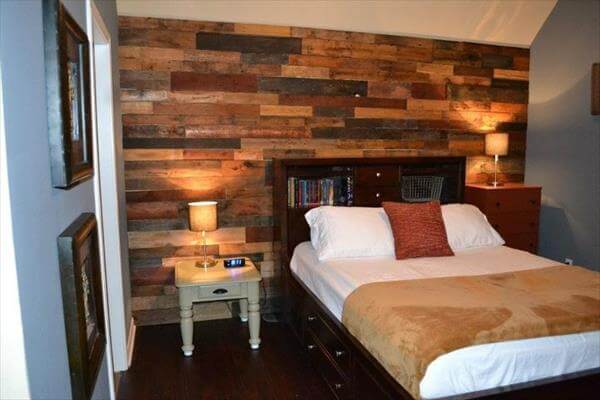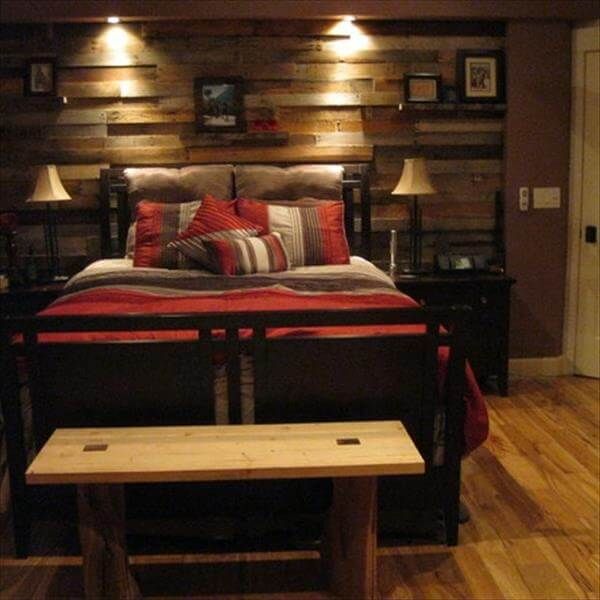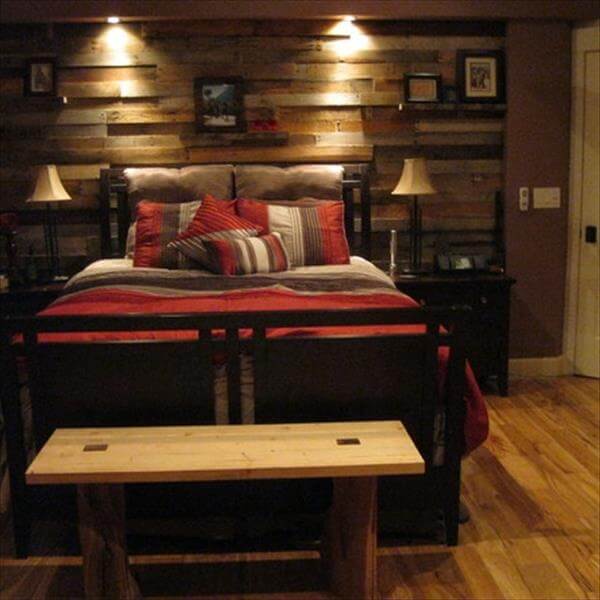 Highlight your entrance and hallway with pallet wall decoration to grow more in trendy fashion world on a budge. and addition of lights and accessories can earn more fame and glow.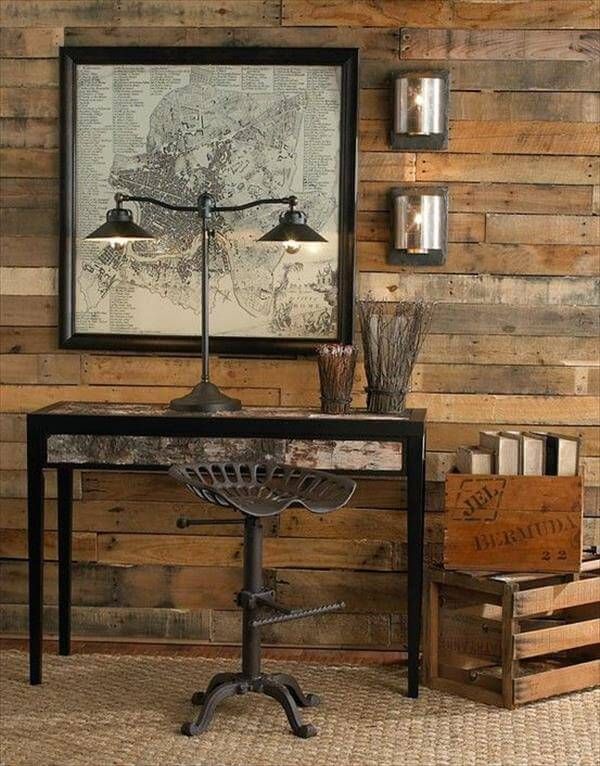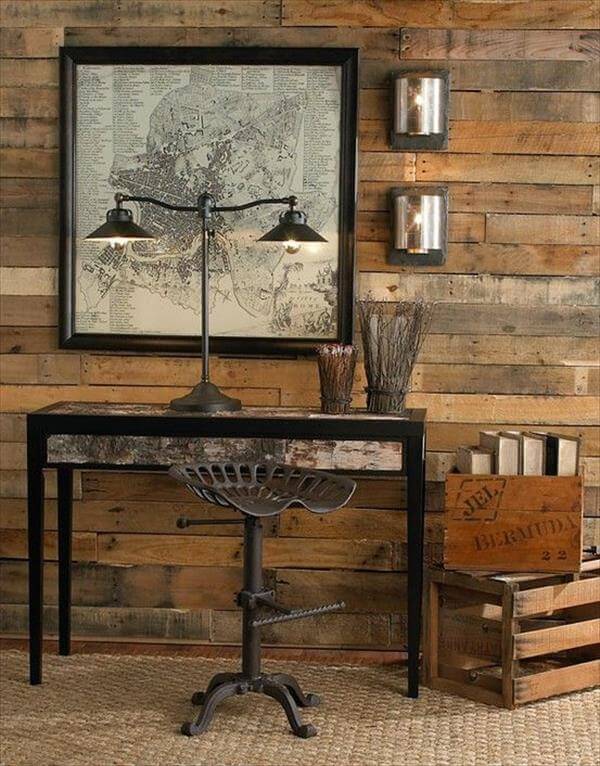 Decorate you kid's room giving it best matching pallet wall art theme. the while colors with dark brown colors of pattern yield a mixed impressive effect for whole theme of room.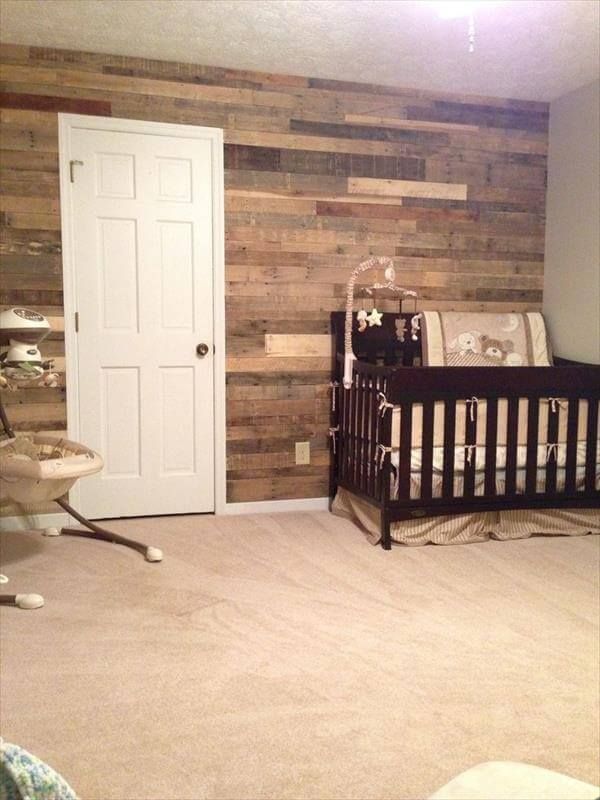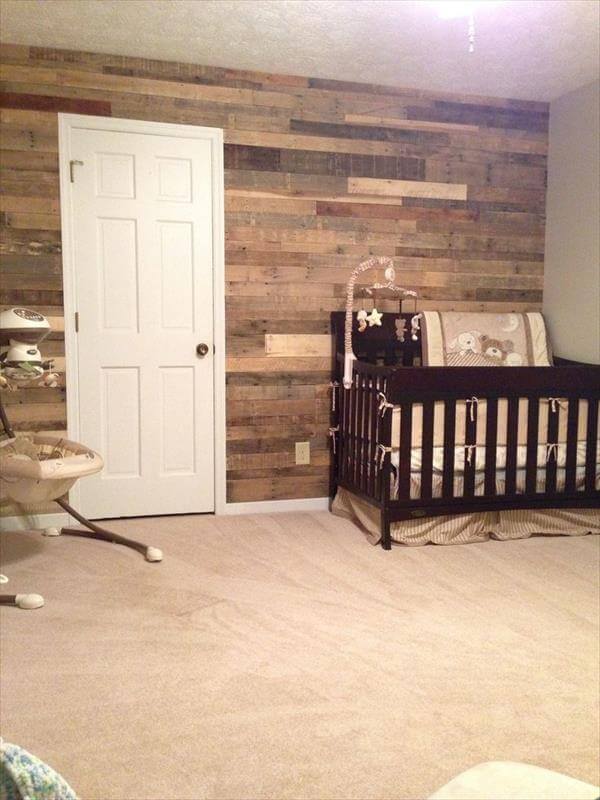 Give your bedroom articles and accessories wide room and separate reduced arrangement by making pallet wall along with different shelves in it. The whole layout gives a trimmed knickknacks and arranged material setting.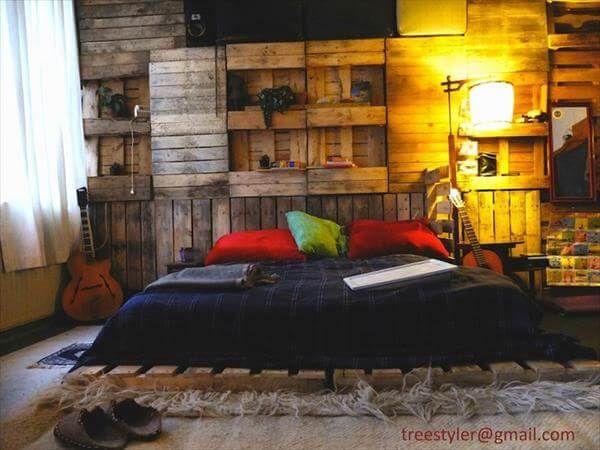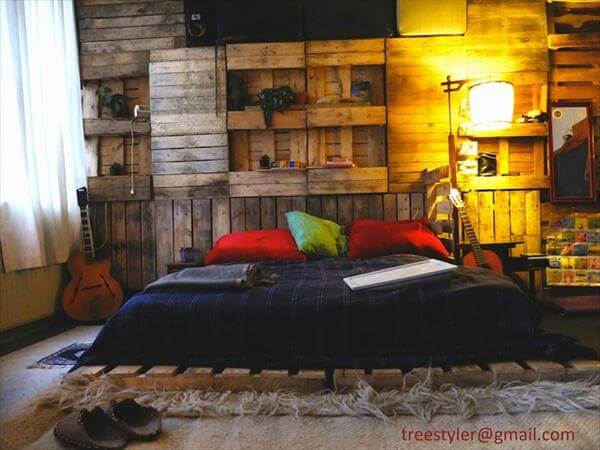 White and brown are two main colors for home color shade to have milk and honey effect and theme. This can amazingly brighten up your bedroom.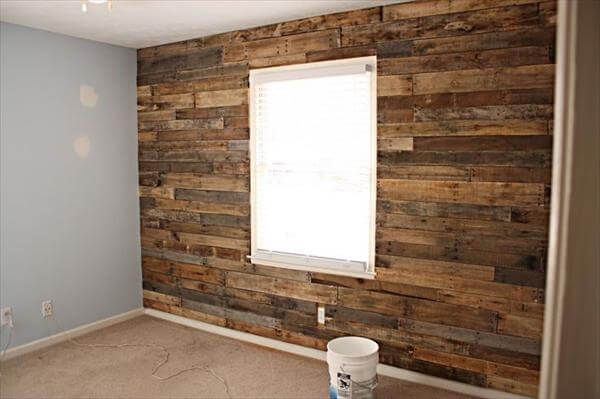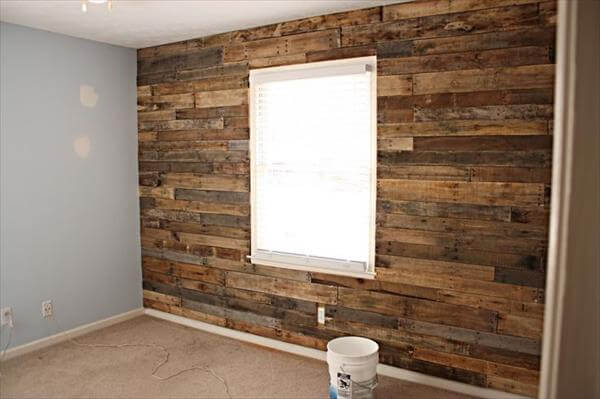 Beautiful living room wall art with dart board and stylish sitting plan, a comprehensive arrangement to show individuality and modern inventiveness.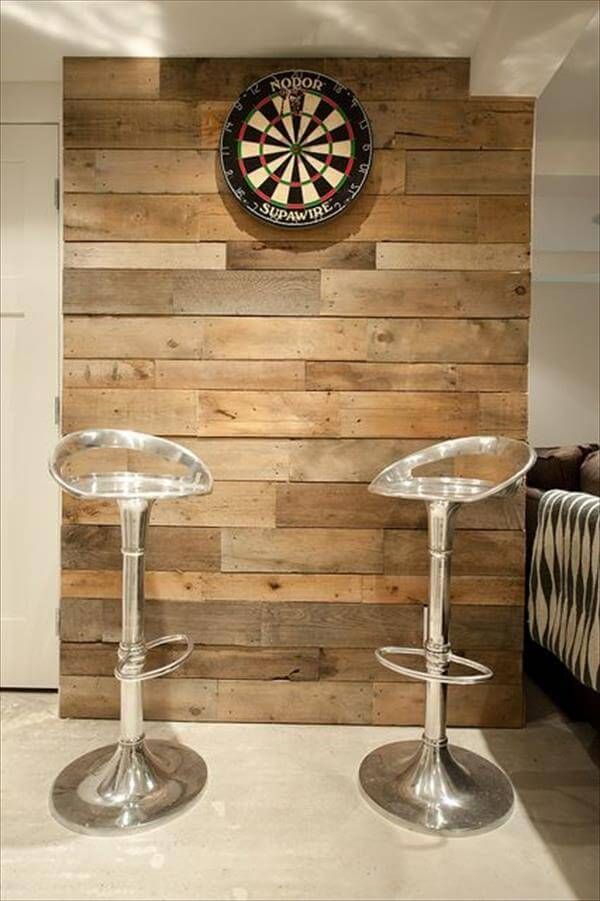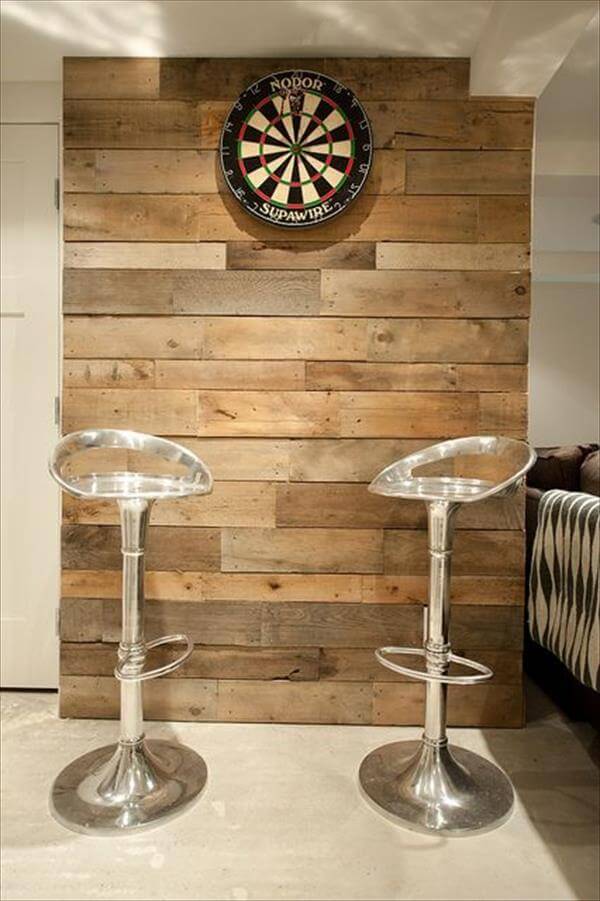 Look at the marvelous approach of pallet planks in decorating your bathroom wall by building pallet wall art on it. this can provide bathroom walls more terrific view along durability.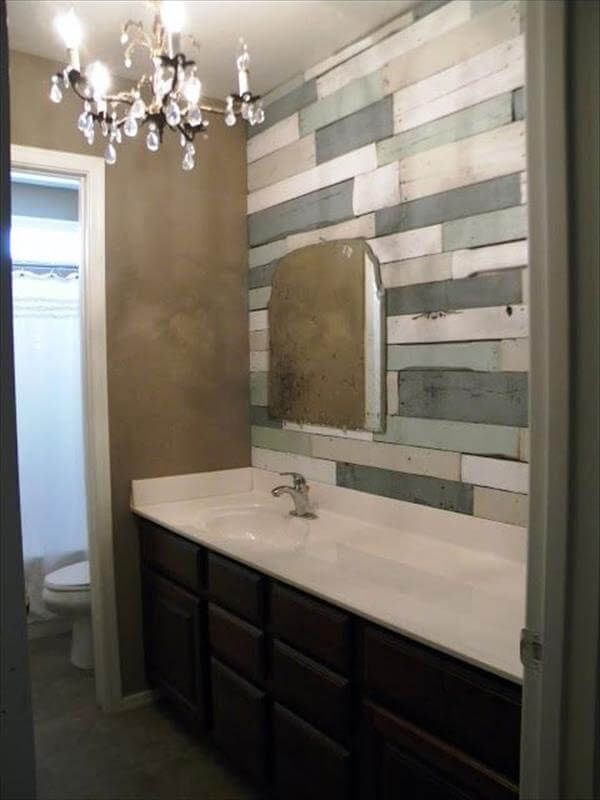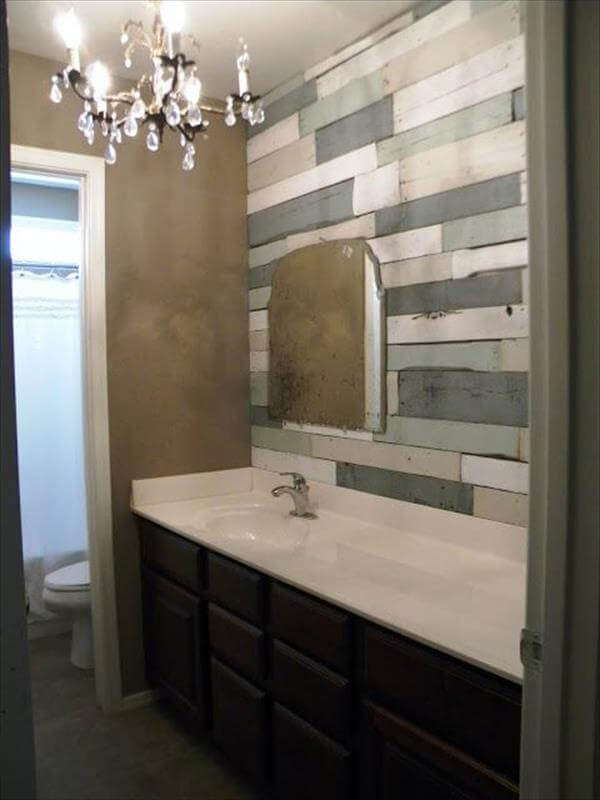 Make your living room wall look amazingly and give it natural theme with flower vases decorations on it. the mounting of flower vase spreading out sensational feel of modern wall art.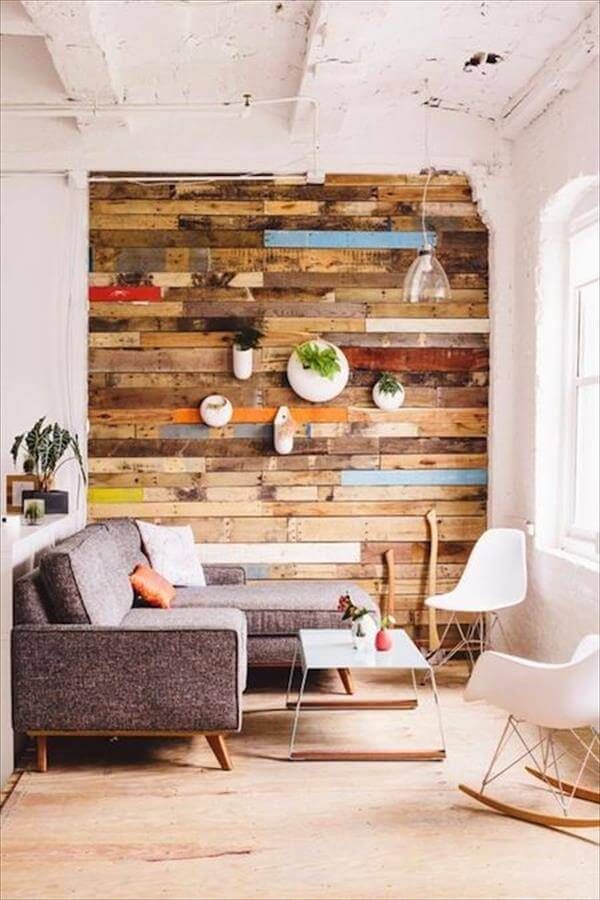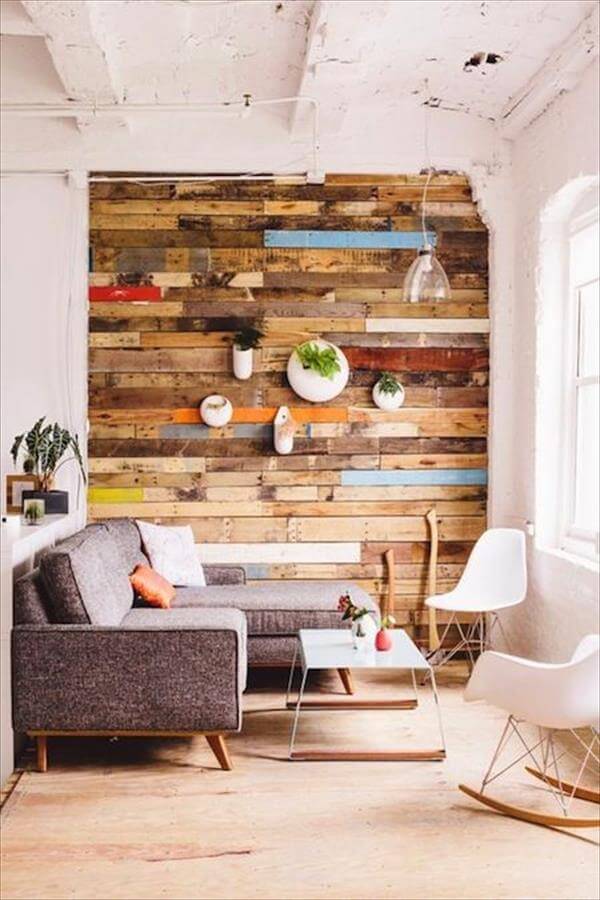 You will find a unique and brilliant bedroom background if you use pallet as wall art just behind the bedroom. Set an amazing natural wood theme in your bedroom.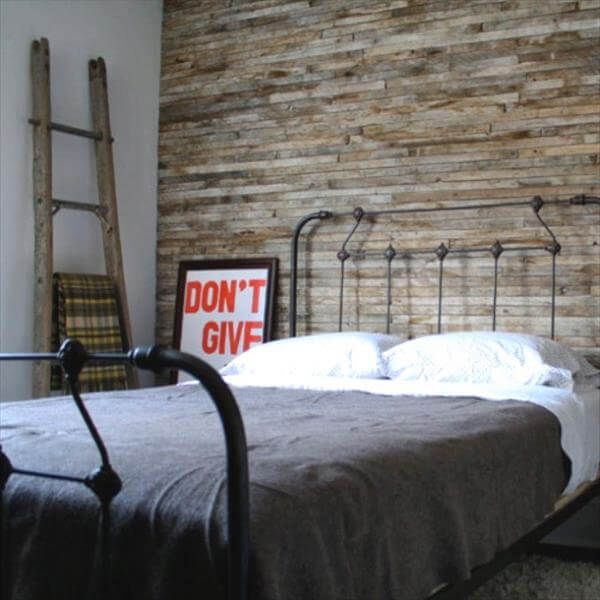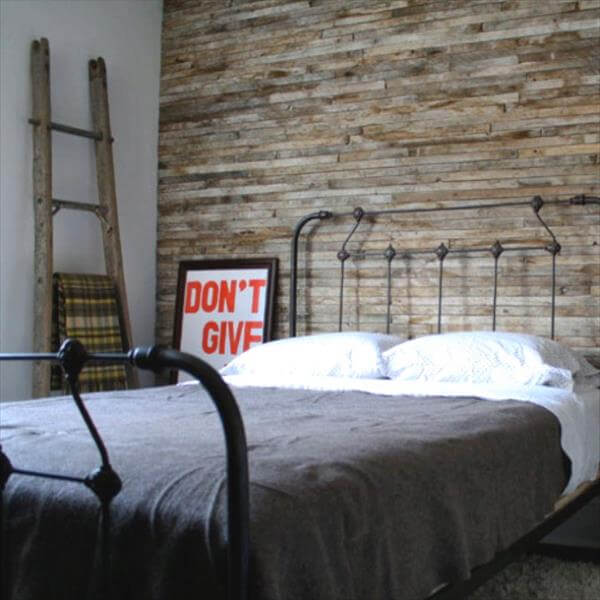 The pallet wood gives unique and luxury wall effect while place in lights in night so build your pallet wall to have fashionable living on a budget.

Template your living room with pallet wall art for support and fashion effects together on a provident and frugal budget plan to make living beautiful.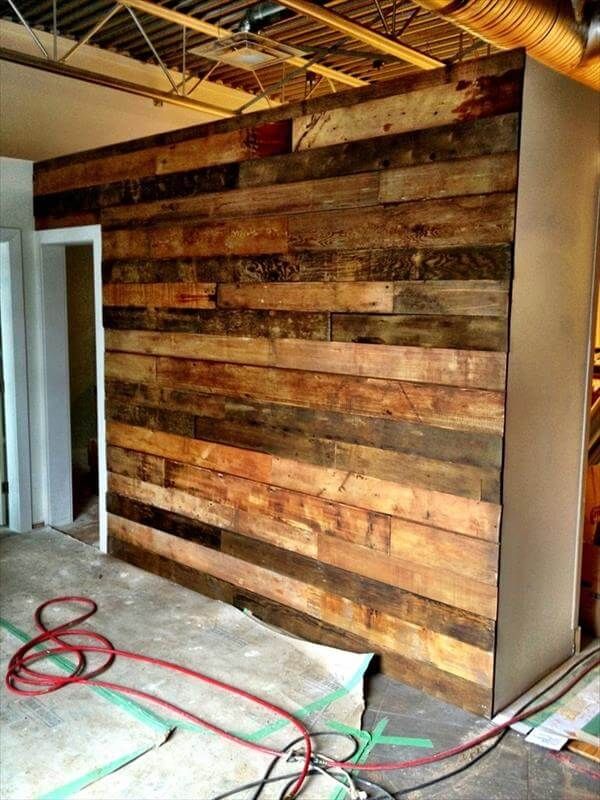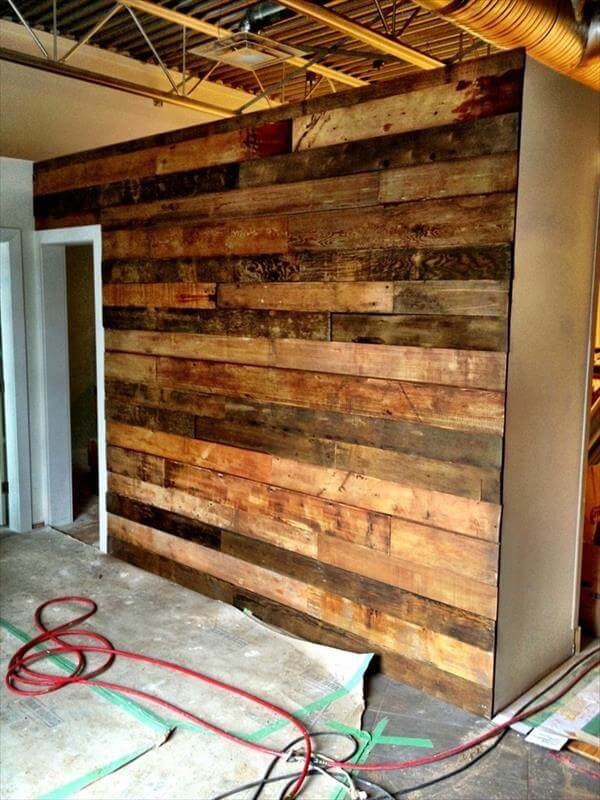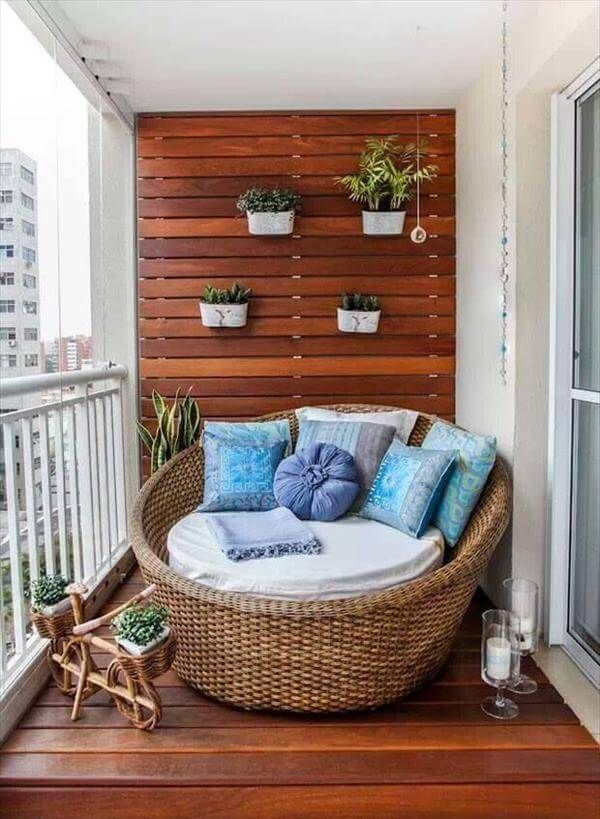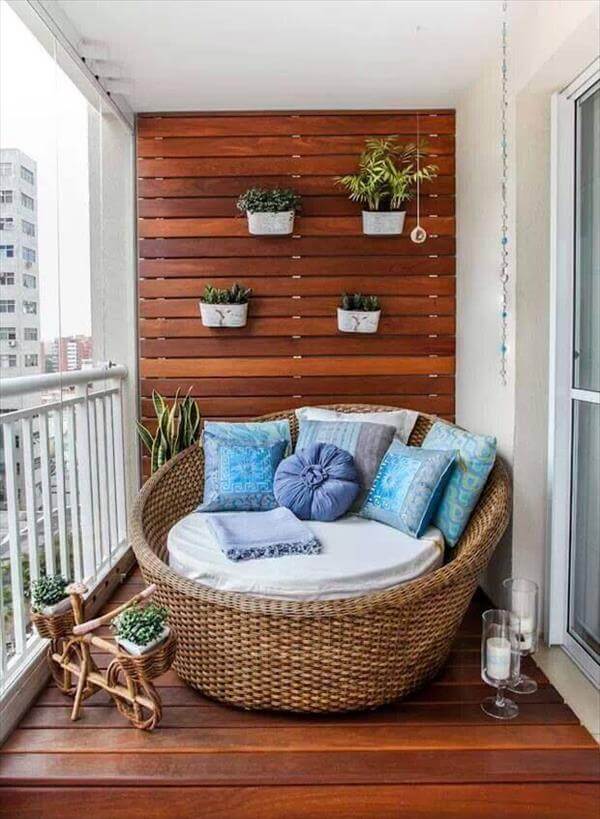 Pallet wall build at wall in your balcony can make nature so close to you if it is decorated with natural flowers and plants pots mounted on pallet wall in fine and neat arrangement to give a fluttering and captivating pattern.