Once gain we would like to divert your attention to a handcrafted sitting furniture set! We have just got the perfect sitting set for people who want to sit at outdoor in style to release the pressure of everyday worries! We are just talking about this DIY wood pallet Adirondack chair and table set, made for ideal outdoor sitting style! Chairs come with contoured berth and a healthy looking backrest having round edges! Table is also pallet-made and has been added here to organize the refreshments!
Chairs have been made of pallet slats with this in mind, to live longer than usual and finally the wooden surfaces have also been sealed to ensure a very long life of entire sitting set! The set is all ideal for two people wishing to celebrate an outdoor drink party or just willing to sit around the outdoor fir pit! The main purpose of this sitting set would be to enjoy the beauty of nature!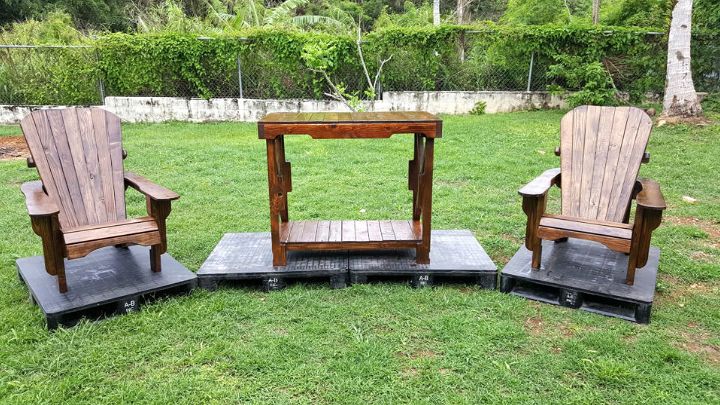 Adirondack chairs are all to rock while intending to take a look of beauties of nature as the design of these chairs provides a unique sitting style that allows you to see higher than usual!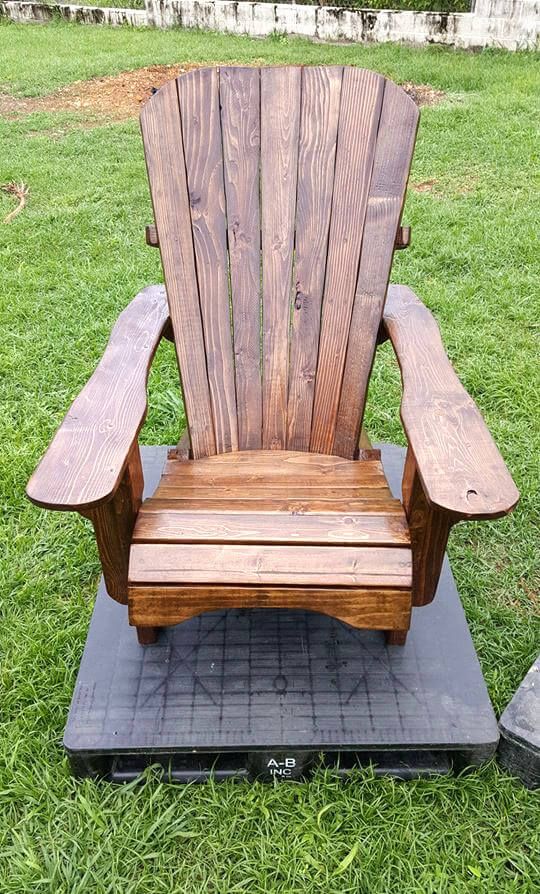 So an Adirondack chair can also be lovely platform to make an eye-contact to those sky high tree tops and also the peaks of mountain!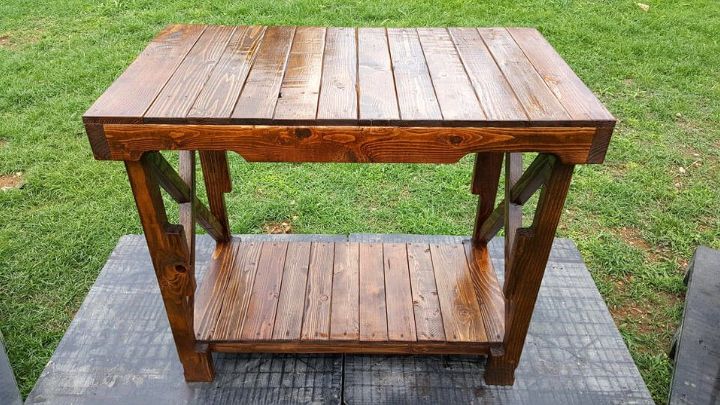 A special table has also been built that can be put in-between the chairs as a coffee bar and also as a beverage bar, you can even make it hold a flower vase for an accent table out of it!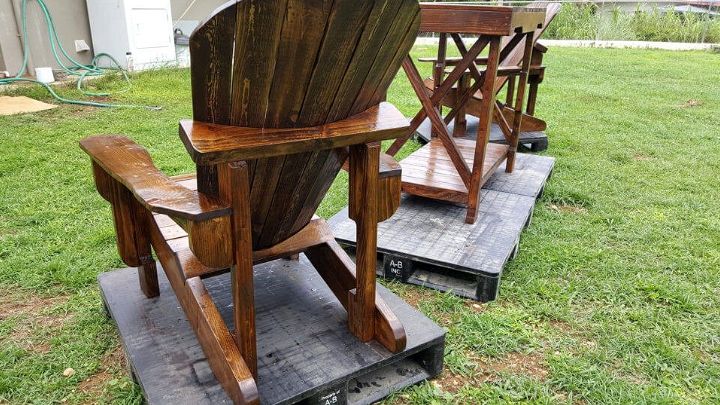 Lot of care has been taken while fitting the components of chair, to main the certain parts on required angle can be a challenge!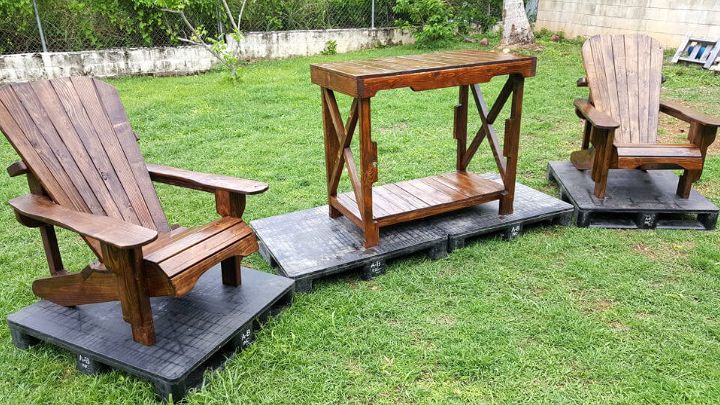 By raising both the chairs and table on some pallet boards, the finishing has been done, nice finish can help the wood to look young for years to come!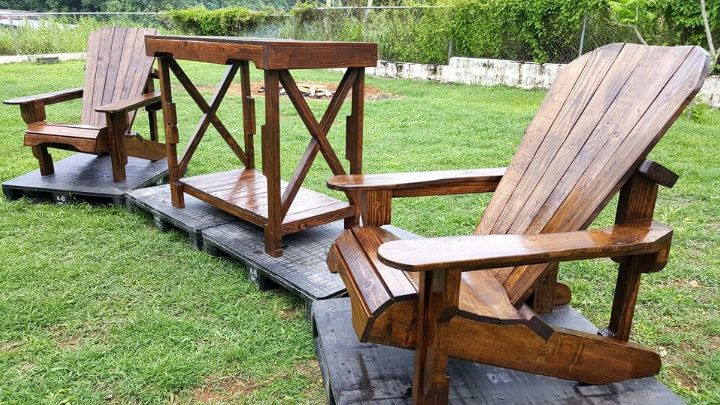 Whatever may be your intention like to sit around a fir-pit, to sit near to garden trees and shrubs and also to sit at open natural outdoor to catch some rays, the set will all rock for all types of outdoor sitting affairs!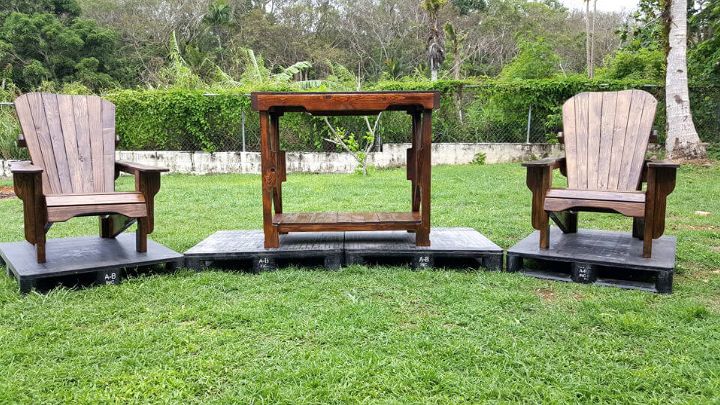 Entire set has been decided to finish for semi gloss shine on the wood gains and overall crystal clearance, so coats of stain mix with wooden sealant have been planned to do so!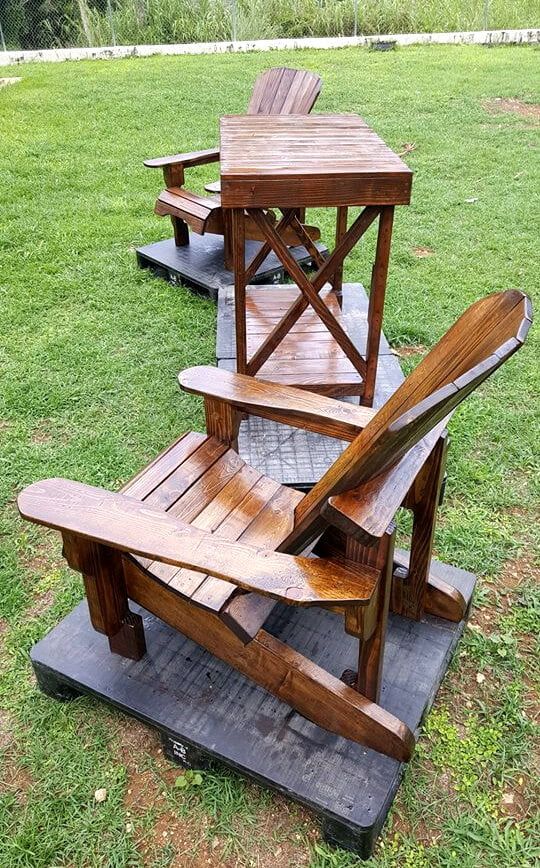 Sit well to enjoy the nature that surrounds you, this set has all been made to take pleasure in capturing the natural scenes!
Made by: Guam's Pallet Gal & Guy