The humble wooden pallet has long been a staple of warehouses and construction sites, used to help package everything from bricks to white goods. In recent times, this workhorse of the shipping world has been upgraded to somewhat of an 'it' product for DIY-ers.
The ability to transform basic wooden pallets into chic furniture is a highly sought-after skill, thanks to creative home projects being featured on Pinterest and other social media sites. If you're looking to capitalize on this by selling pallet furniture from your own start-up, you may be wondering how to go about ordering the material itself and how to make sure you're getting the best deal.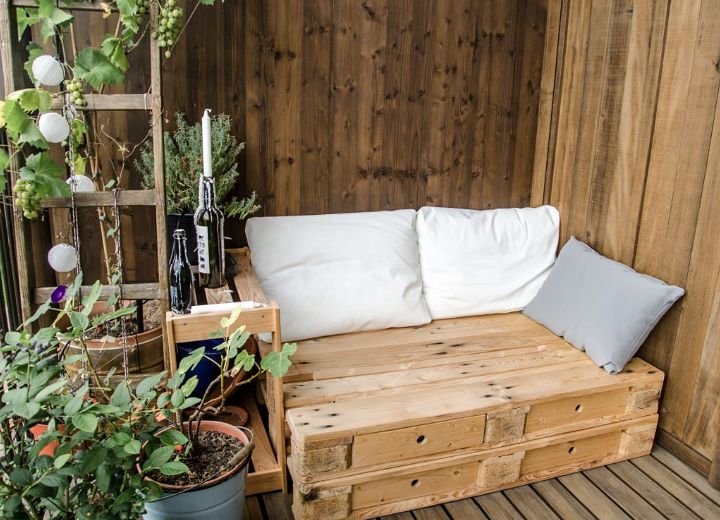 1) Get Your Size Right
Many hobbyists new to pallet furniture may be surprised to learn how many different sizes and variations are available. Most pallet projects can be completed with your standard 48×40-inch standard pallet, but you may be interested to know that larger 48×48 options are available, as well as a smaller 36×36 variation.
Consider the new options your start-up may have by simply utilizing different-sized pallets. It's possible you could increase your profit margin by utilising slightly smaller pallets or even charge a premium for a 'super-sized' version of your original creations.
While most pallets have the traditional wooden slat look coveted by furniture enthusiasts, you can also get a pressed wood option, which can add some texture to your furniture. Take time to review all the options with a bulk supplier such as Challengerpallet.com to make sure you're using what's right for your start-up.
2) Find The Right Supplier
It might seem easy to throw your money at the first wooden pallet provider that appears in your google search, but spending time making sure the supplier you choose meets your needs is critical in ensuring you're not drawn into avoidable disputes down the line.
Firstly, a local option is usually best, when available. The peace of mind that comes from being able to physically meet and visit your supplier is difficult to replicate with a business that you may only be able to contact online. Of course, local options aren't always available, and your local option might not be the best fit, but this is a great starting point in your search.
The next step in choosing a supply company is checking their reviews; seeing what past customers thought about a supplier's service can be very enlightening. How do people feel about their customer service? The quality of their products? The delivery timeframes? All of these factors will impact your start-up in one way or another. It's important that you feel comfortable with the level of care you'll be experiencing.
Don't underestimate the value of looking at a supplier's worst reviews. Do they respond to these reviews? What are the complaints? You may read their worst reviews and decide that the complaints are petty or unreasonable, and the company responded in a professional manner. How a company handles things going wrong is just as important as how they take care of their customers when things are going right.
Where it is viable, set up a meeting with your chosen supplier. See what options they can offer, ask whether they provide discounts for bulk orders, and find out how they can be an asset to your start-up. Some supply companies offer personalised services like an individual account manager or loyalty perks for valued customers, and you'll never know unless you ask!
If possible, ask to inspect a sample of their product. You don't need to get out your inspector hat and barge into the warehouse, but an authentic supplier will be glad to show you the different options so you know exactly what product you'd be purchasing.
Once you're comfortable with your chosen wooden pallet provider, place your first order, and don't be afraid to keep the lines of communication open. The supply company wants your repeat business, so they won't mind if you're contacting them for updates, and they'll be happy to answer any additional questions you think of.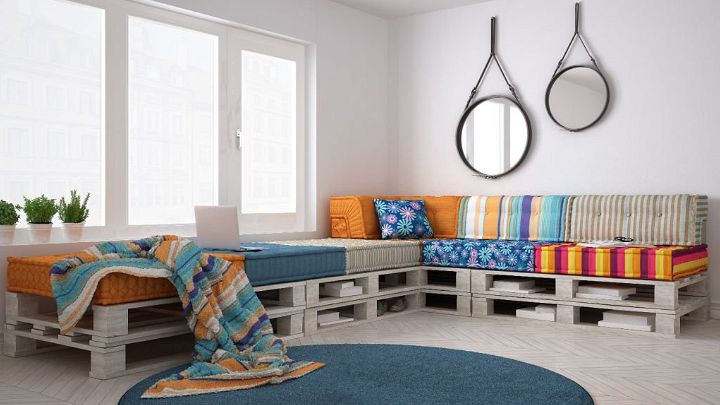 3) Consider Customer Pallets
To really make your start-up furniture stand out, take some time to consider if customer pallets might be a good option for you. Most quality suppliers will offer custom pallets as a purchase option, which means you can design exactly what you want.
Many pallet furniture options on the market look extremely similar, as most manufacturers utilize the same basic wooden pallet option for projects. This commonality is, for the most part, due to the fact that these standard pallets are the most widely available options for DIYers and furniture creators.
You can set your business apart by creating some key pieces with custom-built pallets, which won't look like anything else available for sale and would be difficult for copy cats to replicate on their own.
4) Utilise Budget Options
One of the reasons pallet furniture has become so popular is the resurgence of 'upcycling' and the rejection of throw-away consumer culture. Today's buyers value sustainability, craftsmanship, and products that are built to last. Carry this notion with you when sourcing material for your start-up.
Budget-friendly (or free) pallets can be found everywhere from Craigslist to construction sites and will likely be thrown away if they're not collected. Nurseries, garden supply centres, and home improvement stores all utilise a large number of wooden pallets to move stock, and it's worth checking in with your locals to see if they have any up for grabs.
You may choose not to use lower quality free pallets for furniture requiring a lot of structural integrity, but reclaimed wood can be used for many smaller projects; just make sure you ask before carting away material that looks unused!
5) Know Your Treatments
There are multiple treatments your wooden pallets may have been subject to before landing on your doorstep. Some treatments are beneficial and enhance the visual aesthetic and quality of the wood, and some treatments make your pallets unfit for use, so how do you know which treatments are ok?
If you're receiving a pallet new from a dedicated wooden pallet supplier, it's unlikely that it's received any chemical treatments or been used in a way that makes it unsafe for upcycling. If you're unsure about whether your wood has been treated, always ask your supplier to confirm for you.
Some high-quality pallets may have been treated (or you may choose to treat them yourself) with natural applications such as linseed oil or walnut finishing oil.
Linseed oil, when applied to wood, will make the wood water repellent and provide a nice satin finish, allowing the wood's natural beauty and colour to shine through. Linseed oil is safe for indoor and outdoor furniture, and it's even safe to be in close contact with food. Some disadvantages of linseed oil treatments are that it takes a long time to dry and requires a minimum of 3 coats to maximise the benefits.
Walnut finishing oil is a darker treatment option, allowing you to create contrast with different coloured wood in one pallet, or allowing you to darken entire pallets to create a new colour variation of furniture. You may find walnut finishing oil helpful in allowing your start-up to offer multiple colour options for your customers. Walnut oil also protects the wood from UV rays and is a natural insecticide, but be warned; it will stain your hands, clothes, and anything else you get near it before it dries!
If you're sourcing pallets from budget avenues, there are some potential treatments and former uses you do need to be aware of to avoid causing harm to your customers or spending time working with wood that is not generally fit for purpose.
If a pallet is stained with oil or petroleum products, you may find that these have penetrated deep into the layers of the wood, and they will be close to impossible to get out, no matter how hard you scrub. Oil or petrol-stained wood may retain a funny smell that could cause headaches, and most paints will not effectively cover these kinds of stains. You may be better off leaving this pallet behind.
Some pallets will have stamps or markings on them, which you should look for if you source pallets from budget avenues. An 'HT' stamp means that the pallet was heat-treated. On the other hand, an 'MB' stamp means that the pallet has received a treatment of methyl bromide, a dangerous neurotoxin chemical that may also be carcinogenic. This kind of pallet is not appropriate for upcycling.
Finally, any pallet marked with a 'wheat stalk' has been previously used to carry food. While this may not seem like an issue, a test of 70 food-carrying wooden pallets in 2010 (carried out by the National Consumers League) found E. Coli on 10% of pallets and Listeria on 2.9%. If you have other options available, it's best to steer clear of former food-carrying pallets. One exception to that suggestion is if your start-up is offering products such as compost bins. As compost bins already nurture an ecosystem of microorganisms, you may be able to use them as a featured product, demonstrating your commitment to upcycling and sustainability.
6) Beware Of Imposters
As is to be expected on the internet, the popularity of wooden pallets has spurred on various imposters in the market, 'stikwood' and 'weathered hardwood board' being two of the most common. These cheaper options can be tempting, but if a supply of new pallets online looks too good to be true, it probably is.
Stikwood may look like real pallet wood at first glance. However, it is less than a quarter-inch thick, is not safe to use outdoors, and is recommended to be used as a veneer only. Weathered hardwood board looks and feels similar to real pallet boards but is made of Appalachian poplar, which is sapwood.
Faux pallet wood is widely available to order over the internet, but as it has no minimum quality standards like those laid out in the National Wooden Pallet and Container Association (NWPCA), you are not guaranteed any level of structural integrity or quality. If you do utilise faux pallet wood, it's recommended to use this only for furniture creations requiring no, or very little, weight-bearing properties.
7) Calculate Your Order
A good supplier will be flexible in adjusting your order if needed, but getting it right the first time will help ensure your delivery experience runs smoothly.
First, review which items of furniture you'll be selling through your start-up. It's advisable to start with pallet furniture you know will fly off the shelves to maximise sales while you get off the ground. Bed frames and patio furniture have remained steady in popularity and will likely be a good place to start.
More elaborate projects like home theatres made with pallets may be exciting, but it would be expensive to order materials upfront without a confirmed buyer. For any niche products requiring a large upfront cost, it's best to leave on your website as a 'custom order' or 'by request' until your start-up is in a strong positive cash flow position.
Once you know what you'll be selling and how many of each furniture item you want for immediate purchase, calculate how many pallets are required to build each item, then add 10% for wastage. Accounting for wastage will ensure you're not caught out unprepared if a pallet breaks or if there was any miscalculation in the amount of material required for a project.
Final Thoughts
The popularity of wooden pallet furniture is here to stay, and there are multiple ways to source your materials based on budget.
If you decide to upcycle 'found' or budget wooden pallets, ensure you understand the various treatments and their implications to make sure you're not compromising quality or safety for your customers.
If you decide to buy brand new material from a supplier, ensure the pallet provider suits your start-up's needs and makes you feel comfortable with the level of service being provided.
Above all, explore the many options available to you in terms of wooden pallet variations. Opening yourself up to all the possibilities can help your start-up become an industry leader in innovative and custom pallet furniture.