The upgrading of a student room isn't cheap, that's why most undergrads find this task out of their price range. Pallets are excellent material for home furniture. They have become a relevant design object. Their shape and non-standard approach allow you to create a truly comfortable, and at the same time, beautiful furniture. In this article, you will learn how to use wooden pallets to create furniture for your dorm room to make it cozy.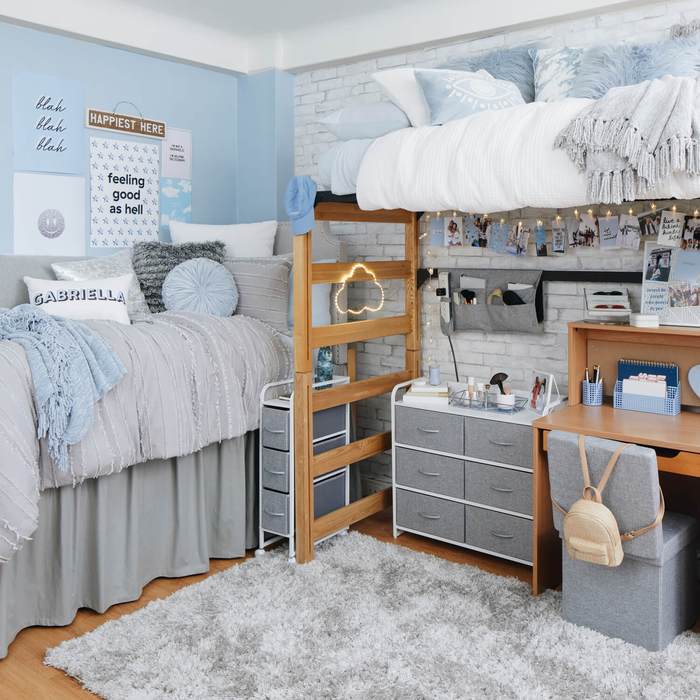 Original Bookshelves
Pallets are an ideal base to create a cozy interior design. According to the designers, a lot of practical items can be made from pallets, including bookshelves. You just need to take symmetrical pallets and place them on the wall. It's a budget and useful thing. You could leave the natural color of wood or paint them in bright shades.
Pallet Bed Frame
If you like minimalist design, the palette frame is just what you need. A simple bed frame is a perfect choice for your room. The wooden pallet matches well with other furniture due to its neutral brown shade. If you want creative decor, you can also use contrasting colors. Pallets can be of varying quality, so make sure they are strong enough to bear your weight. The assembly technique is pretty simple. The bed parts are fastened together and laid on two levels to make the bed higher. To make your rest more comfortable, it's better to choose orthopedic mattresses to spend a good time having a lie-down and using the college research paper help dealing with your college assignments.
Coffee Table
If your room is large enough to hold a coffee table, you should take this opportunity. Small pallets can easily be collected for a small coffee table. These tables are versatile and can be used for different purposes in your room. Depending on the interior's design and style, you can give the table any style you like. Several pallets are joined together. Then, you attach iron legs or rollers. Paint the structure in the desired color. After the paint has dried out completely, glass is placed on the surface of the table, the size of which perfectly matches the table.
Comfortable Armchair
At first glance, the pallet armchairs seem to have an image problem. However, it's a matter of decor. If you decorate the object with soft cushions, cover it with a blanket, you will get a stylish and comfortable thing.
Vertical Garden
Do you like having flower pots in your room? If yes, it's worth thinking about a small garden at your place. People got used to having a small, decorative garden on their balconies, so why not consider creating a vertical garden in your dorm room? It's an excellent choice to install pallets as a garden wall. This simple homemade design is easy to create. Both rural and stylish wooden pallets help create a cheap and original vertical garden on the wall of your dorm room.
Coat Hangers
It's always a good idea to have an extra place to hang your stuff like clothing, umbrellas, or handbags. The peeled pallets are painted in bright colors. You will need about 4-5 thin pallets and hooks for placing things.
Mirror Frame
The original mirror frame made of wooden pieces of different colors and shapes can be that special of your room. You can also attach some pictures on your frame to make it more vivid.
Wardrobe
This idea will work out for those who have a lot of things to wear but not enough space to keep that clothing. A pallet wardrobe will look stylish in your dorm room. Even if you have a small room, you can get a wardrobe that suits your place exactly. Besides, this object will not even need a door. For instance, a curtain made of dense fabric will combine perfectly with wood.
Folding Screen
If you want to divide the room into zones to have a quiet place for sitting and looking for science hw answers, the folding screen will help you. It's a budget and interesting variant that could be made of pallets. If you want to be more romantic, you can build a light bulb into the screen to give it originality.
Some More Decorative Elements
You can get a decorative panel for your room. You just need to paint all planks in different colors, nail pictures, souvenirs, and small shelves. If you attach metal or rope handles to the top of the panel, you will get an original tray.