Home renovation is a major project that most homeowners have to take on at some point in their lives. When you are finished, it is important that you put everything back where it belongs immediately. Doing this will ensure that everything is easily accessible whenever you need it. You don't want to end up with clutter in your way when you're trying to clean the house or cook a meal, but at the same time, you don't want everything put away wherever either. With just a bit more time spent on organizing your tools, and by taking a few simple steps, you will have a stress-free newly renovated home where everything is where it should be.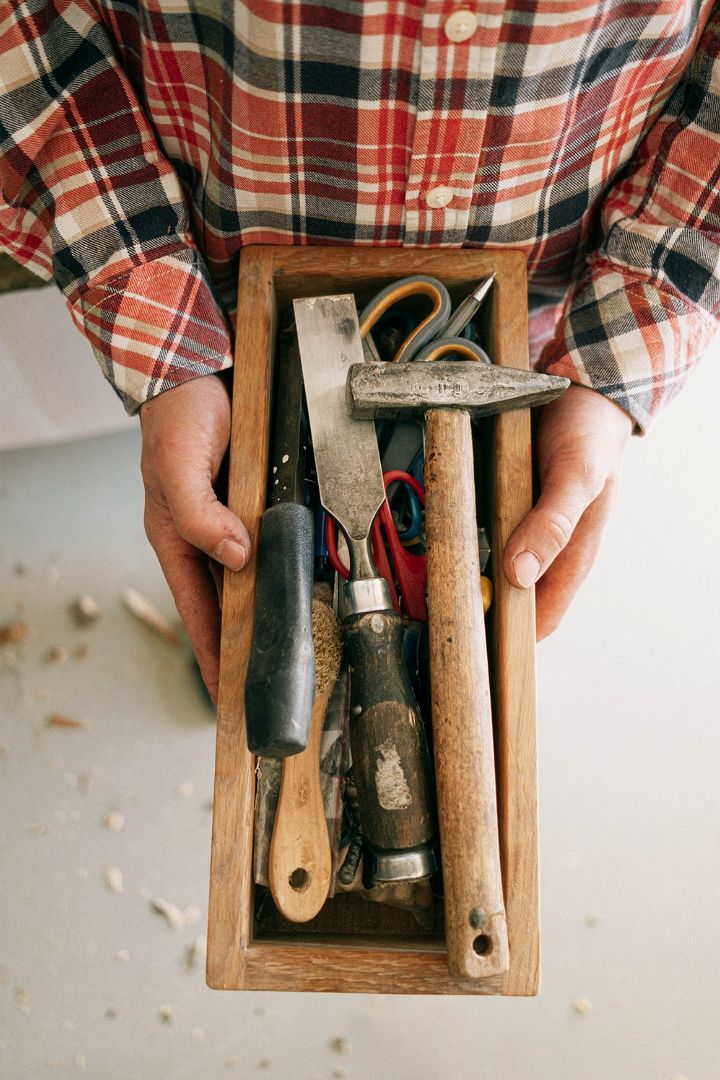 1. Prep Work
First things first. After a renovation project, there's always a lot of debris left, and it can be tedious and time-consuming to pack it all in garbage bags and take multiple trips to the dumpster. Instead, you might want to look into renting a local skip bin so that you can do the clean-up as swiftly and efficiently as possible. Once you do that,  it's time to consider your newly renovated space. The best way to organize anything is to consider how you'll be using the space. Do you have a garage you plan on turning into a workshop? A garden shed? Perhaps a mudroom that will have a place for everything from your lawnmower to gardening tools? It's important that you consider where and how you plan on using them in the future so that they're not only out of the way but simultaneously in a logical and easy-to-reach place as well. You can even spread them out across different rooms, based on the tool type. However, the main thing is to make a detailed plan before you start moving stuff around.
2. Cabinets
Cabinets are your friends when it comes to storing tools. A kitchen cabinet can be turned into an ideal storage space for smaller items that are not frequently used but must be easily accessible in case of emergency. That said, any type of closed-off storage is a good option since most tools don't really add to the decor of your home, so they're best saved for heavier items that are less frequently needed. Cabinets with doors are ideal because there is no danger of you hurting yourself or anyone else by forgetting that an implement is stored away behind it. You may have to look into custom-built cabinets to accommodate the bigger tools, but it will be worth it in the long run. It's also a good way of protecting the tools from rust, dust, and other elements.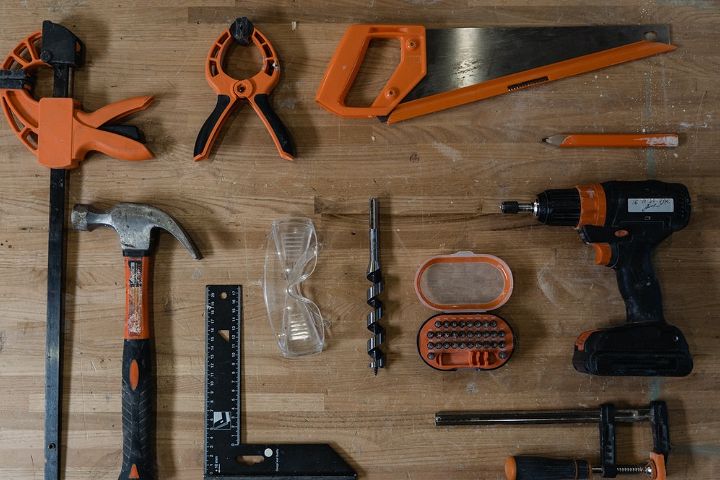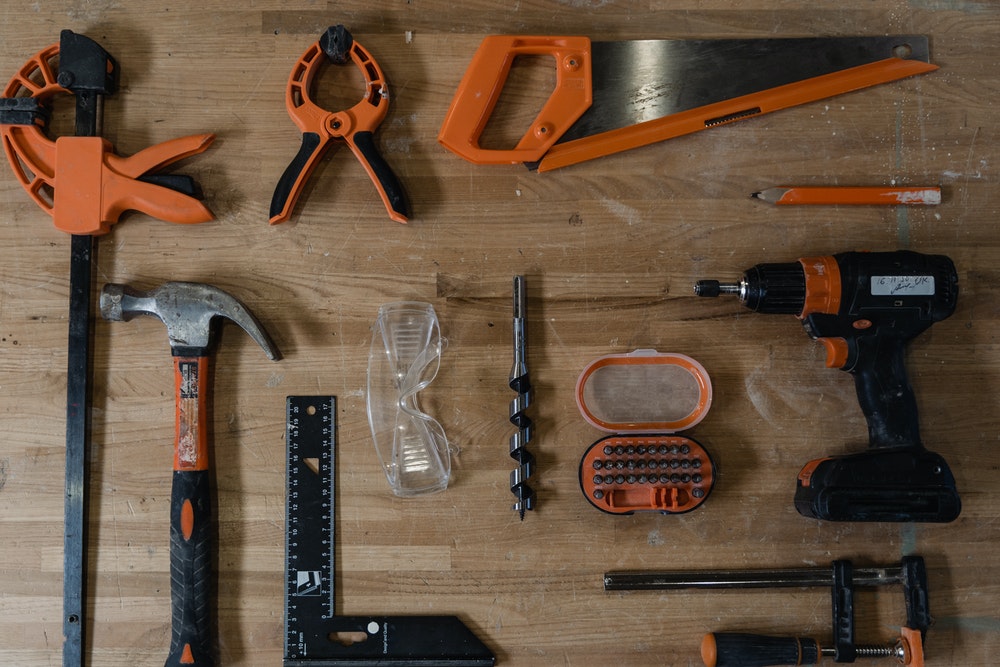 3. Garage Shelving
This is one of the best ways to store tools in a garage without cluttering up all your available floor space for cars, at least until you can invest in custom cabinets. A shelf takes up very little room but provides easy access to most items so that you don't have to root through all your tools stored haphazardly on the floor every time you need to find something. Shelves can be mounted either vertically or horizontally, and they're a great way of storing those items that you use a bit more frequently. The main thing is to ensure that they're anchored properly and well-supported to ensure their safety and reduce the chances of injury. If you're going to use the garage as a workshop, be mindful of where the electrical outlets are when organizing your space. You want to have easy access to electricity, and ideally, you don't want to have to resort to an extension cord that can be tangled or tripped on.
4. Labeled Boxes And Containers
When it comes to smaller items, like brushes, nails, screws, drill bits, and the like, it's a good idea to group them together by type and have them stored in labeled boxes or containers so that you can cross-reference them with their attached labels. It takes up less room than having every item out on the open floor where they could be misplaced, and it also keeps your garage from looking cluttered. If you have a lot of items, you can even use different boxes or baskets for particular types. For example, put paint brushes in simple cardboard boxes, screws, and nails in mason jars with lids on, etc. It's important that you keep the labels as informative as possible so that you don't have to open every box or container just to find out what's inside. You can purchase small boxes and baskets from your local dollar store, and even cut down on costs by reusing shoe boxes or packaging material from online purchases.
5. Pegboards And Accessories
Pegboards are one of the most innovative ways to store unused space in your garage. They utilize those vertical spaces that would otherwise just be wasted, and it's a great way to mount tools since there is no chance of them getting knocked over or losing their place as they would on shelves. Pegboards come with pegs and hooks for easy tool placement and removal, and they come in a variety of styles that will match your home's particular décor. They're the perfect storage option for the tools you use the most, and they also make it easy to access them in the dark since you can see right where each tool is placed. Accessories like air compressors, small portable generators, and torch lamps are best kept together on a pegboard so that they don't clutter up your workspace when you need them. If you keep all of your essentials together in one place, you won't have to waste time searching the entire garage for them when you need them.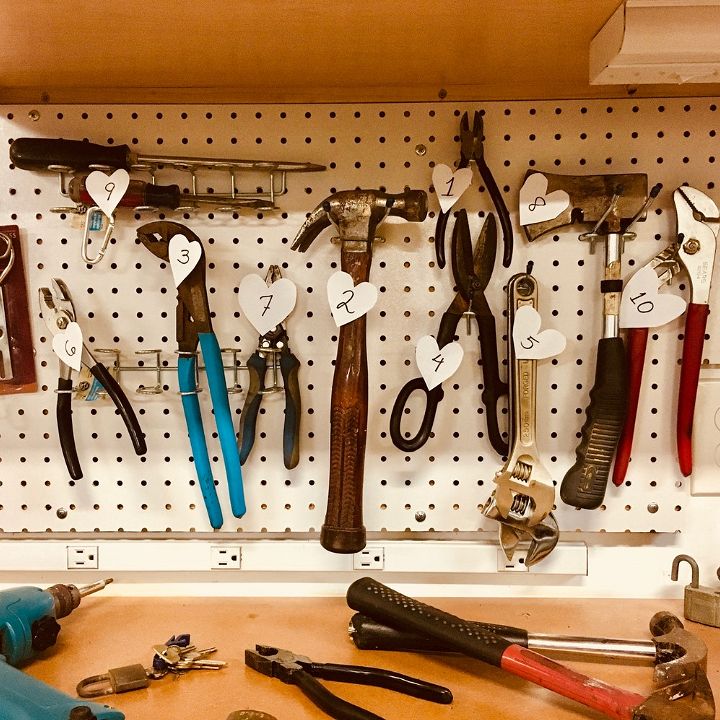 Renovating your house can be a long and tiring task that takes up all of your weekends. By the end of it, you must be feeling ready to sit back, relax and enjoy your new surroundings, but there are still some things to take care of before you can just kick back. Organizing your tools and other necessities properly in labeled boxes or containers is the easiest way to go about it, and it's a simple step that can ensure you'll have no clutter in your way when enjoying your renovation space. The most important thing is to really consider how you plan on using your space, and which tools will see the most use. After you've done that, it's a simple matter of going through your stuff and storing it in its designated place.