DIY raised garden beds are the perfect solution for those who want to grow their own fruits and vegetables but don't have the space (or the back!) for a traditional garden. Raised garden beds are also a great way to protect your plants from pests and weeds. And best of all, they're easy to build! Whether you're looking for simple raised garden bed plans or more advanced designs, there's sure to be a perfect plan for your needs.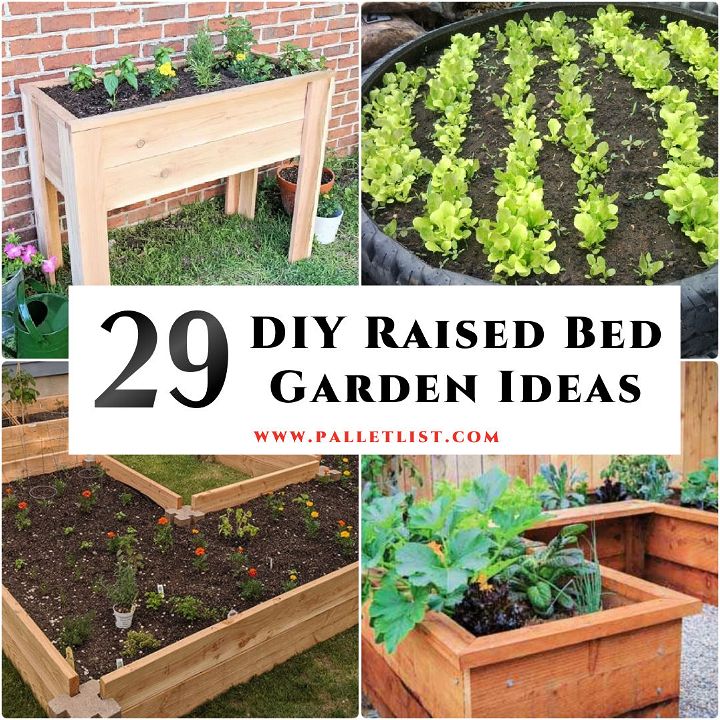 Learn how to build your own raised garden bed with these 29 free diy raised garden bed plans and ideas with step by step instructions and PDF guides. So what are you waiting for? Get started on your raised garden bed today!
1. DIY Raised Vegetable Garden Bed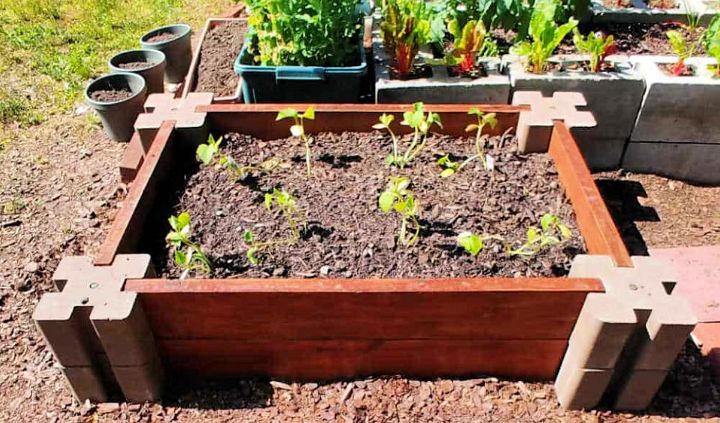 Gardening can be a hassle, but not with this innovative DIY raised bed garden plan that is a flexible, low-maintenance, simple solution to make your own vegetable garden and doesn't require too much space for growing vegetables. This DIY vegetable garden is an easy, affordable plan that can be completed in a few hours. You only need reclaimed wood and concrete blocks to make this garden bed. This flexible raised garden bed design allows the garden bed to be enlarged or moved to different parts of the yard. DIY this plan to get more fresh vegetables from your garden all summer long. thegardening
Materials: Wood(reclaimed), Cement Blocks, Soil
Tools: Level, Hammer, Rebar, Shovel
2. Raised Garden Bed With a Drip Irrigated System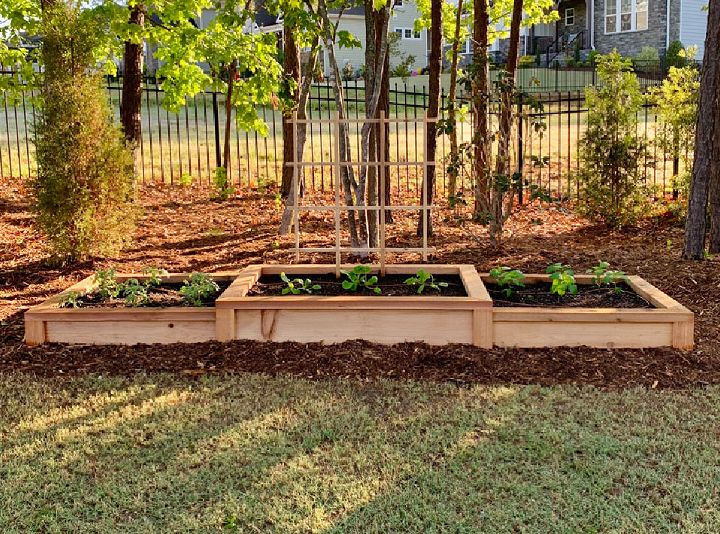 Build a low-maintenance bed for your plants that's both beautiful and functional. With a drip irrigated system, water can be poured directly onto the roots of your plants, providing a healthier environment for them to grow in. Start growing food right away with this DIY raised garden bed plan. It offers the opportunity to grow fresh organic food, which is important in today's world. Create an aesthetically pleasing focal point in your yard to grow fresh, organic food without worrying about watering the plants with this DIY plan. philiporflop
Materials: Cedar Wood, Pocket Hole Screw, Soil
Tools: Miter Saw, Drill, Pocket Hole Jig, Screwdriver
3. Building A Elevated Flower Bed with Legs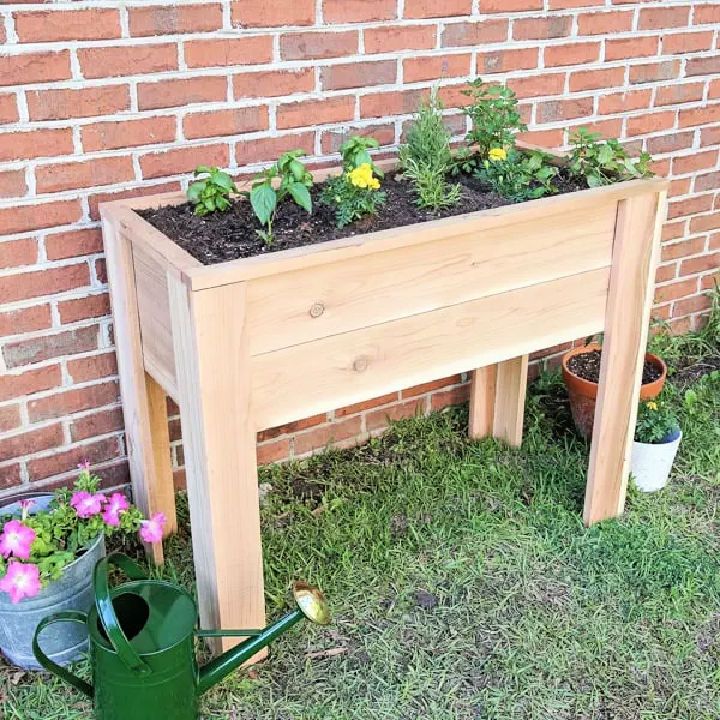 Looking for an elevated garden bed that will make your plants feel more comfortable and give them more space? Build this easy and fun DIY raised garden bed project! It is a small size, cute raised garden bed with legs. It can be used as a planter, flower bed, or even a small patio. This DIY raised garden bed with legs is made with cedar wood which is naturally weather resistant, durable and lasts for a long time. It is perfect for those who have limited space or are looking for a low-maintenance option. It can be moved around easily if needed and can also be used in smaller outdoor spaces as they don't take up much space. Upgrade your yard today with this great plan! angelamariemade
Materials: Cedar Wood, Screws, Deck Screws, Brad Nail, Weed Barrier, Wood Glue, Soil
Tools: Brad Nailer, Miter Saw, Drill, Clamps, Tape Measure
4. Free Raised Bed Deck Garden Plan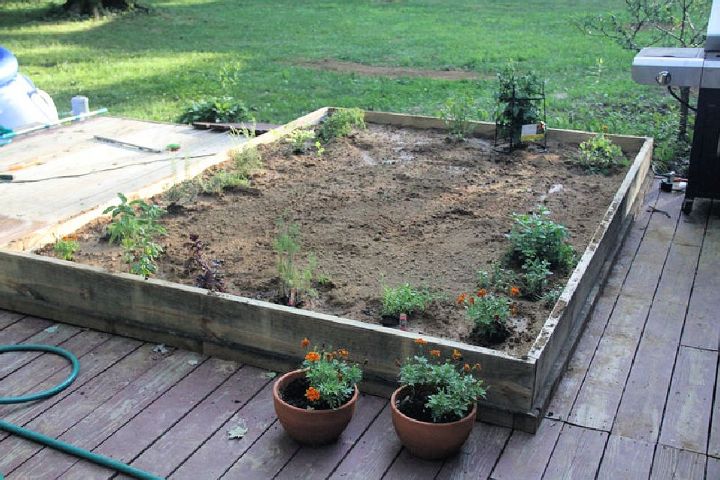 You deserve an eco-friendly gardening solution that you can live with and maintain independently. This DIY raised bed deck garden is a perfect plan to build your own beautiful, modern and eco-friendly raised bed garden for an affordable price. It is built with reclaimed wood and planted on a deck elevated above the ground, keeping the soil moist and preventing weeds from growing. It's time for a new dream to have a raised garden bed on the deck to grow your own vegetables, herbs, and fruits near your grill — just get started now! instructables
Materials: Reclaimed Wood, Screws, Nails, Tarp, Soil
Tools: Miter Saw, Nailer, Screwdriver, Drill
5. Easy DIY Cinder Block Raised Garden Bed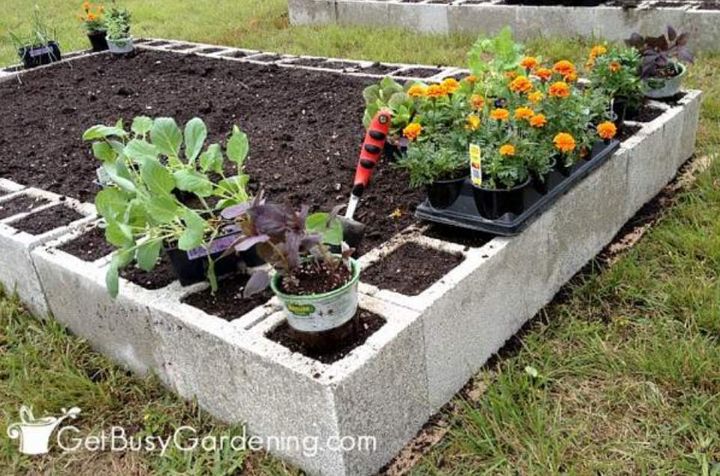 Never pay for an expensive designer to build your raised garden bed when you can build one with minimal time and effort with this DIY cinder block raised garden bed. Unlike big and expensive traditional raised garden beds, this DIY cinder block project utilizes minimal materials for a quick and simple project. There's no such thing as too much DIY to make this raised garden bed; you need to lay out the design, remove the grass, level the soil layout cardboard under the blocks, add soil to the beds, and now you're done! It is affordable, strong and easy to assemble. It will be an amazing and colorful low-maintenance garden with beautiful results. getbusygardening
Materials: Concrete Cinder Blocks, Soil, Spray Paint, Soil
Tools: Tamper Tool, Level, Tape Measure, Garden Spade
6. Raised Multi-Levelled Garden Planter Stand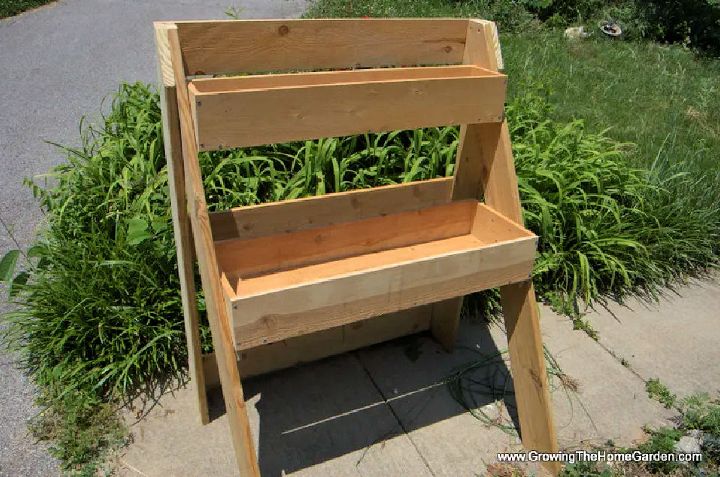 When it comes to gardening, there are a few frustrating things, like not having enough space to grow everything you want. This DIY multi-leveled raised garden planter stand is the perfect solution for this problem. It will help you save space and time in your garden by giving you the flexibility of growing a variety of plants all at once in your garden or front porch. In this multi-level garden planter stand, it is easy to keep your plants shaded while they grow; this way, you can grow cool seasonal vegetables longer into the summer. Grow your own great life by taking charge of your space and creating a beautiful raised garden planter stand! growingthehomegarden
Materials: Deck Board, Deck Screws, Cedar Fence Board, Landscape Fabric,Soil
Tools: Miter Saw, Drill, Nailer, Screwdriver
7. DIY Deer Proof Raised Bed Garden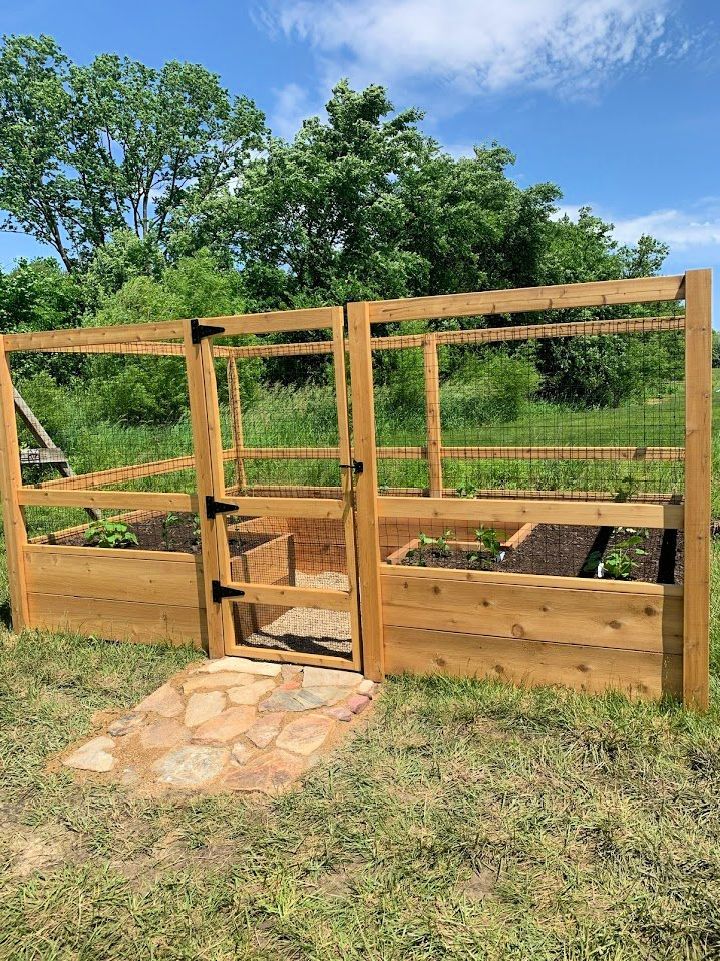 This DIY deer-proof raised garden bed is a great way to grow vegetables and flowers in an area with little or a huge space for planting. But if you live in an area where deer and other creatures tend to roam, they cause significant damage to plants, crops, and trees. To prevent them from eating your garden, you might want to consider building a deer-proof raised bed. You can deter these creatures from destroying your garden with this DIY garden bed. It is made out of cedar wood, a good material for outdoor gardening projects, and it does not need to be treated with chemicals or pesticides, preventing the chemicals from filtering into soil and veggies. thehouseonsilverado
Materials: Cedar wood, Screws, Bolts& Nuts, Wire Mesh, Nails, Hinges, Wood Stain, Soil
Tools: Miter Saw, Crown Stapler, Orbital Sander, Drill, Impact Driver
8. Turn Used Tired Into Raised Garden Bed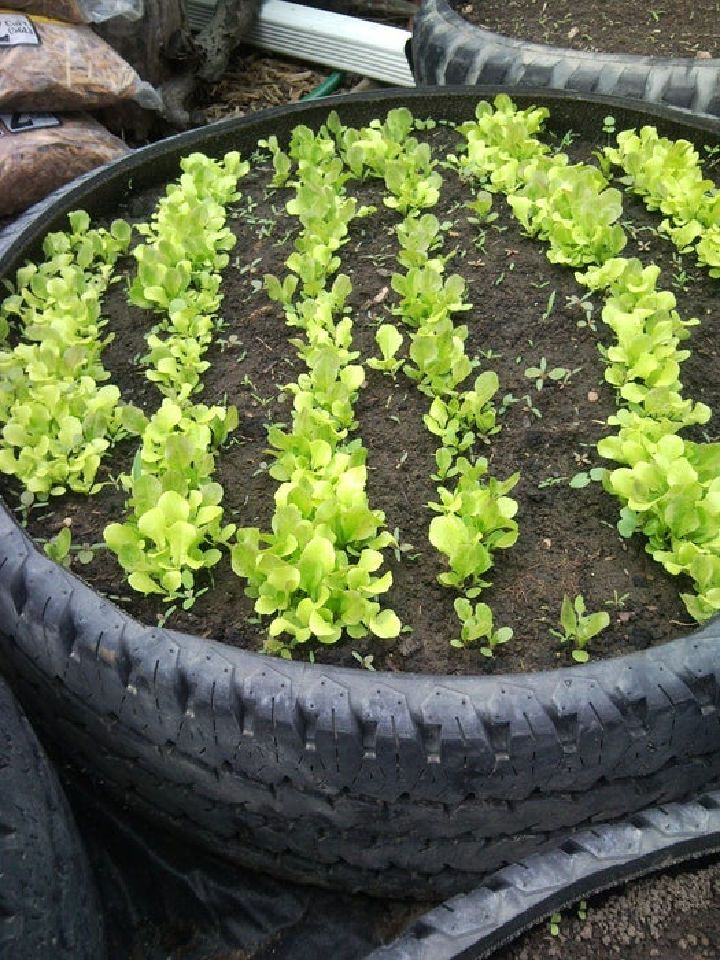 Has an old tire fibbed around in your house? Don't throw it away! Build a raised garden bed by recycling the tire with this DIY plan. It will be a beautiful addition to your landscape; it looks different from other raised beds. It's also easier on the wallet because you don't have to spend money on expensive materials. It is easy to maintain and takes up less space, water, and maintenance than other materials such as wood or bricks. Recycle an old tire with this quick, easy plan to make your garden look more beautiful. instructables
Materials: Old Tire, Soil
Tools: Sharp Knife, Jig Saw, Dual Saw, Landscape Fabric
9. How To Build Keyhole Raised Garden Bed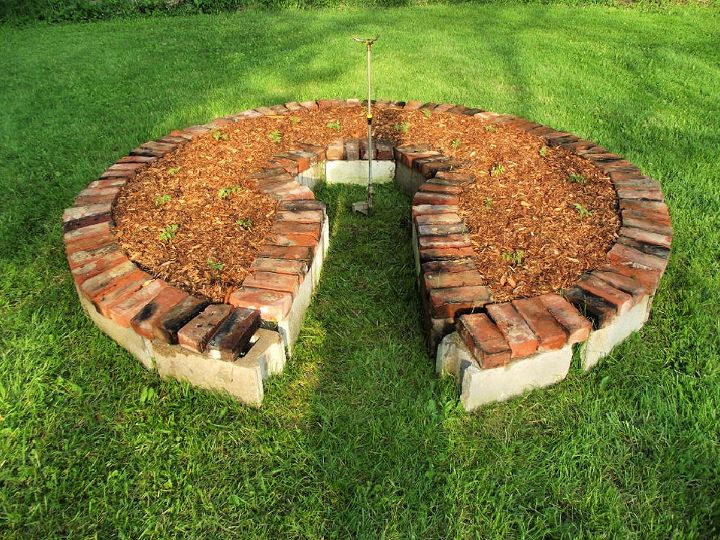 If you're looking for a raised garden bed that's quick and easy to install, and won't cost you a thing, then look no further than this DIY keyhole raised garden bed. This garden bed is a great way to grow plants in your yard or patio with little effort. It is made out of old materials that would otherwise be destined for landfill or recycled material. Create a healthier and more creative outdoor space to enjoy yourself and your family. Whether you're an amateur gardener or a seasoned professional, Keyhole is the best way to get started gardening without the hassle of digging. instructables
Materials: Cinder Blocks, Chimney Bricks, Black Gold
10. Pallet Raised Bed Garden – Free Plan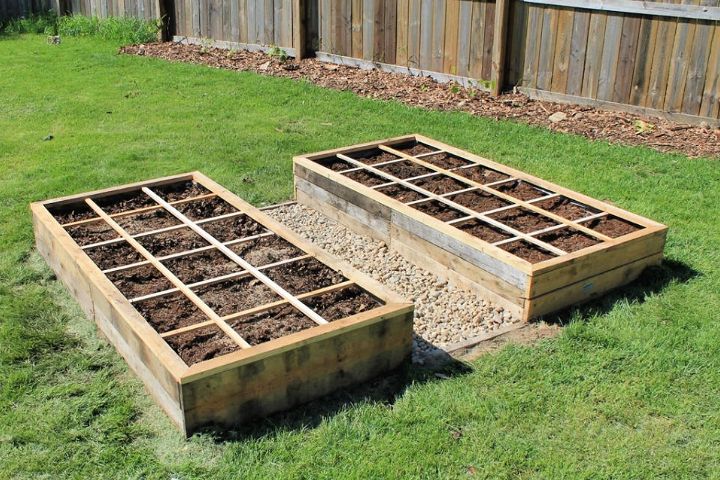 This free pallet garden plan is a low-cost, easy-to-build raised bed garden made out of pallet wood, a cost-effective alternative to buying new lumber. It also comes in handy when you have a project that needs to be completed quickly or when you need something easy to assemble. This DIY raised garden bed creates a comfortable, eco-friendly environment to nurture your plants and flowers into beautiful blooms and provides ample space on the sides and top to add various growing options. Build this raised garden bed for your plants to grow organic vegetables, herbs and flowers with no worry! instructables
Materials: Wood Pallets, Nails, Screws, Soil
Tools: Miter Saw, Nailer, Screwdriver, Drill
Get easy-to-follow instructions on how to create a beautiful and inexpensive pallet garden that will grow your plants for you. DIY pallet garden designs, including pictures, plans and instructions, inspire you to create your own beautiful garden for the summer.
11. Making Galvanized Steel Raised Beds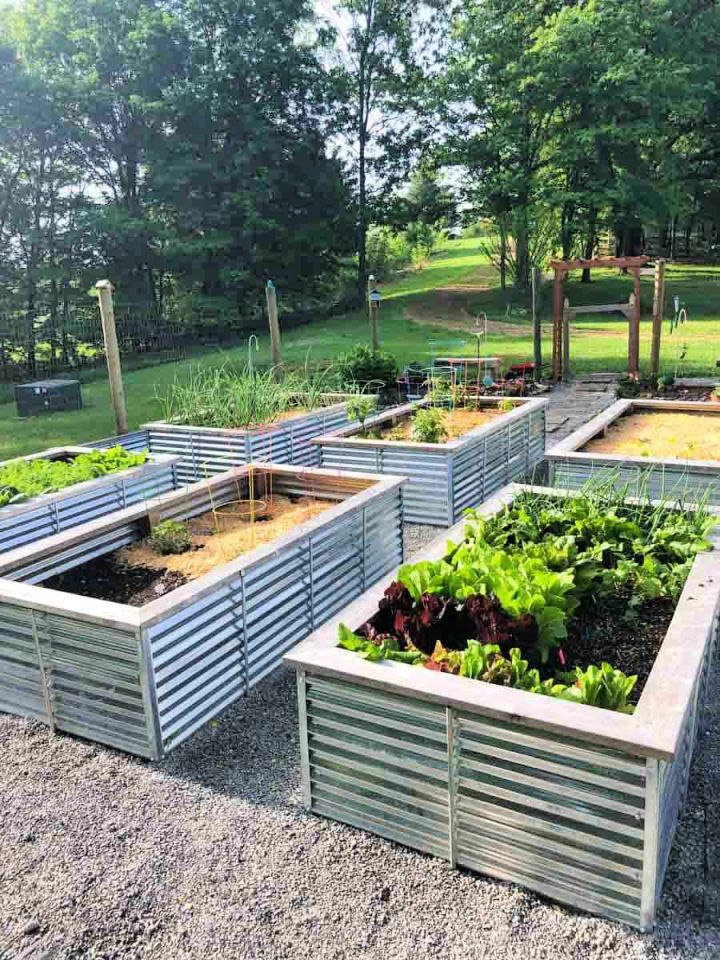 Transform any outdoor space into a luxury oasis. Get the perfect bed for your deck, patio, or backyard with this DIY galvanized steel raised bed plan. It is easy to maintain and keeps the soil moist, so plants thrive. This garden bed is made with cedar lumber and has galvanized steel roofing. It is sturdy, durable, long-lasting, easy to put together, and a great alternative choice for conventional raised beds as it is durable and rust-resistant. This DIY raised garden bed project is a great choice to produce vegetables, herbs, flowers, or fruit trees in their backyard. DIY this garden bed and let your plants thrive and flourish! growfully
Materials: Cedar Board, Galvanized Roof Panel, Galvanized Conduit, Galvanized Roof Edge, Self Drill Screws With Washer, Deck Screws
Tools: Sandpaper, Pencil, Drill Bit, Drill, Sledge Hammer, Tin Snip, Tape Measure, Net Driver Bit, Miter Saw
12. Cheap DIY Wood Stacked Raised Garden Bed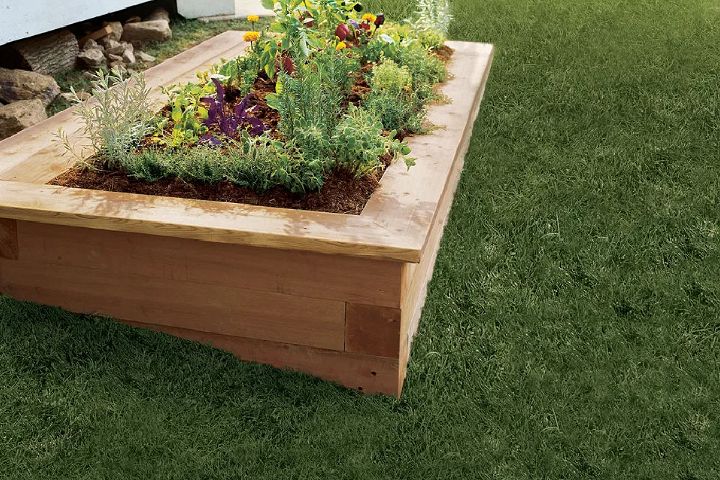 Want to add some style and beauty to your outdoor living space? This DIY wood stacked raised garden bed is one of the most stylish and inexpensive raised garden beds to add a green touch to your garden or backyard. It can also be customized to keep your plants' nutrients and moisture intact. You can easily purchase the materials needed for this project from any local hardware store or home improvement store and set it up within a few steps, including stacking the wood together and filling it with rich soil. Add an instant wow factor to any front or back garden with this beautiful, elegant raised garden bed! thisoldhouse
Materials: Timber, Screws
Tools: Circular Saw, Spade, Level, Hoe, Hand Saw, Spade, Hacksaw, Sledge Hammer, Cauk Gun, Trenching Shovel, Spade, Drill, Spade Bit, Rebar
13. DIY Water Trough Raised Garden Bed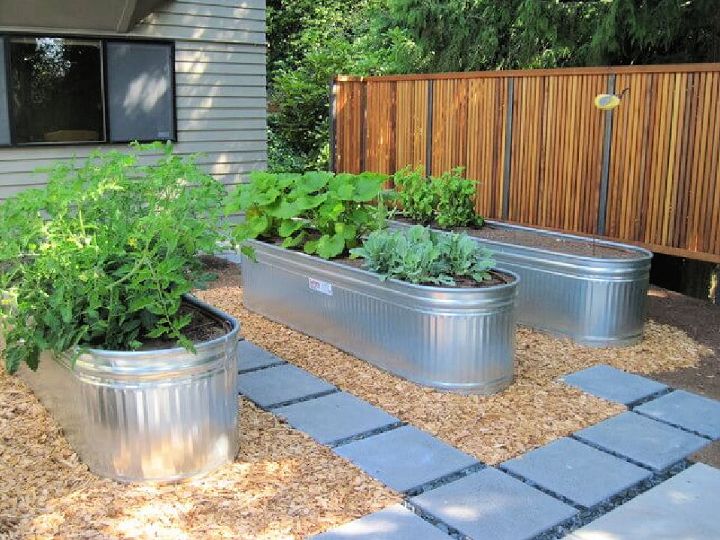 Do you want a taller garden bed to improve your soil? Take control of your green with this water trough raised garden bed plan and help your plants to grow to the height they need to thrive. This elevated garden bed design is a great way to improve the quality of your soil and provides you with more growing space and easy maintenance. It is easy to make and can be used for any gardening needs, such as hydroponically planting flowers, vegetables, and herbs without dealing with dirt and soil. insteading
Materials: Water Troughs, Compost
14. PVC Drip System Raised Garden Bed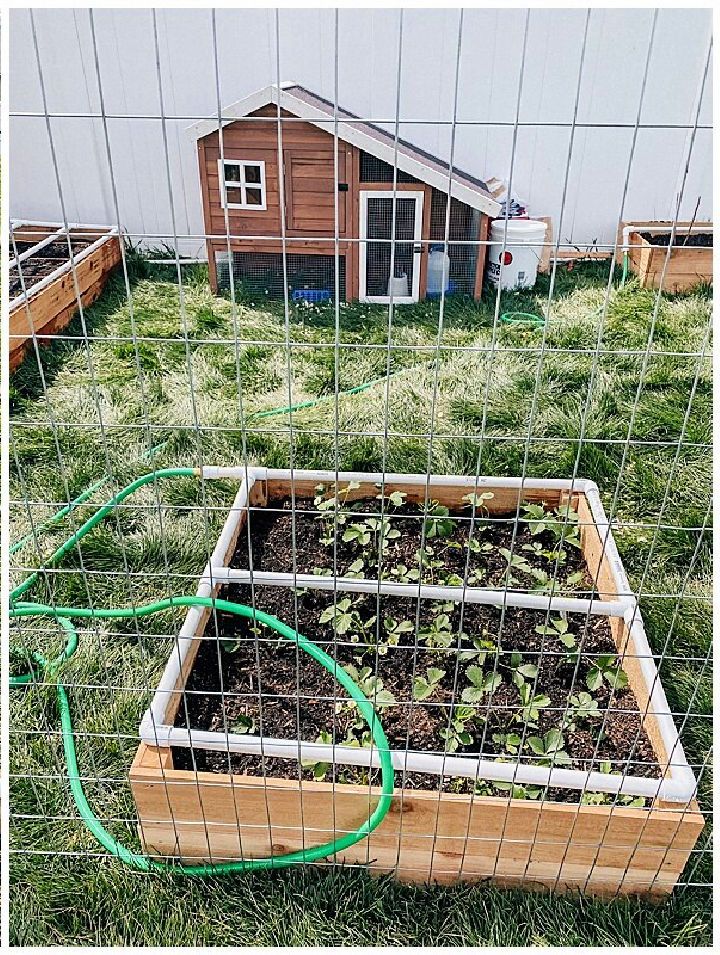 Want to build a beautiful, self-watering, easy-to-maintain raised bed garden system? This DIY PVC drip system raised garden bed design is an excellent idea for you. It is an environmentally friendly option for gardeners who want to grow their own vegetables at home. This is affordable, durable, and has an automatic system for watering your plants. Moreover, It is created out of cedar, a sustainable material that will leave you with a durable, long-lasting, beautiful, affordable, and easy-to-maintain garden bed. Let your creativity bloom with this self-reliant and trouble-free plan! risingmotherhood
Materials: Western Red Cedar Wood, Screws, Fence, PVC Pipes, Soil
Tools: Tape Measure, Drill, Miter Saw, Screwdriver
15. How To Build a Modern Raised Garden Bed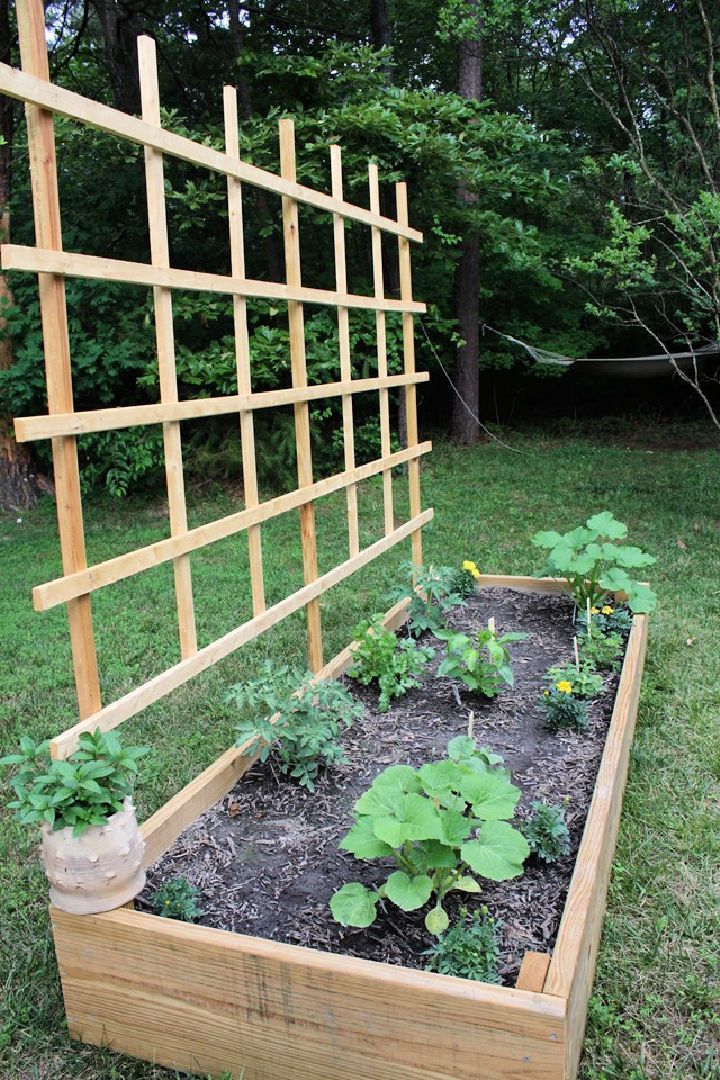 Want to grow vegetables in your own little garden? This DIY garden bed project is a fun way to make a garden that you can decorate with anything you like and will be a beautiful addition to your backyard. It's also good for those who want to garden and grow herbs and flowers. It is an easy-to-assemble, unique and modern way to grow fresh vegetables and herbs with minimal effort. emilyaclark
Materials: Wood Boards, Wood Slats, Screws, Nails, Soil
Tools: Hammer, Drill, Screwdriver
16. DIY Metal Fence Raised Garden Bed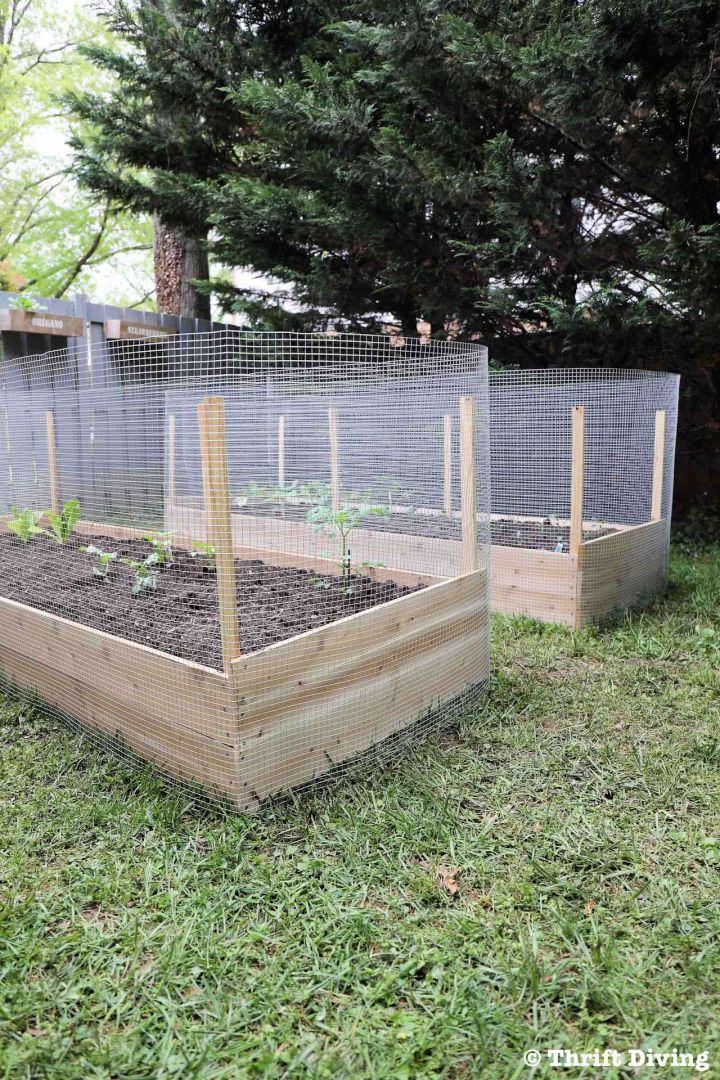 If you live in a place don't have rich soil and growing a garden is awe, then this DIY metal fence raised garden bed is an easy, innovative idea that will help you grow fresh vegetables in your backyard or balcony. It provides plenty of space for your plants to thrive and flourish. You can build this garden bed can in a few hours and doesn't require any tools or skills. You only need to gather wood, a metal fence, and some pocket hole screws, cut the wood, drill the holes and screw them up, and your bed is ready. Enjoy fresh, organic food for less with no headaches! thriftdiving
Materials: Cedar Boards, Corner Brackets, Newspaper, Metal Fence, Deer Netting, Soil, Screws
Tools: Level, Tape Measure, Hammer, Shovel, Heavy Duty Stapler, Wheelbarrow, Miter Saw, Power Drill, Corner Clamps
17. Self-Watering Waist High Raised Garden Bed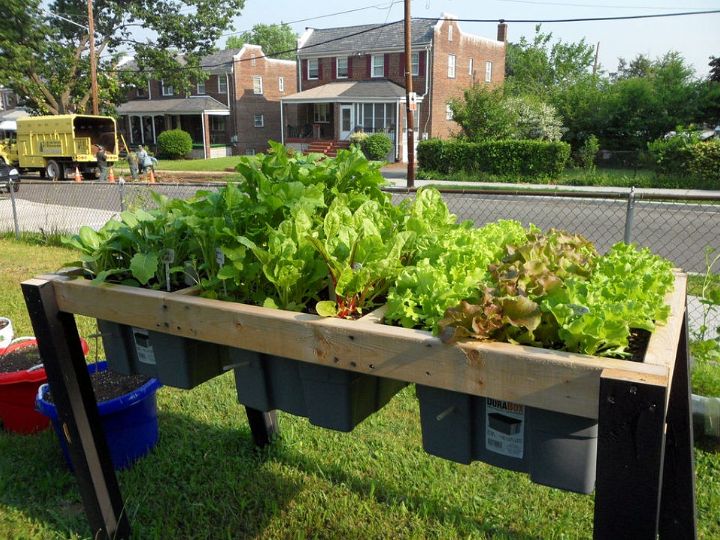 Do you love growing a garden, but the hassle of watering, pruning and digging seems resentful? Never again! DIY self-watering raised veggie table lets you enjoy your garden again with less work. This self-watering or "Bucket Garden" is a design in which a plant uses capillary action to draw water from the soil as it needs, providing more control over your soil than a traditional pot. It is an innovative, economical way to garden that saves water, fertilizer, and time and allows you to grow hard-to-grow vegetables in a small space as long as you have access to sunlight. instructables
Materials: Wood, Plastic containers or Tubs, Screws, Soil
Tools: Drill Bits, Chop Saw, Hand Saw, Miter Saw, Electric Drill, Forstner Bit
18. Raised Garden Bed From Old Castle Blocks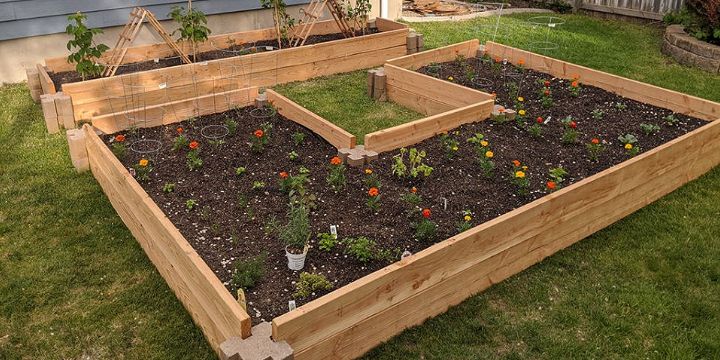 Want to transform recycled materials to save natural resources and creatively help the environment? Create a beautiful and functional space in your backyard with this DIY plan to build a garden bed from old castle blocks and stock lumber that are sustainable recycled materials for the environment. This DIY garden bed is an uncomplicated and economical way to create an attractive garden. It's also easy to make, doesn't require special skills or tools, and will help you to maximize your space to grow fresh food in your garden. Save money, have more control over what you are growing, and even get a chance to learn about gardening! nytimes
19. DIY Miniature Backyard Raised Bed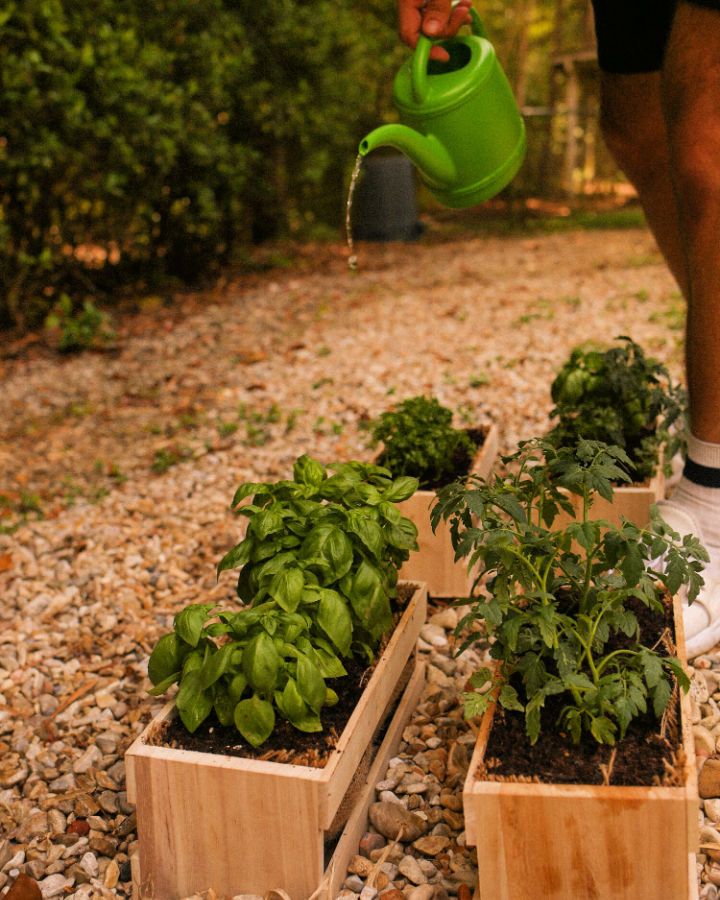 Want to grow food in your backyard but have a little space? This DIY miniature raised bed is a great way to maximize the space in your backyard or patio for gardening. It can also be used as an accent piece in your home decor if you have limited outdoor space. The miniature raised bed is a great way to create a farmhouse feel in your home. It can be built with just a few materials like crates, burlap, and hot glue around the house, and it is incredibly simple and easy to assemble and maintain. Add more vertical space to your small backyard with this perfect plan! probablythis
Materials: Wooden Crates, Burlap, Wood Glue,Soil
Tools: Scissor, Hot Glue Gun
20. Above Ground Garden From an Old Sofa Table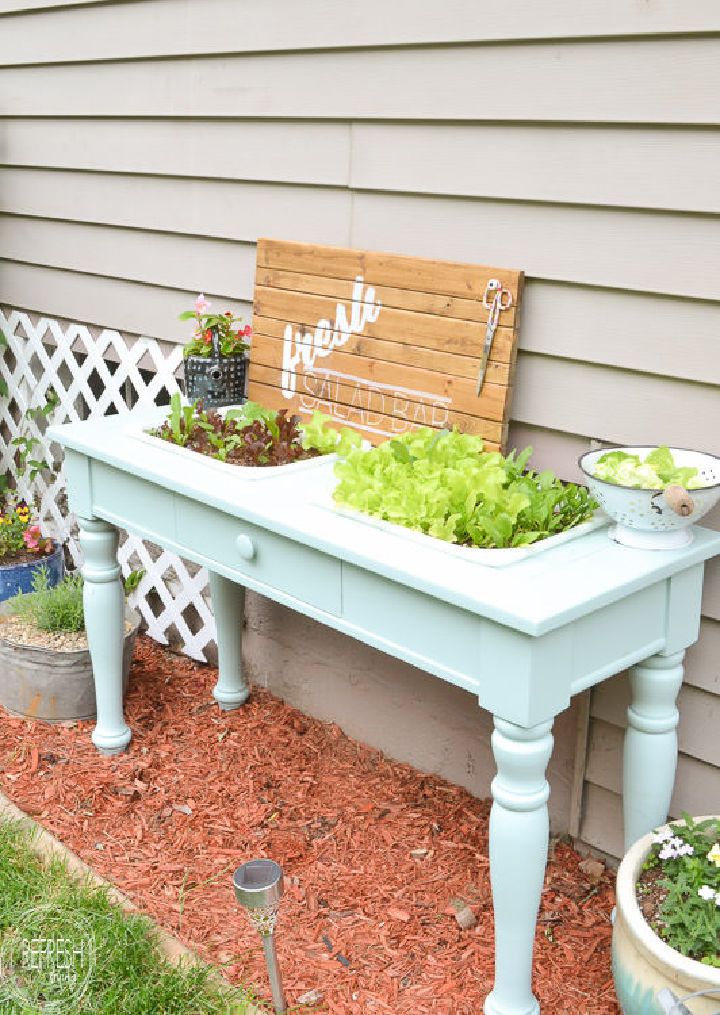 Have you ever wanted to 'greenify' your living space but didn't know where to start? Basically, Turning furniture into garden beds is an effortless, quick and affordable way to add some greenery to your space. With this DIY plan, you can easily turn an old sofa table into a garden bed. It is a project that you can build with minimal supplies and little time. It is very easy to create and sustain. Transform your old sofa into a raised garden bed with this smart plan and bring a touch of style to your backyard. refreshliving
Materials: Old Sofa Table, Plastic Bin, Sandpaper, Paint, Soil
Tools: Circular Saw
21. DIY Tiered Herb Garden Bed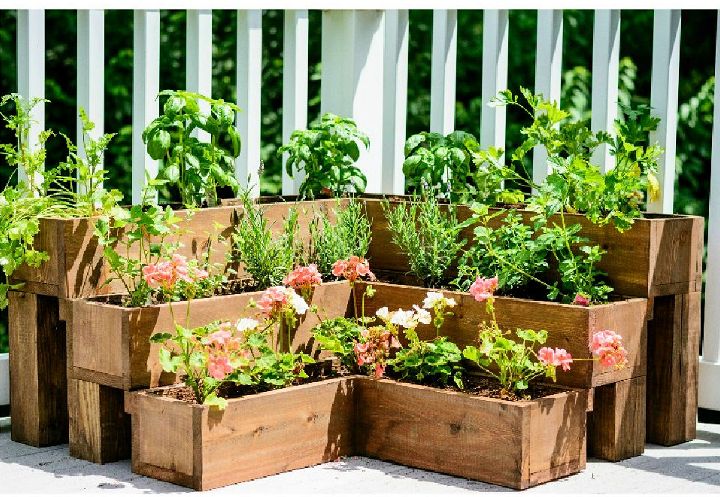 Another DIY tiered herb garden bed is a great way to use in limited space. This garden bed is a low-cost, low-maintenance way to add beauty and functionality to your space. It's also perfect for smaller spaces like decks or patios. This DIY raised garden is made up of three tiers with different heights. The height of the tiers will depend on the space available and what vegetables you would like to grow. It is an inexpensive, stylish and functional plan to grow fresh herbs on your deck or patio. decorandthedog
Materials: Cedar Wood, Screws, Pocket Screws, Silicone Sealent, Wood Glue, Landscape Fabric, Spade Bit,Soil
Tools: Miter Saw, Screwdriver, Hammer, Drill, Clamps
22. Inexpensive DIY Plastic Barrel Raised Garden Bed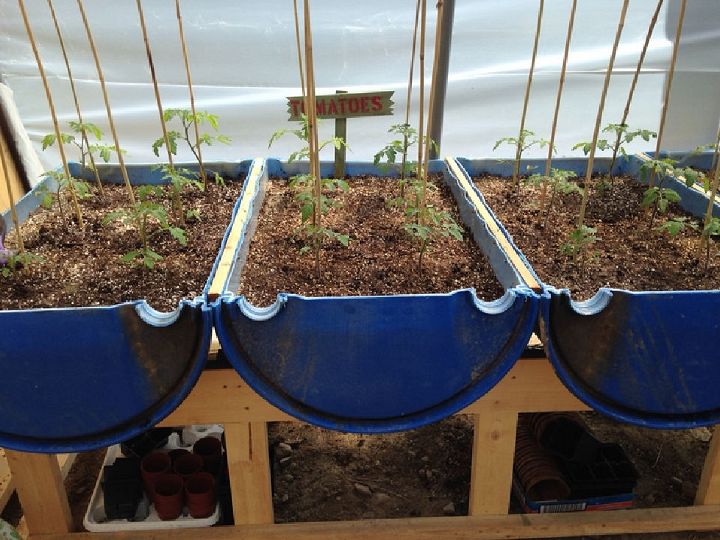 Do you want to organize and customize your garden without breaking the bank? This DIY plastic barrel raised garden bed project is reasonable, easy to make and watertight — perfect for any garden organization. You'll love this idea of building your own garden bed from a recycled plastic barrel and timber with a few easy steps. Plastic barrels are an inexpensive and eco-friendly material that can be reused, won't rot, and doesn't need to be replaced often. Create your own customized raised bed design by transforming an old plastic barrel into a beautiful raised bed with this DIY plan. theownerbuildernetwork
Materials: Plastic Barrel, Treated Lumber, Screws, Wood Glue, Soil
Tools: Chisel, Hammer, Clamps, Hand Saw, Power Drill, Measuring Tape
23. DIY Log Raised Garden Bed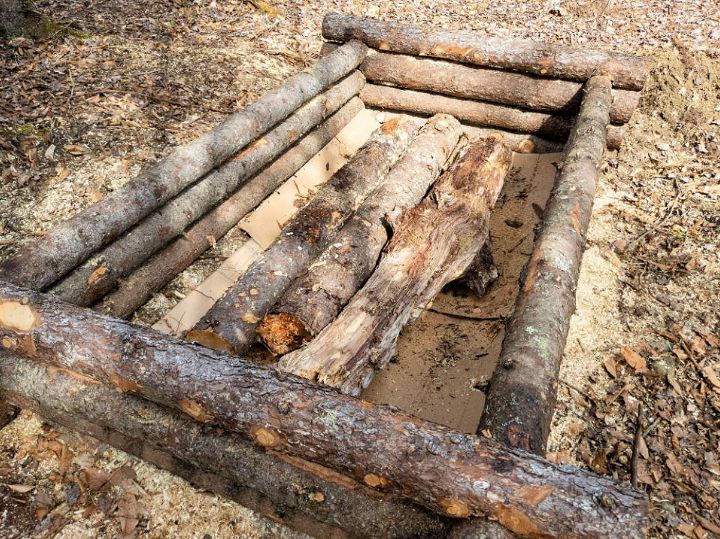 Never go back to the days when you spent hours digging a garden and trying to maintain it — this DIY  log raised garden bed plan is ready right out of the box. It's easy, low-maintenance, and compact, and it looks great too! It is a useful addition to any garden, that you can use to grow some vegetables, herbs, and flowers. It is a good and quick process that requires a little material and a few steps to complete. First, cut the logs into the size needed for the bed, stack them together, and lay out the soil mixed with compost and seeds before planting begins. Start growing your vegetables in your own raised garden bed with this unique plan. adventurousway
Materials: Logs, Soil
Tools: Hand Saw
24. Simple Sturdy Raised Garden Bed Plan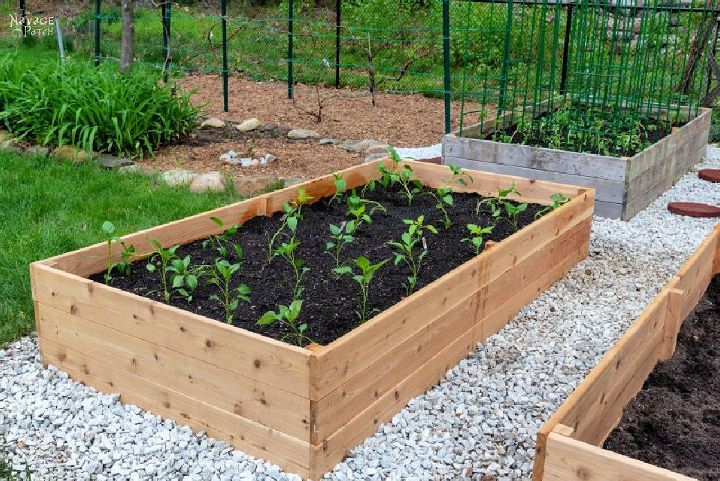 Build your own sturdy raised garden bed that helps you to cultivate a healthier, more eco-friendly garden with this plan. All things considered, this garden bed plan is easy and inexpensive to add a unique feature to your yard or garden. It's made of cedar wood and is easy to assemble with few steps, inexpensive and aesthetically pleasing. The raised bed can be used as a vegetable, flower, or herb garden. thenavagepatch
Materials: Cedar Deck Boards, Deck Screw, Pocket Hole Screw, Soil
Tools: Mallet, Level, Circular Saw, Saw Horse(optional), Drill, Pocket Hole Jig, Clamp, Impact Driver
25. Homemade Stone Raised Garden Bed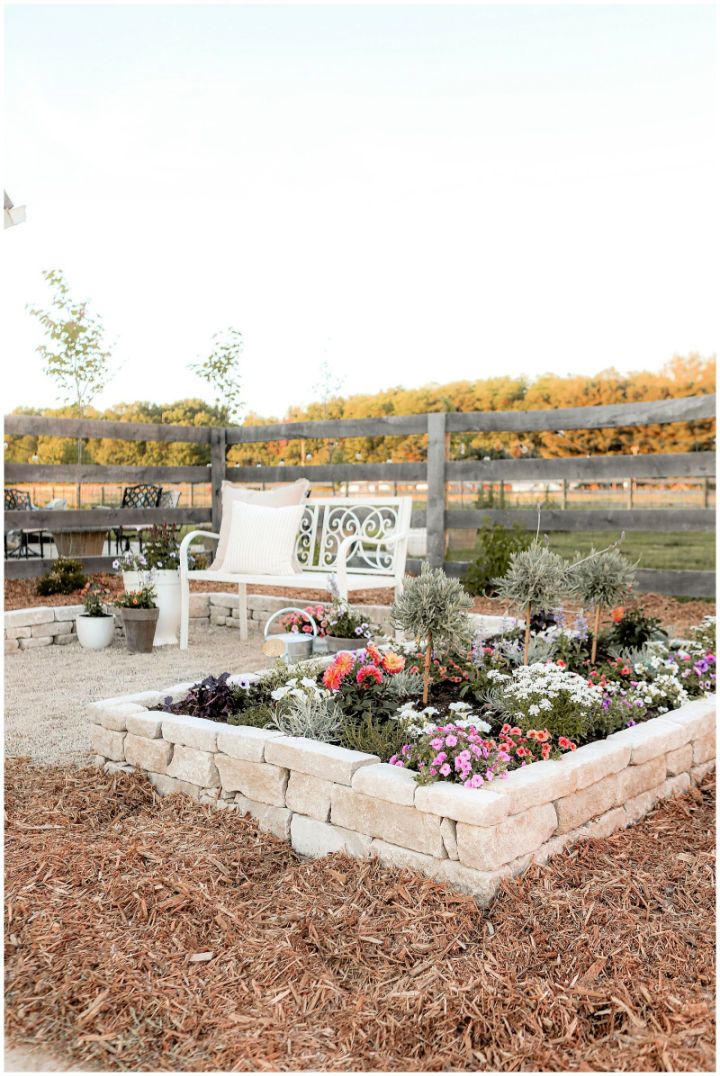 Do you want to grow a garden without getting your hands dirty? This DIY stone-raised garden bed is an ideal plan for you. It doesn't require digging or tilling and is relatively easy to build. It is very similar to building a traditional raised bed; the only difference is you place the stones on top of each other rather than digging into the ground and filling the gaps with soil. DIY this quick & easy plan; it requires time and patience and is only limited by your creativity. sugarmaplefarmhouse
Materials: Stone, Cardboard, Soil
26. U-Shaped Raised Garden Bed With Layout Pictures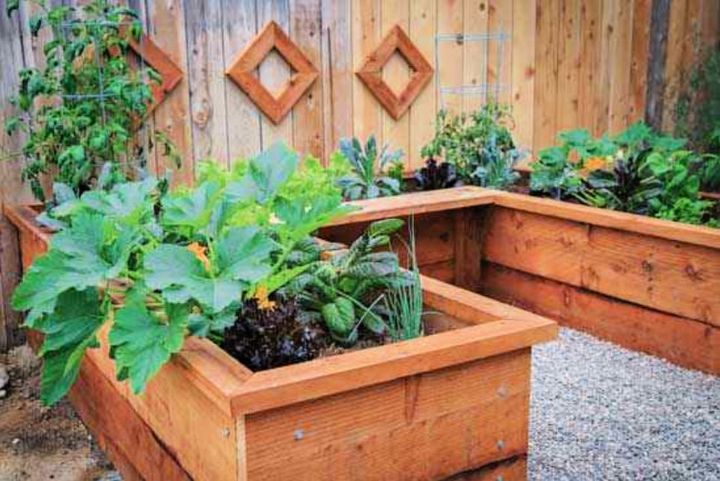 Do you want to maximize your space? This DIY U-Shaped raised garden bed is a great idea to expand your backyard and get the most out of the property. It will increase the size of your gardening space without sacrificing any planting area. It is easy to build and will add value to your property without spending too much money. It's also an ideal way to get rid of weeds in your garden and prevent them from spreading into the rest of the yard. This garden bed is incredibly easy to build, easy to maintain and a great idea to decorate your backyard. Create your own garden beds in a snap and save money. motherearthnews
Materials: Redwood, Lag Bolts, Washer, Deck Screws, Soil
Tools: Shovel, Rake, Miter Saw, Speed Square, Stakes Clamps, Hand Hamper, Measuring Tape, Impact Driver
27. DIY Self-Watering Garden Bed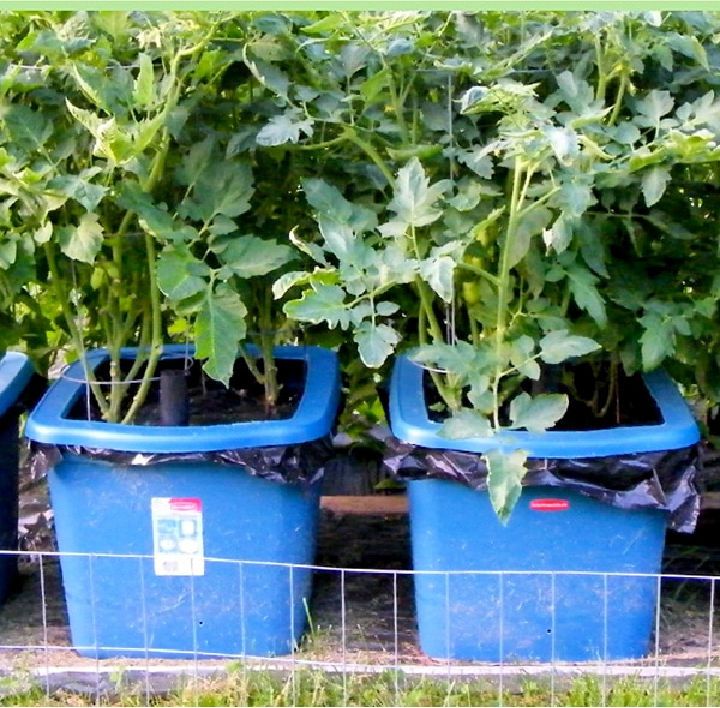 This DIY self-watering garden bed is a great project to expand your own vegetables at home. It is also a great way to save money and time. This garden bed is becoming more popular as it offers a fraction of the cost of buying plants but allows you to grow your own product. Also, It is manageable to maintain and uses less water than usual gardening methods. It is an effective way to grow your food without needing much space. The design of this garden bed is flexible, and you can adjust it to suit the needs, allow constant water supply, defy weeds from growing and keeps the nutrients intact. Rise your fruits and vegetables without hassle, and save on space and money using this DIY plan! growagoodlife
Materials: Storage Tote, Black Plastic Garbage Bag, Coffee Cans, Pipe, Soil
Tools: Saw, Marking Pen, Drill, Heavy Scissor or Saw
28. How to Make Salad Garden Bed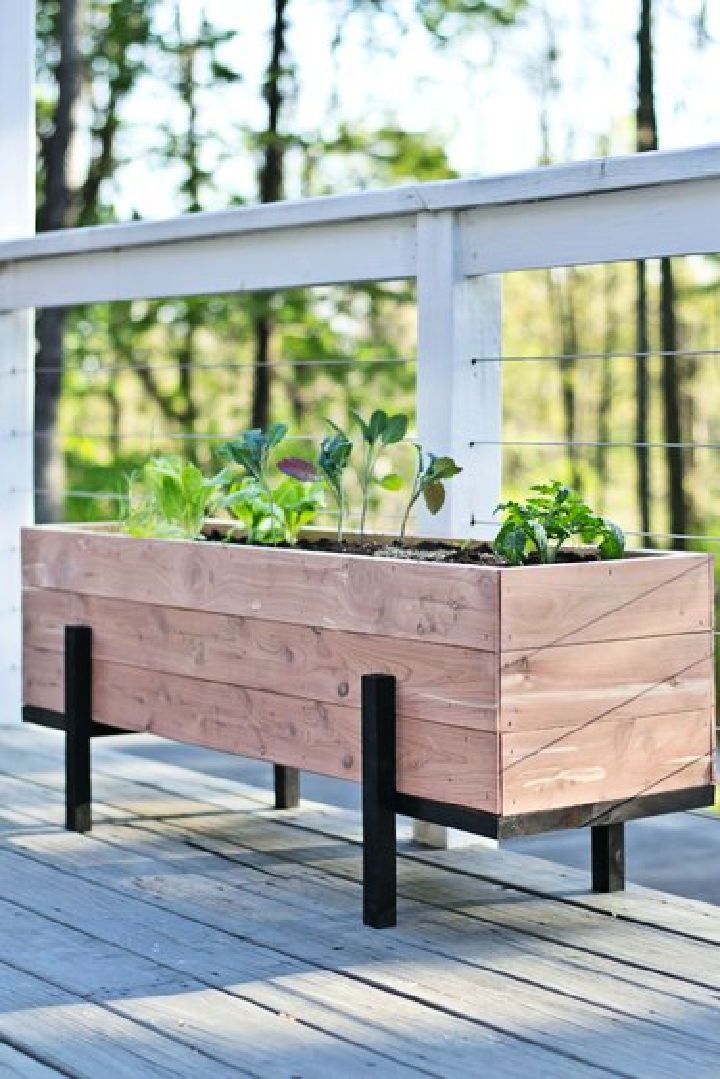 Do you have a balcony and some space to spare? Grow your own salad garden with this DIY plan. It is a great way to save money and eat fresh vegetables. This project is a great plant-based option for those who want to eat more vegetables but don't have the time or space to garden in their backyard. This garden bed is painless to maintain, space-efficient reduces waste, and easy to set up; once it's put together, you can easily move it anywhere. With this salad garden bed plan, you can grow various vegetables and herbs, which are perfect for salads and other dishes. ehow
Materials: Cedar Wood, Wood Glue, Screws, Cedar Closer liner, Water Sealer, Wood Stain, Screws, Soil, Staples, Wood Stain
Tools: Drill, Power Miter Saw, Twist Bit, Electric Stapler, Pocket Screw Jig,
29. Best Raised Flower Bed Garden Design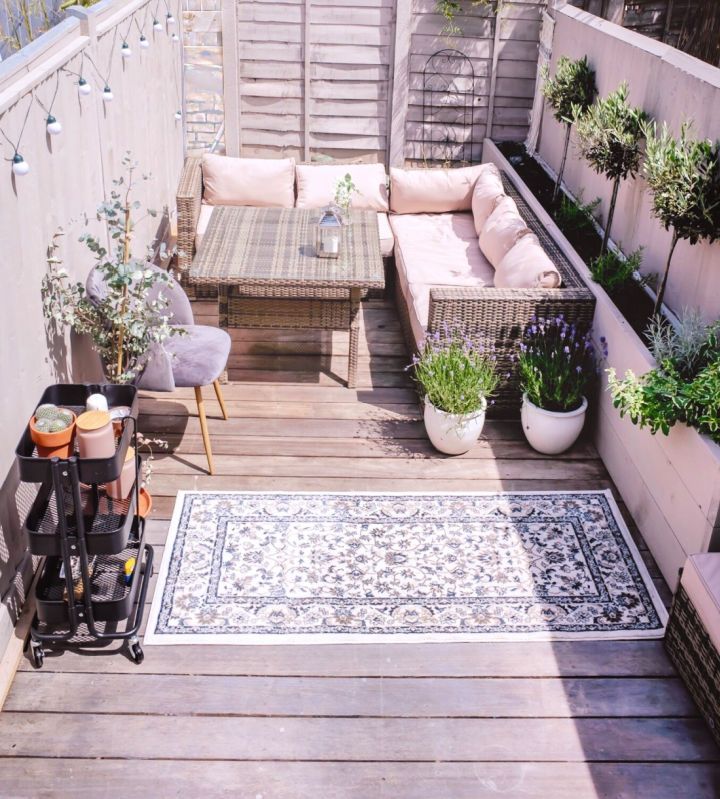 Are you looking for a way to make your own indoor garden or want to spruce up your home? This DIY raised flower bed garden idea will help you to bring nature indoors. It is an easy project that you can do with basic carpentry skills and with material that is not expensive but also affordable and doable for anyone who wants to add a hue to your space. Because this design will enable you to create a small, neat area or a large, sprawling raised garden that allows plenty of room for all sorts of flowers and plants you want to grow in an orderly fashion. mymindfulhome
Materials: Wood, Screws, soil, Staples
Tools: Manual Saw or Electric Jig Saw, Cordless Drill, Level, Staple Gun
Related DIY Projects:
DIY Shoe Storage – Learn how to make your very own shoe rack with just a few simple steps and supplies. You can build it in your living room, bedroom, or even on the back porch. These easy DIY shoe rack ideas will inspire you to make your own shoe rack at home.
DIY Planter Box Plans – Build your own planter box with these free DIY planter box plans. You'll get a step by step guide on how to build your own. A great project for kids, or adults that want to grow some plants indoors and outdoors!
Free Chicken Coop Plans – If you're looking to build a chicken coop in your backyard, Find these easy DIY Chicken Coop plans for free that are easy to build.
Conclusion:
A raised garden bed is a great way to add some extra growing space for your vegetables, flowers, or herbs. We've got you covered if you're ready to start building your own raised garden bed. We've collected 29 free DIY raised garden bed plans and ideas from across the internet for you to choose from. And if you need help getting started, these free raised garden bed plans walk you through the process step-by-step. So what are you waiting for? Get started on your new DIY raised garden bed today!